Samsung Galaxy S7 vs iPhone 6 comparison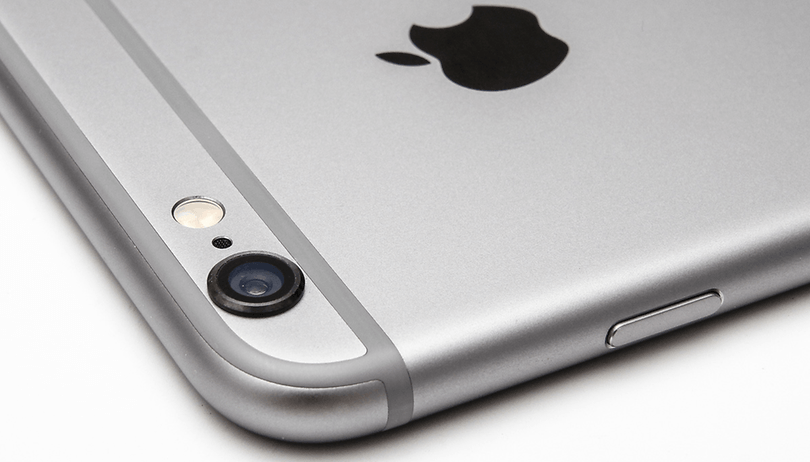 The Samsung Galaxy S7 has reviewed excellently, offering up a premium experience for buyers. Even so, does the gadget manage to topple Apple's iPhone 6? Read on for our comparison between the Samsung Galaxy S7 and Apple's iPhone 6. NEXTPITTV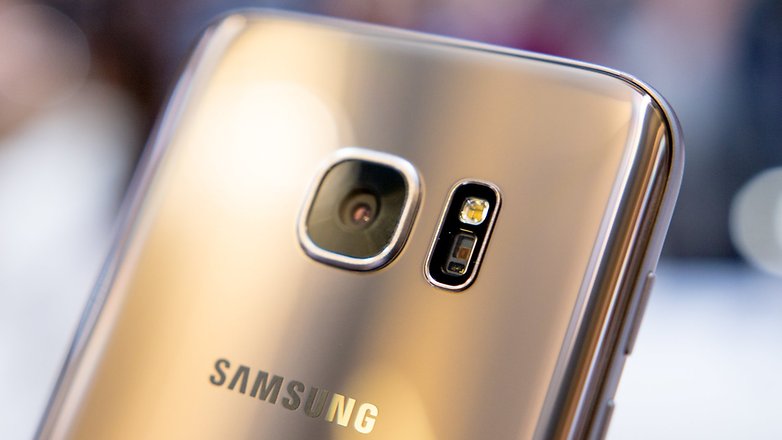 Samsung Galaxy S7 vs iPhone 6 comparison: design and build quality
We'll admit that the Samsung Galaxy S7 looks like a minor update to its predecessor when it comes to design, but there's plenty of differences cementing this latest release as a worthy follow-up.
This gorgeous smartphone with its sleek metallic finish and aluminum sides feels top-quality in the hand, both easy to grip and comfortable to hold. Fans of the Samsung Galaxy S6 will feel right at home playing around with the S7, but there's enough to entice new Galaxy fans too.
In our full review of the Samsung Galaxy S7 we noted that the handset actually feels rather compact compared to other Android phones, although it's easier to protect thanks to an IP68 certification. Yes, the Samsung Galaxy S7 can survive a lengthy dip underwater, one of the headline features of the new arrival.
The Samsung Galaxy S7's dimensions come in at 142.4 x 69.6 x 7.9 mm, and the camera bulge present on the Galaxy S6 has been slimmed down for this model. Now, the rear snapper juts out in a more subtle fashion, out at just 0.46 mm.
On the front of the Samsung Galaxy S7 are proximity and light sensors, both found in the top-left corner of the device. The physical home button remains right below the display.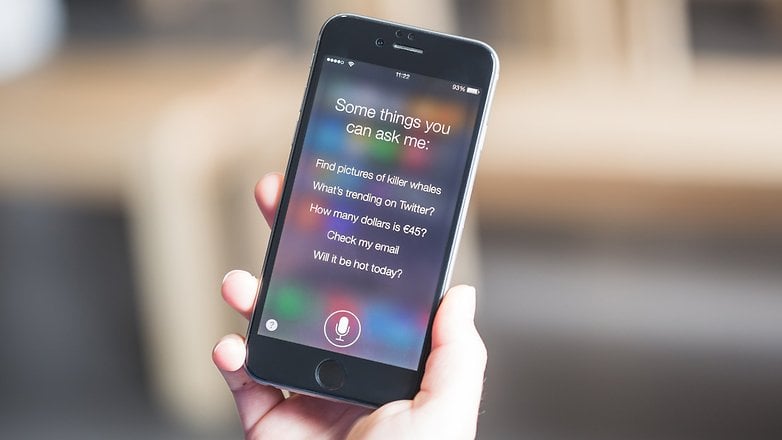 The iconic iPhone 6 arrives with an anodized aluminum back that, although slippy in the hand, feels very smooth and satisfying to grip.
Apple's decision to do away with the slightly sharper-cornered design of the previous iPhone's turned out to be a good move. The iPhone 6 is a very attractive product, make no mistake, and it's a thin one too at just 6.9 mm.
Build quality is top-notch, although the antennae lines on the back of the device have split opinion. Whilst some feel the unique marks compliment the shape of the smartphone, others have labeled it plain ugly. To add to the complaints, the antennae lines don't sit flush, rising ever so slightly up off the main body of the iPhone 6.
As is the case with the Samsung Galaxy S7, the iPhone 6's rear camera protrudes somewhat. Whilst the phone may wiggle very slightly on a flat surface, this is far from a deal breaker.
All in all, it will probably come as no surprise that Apple has crafted a desirable, luxury smartphone boasting fantastic build quality.
Samsung Galaxy S7 vs iPhone 6 comparison: display
The Samsung Galaxy S7 features a 5.1-inch QHD display with a resolution of 2,560 x 1,440 pixels, and from our time putting together our full review we've come to the conclusion that the display is rather special.
Colors pop beautifully on the screen of the Samsung Galaxy S7 and this is certainly one of the brightest displays in the Android world.
The smartphone copes well in varying levels of light, and we've been impressed by the Samsung Galaxy S7's contrast and saturation display standard. Of course, screen brightness can be adjusted manually by the user too, so you should have no problem using the gadget on a sunny day.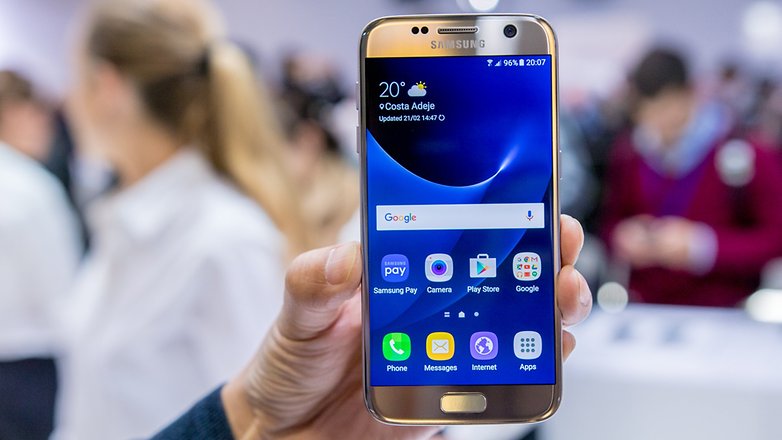 The iPhone 6 sports a brilliant 4.7-inch IPS LCD screen, running at a resolution of 1,334 x 750 pixels at 326 ppi.
Folk worried about not being able to use the iPhone 6 with one hand can try out Apple's neat screen sizing trick. Double-tapping the home button on the front of the smartphone will see the device's display reduced in size and pushed to a corner, making it simple to tap away with one hand.
Color accuracy on the iPhone 6's display is brilliant, and viewing angles are very solid too, helped by the fact that the screen itself isn't too reflective.
Samsung Galaxy S7 vs iPhone 6 comparison: processor and storage
Samsung's Galaxy S7 is powered by a Snapdragon 820 or Exynos 8890 chipset, backed by 4 GB of RAM that dishes out a lightning-fast experience.
The Samsung Galaxy S7 performs effectively under the pressure of high-intensity apps and multitasking, and we found that if you're upgrading from an older device, you'll notice the speed improvements on show right away. According to Samsung, the Galaxy S7 has around a 30 percent more powerful CPU and 64 percent more powerful GPU than the Galaxy S6.
If you're picking up the Samsung Galaxy S7 for yourself, you'll be able to choose between 32 GB or 64 GB of internal storage. Annoyingly, around 7 GB of the Galaxy S7's internal storage is taken up before you install anything.
On the other side of the battlefield, Apple's iPhone 6 is rocking a 64-bit A8 chip. Although the iPhone 6 has just 1 GB of RAM to its name, it does very well under heavy load, and lag-ridden experiences with iOS are far and few between.
Apple's fingerprint tech is surprisingly quick to identify a print and unlock, and sliding through the phone's menus and running top-tier games is a delight.
There's three storage options on offer here at 16 GB, 64 GB and 128 GB. Although we're pleased to see 128 GB as one of the choices, 16 GB won't get you too far these days. A 32 GB model would serve as a better entry point, we feel.
Samsung Galaxy S7 vs iPhone 6 comparison: camera
The back of the Samsung Galaxy S7 is equipped with a 12 MP rear camera complimented by OIS and dual-pixel technology.
It's early days for the Galaxy S7's camera, but we're already comfortable saying that it's one of the best snappers on a smartphone we've ever tested. In our full review of the Samsung Galaxy S7, we gave a big thumbs up to snappy focus and shutter time, along with a top, functional quick launch feature.
On the face of the Samsung Galaxy S7 is a 5 MP front shooter, starring wide-angle selfie performance (hooray) using an f/1.7 lens.
Under the intense scrutiny of the AndroidPIT squad, the front camera of the Samsung Galaxy S7 managed comfortably. Dynamic range was solid, and performance even in low lighting was good.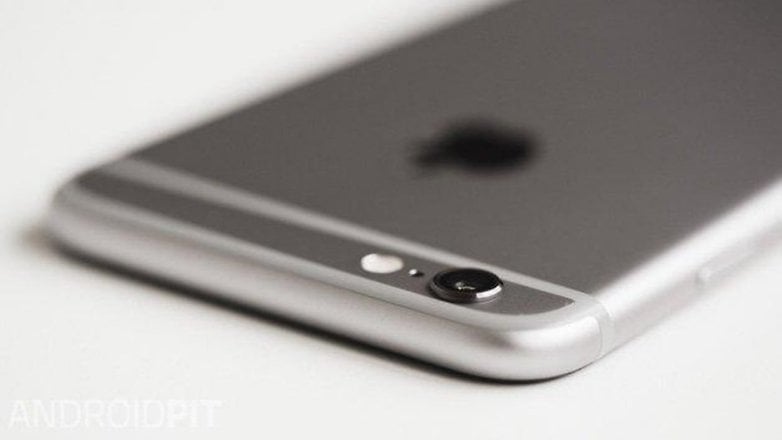 Apple's iPhone 6 comes with an 8 MP iSight camera, paired with a fresh iSight sensor said to provide 'double the speed' of its predecessor.
As mentioned previously, the back camera juts out slightly from the body of the handset, also bringing True Tone flash and f/2.2 aperture to the party.
Photo exposure can be adjusted manually, which will give photography fans some tools to play around with. There's custom filters built into the core camera experience too, and autofocus and autoexposure can be activated with a long press.
The iPhone 6 performs well when it comes to taking pictures and shooting video. Although the iPhone 6 doesn't include OIS, the smartphone focuses on objects worlds quicker than the Apple family members before it.
Samsung Galaxy S7 vs iPhone 6 comparison: software
TouchWiz UI and Android 6.0.1 Marshmallow keep the Samsung Galaxy S7 chugging along, although we'll be the first to admit that this TouchWiz build feels almost identical to that featured on the Galaxy S6.
Bloatware haters will be delighted to learn that there's not much pre-installed content living inside the Samsung Galaxy S7, and regular software updates keep things running smoothly.
The iPhone 6 now runs on iOS 9, the best mobile build of iOS to date by a country mile. This latest edition of Apple's software has plenty of tricks up its sleeve, including a smarter Siri, improved search results listings and a faster overall user experience.
According to Apple, iOS 9 on the iPhone 6 brings faster scrolling, smoother animations, and quicker-rendering documents and file attachments.
Placed side by side with Samsung's TouchWiz UI, iOS 9 seems more polished, neater and generally easier to navigate.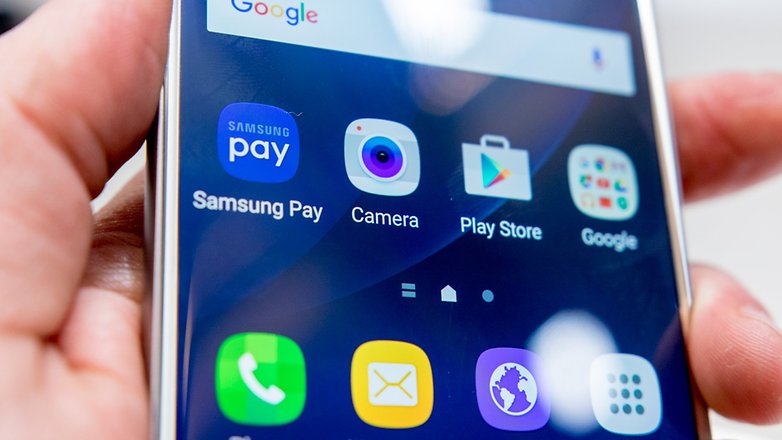 Samsung Galaxy S7 vs iPhone 6 comparison: battery
The Samsung Galaxy S7 features a 3,000 mAh battery, which brings an improvement to the 2,550 mAh component found inside the Galaxy S6.
Overall battery life is helped along by the Galaxy S7's Always On display, which saves juice by only powering up a small number of pixels to display notification information. Even through heavy use, we find that the Samsung Galaxy S7 will last the full day, and the supplied charger can have the smartphone fully-juiced in just 90 minutes.
Samsung has told us that the improved battery tucked into the Galaxy S7 has come about through molding technology allowing for curved batteries. Clever.
Meanwhile, a 1,810 mAh battery lives inside Apple's iPhone 6, said to be 25% longer lasting than that inside the iPhone 5S.
The thinness of the iPhone 6 doesn't do the battery life any favors, and in most cases the smartphone's due a daily charge every evening.
Whilst the battery life from the iPhone 6 is respectable overall, we reckon there's plenty of folk out there who would have preferred a thicker design making room for a bigger battery.
Samsung Galaxy S7 vs iPhone 6 comparison: specs
Fancy some more details on what separates these two smartphones? Take a look below at our specs comparison between the Samsung Galaxy S7 and Apple iPhone 6.
Samsung Galaxy S7 vs. Apple iPhone 6 technical specifications
Samsung Galaxy S7
Apple iPhone 6
Dimensions:
142.4 x 69.6 x 7.9 mm
138.1 x 67 x 6.9 mm
Weight:
152 g
129 g
Battery size:
3000 mAh
1810 mAh
Screen size:
5.1 in
4.7 in
Display technology:
AMOLED
LCD
Screen:
2560 x 1440 pixels (577 ppi)
1334 x 750 pixels (326 ppi)
Front camera:
5 megapixels
1.2 megapixels
Rear camera:
12 megapixels
8 megapixels
Flashlight:
Dual-LED
LED
Android version:
7.0 - Nougat
Not available
User interface:
TouchWiz
Not available
RAM:
4 GB
1024 MB
Internal storage:
32 GB
64 GB
16 GB
64 GB
128 GB
Removable storage:
microSD
Not available
Chipset:
Samsung Exynos 8890
Qualcomm Snapdragon 820
Apple A8
Number of cores:
8
4
2
Max. clock speed:
2.6 GHz
2.15 GHz
1.4 GHz
Connectivity:
HSPA, LTE, NFC, Bluetooth 4.2
HSPA, LTE, NFC, Bluetooth 4.0
Samsung Galaxy S7 vs iPhone 6 comparison: verdict
Whilst the Samsung Galaxy S7 is a new arrival, Apple's iPhone 6 still copes well when the pair of gadgets are placed head to head.
Although the Samsung Galaxy S7 can boast a truly stunning screen and hefty battery, using iOS 9 on the iPhone 6 remains a joy in a way that TouchWiz UI can't really match. Although this is the best build of TouchWiz to date, it's still a little 'busy'.
Which smartphone takes home the trophy? Has Samsung left Apple in the dust with the release of the Galaxy S7, or does Apple's smartphone still hold its own thanks to regular iOS updates? Let us know your thoughts in the comments section below.