Samsung Galaxy S6 Edge problems and how to fix them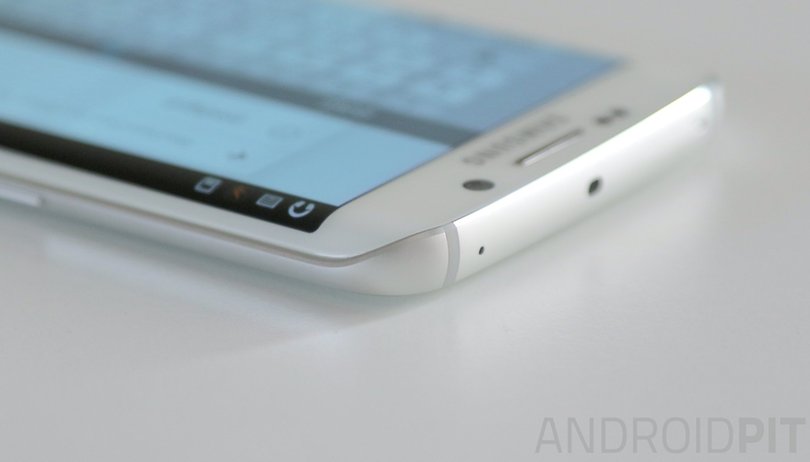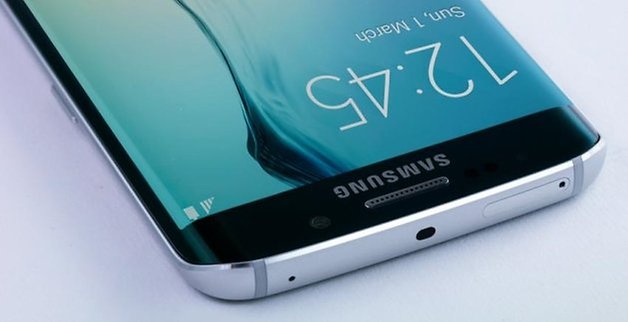 Samsung Galaxy S6 Edge problem: Galaxy S6 Mobile Data toggle has vanished
This June, Samsung S6 and S6 Edge owners encountered a mystery: the Mobile Data toggle had disappeared from Quick Settings. Not only did it no longer appear in the list in the notifications shade, it was no longer an option in the Quick Settings edit menu either.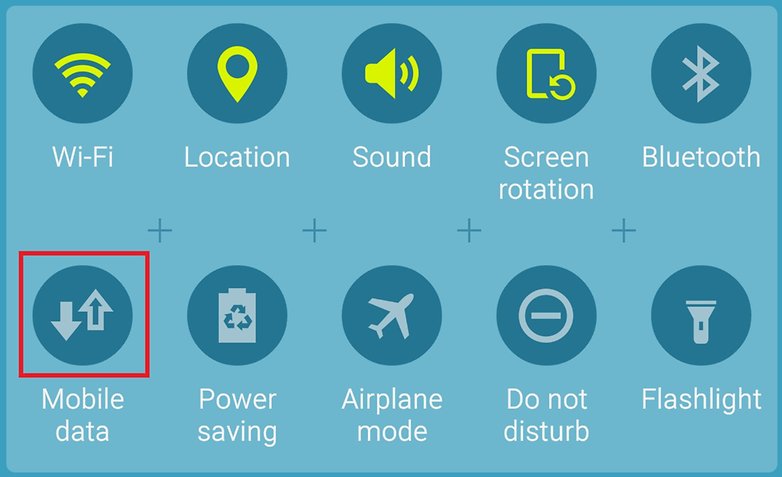 The issue affected enough people to establish that it wasn't just an isolated incident, but we were unable to reproduce the problem in the AndroidPIT office with either the Galaxy S6 Edge or the Galaxy S6. However, for people who were affected, XDA Developers came to the rescue with an APK to fix the missing mobile data toggle. So hurrah for them.
The solution:
Samsung has now issued a patch for the problem, courtesy of a new app called QuickPanel Restore that you can find in the Galaxy Apps store. It is only available for the Galaxy S6 and Galaxy S6 Edge right now. To get it, just go to the Galaxy Apps app on your phone, search for it (it won't appear in the search results on other devices) and install the app to your phone.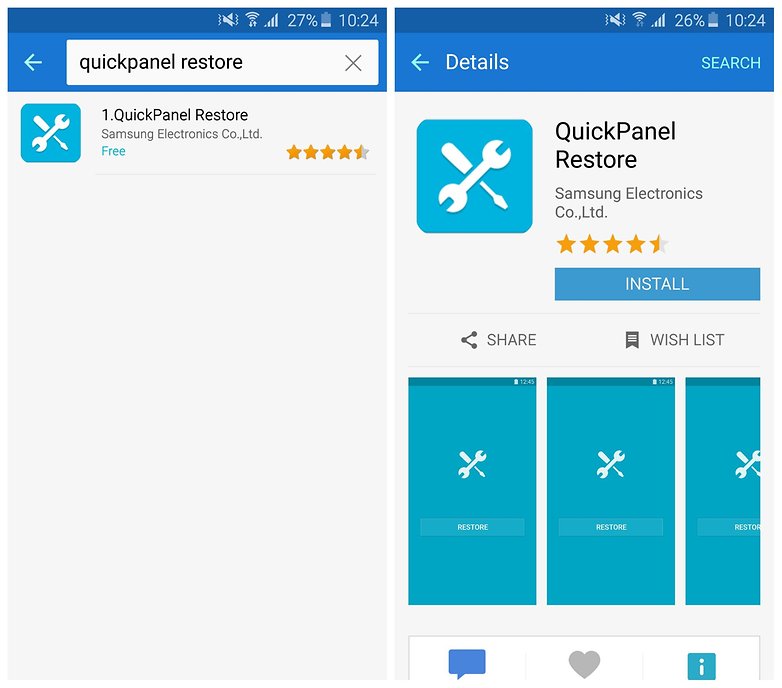 Once you've installed and opened the app there isn't a great deal to see other than a great big button marked 'restore'. Whatever you do, DON'T TAP THE BUTTON! Only kidding. You need to tap the button.
Once you do, the app will fix your Mobile Data toggle and then uninstall itself again, coughing apologetically. As you can see from the screenshots below, it does exactly what it's supposed to do.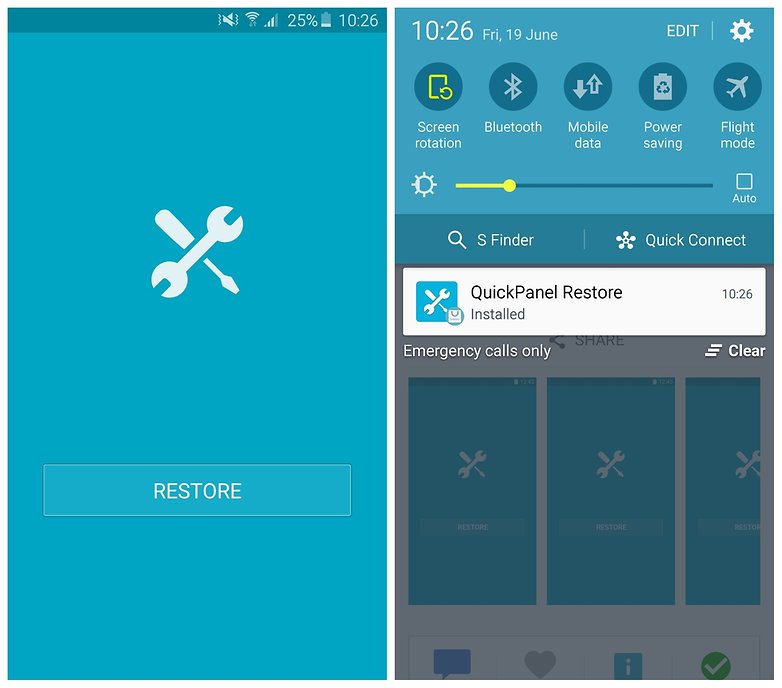 Previous coverage: One of our forum members, Marco Schwarz, raised the alarm with Samsung. Our thanks go out to our awesome community for raising the issue, helping to find solutions and getting on Samsung's case for a fix. If you've encountered this problem or have an alternate fix, please share your story in the comments below.
Samsung Galaxy S6 Edge problem: the back cover is peeling off
This might not apply to the S6 Edge just yet, but it definitely applies to the Galaxy S6: the back of one S6 has started peeling away from the rest of the phone for no good reason. It isn't because of a bad-battery bulge, we know better than to leave our phones in direct sunlight or on top of other heat sources, we haven't dropped it into a volcano and we haven't taken it deep sea diving. But despite treating the S6 like it was made of gossamer and glass, it looks like it's been through the wars. To our eyes it looks like the assembly was done on a Monday morning by somebody with a really bad hangover.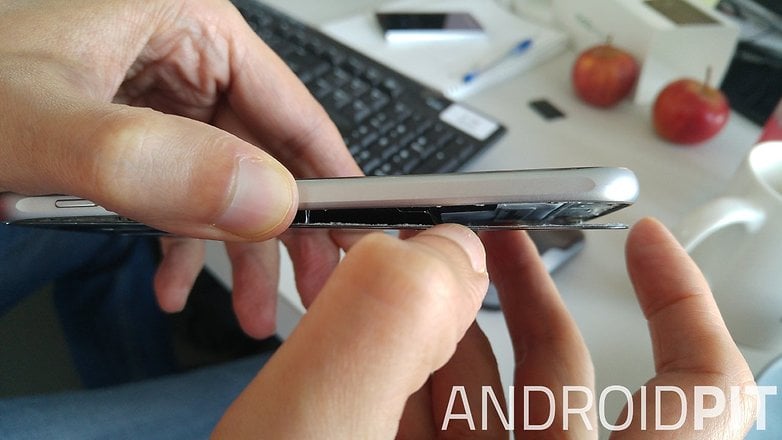 The solution:
If your phone's still covered by a warranty, practice your angry face and return it to the retailer: a high-end device shouldn't be literally coming apart at the seams.
If you aren't covered, you've probably guessed that the best way to deal with something that's coming unstuck is to stick it down again. You can do this with strong glue or very thin double-sided tape, but be very, very careful: glue in particular has a tendency to go where you don't want it to, such as into your phone's ports or onto your fingers. Use as little as you possibly can – and if you don't fancy doing it yourself, pay a visit to your friendly local phone fixer.
It's still too early to know whether this is a problem with the whole Galaxy S6 series, or just a one-off. On the one hand there are only isolated reports of the problem, and it's possible that our test unit is a non-consumer sample that isn't representative of the S6 devices you can actually buy. We've been in touch with Samsung about the problem, and they told us that they would carry out "a detailed study of the device to determine the exact cause of damage".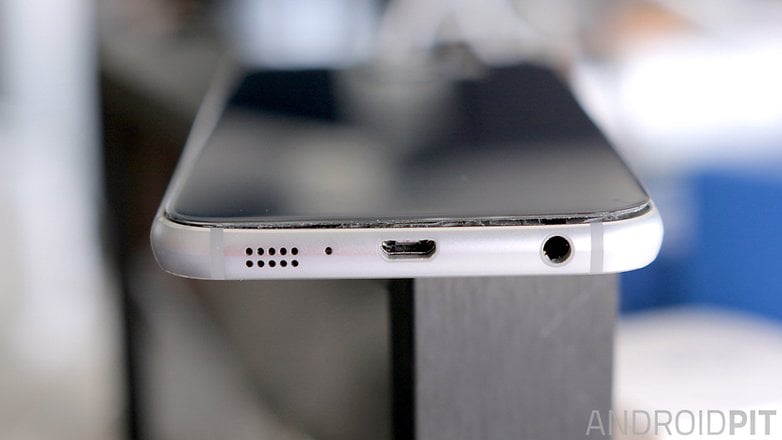 Here is the exact reply Samsung Germany sent us (translated from German):
June 12, 2015
To date, we have not been informed of cases where the battery cover has come loose without external influences. We count on your understanding that with just the one photo – and no detailed examination or more information about the device – we can not give an opinion on the causes of the problem.
As soon as the model in question and further information on exact conditions of the case are made ​​available, we will perform a thorough investigation to determine the cause of the damage.
It is a central concern for Samsung to offer its users the best possible experience with its products. Thus, Samsung strives for a high quality level to its products, to ensure top customer satisfaction rates.
Prior to the introduction of new products on the market, Samsung Electronics conducts several endurance tests. These are based on standards established by Samsung Electronics as well as by global telecommunications companies. All mobile devices from Samsung Electronics, among them the Galaxy S6, undergo rigorous quality control to meet the highest industry standards.
Samsung Galaxy S6 Edge problem: Galaxy S6 Edge camera LED won't turn off
Back when the first Galaxy S6 and Galaxy S6 Edge units made their way into the hands of consumers, people were delighted to see the little LED working – and not so delighted when that same little LED refused to switch off again. The problem was initially limited to T-Mobile users, but it soon appeared on other carriers' branded devices as well as unlocked handsets. Samsung admitted that there was a problem and that it would look into it.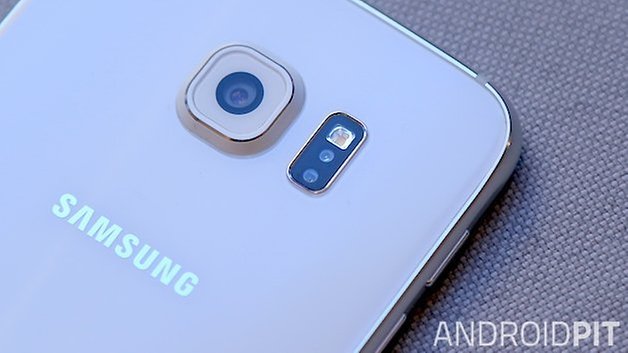 The solution:
Even though Samsung promised a fix back in early April, it wasn't until the Android 5.1.1 update, which only arrived in mid-June, that the LED flash issue was finally tagged as 'resolved'. If you haven't already upgraded, that'll fix your problem.
T-Mobile pushed the update on June 15, clearly identifying the LED problem in the changelog on the T-Mobile Galaxy S6 software update page.
What other Galaxy S6 Edge problems have you been facing? Do you have any solutions to share?