Galaxy S6 Edge+ vs Nexus 6P comparison: the big picture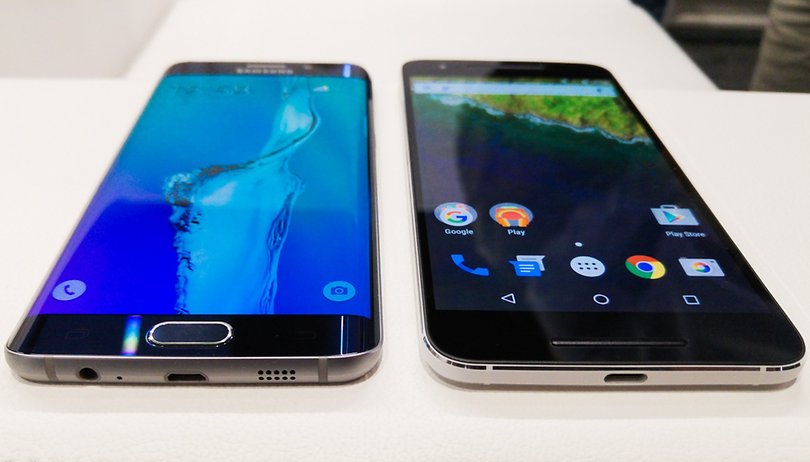 The Nexus 6P is upon us and we're busy looking at the ins and outs of it to see how strong a handset it really is. We've already formed an opinion on the Galaxy S6 Edge+, which currently ranks as our best Android phone in the world, but how does it stack up against Huawei's big handset? Find out in our Nexus 6P vs Galaxy S6 Edge+ comparison.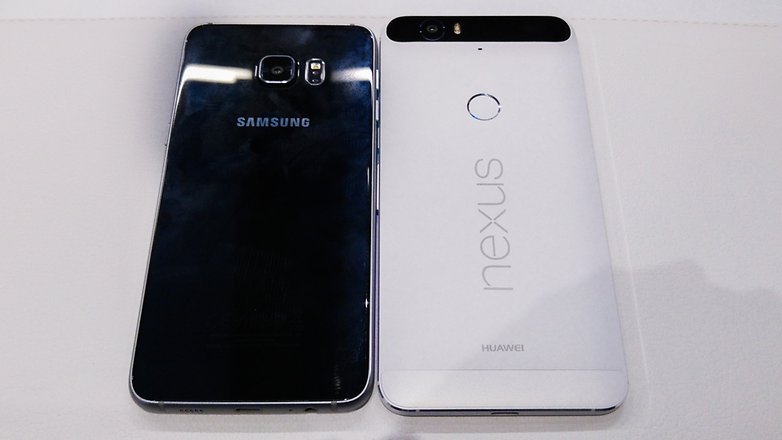 Nexus 6P vs Galaxy S6 Edge+ comparison: Design
Both the 6P and Edge+ are premium glass and metal handsets, and they look and feel high-quality. Both phablets have a 5.7-inch screen, so they're roughly the same dimensions (the 6P is a tiny bit bigger), but what sets them apart is the shape of the display. The edge+ has a curved screen, and the 6P's is flat. The 6P feels a little more comfortable, and its chamfered edges look great.
The 6P has stereo speakers on the front, which the edge+ lacks. But both have a fingerprint scanner; the 6P's is on the back and the one on the Edge+ is incorportated into the physical home button.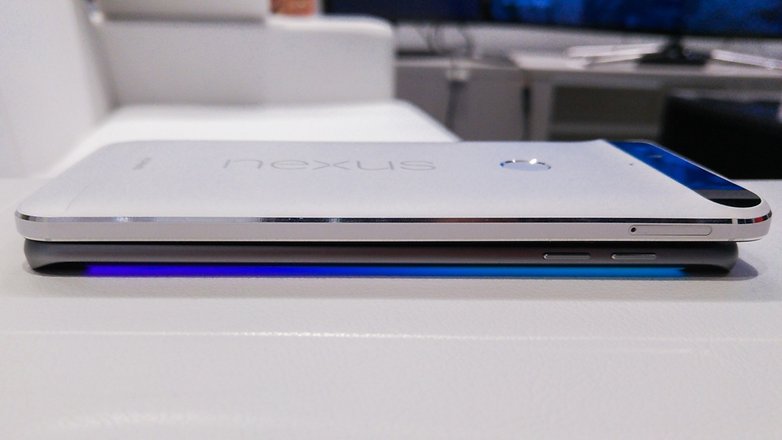 It's hard to say which is the better designed phone. Personally, I'm not sold on the benefits of a curved display, but I also don't like how the 6P's camera sensor looks. I prefer smaller bezels of the Edge+, but the 6P's brushed metal rear feels better than the glass on the Edge+. Honestly, I'm torn.
Nexus 6P vs Galaxy S6 Edge+ comparison: Display
Both the 6P and S6 Edge+ feature QHD resolution AMOLED displays. As mentioned above, the Galaxy S6 Edge+ display occupies more than 75 percent of the device's body, while the Nexus 6P has a screen-to-body ratio of just 71.4 percent.
Samsung favors rich colors, while the Nexus 6P has a more natural approach. The Galaxy S6 Edge+ has the brighter, more saturated display, but the curved edges do reflect more light. Samsung's display is possibly the most attractive, but it's a marginal win.
Nexus 6P vs Galaxy S6 Edge+ comparison: Software and performance
There are big differences in the software departments. The Nexus 6P runs on stock Android 6.0 Marshmallow while the Galaxy S6 Edge+ runs Samsung's TouchWiz software on top of Android Lollipop. It will be one of the first Samsung devices to get the Marshmallow update though.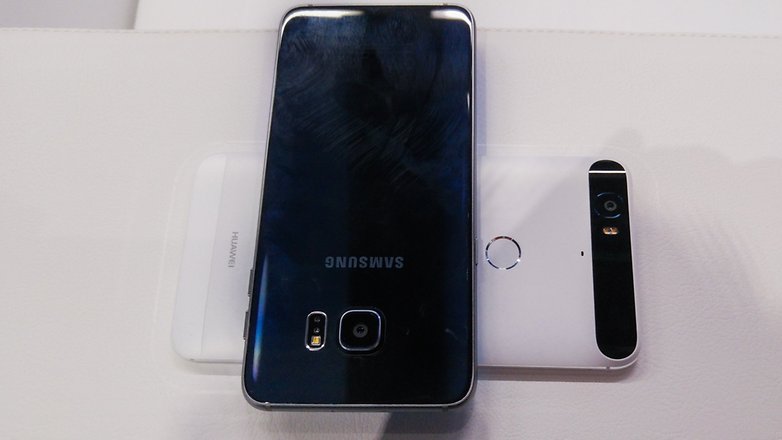 Once Marshmallow hits the Edge+, it will be able to do everything the 6P can, but will also have Samsung flourishes such as download booster and, of course, the Edge display options. Read more about those in our Samsung Galaxy S6 Edge+ tips and tricks article.
Performance is difficult to judge at this point. Samsung's S6 Edge+ is one of the fastest Android phones in the world, with 4 GB of RAM and a Exynos 7420 processor. The 6P has a Snapdragon 810 processor and 3 GB of RAM but because it was built specifically for Android 6.0 Marshmallow, it should have no problems in the performance.
Realistically, even though we've only just started to properly test the Nexus 6P, we don't expect there to be a huge difference between these two. Both are ultra-powerful handsets.
Nexus 6P vs Galaxy S6 Edge+ comparison: Camera
The Galaxy S6 Edge+ may have the best camera on the Android platform right now. With superior low-light capabilities, excellent color reproduction and optical image stabilization, the 16 MP main camera of the Edge+ is excellent.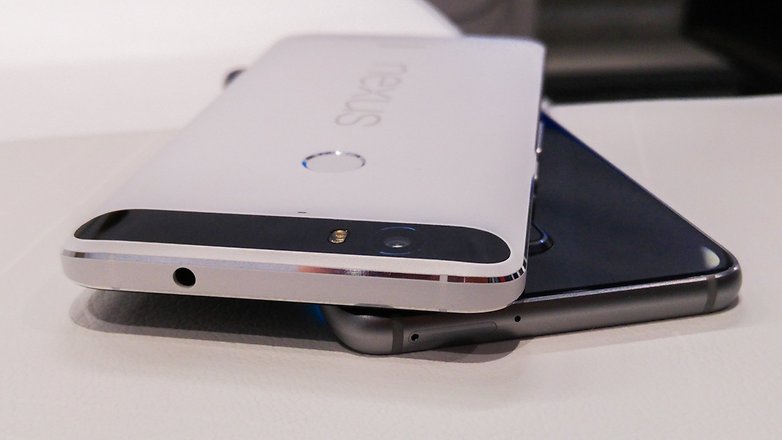 Nexus devices don't have a great history in terms of camera capabilities. The Nexus 6 suffered from a green tint that made it look as though its pictures were taken in The Matrix. Things have changed however, and Huawei has produced a far more impressive camera on both the front and back of the 6P. The rear camera is also highly capable in low light, but lacks optical image stabilization.
On the front of the 6P is an 8 MP camera, which takes excellent selfies. The Galaxy S6 Edge+ only has a 5 MP sensor on the front. More megapixels doesn't automatically mean better photos, so we'll wait for a more in-depth camera test before making a final decision on which is best.
Nexus 6P vs Galaxy S6 Edge+ comparison: Battery
The Nexus 6P has a pleasantly surprising 3,450 mAh battery. It's a good size cell for a 5.7-inch phone. The Galaxy S6 Edge+ has a smaller 3,000 mAh cell. Samsung tends to favor slim and light phones ahead of big batteries, but that said, its 3,000 mAh battery coped well in our in-depth battery test.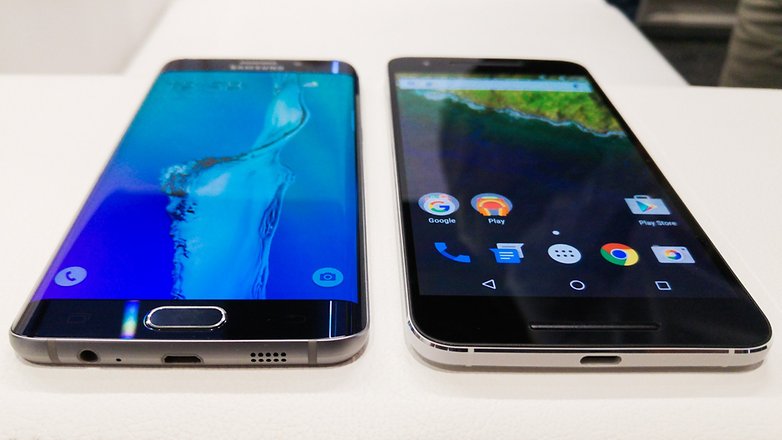 The 6P battery life has yet to be fully evaluated, but given the large capacity and integration with Android 6.0 Marshmallow, we expect it will be one of the better performing handset on Android in terms of battery life. It's not often you can say that about a Nexus phone.
Neither battery is removable, though both feature quick-charge functionality, and the Edge+ can also charge wirelessly.
Nexus 6P vs Galaxy S6 Edge+ comparison: Specs
Google Nexus 6P vs. Samsung Galaxy S6 Edge+ technical specifications
Google Nexus 6P
Samsung Galaxy S6 Edge+
Dimensions:
159.3 x 77.8 x 7.3 mm
154.4 x 75.8 x 6.9 mm
Weight:
178 g
153 g
Battery size:
3450 mAh
3000 mAh
Screen size:
5.7 in
5.7 in
Display technology:
AMOLED
AMOLED
Screen:
2560 x 1440 pixels (515 ppi)
2560 x 1440 pixels (515 ppi)
Front camera:
8 megapixels
5 megapixels
Rear camera:
12.3 megapixels
16 megapixels
Flashlight:
Dual-LED
LED
Android version:
6.0 - Marshmallow
5.1.1 - Lollipop
User interface:
Stock Android
TouchWiz
RAM:
3 GB
4 GB
Internal storage:
32 GB
64 GB
128 GB
32 GB
64 GB
Removable storage:
Not available
Not available
Chipset:
Qualcomm Snapdragon 810
Samsung Exynos 7420
Number of cores:
8
8
Max. clock speed:
2 GHz
2.1 GHz
Connectivity:
HSPA, LTE, NFC, Bluetooth 4.0
HSPA, LTE, NFC, Bluetooth
Nexus 6P vs Galaxy S6 Edge+ comparison: Price and Conclusion
The Nexus 6P costs US$499 for the 32 GB version, while the 32 GB S6 Edge+ can currently be found for around US$649. So what do you get for the extra 150 bucks?
Well, the Galaxy S6 Edge+ is one of the fastest Android phones there is, with one of the best cameras and possibly the best display. It also features wireless charging and the Edge screen options, which the 6P lacks.
The question you need to ask yourself is whether you need to have the best in all these areas. If you're happy with something that is just very good, rather than the absolute best, and will probably prove to have the better battery life, then the 6P is for you.
As with many device comparisons, It's not really about which phablet is better (that title would have to go to the S6 Edge+ in terms of what it actually does). It's about whether the small ways in which it is better are worth the extra investment.
Which device do you think is best? Let us know in the comments.