Samsung Galaxy S4 review: is last year's phone still a good buy?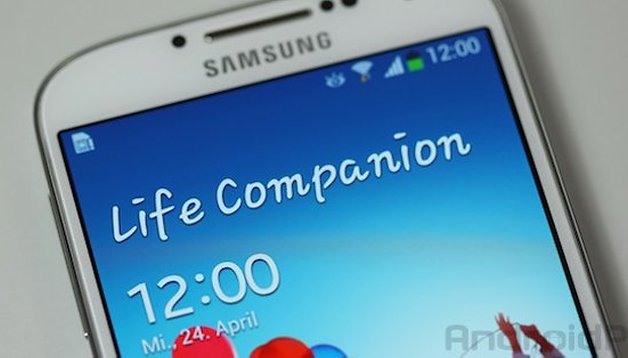 There's no question that the Galaxy S4 was the most-hyped device of 2013. Samsung's poured millions of dollars into marketing the S4 as a "life companion," which can translate your speech at the drop of a hat, beautify your photos and help you connect with the folks around you. Samsung is now a bonafide Apple competitor, with a rabid fanbase to show for it. But underneath all of the hype, is this a phone you're going to want to own? How does it stack up against the competition out there? We've been playing around with the Galaxy S4 for a few days and we have a few words to say on the matter. Here is our Galaxy S4 review.
Good
Display

Performance

Camera

Battery

Software features
Bad
Cheap design/material

Look of UI
Samsung Galaxy S4 design and build quality
As we all know, the Galaxy S4 looks remarkably similar to the Galaxy S3, with a few noted exceptions (we'll get to them later). Taking your cues from the most popular Android phone in America isn't such a bad idea and it shows just how confident Samsung is in their own design language. But this is not a phone that's going to stand out remarkably from the rest. If you're looking for something that's going to provoke oohs and ahhs from your friends, you'd be better off with something else.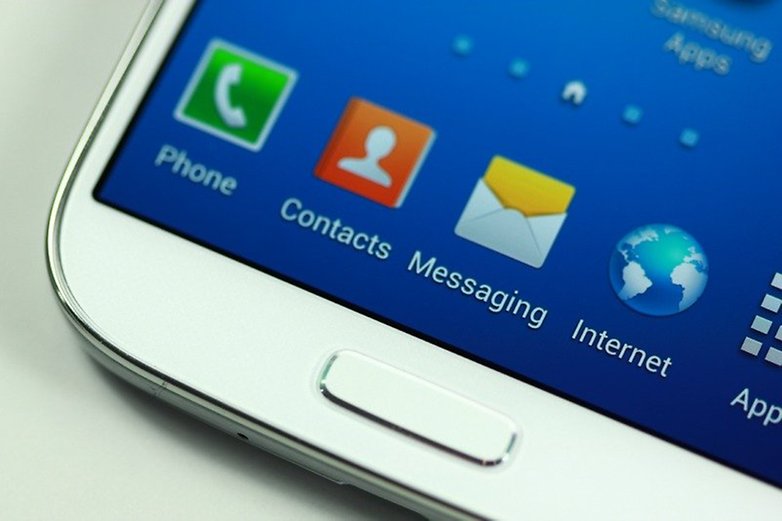 The Galaxy S4's plastic body has now been the subject of endless debates online. I suppose it simply comes down to a matter of taste: do you care more about having a phone with a sleek aluminum casing (like the HTC One) or do you prefer durable, glossy plastic? As some have noted, it's quite possible the Galaxy S4 will more scratch-resistant than its metallic competitor; whether or not that's a dealbreaker for you depends largely on how comfortable you are with buying a case for the device.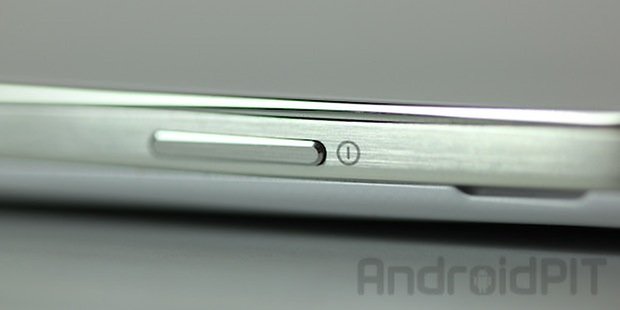 We liked, but didn't love, the design of this device. It certainly doesn't reach the dizzying aesthetic heights of some of the concept renderings that came pouring in prior to the release. That said, there are some nice touches, like a new metallic strip which wraps the housing. The battery cover also has a subtle grip-able texture that our hands quite liked. Despite having a larger screen, the Galaxy S4 doesn't feel much bigger than the Galaxy S3, which is nice for users who don't want to carry around a Note-sized device. While it supposedly weighs less than its predecessor, the difference is hardly noticeable.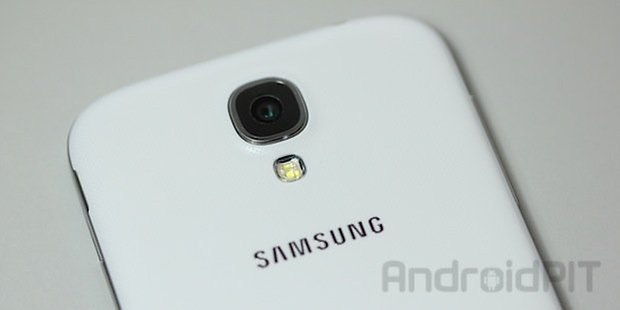 Samsung Galaxy S4 display
AMOLED displays are high-contrast, known for their dark blacks and vibrant colors. Whether or not the Galaxy S4 has the best display on the market comes down to a matter of taste. While the S4's Super AMOLED Full HD display is certainly bright, with rich eye-popping colors, I preferred the HTC One display's more accurate color-matching.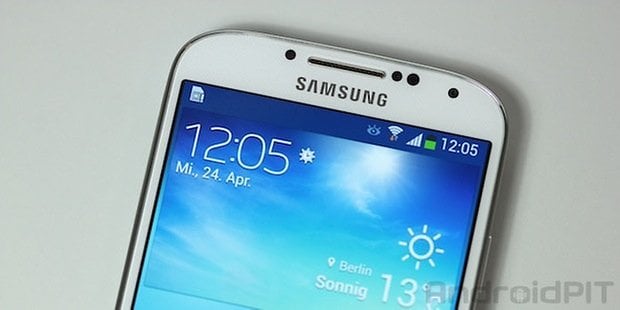 As far as the display housing, the Galaxy S4 obviously wins against the HTC One (M7), with the newest version of Gorilla Glass protecting it against any and all sharp, foreign objects. If you'd like to see just how durable the display is, take a look at this video. In my preliminary (and much more delicate) durability test involving a few coins, the display held up with nary a scratch.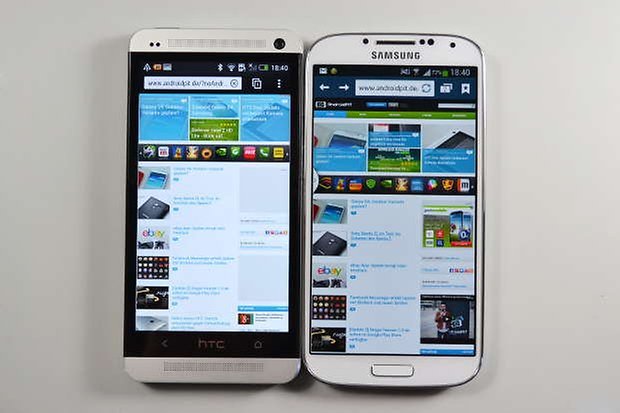 Samsung Galaxy S4 software
I'm so conflicted. You will find a ton of great new Galaxy S4 features, but TouchWiz remains a hideous mess. I'd prefer stock Android any day over the cartoonish and downright ugly icons, and I wonder why Samsung – which has so much money - can't invest just a tiny bit in good software design. That said, the Galaxy S4 has features for days.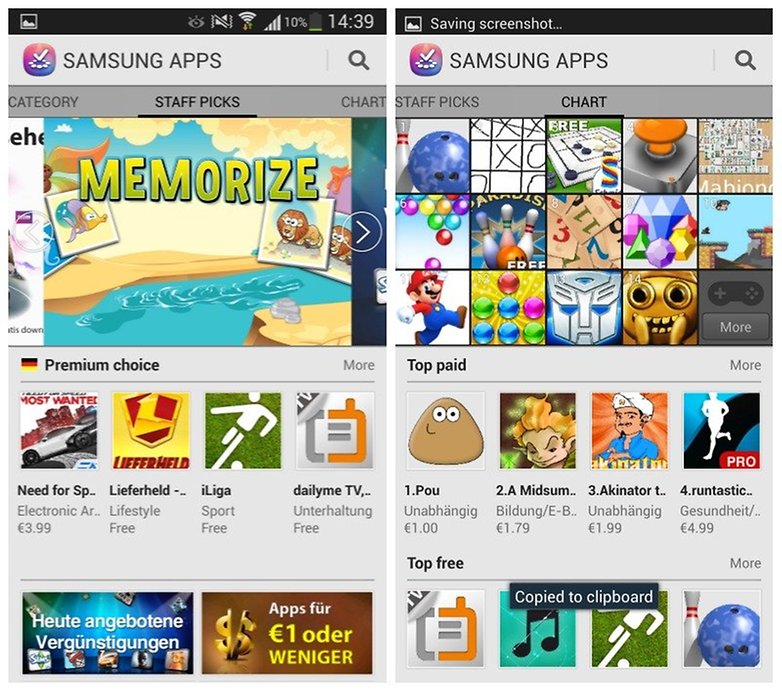 Liked the Galaxy Note 2? The Galaxy S4 has basically all of the same features, including floating touch, side-by-side multitasking options and tons more. The phone even has an "Easy Mode" for the user who can't handle the flood of features; the mode transforms the phone into something even a child could use, with a simple dialer, shortcuts to a few common apps and huge icons.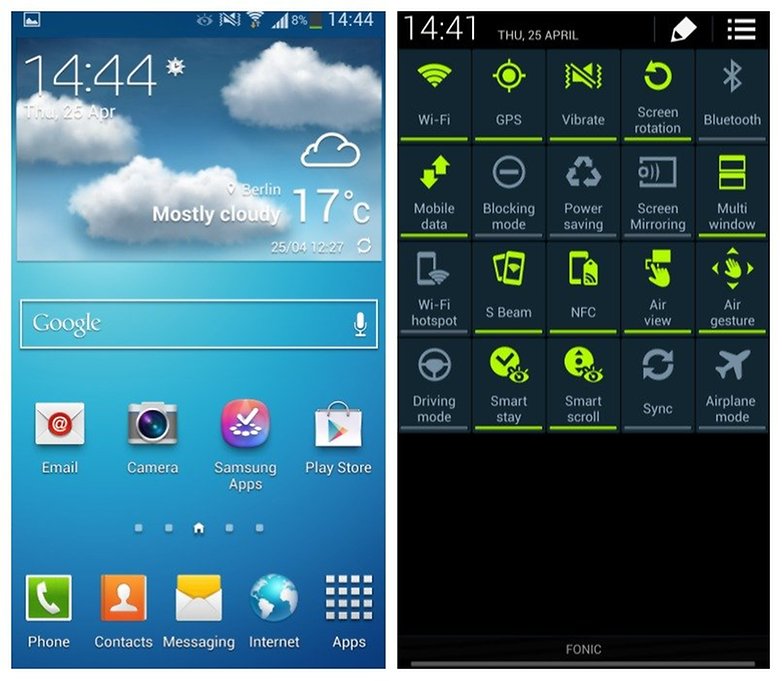 Wondering why Samsung stuck a humidity and temperature sensor in this baby? One word: S-Health. With this app, you cantrack your calories, sleep, steps and diet, and you can even tell the app how you feel and it will make suggestions about how to adjust your environment. Talk about a "life companion."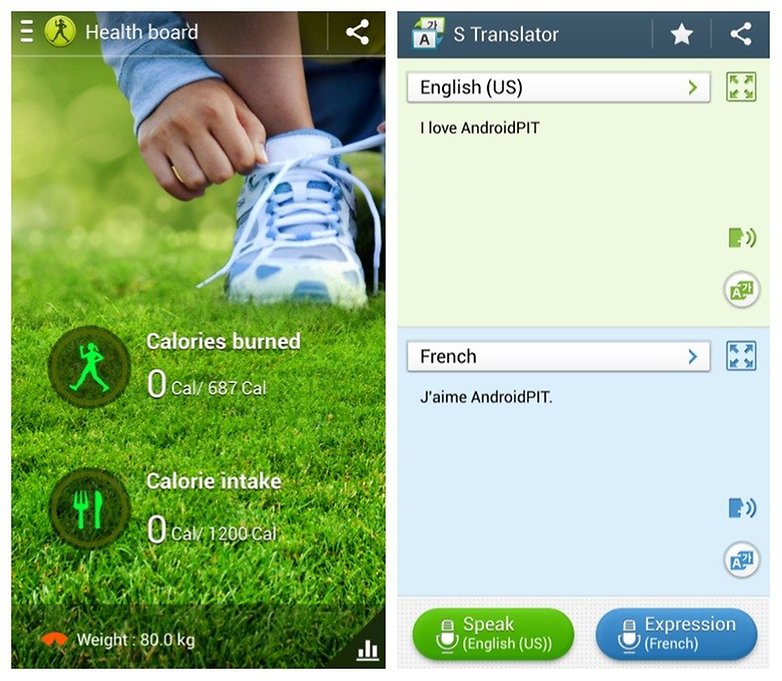 Samsung's also got an IR blaster remote that can control your TV, a suite of Office products via Polaris, a built-in translator (which works pretty similarly to Google Translate) and a tool for analyzing business cards.
Air Gestures worked sporadically for me. While it was fun to take a call by waving my hand above the screen, I found the feature over-sensitive, occasionally registering a pointed finger as a wave and misfiring. I'm not sure if I'd leave this feature on for day-to-day use.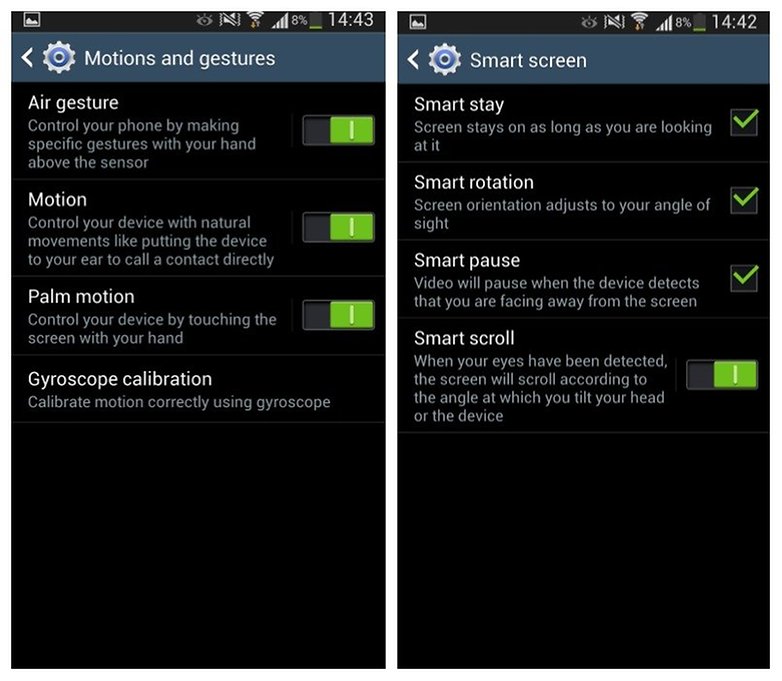 I love innovation of all kinds, and I'm glad Samsung is pushing the envelope. You don't see a lot of manufacturers attempting to radically change the way people interact with their smartphones. But I'm just not sure if all of these features are so useful. I wish I could recommend them, but some don't even work and they made the phone seem cluttered.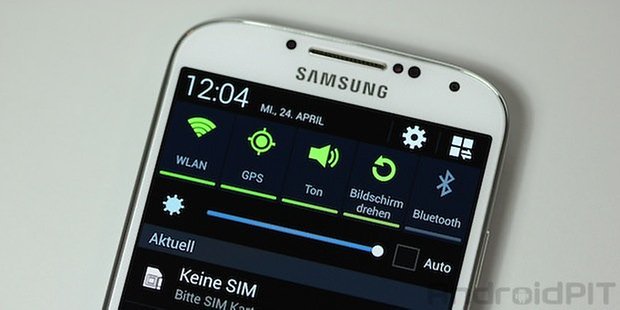 Samsung Galaxy S4 performance
The Galaxy S4 is one speedy beast. It didn't lag at all during our tests, even when we were playing very demanding games. A 1.9Ghz Qualcomm processor provides more than enough power for day-to-day use. Occasionally, Touchwiz lagged when opening the app drawer, which is probably a software issue. Hopefully, Samsung will fix the problem in an OTA update.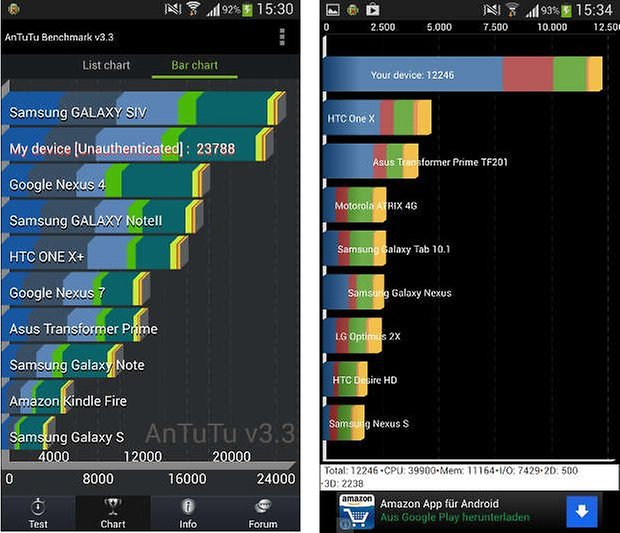 Samsung Galaxy S4 camera
If there's one thing the Galaxy S4 has over the HTC One, it just might be the camera. It's not just that the Galaxy S4's camera packs 13MP, it's also a breeze to use and has tons of great features I can see myself actually using. Sure, it might be a little gimmicky to take a photo with the front and rear-facing camera simultaneously, but I'd do it. The Eraser feature also worked quite well when I tested it out, allowing me to easily remove a coworker who walked past me while I was taking a photo.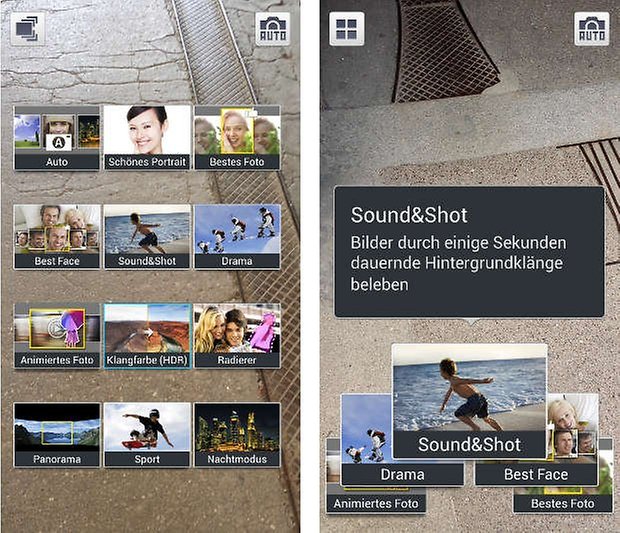 Another great feature is the ability to enrich photos with snippets of sounds, much like HTC One's Zoe feature. This feature breathes like into images. A sunrise or party photo contains all the ambient noise around the shooter when he took it. I love this feature so much.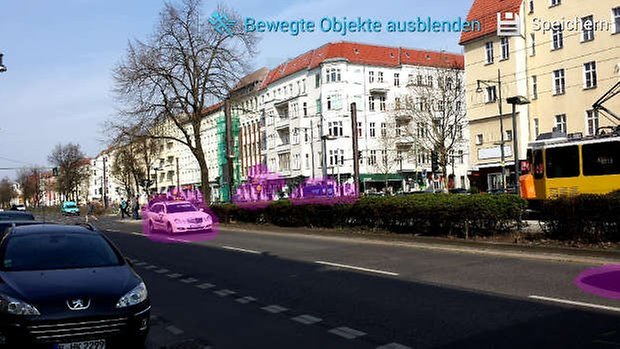 As far as image quality is concerned, the phone meets or exceeds the iPhone 5 in nearly every category. Photos are crisp and clear, with minimal noise. The exception to that rule, of course, is night time photos. Here, the HTC One undoubtedly wins.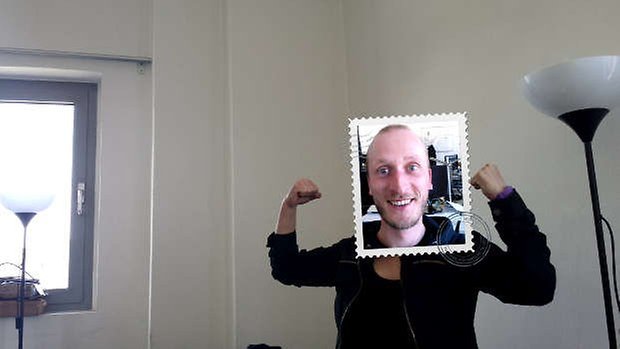 Samsung Galaxy S4 battery
The Galaxy S4's battery has a capacity of 2,600mAh which is more than other top smartphones and it performed well in our preliminary tests, lasting a full day no matter how demanding we were. This is arguably better than the HTC One's battery, which lasted until bedtime, but juuust barely.
Price and release date
The Galaxy S4 release date was April 26th, 2013 and the current Galaxy S4 price is 344.98 USD for the carrier unlocked version (282 GBP).
Take a look at the Galaxy S4 specs to see what else is under the hood.
Samsung Galaxy S4 technical specifications
Final verdict
I'm not going to tell you which phone to buy. I'm sure by now you already have a hunch as to which one you'd like. But the Galaxy S4 certainly isn't a bad bet. However, for those who want an expandable storage drive and a removable battery, it would be right up your alley. The good news is that consumers now have a choice between many excellent Android models, even if a year old, and of course each with their strengths and weaknesses. Despite the arrival of the Galaxy S5, Galaxy S4 still have massive appeal.