Samsung Galaxy Note 8 vs LG V30: A tight race for the lead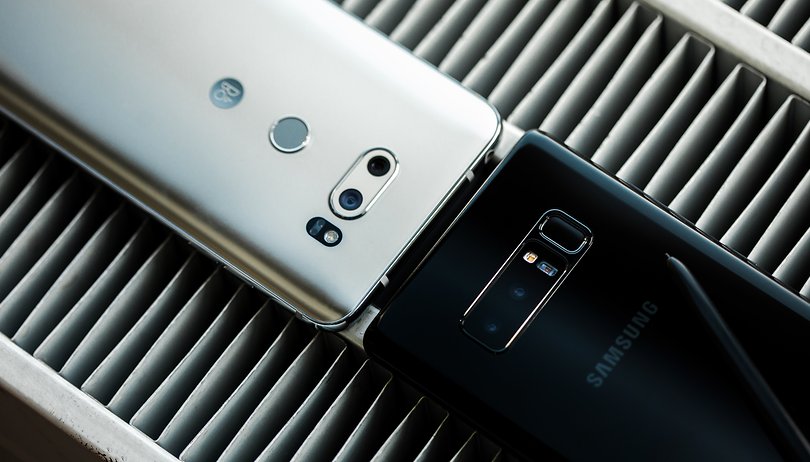 Samsung made its first move with the Galaxy Note 8, and LG followed suit with the V30. Both smartphones are flagship devices for the manufacturers and while they may seem pretty similar, they do have their differences.
Until very recently, smartphones from LG and Samsung looked distinctly different from each other, but now both have become more alike with the V30 and the Galaxy Note 8. Curved glass on the front and rear that seamlessly merge with the aluminum bezel and flowing forms neatly characterize the look. Both Korean smartphones look elegant from the outside and the bezel around the display is thin, but only Samsung has a display that is actually slightly curved.
It's not easy to pick a favorite between these two devices; both smartphones look elegant and have impeccable craftsmanship. Perhaps LG pulls off the rear a bit better with its shimmering color shades, while the Galaxy Note 8 seems somewhat more mundane. LG has also integrated the dual camera in the housing in a somewhat more subtle manner. The position of the fingerprint sensor has been significantly improved, though unfortunately the same cannot be said for Samsung's smartphones.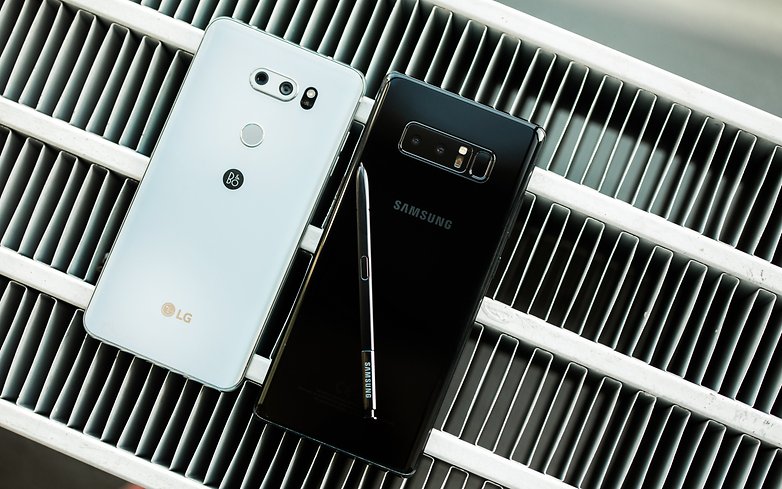 The Galaxy Note 8's S-Pen is a bonus
The biggest difference between the phones is that the Note 8 has the S-Pen. LG only offers a stylus-equipped smartphone with its mid-range devices, but Samsung is on its own in that regard when it comes to flagships. The market leader has also taken advantage of this, and the Galaxy Note 8's stylus functions are actually super exciting. You can write and pin notes directly on a powered-off display, create GIFs, draw - the S-Pen lets you do things that other phones cannot. Of course, not everyone needs that, but it is a definite bonus.
There are many similarities (and differences) when looking at the technical specs of both phones. At 6.3 inches, the Galaxy Note 8 has a slightly larger display than the LG V30, although the LG smartphone is a centimeter shorter and - due to the lack of an S-Pen - significantly flatter. Samsung is a step ahead with the resolution of the front camera and RAM, while both devices have an identical battery, which is also interesting because the Note 8 is much heavier than the V30. You can check out a comparison of all the specs in the following table.
LG V30 vs. Samsung Galaxy Note 8 technical specifications
| | LG V30 | Samsung Galaxy Note 8 |
| --- | --- | --- |
| Dimensions: | 151.7 x 75.4 x 7.3 mm | 162.5 x 74.8 x 8.6 mm |
| Weight: | 158 g | 195 g |
| Battery size: | 3300 mAh | 3300 mAh |
| Screen size: | 6 in | 6.3 in |
| Display technology: | POLED | AMOLED |
| Screen: | 2880 x 1440 pixels (537 ppi) | 2960 x 1440 pixels (522 ppi) |
| Front camera: | 5 megapixels | 8 megapixels |
| Rear camera: | 16 megapixels | 12 megapixels |
| Flashlight: | LED | LED |
| Android version: | 7.1.2 - Nougat | 7.1.1 - Nougat |
| User interface: | LG UX | TouchWiz |
| RAM: | 4 GB | 6 GB |
| Internal storage: | 64 GB | 64 GB |
| Removable storage: | microSD | microSD |
| Chipset: | Qualcomm Snapdragon 835 | Samsung Exynos 8895 |
| Number of cores: | 8 | 8 |
| Max. clock speed: | 2.45 GHz | 2.3 GHz |
| Connectivity: | HSPA, LTE, NFC, Bluetooth 5.0 | HSPA, LTE, NFC, Bluetooth 5.0 |
Samsung and LG's dual cameras show many parallels, but they are fundamentally different. Both have two adjacent cameras, but in addition to the normal one, the Galaxy Note 8 sports a telephoto lens with 2x zoom, while LG uses a wide-angle lens. As a result, the Galaxy Note 8 is more suited for portrait and close-up shots, while the V30 can pack more in a picture than most smartphones.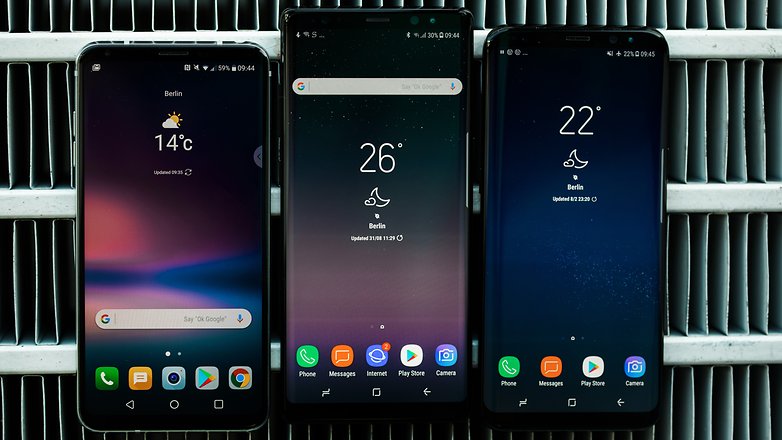 But the battle between Samsung and LG is still exciting, because both smartphones are sleek, well-equipped, fast, and have a unique style despite the similarities.
Both smartphones are currently going through our gamut of tests, and you'll be able to read about the results in the coming days.
We want to know what you think. Which of these two smartphones would be your next one?