Galaxy Note 4 vs iPhone 6 Plus: which is the better phablet?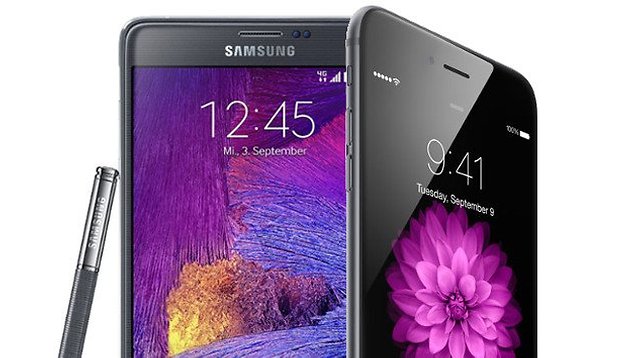 With the iPhone 6 Plus, Apple is in an unusual situation: this large-screened iPhone is a new arrival in a category created by its arch-rival Samsung, and recently re-crowned with the arrival of the Galaxy Note 4. Now that Apple's seen the big-screen light, is its biggest-ever iPhone likely to tempt anyone over from Android? Lets take a closer look in comparing the Note 4 vs the iPhone 6 Plus.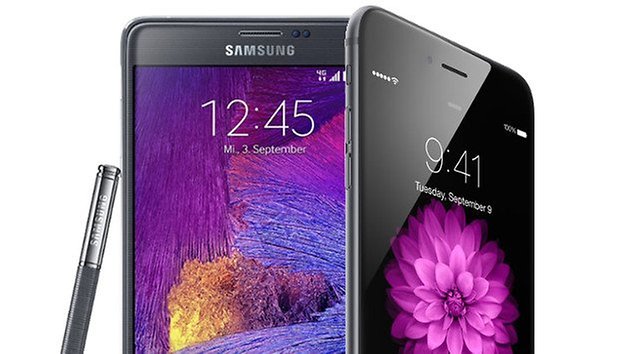 Samsung Galaxy Note 4 vs iPhone 6: Design
The iPhone 6 Plus is quite thin, measuring just 7.1 mm. It looks like Apple is wanting to boost the size of their phones while keeping them thin to keep up with the ''the thinner the better'' trend. The Note 4 on the other hand is not as thin, measuring 8.5 mm, however it packs a stylus.
The power button has been moved onto the side of the iPhone 6 Plus, which is more similar to the Note 4, and is now easier to reach. The difference of course between these two is a question of material: the iPhone 6 Plus is made of metal, while the Galaxy S5 is made of plastic with a little bit of metal, that being the frame. It comes down to a matter of taste on what you prefer though.
Both the Note 4 and the iPhone 6 Plus come with fingerprint sensors, but the Note 4 has it beat in that it comes with a heart rate monitor and UV detector, as well as being water-resistant (IP67 certified). A big ''accomplishment'' for Apple is that they've now included an NFC chip, which Android has had for quite some time now. No further comment.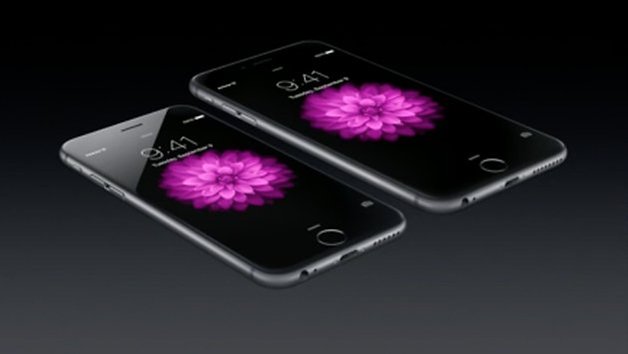 Samsung Galaxy Note 4 vs iPhone 6: Screen
The new iPhone 6 Plus comes with a 5.5-inch Retina HD display (1,920 x 1,080 pixels), which is SRGB active. This basically means that it is an LCD screen. Plus it is ''ion strengthened''. They've also said that the viewing angle has also been improved upon. Also, they mention that the 6 Plus has 185% more pixels than the iPhone 5S.
There's an improved polarizer, photo alignment with IPS liquid crystal, and ultra-thin backlighting. The Note 4 on the other hand has a 5.7-inch Super AMOLED display (2,560 x 1,440 pixels), which we have found to be dazzling in our hands on review, and obviously beats out the iPhone 6 Plus in pixel count. Looks like the Note 4 might still be ahead here.
As a side note, Apple boasts that the iPhone 6 Plus can work in horizontal mode, which the Note 4 can obviously do as well, but it seems that this is a breakthrough for Apple.
Samsung Galaxy Note 4 vs iPhone 6: processors
The iPhone 6 Plus comes with a brand new processor, the Apple A8, which is a 64-bit chip. Apple says that it is a 25% faster CPU with 50% faster graphics than the iPhone 5, and is 50x faster than the original iPhone. A 64-bit processor can only be found in very few Android devices, and the Note 4 has a quad-core Qualcomm Snapdragon 805, clocked at 2.7 GHz, which isn't 64-bit. Nevertheless, the Note 4 processor is very powerful, along with its 3 GB of RAM. We would have to put it to test to really decide which processor is actually faster.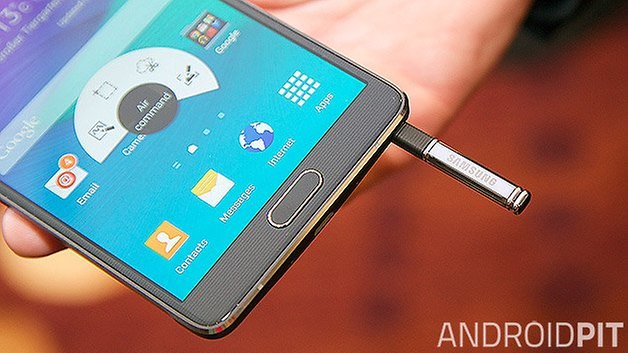 Samsung Galaxy Note 4 vs iPhone 6: Software and features
We're comparing Apples and not-Apples here: where the Galaxy Note 4 has Android 4.4.4 with TouchWiz (and Android 5.0/L when Google releases it), the iPhone 6 runs Apple's own iOS 8.
Some changes that Apple made to its controls is that you can now double touch the home button to make the entire display come down, to reveal the top buttons. This reminds me a bit of pulling down the notification bar to reveal the Quick Settings, which the Note 4 obviously has.
Also, apps now need to be fitted to the new screen size: developers will need to customize their apps for the bigger screen.
Samsung Galaxy Note 4 vs iPhone 6: battery
The battery on the iPhone 6 Plus is said to have 16 hours of standby time, with 24 hours of 3G talk. When looking at the Note 4, the battery of 3,220 mAh offers substantial battery life. However, until we find out a definite battery capacity, then we can't say which is better for sure (and a longer test would naturally be required).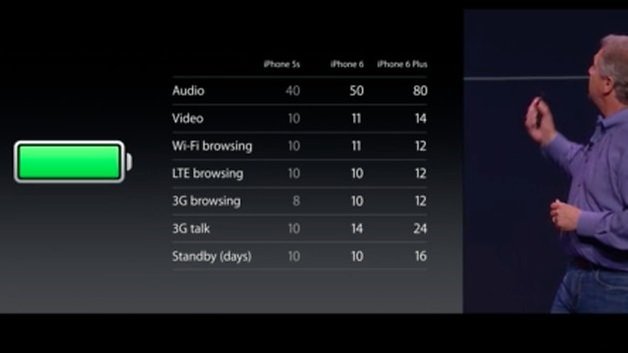 Samsung Galaxy Note 4 vs iPhone 6: Tech specs
| | GALAXY NOTE 4 | iPhone 6 Plus |
| --- | --- | --- |
| OS | Android 4.4, TouchWiz | iOS 8 |
| Display | 5.7 inch Super AMOLED, 2,560 x 1,440 pixels (515 ppi) | 5.5-inch Retina HD LCD, 1,920 x 1,080 pixels (401 ppi) |
| Dimensions | 153.5 x 78.6 x 8.5 mm | 158.1 x 77.8 x 7.1 mm |
| Weight | 176 grams | 172 grams |
| Battery | 3,220 mAh | Up to 24 hours of 3G talk |
| Camera | 16 MP with OIS / 3.7 MP, 4K video | 8 MP iSight / 1.5 micron pixels, f/2.2 aperture., "digital" image stabilization 240 fps slow-mo, 1080p at 30 or 60 fps |
| Processor | Qualcomm Snapdragon 805, Quad-Core, 2.7 GHz | Apple A8, dual core, 1.4 GHz, M8 motion co-processor |
| RAM | 3 GB | 1 GB (TBC) |
| Internal Storage | 32 GB (+ microSD up to 64 GB) | 16/64/128 GB |
| Connectivity | Bluetooth 4.1 BLE, micro USB, Wi-Fi ac, GPS, NFC, IR LED, USB 2.0, MHL 3.0 | Wi-Fi is 802.11ac, VoLTE, NFC |
| Price | TBA | 299 USD (16 GB), 399 USD (64 GB), 499 USD (128 GB), on a two-year contract |
Samsung Galaxy Note 4 vs iPhone 6: early verdict
So far, the iPhone 6 Plus puts on a good show, however it's obviously difficult to compare some of the aspects, such as processors and battery, when we haven't had the device in-hand. From what we can see, the iPhone 6 Plus is definitely encroaching on Samsung territory, but is it enough?
Apple is learning, slowly but surely, that larger screen sizes are what people want! And the price difference between the iPhone 6 Plus and the Galaxy S5 won't be so jaw-dropping. We will have to wait to know the outright pricing on the iPhone 6 Plus to really judge the price-performance ratio. Stay tuned for more, folks.