Hands On With Samsung's Note 10.1. This Is Definitely My Next Tablet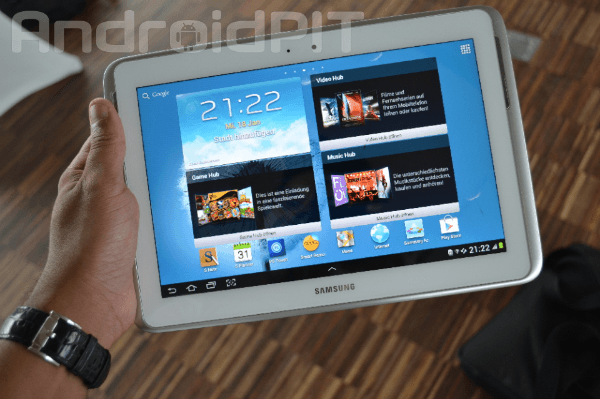 All I can say after just getting back from a Samsung event in Hamburg where they showed off the new Galaxy Note 10.1 tablet is: Samsung...please take my money. Before purchasing my Transformer Prime, I was lucky enough to have owned a Samsung Galaxy Tab 10.1, and although I absolutely love my Prime (despite the buggy software, and my screen cracking for NO REASON) and its superior hardware, I have to admit that my first tablet left more of a mark on me. I had a feeling that Samsung's next tablet would really be a monster in terms of specs, UI, and overall look, but I now have no doubt in my mind that the Note 10.1 is the next tablet I will be buying. Why you might ask? Let me show you.
Physical appearance
The Note 10.1 basically looks like my previous Galaxy Tab 10.1, with the only big change being the metal looking side bevels with integrated speakers that Samsung added due to Apple being cry babies (which resulted in the Galaxy Tab 10.1N). While I'm not crazy about the black version, the white and grey/silver fits well together in my eyes, and is pretty damn sexy when you're holding it in your hands. It has the same plastic back as the original Tab 10.1, and almost the same thickness. Here are a few photos I grabbed of the device. I don't know about you guys, but I likey (last picture is next to my Transformer Prime for comparison purposes):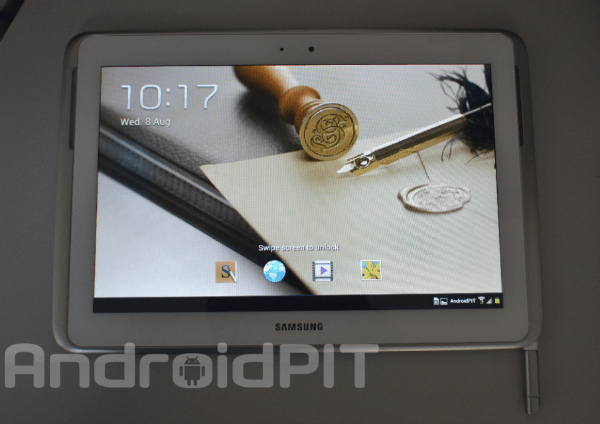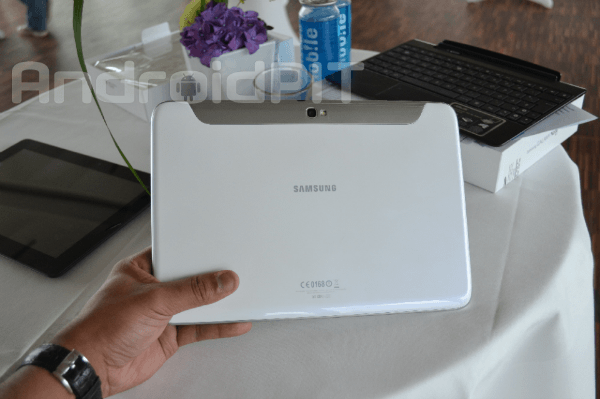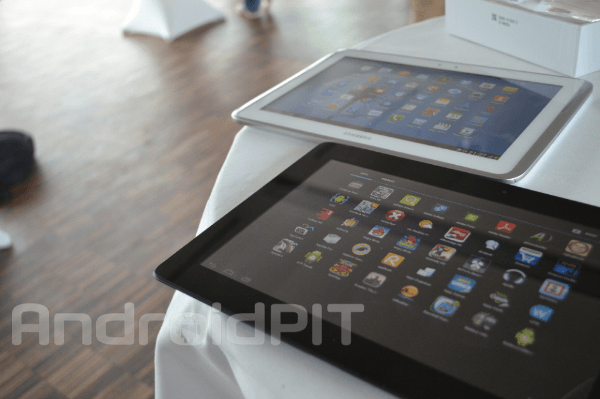 The user interface / software
When I had my Galaxy Tab 10.1, one of the first things I did was root it, which allowed me later to get rid of the Touchwiz interface (I have always favored stock Android). That being said, the UI for the Note 10.1 looks very slick, and although its shipping with ICS and not Jelly Bean (Samsung said a JB update would most likely happen this year, but didn't confirm 100%), Samsung has done a great job in tweaking Touchwiz for this device. I will still most likely root it, but for the first time (for me anyway), Touchwiz seems to be looking pretty damn appealing.
The on-screen keyboard looks dangerously close to the iPad's keyboard, and some of the fonts do as well, but I'm sure a little "root" would allow me to swap out elements of the tablet if I didn't like them. Considering all the court battles with Apple lately, I really wish Samsung would do more to keep things like that from happening. That being said, the on-screen keyboard works amazingly well.
I won't get into how much Apple has "borrowed" from IOS 5 and 6, as that's another subject all together.
Moving on....Here are 2 photos I took of the Touchwiz UI, which will look very familiar to Galaxy S3 owners: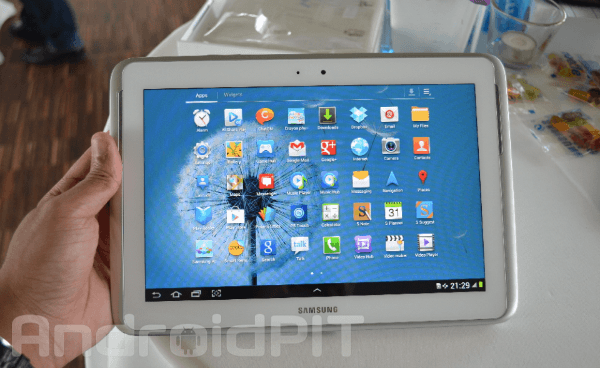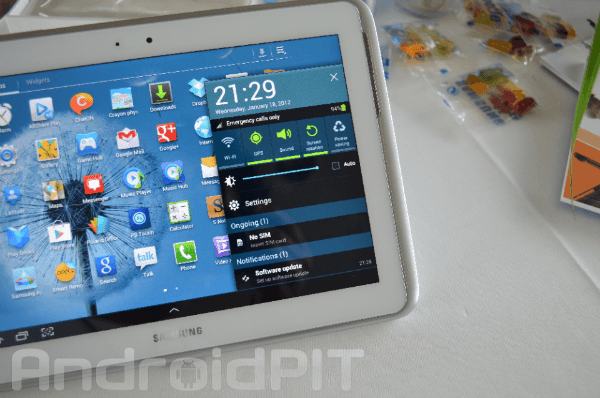 The stylus/S Pen
When it comes to drawing, I have the artistic ability of a...well...someone who can't draw a stickman to save his life. I have never been a fan of styluses, but this one really allows you to do some pretty amazing stuff. Samsung brought in a professional comic artist, who drew up some absolutely amazing photos live at the event. This tablet is really an artist's dream, and comes pre-installed with Adobe Photoshop Touch, which is an app that costs 10 dollars on the Play Store. The stylus is integrated into the bottom right corner of the tablet, and can be easily removed and replaced when needed. You can also purchase an additional Pen with an eraser on the top if you wish to shell out the extra cash.
I will show this off more in a hands on video later, but trust me when I say that Samsung is bringing the stylus back in a very good way: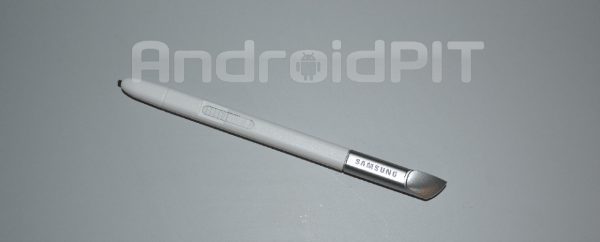 Hardware
Samsung didn't hold back on the hardware with this device. It's rocking the same quad core Exynos 4412 processor found in the international version of the Galaxy S3, 2GB of RAM (yes, you read that right..2GB..FINALLY), a 5MP shooter on the back with a 1.9 VT front facing cam, 16,32, or 64GB of internal storage with a microSD slot for an additional 64GB storage, and a 7000 mAh battery, all packed into an 8.9mm device (original Galaxy Tab 10.1 was 8.6mm) that weighs 567 grams. There are WIFI only models, and 3G models (the 3G models allow you to make normal phone calls, and a standard dailer is included).
The only thing in my eyes that could have been better is the display resolution, as Samsung went with a 10.1 inch WXGA 1280x800. The Transformer Infinity and newest iPad both have much higher resolutions, and it would have been nice to see Samsung go the same route. That being said, the screen still looks amazing (as Samsung is known for), with colors that pop and deliver extremely crisp looking HQ video.
Another downer is that you have to purchase additional accessories in order to use HDMI, as it doesn't have the mini HDMI port that's integrated into the Prime. I guess Samsung is going Apple's route when it comes to accessories, as you can purchase everything from cases, docks, keyboards, and alternate connection hardware, at a price naturally.
The camera
Samsung arranged a tour of a new opera house that is currently being constructed in Hamburg, and encouraged us to take pictures of the impressive building site with the tablets camera. The 5MP camera did well, but struggled in low lighting conditions. Although I can't imagine me taking that many pictures with a tablet, I was pretty impressed with the photo quality.
Here are a few pictures I snapped with the Note 10.1 (compressed):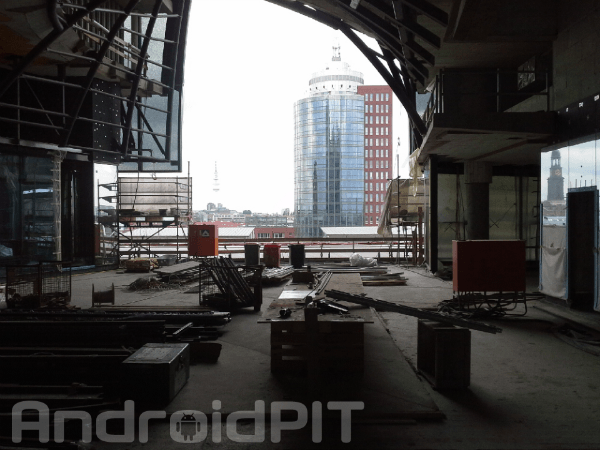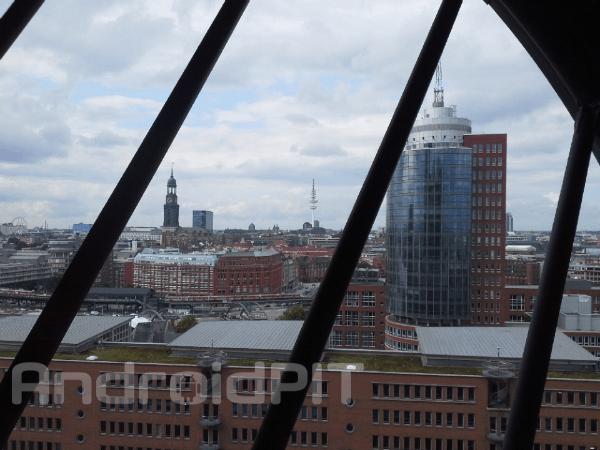 The revamped multitasking (awesome)
This is one of the most impressive things about this tablet in my eyes. Samsung has added a multi-screen picture function that takes Android multitasking to a new level. As you can see in the photo below, I was able to open a drawing application on the left side of the device and draw on it, while viewing a video opened on the right side of the screen. It worked flawlessly, and is a feature I hope to see coming to more Android devices soon. I think you guys will really love how it works: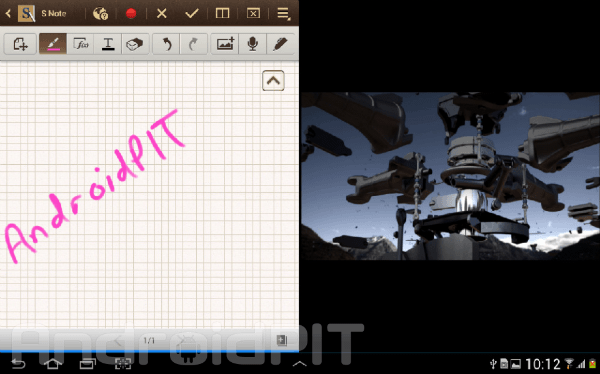 Pricing and availability
Ah Samsung. They just don't seem to get it when it comes to competitive pricing. The Galaxy Note 10.1 is available in Germany as of today, and will be selling for 599 Euros for the 16GB Wifi model. 32GB will cost you 699 Euros, with no word on how much the 3G variants will cost. I find this to be really expensive, especially when you consider the Asus Transformer Prime that offer a better display, quad core processors, and a keyboard dock for the same price as Samsungs 16GB model that doesn't include a dock (a dock is available for the device, but it doesn't fold into the "netbook" shape as the Asus tablets do. No word yet on pricing). We don't have confirmation on which countries will receive the Note 10.1 next, but only that it will be gradually rolled out worldwide.
I am guessing that when this hits the US, the prices will be the same in dollars, making it significantly cheaper than what Europeans will have to pay for this tablet. That being said, it is the most impressive tablet I have ever used in terms of hardware, and the software compliments it nicely. You won Samsung. You got me. But you would have had me even more had you priced it the same as the iPad (even less would have been better).
Final Thoughts
Samsung was kind enough to let me bring one of the tablets back to Berlin, so expect a hands on video soon. I am overall extremely impressed with this device. So impressed, that I will be selling my Transformer Prime & dock in favor of this tablet (once I get the screen repaired). Its a shame that the screen resolution wasn't higher, and that it doesn't have the mini HDMI slot found on my Prime though. Asides from that, It's pretty much everything you could really expect from a tablet, and I can honestly say that Samsung has done a hell of a job with this device.
I am going to buy this device, as it's a beast. But I'll be a bit upset with myself, as the tablet is not cheap, and could have included a couple missing things (mainly the screen res and mini HDMI port) at that pricetag. But asides from that, it's probably the most impressive tablet I have ever used, and opens a world of new opportunites for Android users.
What do you guys think of the Samsung Galaxy Note 10.1? Could this be your next tablet?
Let me know what you think about it in the comments below!
P.S - Good Gawd Samsung. It's no secret that I'm not the perfect example of someone who always uses proper grammar, but do you have anyone at all double checking the writing on your boxes? Check out the photo I just took of the FRONT of the box of the Galaxy Note 10.1, and tell me how many grammar mistakes you find (hint: there are 6 grammar mistakes, and 2 sentences we found right off the bat that make absolutely no sense):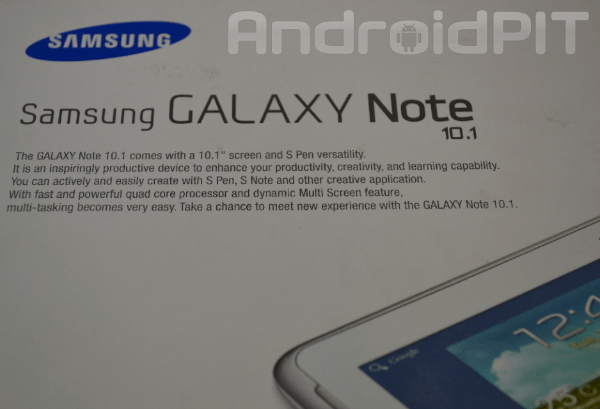 Tsk tsk Sammy. Sloppy...very sloppy indeed.