Samsung Galaxy A5 (2016) VS Honor 8: which one this Christmas?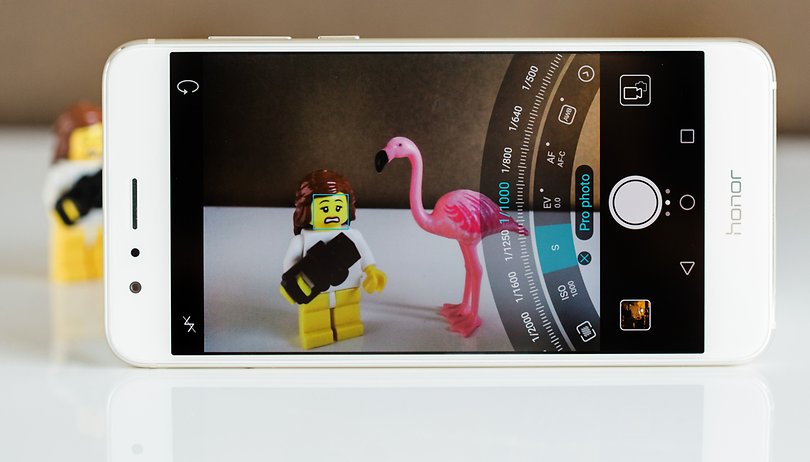 With Christmas and New Year fast approaching, many of you are probably thinking of investing in a new smartphone. Among the models that are in the running to be a hit this year, the Samsung Galaxy A5 (2016) and Honor 8 are definitely on the list. This is hardly surprising as both models have managed to win many fans with their many features. But does one of these smartphone stand out more than the other? Which one would we recommend you consider? You can find the answer to these questions (and more!) in our comparison.
Samsung Galaxy A5 (2016) vs Honor 8: design and finish
In terms of appearance, these devices are in the same category as both manufacturers opted to use metal and glass. Even though the launch of the two smartphones was separated by nearly a year (the Galaxy A5 was launched in January and the Honor 8 in September), the Galaxy A5 still looks sharp. That said, it's important to recognize that this phone is slightly less premium than the newer Honor 8.

While the Galaxy A5 may have a metal frame and a glass back that is comparable to the Galaxy S6, the finish is not as good as the Honor 8. The grip of the latter is much more pleasant and smoother with softer edges. The flipside of this is that the Honor 8 is more slippery to handle, so is more prone to being dropped. Like all glass smartphones, and despite the presence of Gorilla Glass 4, this can prove to be fatal.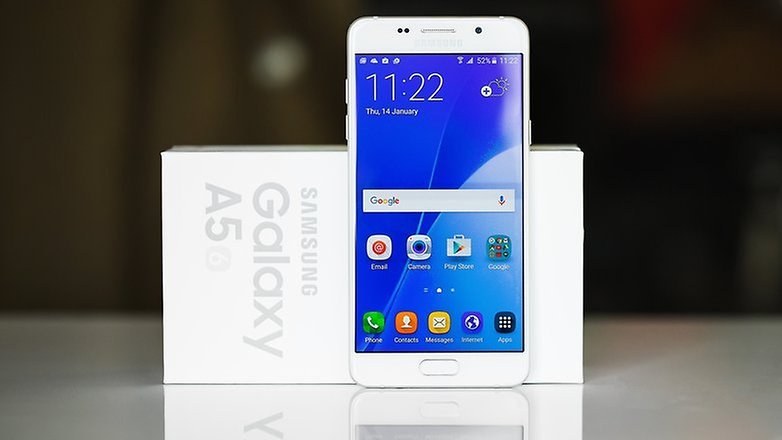 Another notable difference between the two devices is the the location of the fingerprint reader. On the Galaxy A5 (2016) it is on the front with the Home button, whereas the Honor 8 has it on the back. Personally, both these positions are fine, but some users have more of a preference for one location over another. The only thing to remember here is that the fingerprint reader on the Honor 8 is much faster.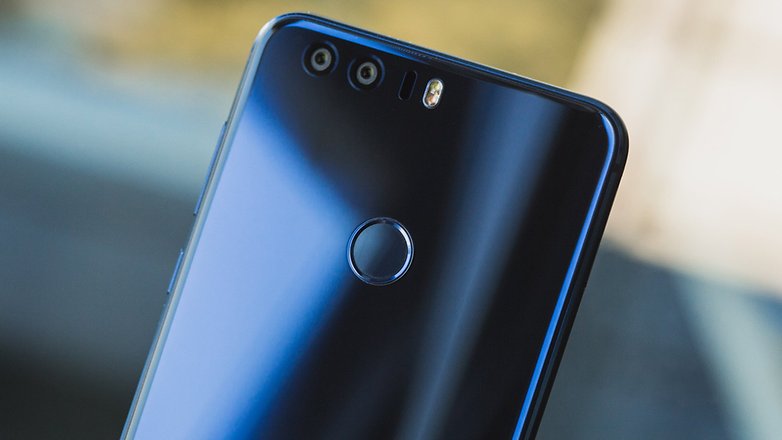 Samsung Galaxy A5 (2016) vs Honor 8: screen quality
Both our contenders offer the same diagonal screen measurement: 5.2 inches. It is also interesting to note that both devices not only have the same Full-HD definition but also the same pixel density (424 ppi).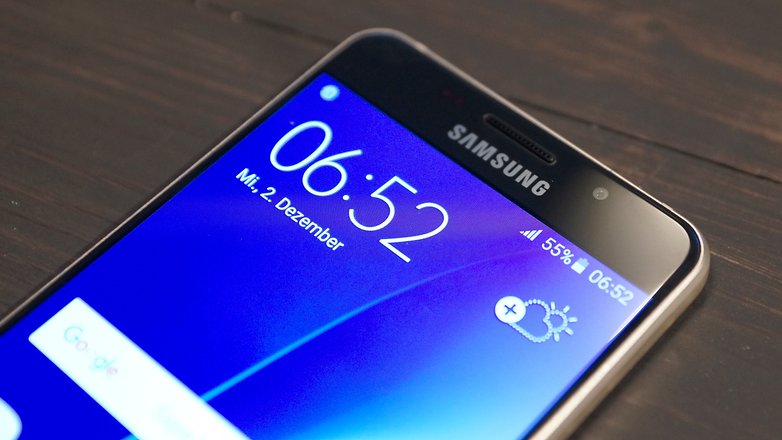 The only difference here is in the screen technology used by the two brands. As usual, Samsung opted for a Super AMOLED screen for its smartphone while Honor went for an LTPS TFT-LCD screen. In both cases, the color reproduction is very satisfying. The sharpness and clarity of images is equally flawless. There is nothing to really to report on regarding their touchscreen reaction rates either. That said, the Galaxy A5 does have a distinct advantage. The blacks are deeper, the colorimetry is close to perfect and there is very little glare. As a result, the Galaxy A5 is not lacking in anything compared to the Galaxy S6 which was, until quite recently, one of the market benchmarks.
As for the Honor 8, its screen benefits from an "eye protection" mode that gives the screen a slightly yellow tint. I'm probably repeating myself here from the other pieces I have posted on this device, but this mode is particularly addictive and great to use before going to sleep or when your eyes are tired.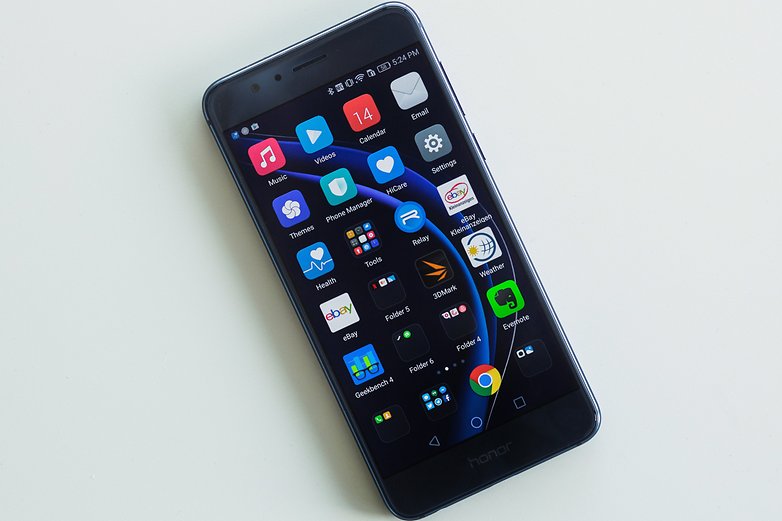 Samsung Galaxy A5 (2016) vs Honor 8: software
Here again, there are many similarities. Both devices use Android 6.0.1 Marshmallow (the A5 was launched with Lollipop but got the Marshmallow update this summer). The two manufacturers also both like to add their signature touch features: TouchWiz for Samsung and EMUI for Honor. In both these cases, there are many differences compared to pure Android. EMUI is more similar to iOS, and TouchWiz highlights the color blue. This is one of those features you either like or you hate. It's all a question of taste. The good thing is that both manufacturers are making more of an effort to simplify the interface and correct their past mistakes.
It's also important to note the Honor 8 might soon receive Android 7.0 Nougat, the latest version of Android launched towards the end of August. Also in the pipeline, EMUI is launching a new 5.0 version including the default appearance of an applications drawer. For the Galaxy A5 (2016), an update was confirmed by Samsung in early December but we will have to wait patiently for the rollout.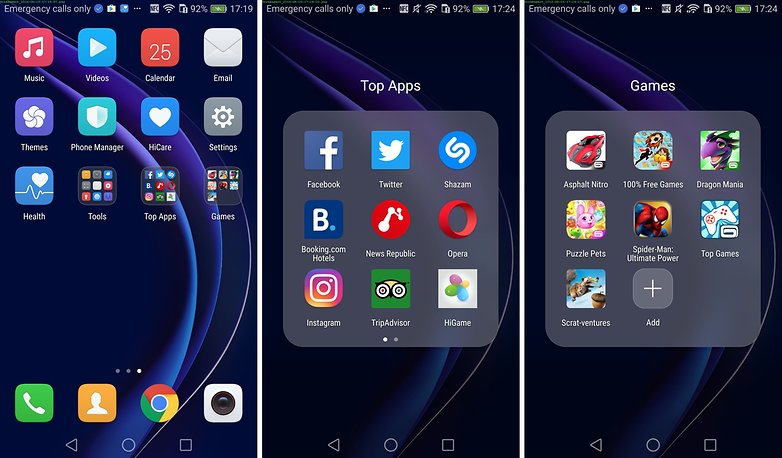 Samsung Galaxy A5 (2016) vs Honor 8: performance
Here two philosophies clash. Samsung targeted the mid-range market with the Galaxy A5 (2016), so were not looking at this smartphone to provide pristine performance. This was reserved instead for their flagship device, the Galaxy S7. For Honor 8, it's the complete opposite as they aim to challenge their competitors in the high-end market.
The Galaxy A5 uses the ageing Exynos 7580 processor, albeit with octa-core, working at a frequency of 1.6 GHz and 2 GB of RAM. In the AnTuTu v6.0.1 benchmark test, it amassed a total of 40,931 points. This placed it a little behind the Honor 7, the Honor 8's predecessor, which managed to get 45,000 points. For daily use, in the hands of a standard smartphone user, this is largely sufficient. Gamers or those people who are avid multitaskers may struggle with the longer loading times.
The Honor 8 has shown itself to be markedly more powerful
The Honor 8 has shown itself to be markedly more powerful. Inside there is a HiSilicon Kirin 950 octa-core processor (4 Cortex-A72 cores at 2.3 GHz, 4 Cortex-A53 cores at 1.8 GHz) with 4 GB of RAM, and it's excellent RAM management system allows it to run a large number of applications. The Honor 8 performs also very well in terms of games. In short, the Honor 8 is delight to use with its very fluid interface. Its evolution from the preceding model is apparent. As a result, if you are looking for a powerful model that performs well, the Honor 8 is an ideal match for you.
Samsung Galaxy A5 (2016) vs Honor 8: camera
On the technical front, the Galaxy A5 (2016) has a main camera of 13 MP in 4:3 or 10 MP in 16:9 with an aperture of f/1.9. The Honor 8 has a dual camera of 12 MP (the same as the Huawei P9), one of which captures shots exclusively in black and white.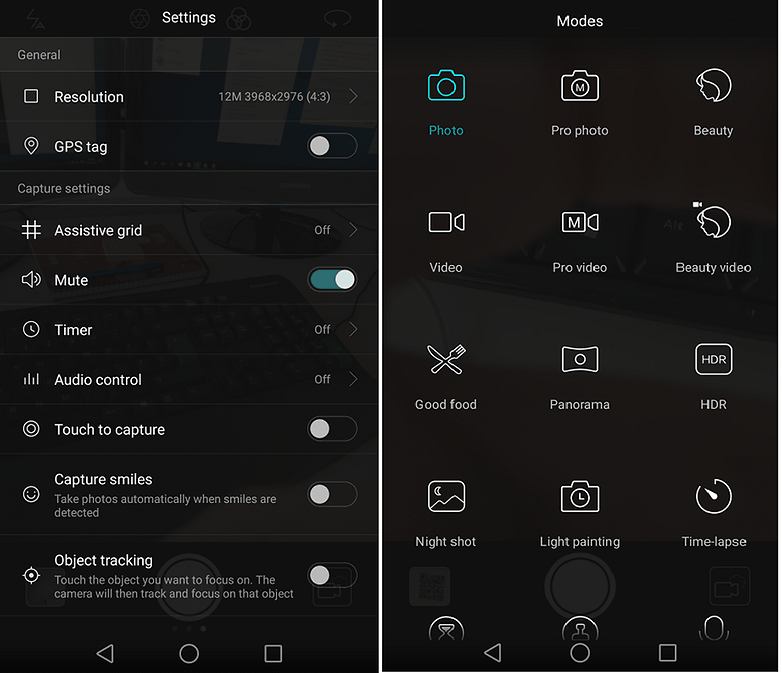 In practical terms, the camera in the Galaxy A5 is faster than the Honor 8. It also performs better in very bright conditions - but that's about it. The Honor 8 has proven itself to perform better overall and is much richer in details. Paradoxically, we were expecting a little more from the Honor 8 in low light settings because of its black and white camera but this was not the case. The selfie camera is also better. Finally, the camera application is more complete with a better equipped manual mode on the Honor 8.
Photos taken with the Galaxy A5 2016

As for videos, the Galaxy A5 (2016) does not film in 4 K and peaks at Full HD 1,080 p with 60 images / second. Just like the Honor 8.


Samsung Galaxy A5 (2016) vs Honor 8: battery
Look no further. In this field, the Galaxy A5 (2016) beats its rivals hands down. The battery life of the Galaxy A5 has turned out to be excellent, easily providing at least two days battery life even with intense use. That's one day more than the Honor 8 can manage. The Galaxy A5 also benefits from the Samsung fast recharge feature, so the device can fully recharge itself in just under an hour. That is about 30 minutes faster than the Honor 8. If you are looking for a smartphone with stamina, the Galaxy A5 (2016) is an ideal option.
If you are looking for a smartphone with stamina, the Galaxy A5 (2016) is an ideal option.
Samsung Galaxy A5 (2016) vs. Honor 8 technical specifications
| | Samsung Galaxy A5 (2016) | Honor 8 |
| --- | --- | --- |
| Dimensions: | 144.8 x 71 x 7.3 mm | 145.5 x 71 x 7.45 mm |
| Weight: | 155 g | 153 g |
| Battery size: | 2900 mAh | 3000 mAh |
| Screen size: | 5.2 in | 5.2 in |
| Display technology: | AMOLED | LCD |
| Screen: | 1920 x 1080 pixels (424 ppi) | 1920 x 1080 pixels (424 ppi) |
| Front camera: | 5 megapixels | 8 megapixels |
| Rear camera: | 13 megapixels | 12 megapixels |
| Flashlight: | LED | Dual-LED |
| Android version: | 5.1 - Lollipop | 7.0 - Nougat |
| User interface: | TouchWiz | Emotion UI |
| RAM: | 2 GB | 4 GB |
| Internal storage: | 16 GB | 32 GB |
| Removable storage: | microSD | microSD |
| Chipset: | Sorry, not yet available! | HiSilicon Kirin 950 |
| Number of cores: | 8 | 8 |
| Max. clock speed: | 1.6 GHz | 2.3 GHz |
| Connectivity: | HSPA, LTE, NFC, Bluetooth 4.1 | HSPA, LTE, Dual-SIM , Bluetooth 4.2 |
Samsung Galaxy A5 (2016) vs Honor 8: conclusion
As we draw up the results, my preference leans towards the Honor 8. Despite the impeccable qualities of the Galaxy A5 in terms of its battery capacity, the Honor 8 is more comprehensive, attractive and, above all, more versatile than its rival. The Honor 8 also benefits from all the attention of its manufacturer as it is their flagship device. Ultimately, the only thing that may redirect you to the Galaxy A5 (2016) is the extra cost - the Honor 8 is about $50 more expensive. Nevertheless, on all fronts the Honor 8 is an excellent mid-range smartphone.