Samsung Galaxy A5 (2016) review: a compelling package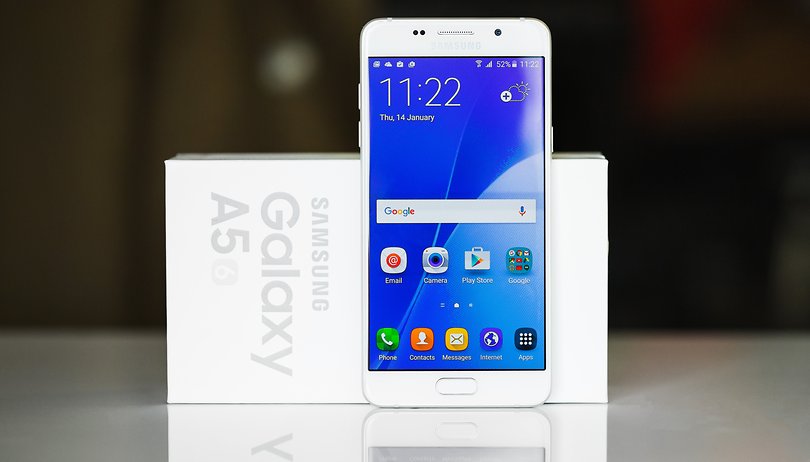 Samsung has confirmed it won't be releasing a Galaxy S6 Mini. Instead, the gap will be filled with an overhauled Galaxy A series. Samsung has released the smaller Galaxy A3, plus a larger model, the A5. In this review, I'll be investigating the qualities that might make it your next smartphone purchase. Read on for our full Samsung Galaxy A5 (2016) review. NEXTPITTV
Good
Display

Battery

MicroSD slot

Design
Samsung Galaxy A5 (2016) release date and price
The Galaxy A5 price is around US$399, or 425 euros in Europe (as of January 20), so it sits in quite an affordable price bracket. In terms of its features and size, the Galaxy A5 (2016) is comparable to the likes of the Honor 7 (around US$369) and the Nexus 5X (about US$379). It's a little more expensive than those devices, but not overly expensive by any stretch.
The 32 GB Samsung Galaxy S6, however, now costs only around US$450. It's still Samsung's main flagship, and superior to Galaxy A5 (2016) in many areas, but only costs minimally more, and it is precisely this minimal difference that could have a negative impact on the sales of the Galaxy A5.
Samsung Galaxy A5 (2016) design and build quality
The design of the two new A models is very similar. Both the Galaxy A5 (2016) and the A3 (2016) have the same quality appearance and stylish metal frame as the Galaxy S6. If just look at only the front and rear of the A5, you might think you actually had an S6 in your hand.
But look closely, and you'll notice that the glass on the A5 has a rounded 2.5D edge design, which merges the glass and metal frame almost seamlessly.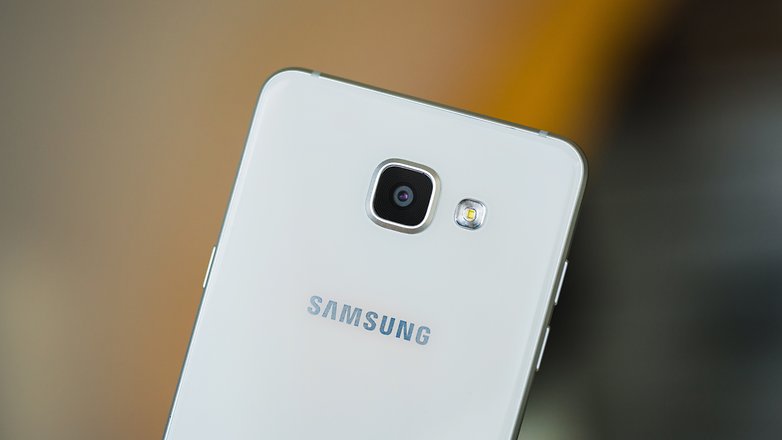 After several days of testing, the Galaxy A5 impressed me. The 155 g, 5.2-inch smartphone always felt secure in my hand and the metal frame hasn't started to show any scratches. The Galaxy A5 (2016) feels robust, with Gorilla Glass 4 on the front and back.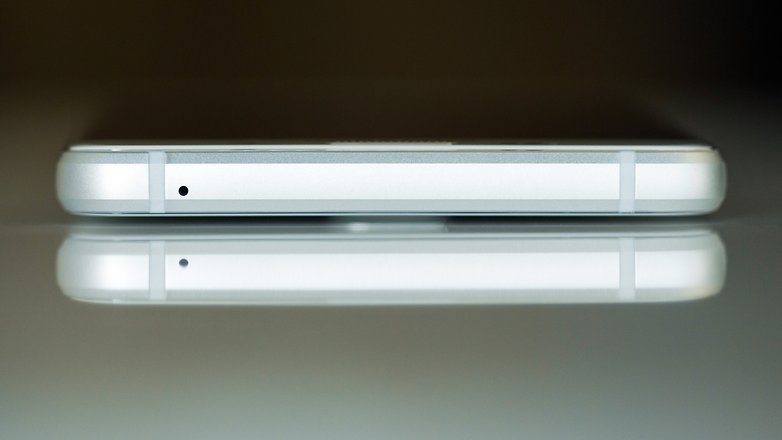 The aluminum standby and volume buttons on the side feel nice to the touch and are easy to reach. It's definitely possible to use it one-handed.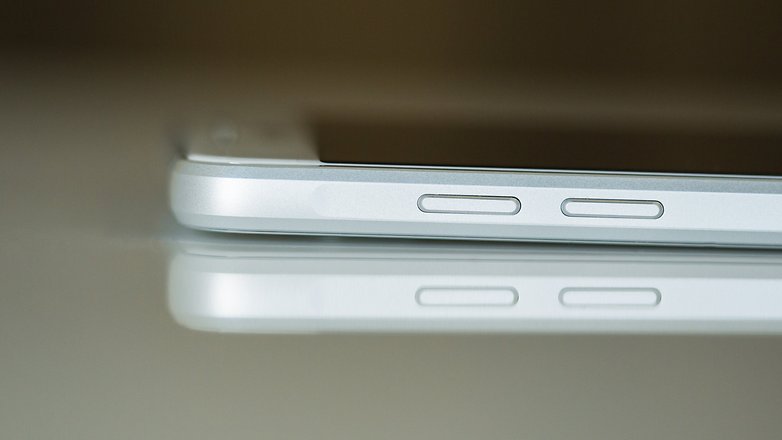 In short, the Samsung Galaxy A5 (2016) is easy to hold and use and just feels like a quality piece of hardware. The fact that the camera protrudes is a slight annoyance, but you could live with it. The Galaxy A5 (2016) is currently available in black, gold and white.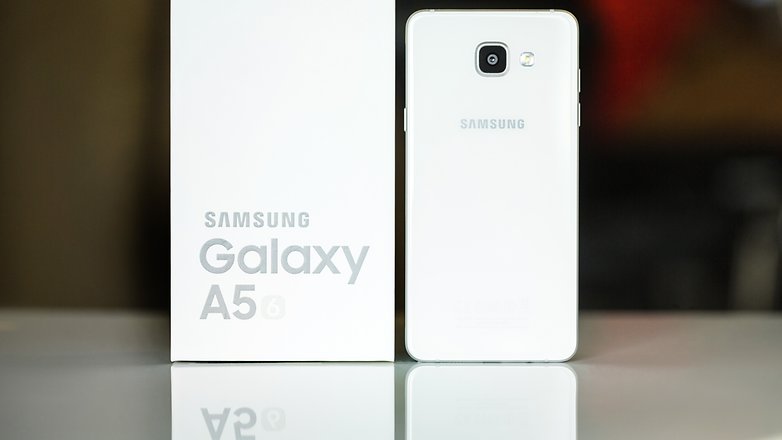 Samsung Galaxy A5 (2016) display
The Galaxy A5 (2016) comes with a 5.2-inch Super AMOLED display, which offers a Full HD (1920 x 1080 pixels) resolution and rich, deep colors. Its contrast range is good too.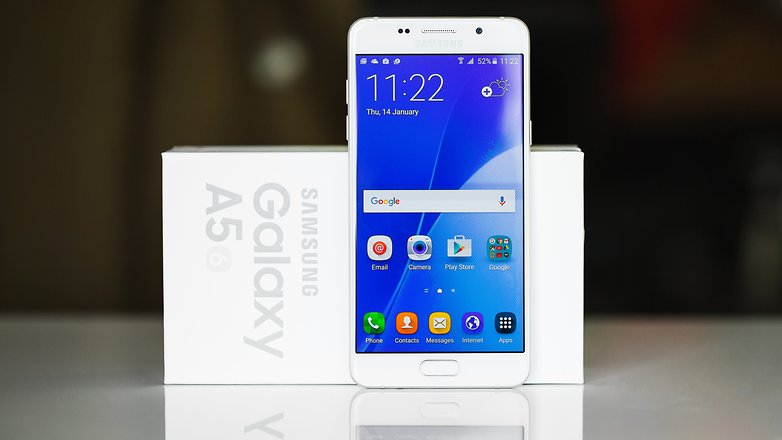 While the display's richness benefits gaming, it also means that regular apps look impressive. Texts can also be read easily, thanks to the high contrast it offers.
Samsung Galaxy A5 (2016) software
Samsung has finally started to heed the "less is more" motto. It has purified its software, and the A5 comes with significantly fewer pre-installed apps than some of its other devices. This is a good thing, and right from the start, you'll find the apps that are there add real value to the software experience.
Included are the usual suspects Google, including Maps, YouTube and Google Drive, as well as a good selection of apps from Microsoft, including Excel, Word and Skype.
We were sent a German test model (SM-A510F) running Android 5.1.1 Lollipop (build LMY47X). Like the Samsung Galaxy A3 (2016), TouchWiz is the software interface.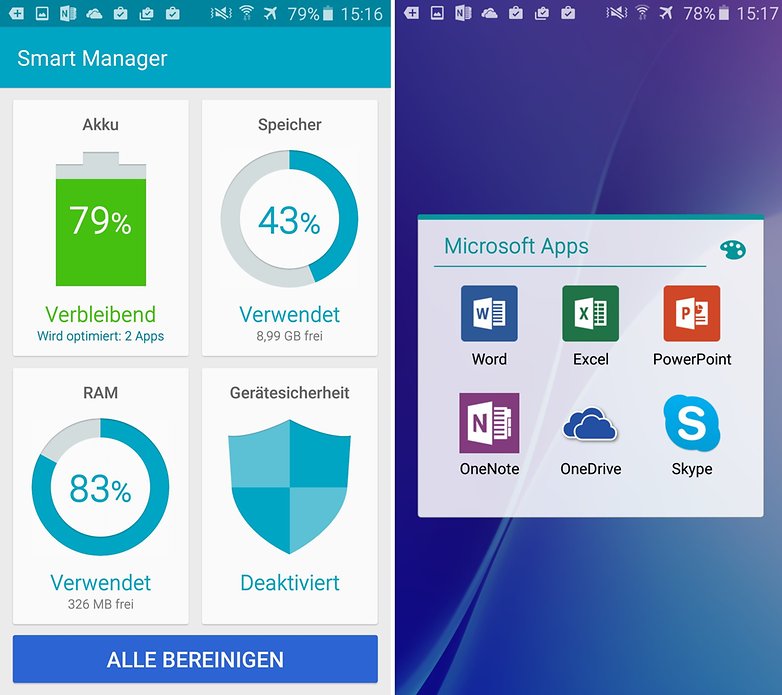 The Touchwiz interface is unquestionably a matter of taste. It has some advantages over stock Android, and can be individually adapted.
There's nothing in the way of special features. The Galaxy A5 (2016) does not offer anything that you won't find on another current smartphone.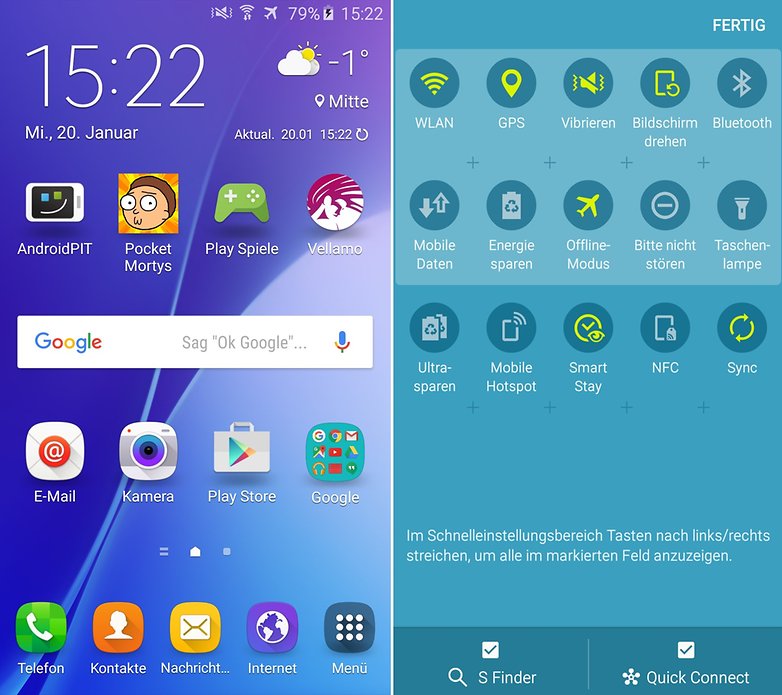 Samsung Galaxy A5 (2016) performance
The processor of the Galaxy A5 (2016) is an old acquaintance, as found in the Galaxy View tablet and Galaxy Tab S2. It's a 1.6 GHz clocked octa-core Exynos 7580, receiving support from 2 GB RAM and 16 GB of internal memory, which can be expanded via microSD card. The Samsung Galaxy S6 famously does not have a microSD slot.
I performed a range of benchmark tests on the Galaxy A5 (2016), and it ended up mostly in the midfield. In the AnTuTu benchmark (v6.0.1) the Galaxy A5 (2016) scored 40,931, which is almost on par with the Nexus 5X and slightly behind the Honor 7 (around 45,000 points). It doesn't stand out from the competition, and doesn't come close to the current top smartphones.
But – and this is probably the deciding factor – no annoying delays or slowdowns were apparent when I was browsing and opening a succession of apps. Even graphically elaborate games ran smoothly across the screen.
Samsung Galaxy A5 (2016) audio
The Samsung Galaxy A5 (2016) has a mono speaker on the bottom. It plays music well (especially classical) but not brilliantly. The sound is better when listening with headphones.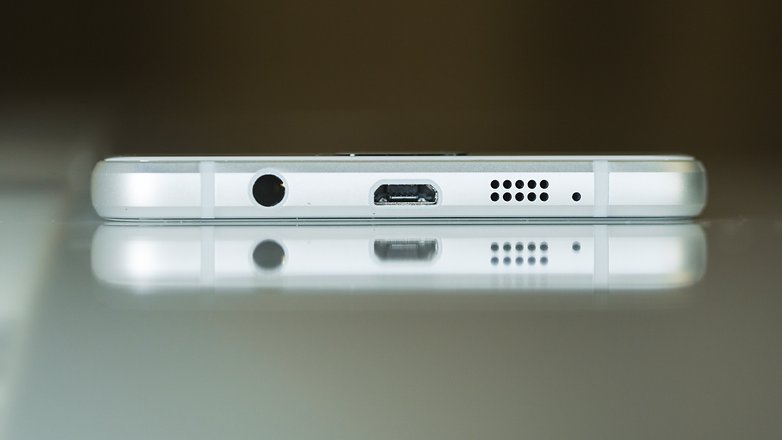 Also included is a headset that has a button for answer/end call, play/pause and a volume rocker. There's a software equalizer for the music app that can be found in settings in the Audio options. Here you can improve the sound experience with headphones through the options SoundAlive and tube amplifiers.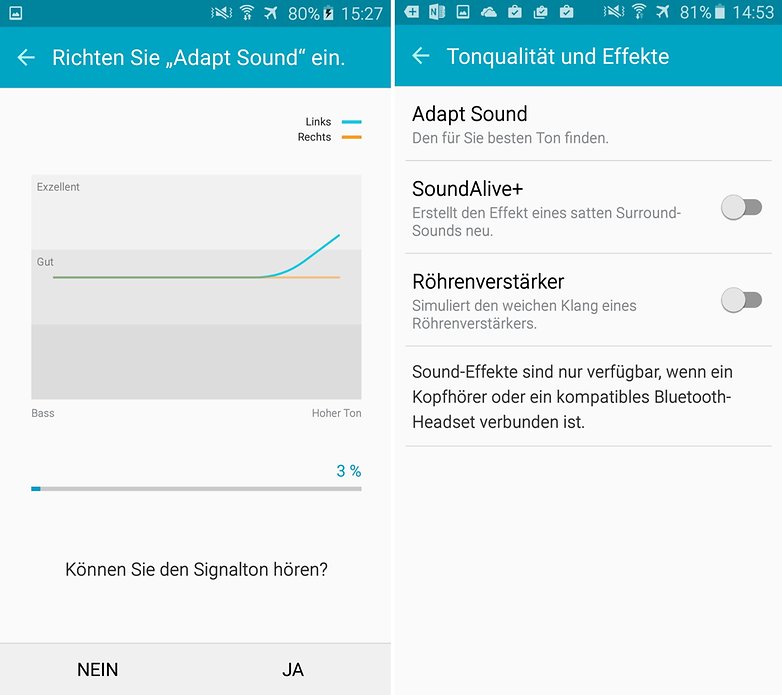 Samsung Galaxy A5 (2016) camera
The camera of the Samsung Galaxy A5 (2016) is nearly identical to that of the Galaxy A3. Thus, the main camera also has 13 MP in 4:9 format with a f/1.9 aperture. The front camera packs a 5 MP sensor with a f/1.9 aperture. In contrast to the A3, the A5 has an optical image stabilizer, which helps avoid blurry images.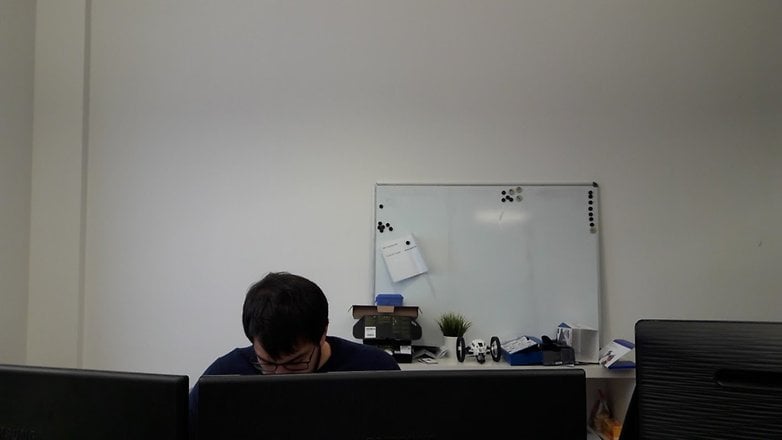 In dark interiors, it's hard to get good snapshots from the Samsung Galaxy A5 (2016). Only in bright light will you get nice photos and selfies, so this isn't a suitable phone for photography enthusiasts.
Samsung Galaxy A5 (2016) battery
At 2,900 mAh, the battery of the Galaxy A5 (2016) is 600 mAh larger than its predecessor's. The battery can be fully juiced up in about an hour, thanks to the fast-charging feature.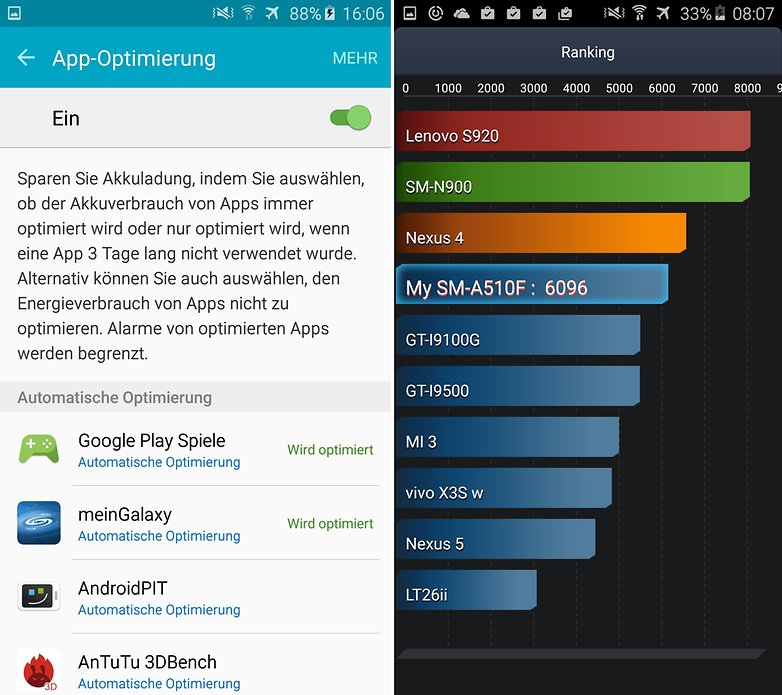 The battery itself can run for quite some time, even under intensive use. In tests, I surfed the internet quite heavily and called up several apps, viewed more than an hour of video and played eight video games.
The integrated energy-saving mode also ensures that you can determine which apps are running in standby. This can save a significant amount of battery.
Samsung Galaxy A5 (2016) technical specifications
| | |
| --- | --- |
| Dimensions: | 144.8 x 71 x 7.3 mm |
| Weight: | 155 g |
| Battery size: | 2900 mAh |
| Screen size: | 5.2 in |
| Display technology: | AMOLED |
| Screen: | 1920 x 1080 pixels (424 ppi) |
| Front camera: | 5 megapixels |
| Rear camera: | 13 megapixels |
| Flashlight: | LED |
| Android version: | 5.1 - Lollipop |
| User interface: | TouchWiz |
| RAM: | 2 GB |
| Internal storage: | 16 GB |
| Removable storage: | microSD |
| Number of cores: | 8 |
| Max. clock speed: | 1.6 GHz |
| Connectivity: | HSPA, LTE, NFC, Bluetooth 4.1 |
Final verdict
Its strengths and weaknesses keep the Samsung Galaxy A5 (2016) on an even scale. Plusses include the A5's attractive display with crisp, sharp colors and contrast. The battery life is also very good. Even with intensive use, this phone won't need to see a power source until after about two days. Then there's the attractive design of and the microSD slot, which the Galaxy S6 doesn't have.
Where there is light, there is also shade. Above all, camera performance is disappointing, although not as weak as the Samsung Galaxy A3 (2016), and the other minus point is the price.
The Galaxy A5 (2016) is certainly not a perfect smartphone, and certainly not on the level of a flagship from last year.
And that is the crux of the matter; currently, the Galaxy S6 is only about US$30 more expensive than the Galaxy A5 (2016), so many customers are likely to go for the S6 over this phone, unless the price of the A5 (2016) drops drastically within the coming weeks.