Poll of the week: How many gigabytes will you need in 2022?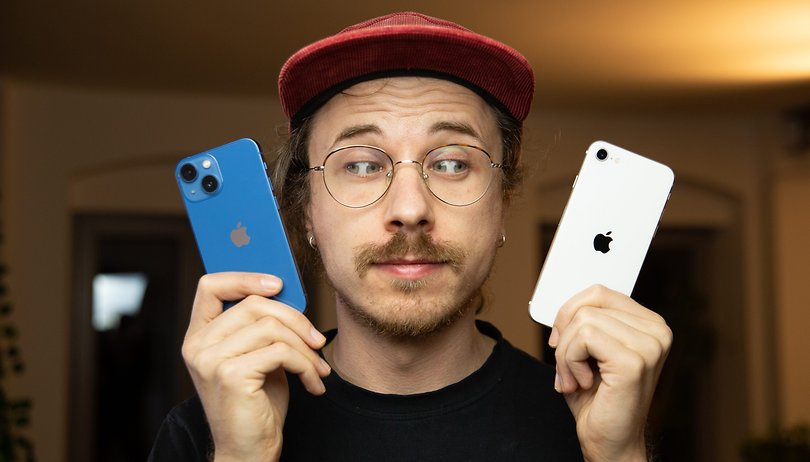 How much storage memory does a smartphone really needs? We got to the bottom of this question in our big memory census last week. Here you will find the answers from all communities to questions like how filled up your storage is, how much memory it has in total and whether you need a microSD card. Our analysis shows some interesting and somewhat contradictory results.
With over 2,000 votes since Friday, the NextPit community was clear about memory sizes in smartphones at our latest community poll. To make that happen, we put together a set of five questions for you, with which we addressed a current "problem" in the smartphone world. Many new flagships are launched with a maximum of 256 gigabytes of internal memory and without any option for microSD expansion.
But is this actually a problem? Do people need that much storage? Keep on reading to find out. At this point, I would like to thank everyone who participated in this survey.
Storage capacity meets long term use
I would have liked to ask my first two questions in a polling system that connects the votes with each other. Because by connecting the questions about the current memory capacity and the age of the device, I could have discerned exactly how strong the relationship between lifetime and memory is. But even so, the results paint an interesting picture.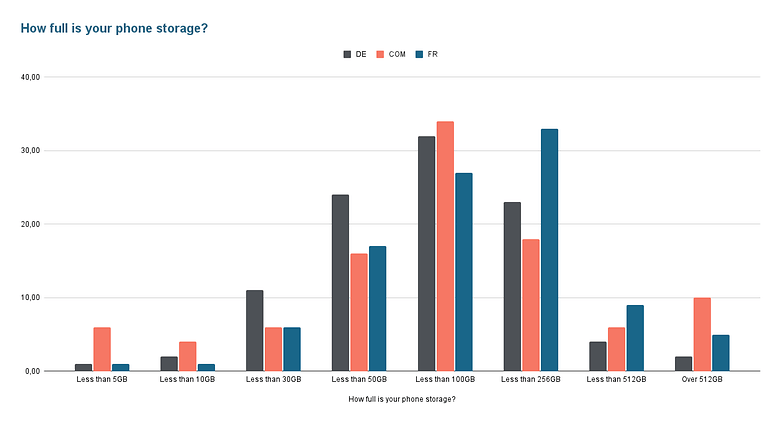 In the U.S. and India, as well as in Germany, most people use less than 100 gigabytes of their cell phone memory. However, we have to place this in a sufficient context because in the NextPit community, which is mainly made up of enthusiasts, there are many people who have been using their phones for less than six months. In the U.S., most people reported using their phones for less than 1.5 years, while in Germany, users are keeping their devices for a lot longer, with the majority being three years.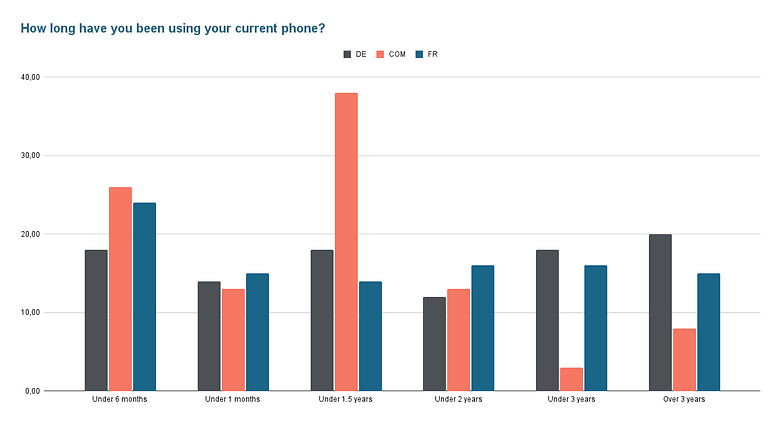 Although many people in France use brand-new smartphones, storage here is fullest, with most votes at "under 256 GB." One reason for this could be that most people transfer their data from the old phone to the new one - and thus also drag the data junk to a new smartphone.
Is the factory storage sufficient?
We can now combine these results with another variable to get closer to my opening question. In all three domains where you read NextPit, most people said they use a phone with 128 gigabytes of internal storage. Regarding the last question, storage seems important for French readers, since it was the domain with the largest percentage of 256GB users, while COM dominated the 512GB range.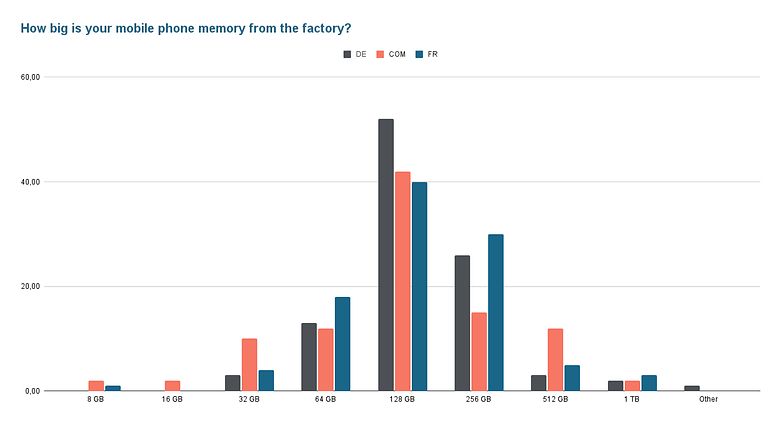 The current gold standard - i.e. 256 gigabytes - is in second place in all three domains. It is quite possible that this survey will shift even further in the direction of 256 gigabytes in the coming months. However, there is a "but" again, as we will see from the answers to the next questions.
The microSD paradox
The next two questions go together again - how many people use a microSD card for storage expansion and how many would like to have this option in the future? There are some interesting things to note here. We only find the German users to be actively expanding their storage, while in the international domain, we see that most users do not seem to care about the removal of the feature.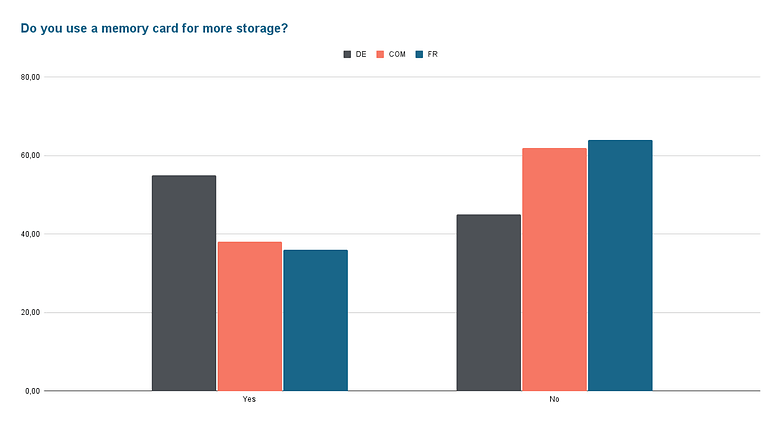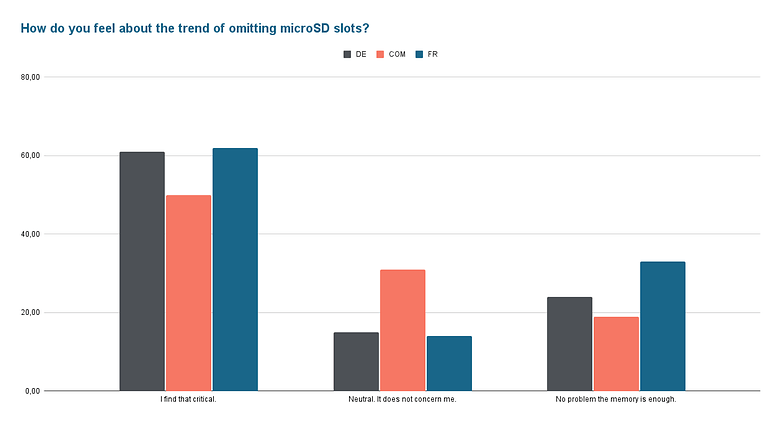 Nevertheless, the majority in all other countries see the omission of MicroSD slots in flagships as something negative. Cell phone users in 2022 thus want options that they do not necessarily need. Of course, this is not a bad thing because microSD cards will probably only be relevant when the phone memory is actually full. But as Kafka famously said: "Better to have, and not need, than to need, and not have."
Conclusion: Does the future belong to cloud storage?
In summary, it can be predicted that the cell phone memory of many people is likely to be fully utilized in the next few years. At least if we also interpret the negative feelings towards the removal of the microSD card. It clearly shows that users do not believe that their storage will be sufficient in the future.
The solution to this worry is now offered by many cell phone manufacturers themselves: cloud services that are seamlessly integrated into the operating system. And these are usually associated with monthly costs unless you want to be limited from five to fifteen gigabytes of storage. This is a critical development, which you can at least counteract by regularly cleaning up your cloud storage.
But what do you think? What conclusions do you draw from the data? And what do you think about offloading storage to cloud systems?
---
Original Article:
In 2022, two rather contradictory developments are emerging for new smartphones: On the one hand, there are longer and longer software updates that are supposed to ensure more longevity. On the other hand, phone manufacturers are limiting the internal memory configurations and doing away with MicroSD slots. But how much memory do you really need, and how full is your phone memory? Time for our survey of the week!
If you deal with new smartphones on a weekly basis, you will eventually get tired of the superlatives about megapixels, benchmarks and so on. Therefore, the wheat is now separated from the chaff for me by high-quality vibration motors and sensible features that ensure use over the next few years. And as already mentioned in the introduction, this is exactly where a contradiction currently emerges.
Two examples: You should be able to use the Samsung Galaxy S22 until 2027 thanks to a long update warranty. Therefore, features like computational RAW or recording 8K videos are future-proof. However, Samsung only offers the S22 and S22+ with a maximum of 256 gigabytes of storage. As a second example, I have to criticize Apple for offering the iPhone SE 2022 with 64 gigabytes of storage for more money. But am I being too critical here and is cell phone storage less important than I thought?
How full is your phone memory?
In order to find out, I've first come up with a participation task! Please go to the settings of your cell phone and check how much memory you are currently using on your smartphone. It doesn't matter how large the total memory of the smartphone is.
In order to classify these results a bit, I ask you to also answer the following question afterwards. Because the first results are only really exciting if you know how long you have been filling your cell phone memory with pictures, photos, videos and more.
How big is your cell phone memory?
As the next task in my little memory census for the year 2022, I would like to know the storage space of your cell phone ex works. That is, without memory cards inserted, if your phone still supports this function at all.
As you can guess, this feature is the crux of the next question. Do you currently use a microSD card to expand your phone's memory? It doesn't matter if you use it as adaptive storage or just to swap files.
Your opinion on memory development in smartphones
Last but not least, I'd like to know your two cents worth on this topic. Do you observe the same problem with new phone launches or are you more relaxed about it? Also, feel free to write me in the comments in more detail about what you think about non-expandable and fixed memory solutions in smartphones.
You are also welcome to comment on the fact that storage will be increasingly outsourced to cloud solutions. Fabien Roehlinger directly commented on my article about the storage issue in the iPhone SE 2022 by saying that buyers could use iCloud for more storage. Do you see this as a valid alternative or are you still cautious about online storage solutions? I look forward to the discussion with you!