Peloton Tread Review: It's All About the User Experience!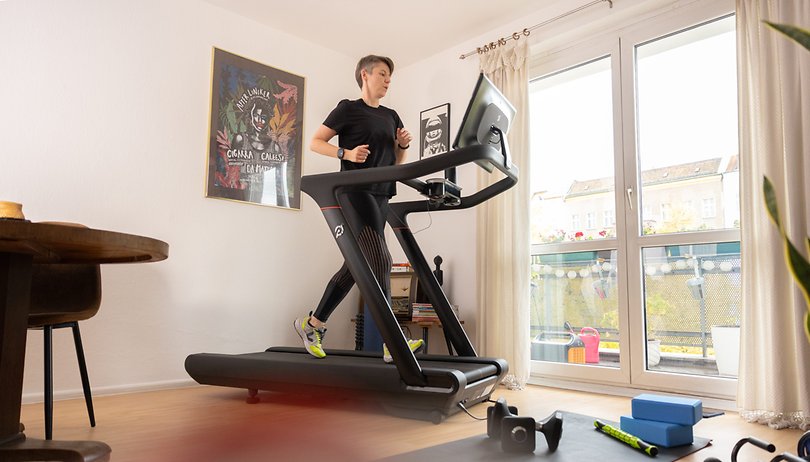 As a health and wellness enthusiast, I approached Peloton to lend me a treadmill for testing. I've been using the Peloton Tread for almost three months now, and I couldn't be more pleased. My satisfaction isn't just with the device itself, but also with its impact on my health. If you're seeking equipment to enhance your workout routine or simply to motivate you to move more frequently, continue reading this Peloton Tread review.
Good
State-of-the-art hardware

Versatile set of workout options

Designed with a security approach in mind

Top-notch instructor team

The Peloton ecosystem is opening
Bad
Not yet an affordable device

All-access membership separate

Entertainment mode is still only a beta version
In a nutshell
Peloton is a sports hardware company that also develops successful fitness software. Behind the company is a strong and engaged community, as well as a comprehensive wellness lifestyle.
This means that when you purchase a treadmill or spinning bike from Peloton, you're not just getting a piece of equipment. You're integrating into a social media-style community with shared goals and aspirations. That is, if you choose to opt for Peloton's all-in-one package.
Available since August 2021, the Peloton Tread costs $2,995—assembling and delivery included. You can finance it at 0% APR. It's a significant investment and also requires a monthly membership of $44. If you're already spending on a fitness plan (like a gym or software), try using Peloton's calculator to compare costs. It'll help you see the long-term value.
In the last 12 months, Peloton has been making changes to better fit the competitive fitness market. They're making their products more available and giving people more options. If you're interested in trying out their Tread, Bikes, or Rower, there's a 30-day home trial.
They also offer refurbished bikes at a lower cost. And if you'd rather rent, you can get a bike for as low as $89 a month. Peloton is clearly trying to make it easier for people to get their products.
Finally, in this review I aim to show how someone like me, an everyday person, can benefit from a Peloton Tread at home. I won't be delving into advanced treadmill training—that's beyond nextpit's focus. But if you're keen on boosting your health and building stamina, you've come to the right place.
Home assembly and security measures
My apartment is on the third floor, with no elevator. So when I noticed that the package being sent to my house weighed 179 kg, I was extremely relieved to know that a Peloton's thrid-party partners would be delivering and assembling it for me .
They called and scheduled a one-hour appointment. My experience was in Berlin, Germany, where I live, but it followed a Peloton protocol, so it shouldn't be much different in the USA or Canada, for instance.
---
Pros
The assembling team was efficient and respectful.
Post-assembly: security check by technicians.
Removed key results in a red warning.
Lock screen: Requires a passcode for use.
Cons
It's not possible to fold it.
Disassembly will require assistance.
---
As a woman living alone, I want to emphasize that the delivery and assembly team was both efficient and respectful. The Peloton Tread is complex hardware, and after assembly, it requires a security check performed by the technicians sent to your place.
Here's an essential tip: Choose the right spot for your treadmill before assembly because relocating it isn't easy and requires at least two people. Peloton states the Tread needs two meters of clearance directly behind it and 60 cm on each side. You can primarily use the space behind or alongside for Bootcamps and floor classes, though.
When it comes to security, Peloton learned with past issues after safety concerns and recalls. Before beginning any class, users are reminded to keep pets and kids away and to always remove a safety key and store it in a safe place. If the key is removed, the Tread shows a red warning.
Additionally, there's a lock screen that asks for a passcode to use the Tread. This is to ensure only authorized users can start it.
Last but not least, it's not possible to fold the Peloton Tread. The smart and sleek design concept behind it doesn't allow for it. And since you need a team to assemble this state-of-the-art hardware, disassembly or reassembly will also require assistance. At the end of the day, although it's not as convenient, it's necessary for security reasons.
Design and display
I may not be an athlete, but I've been running regularly, either at the gym or outdoors. My primary point of reference has been standard gym equipment, like the Precor treadmills. However, when I saw the Peloton Tread for the first time, its sleek design and user-friendly controls stood out to me. It's truly the opposite of the typical gym treadmill .
---
Pros
Well-designed.
Intuitive speed and incline controls.
Provides a secure running experience.
Cons
You can't move the display.
---
At this stage in my life, I'm more of an indoor person—especially during autumn and winter. I had been eagerly anticipating a spinning device like the Peloton Bike+ we reviewed at the beginning of the year. Two reasons for this: it doesn't take up much space, and it's quieter for the downstairs neighbor. Well, that didn't happen, I got a treadmill.
Given that my apartment is approximately 60 square meters, I had to part with some furniture to accommodate the Tread in my living room. I have no regrets, particularly since the hardware isn't as bulky as most options available out there. It aligns with my lifestyle, so I'm not self-conscious when friends visit. That said, where I once had a couch, I now have a treadmill.
The Peloton Tread boasts durable and user-friendly materials. Its sturdy carbon steel platform pairs with a belt that combines woven nylon and a textured PVC top, highlighted by a red centerline. The carbon steel handrail features a soft-touch coating. Additionally, a polycarbonate tray with rubber lining conveniently holds two bottles and small essentials.
As mentioned, the device is in my living room. Since I don't wear outdoor shoes inside my apartment, I have a dedicated pair of running shoes specifically for the Tread. However, I believe it wouldn't be difficult to clean if one were to use it with outdoor shoes with it.
Regarding design choices, Peloton engineers were astute in replacing the in-screen controls of standard treadmills with two physical scroll buttons. Using these, it's incredibly easy to adjust the speed (which goes up to 12.5 mph) and incline (which also reaches 12.5%) when walking or running.
Considering the display, perhaps to avoid wobbling and in contrast to the Bike+, the screen is fixed. This can pose challenges during Tread Bootcamps and different workouts like yoga.
However, Peloton allows users to mirror the Tread's display to a second device, such as a Smart TV or another smart display, making it easier to follow instructions during different sessions. Personally, I use the Peloton app on my iPad 10 (review) for yoga, and it works seamlessly for me.
Overall, I'm thrilled with the Peloton Tread's build quality and stability. In the following video, you can see how stable the display is during a run. Bear in mind that this stability can also vary depending on a person's weight and running technique.
Workouts and tracking
After hardware, let's talk software: the screen is where the magic comes alive . Yes, you can use only the Just Run mode without a subscription. However, doing so would miss the point, as Peloton is not merely a hardware manufacturer; it's a comprehensive fitness service.
---
Pros
Versatile set of workout options.
Top-notch instructor team.
Just Run mode onboard.
The Peloton ecosystem is opening.
Cons
Entertainment mode is still only a beta version.
---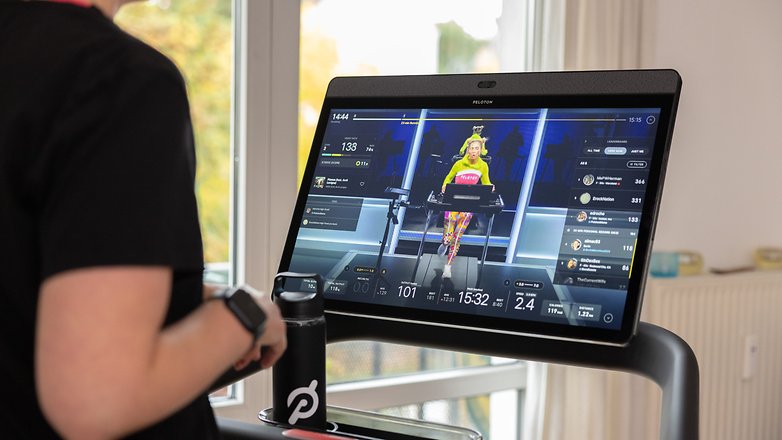 Peloton has certainly learned from past mistakes and is now charting a different course. Once criticized for its extremely closed ecosystem, users now have greater control over the hardware, which no longer requires a paid subscription to operate—only an account. Additionally, Peloton now offers a free version of its fitness app, with limited free classes.
The shift became noticeable when Barry McCarthy assumed the role of Peloton's chief executive in 2022. The focus has increasingly been on user experience. Given McCarthy's background in subscriptions—with stints at major companies like Netflix and Spotify—it's easy to see where this direction originates, right?
Peloton instructors are at the heart of the experience. The roll includes ex-football players, DJs, yoga influencers, and even doctors who left hospital roles to promote preventive health right on Peloton screens. Beyond workouts, users enjoy curated music playlists and arguably one of the most diverse teams of fitness instructors any company has ever assembled. To me, it's evident that Apple's Fitness+ service has taken inspiration from Peloton's model.
Moreover, Peloton boasts an engaged community, which increasingly gives me the impression that Peloton has evolved into a lifestyle choice, for better or for worse.
That said, the Tread's user interface (UI) is well-designed and intuitive. The company's algorithm tends to promote more of what you like, which can be a blessing in some cases and a curse in others. Personally, I appreciate that it can save time, but from a behavioral perspective, it can also become monotonous. At the end of the day, we're talking about consuming content.
The Tread portfolio is vast. You can walk, jog, or run in a myriad of series: outdoor, indoor, mixed sessions, beginner's level to HIIT classes, recorded or live classes, bootcamps, and more. I tried different instructors, but I ended up favoring some of them. Over the last three months, I've taken more classes with Selena Samuela than with any other person on Peloton's team. Our styles matched.
To personalize your experience even further, there's a filter system. This lets you choose the class length, instructor, music type, and even whether you want subtitles—a key feature for accessibility.
Once you pick a class, you can see details like the class plan, curated playlist titles, the specific body parts targeted, and the recommended speed and incline. If you decide to dive into the class, you can connect wireless earbuds for a more immersive audio experience.
Additionally, you can link a smartwatch or chest strap to monitor your heart rate and other vitals more closely. I've used connect with my Apple Watch Series 9 via Apple GymKit support.
Before beginning your session, you can preset the incline to adjust automatically based on the instructor's settings. This means you can focus on your workout without fiddling with controls. However, for safety reasons, the speed doesn't sync in the same way.
In the video below, you'll see how information is displayed during a running workout. On the right side is the leaderboard, which can be motivating, especially if you're competitive. While you can compete with others in the community, you can also challenge yourself. If the leaderboard isn't your thing, you can easily hide it.
At the bottom, there's a ribbon showing statistics about your workout, which can be hidden if you prefer. At the top, you'll see the class progression, which is also hideable. On the left, you can monitor your heart rate if a tracker is connected to your Tread. You'll also see the currently playing music title and your feed, where you'll be notified if someone gives you a high-five.
Peloton operates as a closed platform, typically allowing only its proprietary content. However, through a beta feature named "Entertainment", I managed to link my Netflix account and smoothly stream shows while walking, jogging, or running. Personally, I prefer to remain fully focused during workouts, but I can see why others might enjoy this feature.
On my Tread, I could also integrate a Disney+ account. Some users say they've added YouTube too. I asked Peloton about this "Entertainment" feature, and they told me that at this stage they are beta testing the feature to understand members' interest and their overall experience.
However, there is no plan to officially launch the feature any time soon. For now, it's still offered as a beta feature, which means some people can see it, while others can't.
At this time, you can also link your Apple Music and Spotify accounts to enjoy your favorite playlists during workouts. For the dedicated runners, there's an option to connect your Strava account, allowing you to share your running milestones publicly.
Peloton Tread performance
In the three months I've been using the Peloton Tread, I haven't noticed any issues with the hardware or the software. The software updates are typically quick, and I've never experienced any glitches. The incline adjustments and speed changes are smooth and consistent .
---
Pros
Cutting-edge hardware.
It's quieter than I expected (for a treadmill).
Cons
Possible speed delays for advanced runners.
---
That said, I'd like to note that I comfortably maintained speeds up to 8 mph. The treadmill motor responded quickly when I changed speeds. However, during sessions where speeds shift every 15 or 30 seconds, there's a slight delay reaching the top speeds. While this isn't a problem for me currently, advanced runners might find it bothersome.
As I mentioned earlier, one of my primary concerns about having a treadmill in my apartment related to the noise. When considering a treadmill, it's not only the motor noise that should be considered but also the running noise, additional features like class audio and fans, and most importantly, the flooring and room acoustics.
The Peloton Tread is generally quieter. However, at speeds above 6.0 (with a maximum of 12.5 mph) and inclines above 5 (maximum of 12.5%), it starts to get louder. So, I decided to compare the decibel levels of the Tread with other devices at home. Here's a brief overview of the decibels measured while increasing the speed from 4-8 mph and alternating the incline from 0-12%.
I have laminate flooring in my apartment and I don't use a treadmill mat. During my running class, I wore earbuds, so there was no noise from the Tread's speakers. The highest noise level I recorded was 75.2 dB.
For context, a normal conversation is usually between 60–70 dB, and a running dishwasher is about 50-60 dB. My Roborock vacuum cleaner reached 74.1 dB at its highest efficiency setting. While this isn't a scientific test, it gave me a good sense of the treadmill's noise level.
The downstairs neighbors never complained, but I also schedule my workouts from 9am-6pm during the week and never on the weekends. However, if you are not certain about it, be aware that Peloton offers the possibility to test the treadmill in a store, so you can get an insight into its noise level.
Peloton Tread technical specifications
Product
Image
Dimensions (L x W x H)

68" x 33" x 62" |
172.72 x 83.82 x 157.48 cm

User Requirements

Height: 4'11" - 6'4" | 150 cm - 193 cm
Weight: 105 - 300 lb | 48 kg - 136 kg
Age: 16+

Screen
Performance

Speed: 0-12.5 mph
Incline: 0-12.5%

Weight
Connectivity

Wi-Fi (2.4GHz & 5GHz) | Bluetooth® 5.0, ANT+™

Construction

Platform: Carbon steel
Belt: Woven nylon & PVC

Controls

Adjustable knobs | Jump button | On-screen shortcuts

Processor & Storage

2.5 GHz Qualcomm QCS605
4 GB RAM
16 GB flash

Camera & Sound

8 MP camera with privacy cover
Stereo speakers & rear woofers
Four digital array microphones

General

Tread Lock for unauthorized access prevention
Safety Key
Peloton App access
Individual household profiles
Access to thousands of Peloton classes
12-Month Limited Warranty
Final verdict
Earlier in this review, I pointed out that it's primarily for fitness enthusiasts wanting to change their lifestyle but who aren't regular treadmill users. That said, the Peloton Tread is absolutely suitable for advanced users too.
The Tread combines cutting-edge hardware with top-notch fitness software. Peloton isn't just a product; it's a community centered around wellness and has become a lifestyle choice. It's like with Mac computers: you don't ask a Mac user what computer they have. Similarly, people don't just say they own a treadmill; they say they have a Peloton.
The popularity of Peloton surged during the pandemic, revolutionizing on-demand workouts. As the world moves beyond these challenging times, Peloton needed to innovate, heavily investing in enhancing the user experience.
They've fostered a unique bond between instructors and members, building a community where you can spontaneously high-five someone during a class. Fans even attend live classes at Peloton studios in New York and London to feel closer to their instructors, the community, and the brand.
At its core, Peloton prioritizes the user experience. Once you're part of it, it's easy to stay engaged, complete workouts, and connect with the community.
But you definitely don't need the Peloton Tread to take part in this experience—just use the app and pay a monthly subscription.
So, why choose the Peloton Tread? Why shell out almost $3,000 for it? To be honest, I'm not sure how to answer that. I didn't buy it myself, and I might not have been able to afford it. However, what I can say is this: ever since I got it, it's taken pride of place in my living room. I've been working out every week, I've lost weight, and my cardio fitness levels (measured by VO2 max) have improved to above average. Because of my consistent training, I've realized I'm capable of more than I thought, so I've decided to run my first marathon in 2024.
It's not just the convenience of having the Tread right in front of me; it's also about the exceptional user experience every time I turn on that screen!
---
Editor's note: For the purpose of photographing for this review, the Peloton Tread was relocated from its original setup. Please remember: for safety reasons, the device requires two meters of clearance directly behind it.