Oppo F3 Plus review: one for the selfie lovers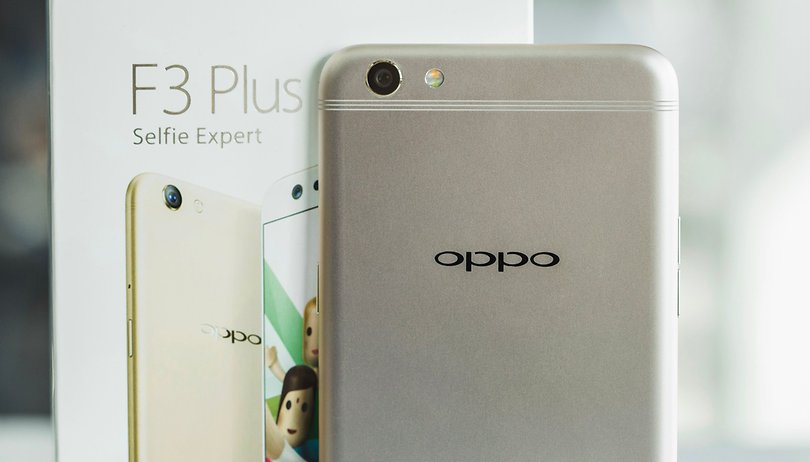 How many selfies do you think you take on a daily basis? If you love your selfies, or if you've now discovered the world that is "groupies", then you should definitely take a look at the new Oppo F3 Plus. With it's dual front camera, this is a smartphone that just screams "selfie!" It also may be just the thing you have been looking for to give your photos a bit more edge.
Good
Overall performance

Dual front camera for selfies
Bad
Display

Android Marshmallow

Price
Oppo F3 Plus release date and price
The Oppo F3 Plus was launched on March 23 and released first in India with the color options of gold or black. The price of the F3 Plus on its Indian release was 30,990 Rupees, which is roughly around $482. The latest edition from Oppo will released internationally in May, though there is no indication yet on the price for the new smartphone.
Oppo F3 Plus design and build quality
Here Oppo has followed the lead of other major smartphone manufacturers and given its F3 Plus a metal and glass casing. The dimensions of the device are important to note: 163.6 x 80.8 x 7.4 mm, as well as the large diagonal of 6 inches. The smartphone weighs in at 185 grams, so it's a little on the heavy side.
On the front panel you will immediately notice one of the more distinctive features of this smartphone: the dual camera for selfies.
The first thing that needs to be said about the Oppo F3 Plus is that it's designed for those people who are looking for a phablet with a screen which does justice to all the multimedia content they'll be watching on their device and who love their selfies.
On the front panel you will immediately notice one of the more distinctive features of this smartphone: the dual camera for selfies. The two sensors are placed in the upper left corner, next to the speaker for voice calls and to the proximity sensor.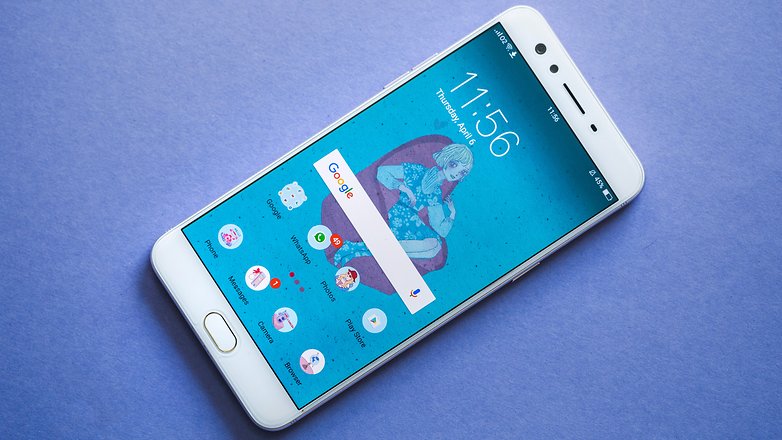 The screen is flanked on either side by thin edges, while the remaining ones at the top and bottom are visibly more evident. In the lower part of the front panel is the circular home button, which also includes a fingerprint reader. The edges curve in slightly, thanks largely to 2.5D glass.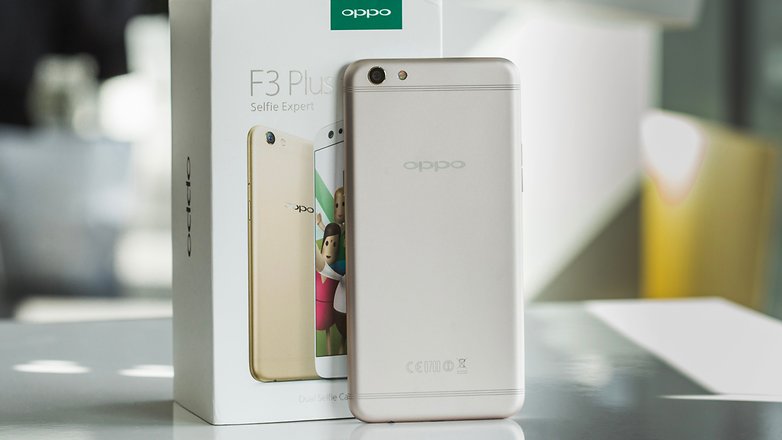 The F3 Plus has a minimalist look characterized by its slightly curved edges, which helps to make it a more ergonomic smartphone. You will find the sensor for the main camera (which protrudes slightly) next to the LED flash, and the sections dedicated to antennas that stand out from the usual: these are six super thin antennas - three up, three down - each 0.3 mm thin. The Oppo F3 Plus supports six frequencies.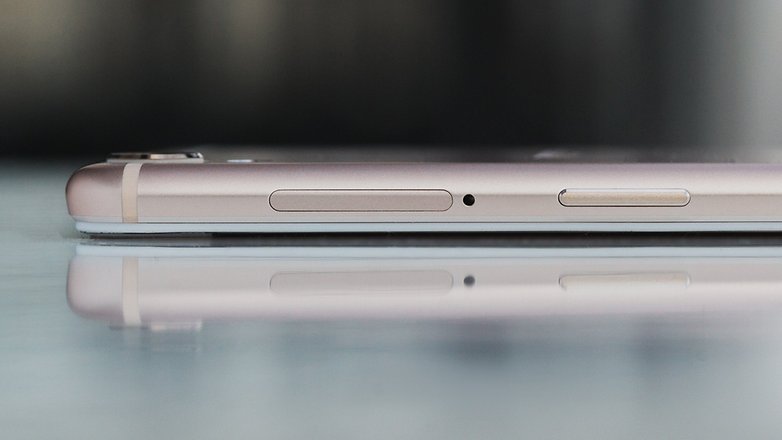 To launch the F3 Plus you'll have to rely on the physical button on the right-hand side next to the slot for microSD + nano SIM or two nano Sim (it's your choice as it is a hybrid Dual SIM). On the left-hand side you'll find the dedicated volume button, which isn't easy to reach if you have small hands. The headphone jack and micro-USB port (sorry, Oppo decided against the Type C option) are all along the bottom, next to the speaker.
If you do have small hands, you'd be better to focus on getting a device which has a more compact body.
Out of the box, the F3 Plus comes covered with a removable plastic film that attracts more fingerprints than the actual screen. In the purchase package we received, in addition to the smartphone, Oppo also includes a transparent plastic cover, a pin to pull out the SIM slot, a pair of headphones with quite a few interchangeable pads, instruction booklet, a USB cable and 2A 5V charger with a Chinese outlet.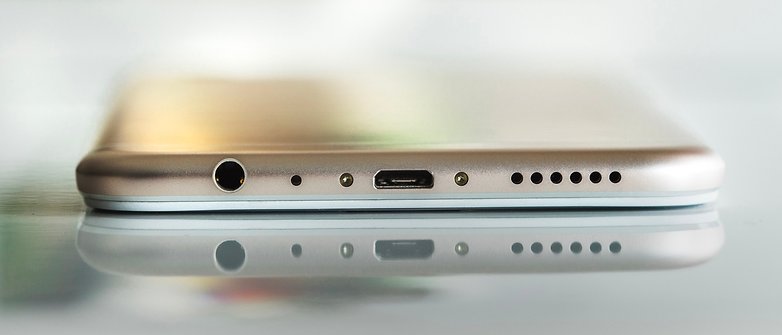 Overall, the F3 Plus has a nice design and is well assembled. Undoubtedly, it gives the impression of ​​being a solid smartphone. It is almost impossible to handle with one hand, but the main compensation here is that it isn't slippery. If you do have small hands, you'd be better to focus on getting a device which has a more compact body.
Oppo F3 Plus display
The Oppo F3 Plus incorporates a 6-inch IPS LCD screen, with Full-HD resolution (1920 x 1080 pixels). The screen is covered with Gorilla Glass 5 and has an integrated eye protection mode that helps by placing less strain your eyes when you read the night.
Under direct sunlight the display is - unfortunately - disappointing
Under direct sunlight the display is - unfortunately - disappointing. In order for it to be visible you'll need to set the brightness to maximum, and reflections do not help when you're trying to view any content. The colors are a bit saturated and it's not possible to modify things in the settings, as here it's only possible to adjust the brightness.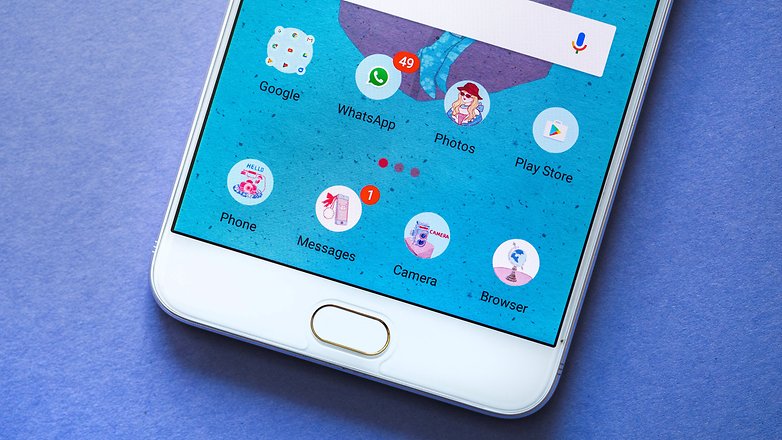 Although the screen responds without any problems, the color saturation and brightness left me feeling disappointed.
Oppo F3 Plus software
On the Oppo F3 Plus, you will find the ColorOS home interface running version 3.0 and Android 6.0.1 Marshmallow. This is a bit disappointing when you consider that Nougat was officially released in August last year and this smartphone has been released without the latest Android version.
The menu settings and icons are reminiscent of those you'll find on Huawei devices, and even more so of iOS style, but as this is a Chinese brand it's hardly a big surprise. One thing I found particularly uncomfortable was checking notifications: lowering the drop-down menu shows the quick options menu, and in order to actually access the notifications you then need a side swipe to access them.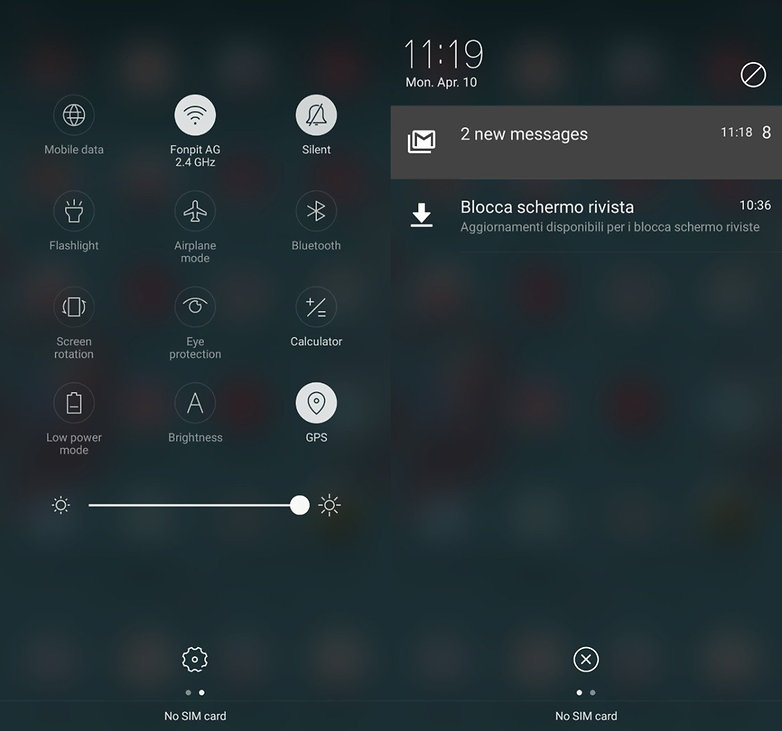 With a long press on the screen you'll be able to access customizations such as widgets and wallpapers, and with a pinch you can then change widgets and effects. By tapping on the preinstalled Themes Store app you'll be able to access a selection of wallpapers.
The fingerprint reader is quick, though on some occasions I had to press on the sensor twice so it would recognize my finger. Just like with other Chinese smartphones (think along the lines of Huawei and Honor) it can also be used for other features, such as access to apps and locked files.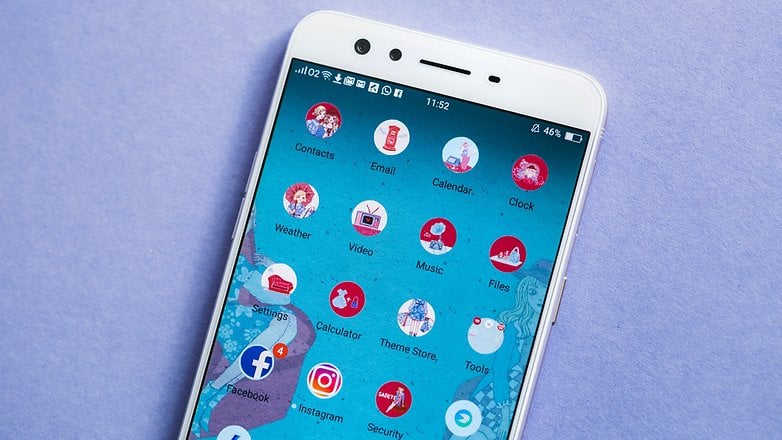 You can use gestures to handle some tasks: you can start the camera by drawing an "O" or double tap the screen to unlock it. It has a few pleasant goodies ready to hand, which are very common for Chinese brand smartphones.
Among the preinstalled apps you'll find Facebook, Instagram, Google Pack, a file explorer app specifically for backups, WPS Office and a dedicated Oppo app store. Overall, you can't really complain about its performance: the software runs smoothly without crashing or any noteworthy delays.
Oppo F3 Plus performance
The Oppo F3 Plus is powered by the Qualcomm Snapdragon 653 SoC octa-core processor (4 x 1.95 GHz Cortex-A72 & 4 x 1.44 GHz Cortex-A53) and Adreno 510 GPU. It comes with 4 GB of RAM plus 64 GB internal storage, though you can expand this up to 256 GB with a microSD card.
Based on the technical specifications, the F3 Plus is good to go for normal everyday use: there's no lagging or sudden crashes, apps open quickly enough and I didn't encounter any overheating when I played Real Racing 3. The browser can sometimes be a little slow, but overall the performance is really good.
The benchmark tests below should give you a better idea on how the Oppo F3 Plus performs:
Oppo F3 Plus benchmark scores
| | | | | | | | | |
| --- | --- | --- | --- | --- | --- | --- | --- | --- |
| | 3D Mark Sling Shot ES 3.1 | 3D Mark Sling Shot ES 3.0 | 3D Mark Ice Storm Unlimited ES 2.0 | Geekbench CPU - Single-Core | Geekbench CPU - Multi-Core | PC Mark Work Performance | PC Mark Storage | Google Octane 2.0 |
| Oppo F3 Plus | 962 | 1504 | 17692 | 1416 | 4555 | 5100 | 3833 | 8866 |
In you're interested in the SAR values for this device: 1,538 W / kg for the head and 1,337 W / kg for the body.
Oppo F3 Plus audio
The Oppo F3 Plus incorporates a mono speaker that offers good quality performance. The sounds has excellent clarity and plays nicely at a high volume, though if you do set it to the maximum volume the sound is slightly distorted. The headphones which come with the smartphone are plastic and are quite comfortable to wear.
Even during calls I was able to understand and, most importantly, make myself understood without any problems. The Oppo F3 Plus does not integrate the FM radio.
Oppo F3 Plus camera
Without a doubt, the hero of our saga is the F3 Plus' selfie-dedicated dual front camera (it's not by chance that you find the phrase "Selfie Expert" in the smartphone pack). That said, the Oppo F3 Plus is not the first device to incorporate a dual front camera: the LG V10 was released with this feature two years.
But let's go back to the Oppo F3 Plus selfie camera: one of the sensors shoots at a resolution of 16MP with an aperture of f / 2.0, while the other focuses on 8MP and at 120° degree wide angle. The secondary sensor isn't there to capture more light but so you can include more people into your selfies: a group selfie (or groupie).
The colors, unfortunately, are not always a good reflection of how things look in real life and come across as being a bit unnatural
But how does it work? Just position yourself for a selfie (if you have a selfie stick so much the better, especially given the size of the device), and the Oppo will suggest that you enlarge the angle if you want to fit everybody into your picture.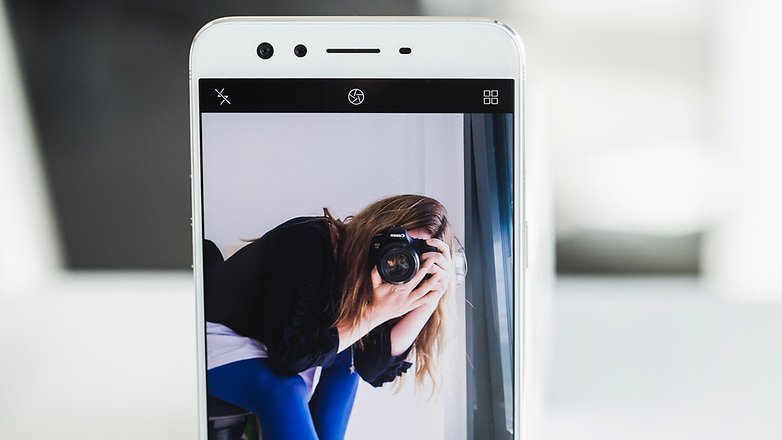 The camera on the body houses a Sony IMX398 sensor, snaps at a resolution of 16MP and has an aperture of f / 1.7. Here it's worth mentioning the presence of the dual-phase autofocus. The results? The shots are good when the light conditions are optimal. The colors, unfortunately, are not always a good reflection of how things look in real life and come across as being a bit unnatural. At sunset the result changes visibly and photographic noise makes an unwelcome appearance.
The Oppo F3 Plus also allows you to shoot video in 4K
The software is intuitive and easy to use, and includes dedicated modes such as Beauty, Panorama and Time-lapse. By clicking on the square icon you can access Expert mode, which allows you control things manually such as the ISO, focus, shutter, etc, color filters, Double Exposure, Ultra HD and GIFs. As you may have already been able to guess, this last feature allows you to generate your own GIFs. You can also set things up so you can operate the shutter or the timer with a voice or touch command.
To get a better impression of how well the camera operates take a look at images we've taken in our Photo Gallery.
Oppo F3 Plus battery
It's a simple rule: a larger-sized phone needs a bigger battery, so the Oppo F3 Plus is no exception here. The F3 Plus comes equipped with a battery of 4000 mAh, which is sufficient for a device of this size. The battery can guarantee one day of battery life with normal use, so you're covered when it comes to checking emails, sending WhatsApp messages, Instagram, watching YouTube clips and some gaming. The charger includes VOOC Flash Charge technology, which enables the device to be fully recharged in just over an hour.
We subjected our Oppo F3 Plus to a PC Battery Mark test which recorded a result of five hours and 10 minutes, so it was an uninspiring result that was close to the test we did for the OnePlus 3T.
Oppo F3 Plus technical specifications
Final verdict
It is not always easy to assess a smartphone like the Oppo F3 Plus which sits firmly in the mid-premium range. Overall, this is a stylish smartphone both in terms of its design and build quality, and thanks to its processor, GPU and RAM combo, it does not disappoint in day-to-day performance.
The Oppo F3 Plus is not, however, a smartphone for everyone: it's very much a device for social media afficionados and people who love to play with the camera, but it's also for those people who don't have any issues using a phablet. After all, not everyone likes large sizes when it comes to smartphones.
In addition, the price doesn't really do much to recommend the Oppo F3 Plus - especially when you consider that you could now buy a top of the range device like a Samsung Galaxy S7 for less money.
Sure, anyone who has a yearning for selfies may be interested in this device, but considering that that Oppo hasn't had the same market impact as Huawei or Xiaomi, to launch the F3 Plus which such a high price tag it's a bit too much. For that reason I stopped myself from giving it a four star rating.
What are your feelings on the Oppo F3 Plus? Would you be willing to fork out close to $430 for a better quality selfie? Let us know in the comments below.