OnePlus Nord 2 5G review: Not a true flagship, but who cares?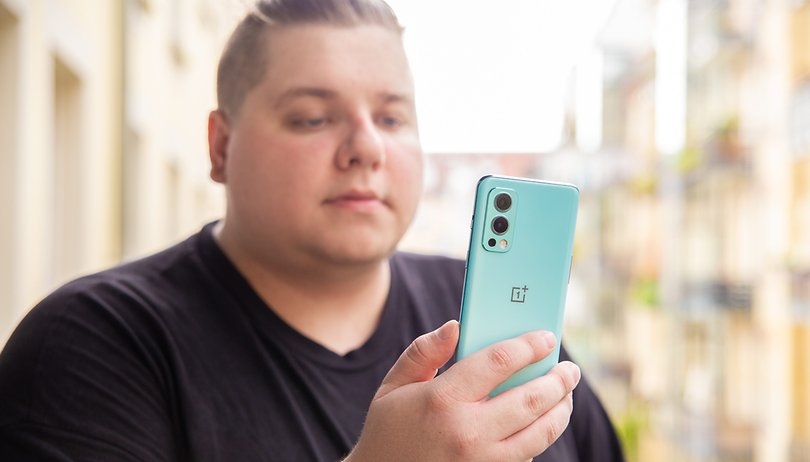 The OnePlus Nord 2 is the latest flagship model from the affordable OnePlus range. It promises to deliver everything you ever want from a flagship for just €399, around $470. This is definitely a bold claim, one which I will share my detailed opinion in this complete OnePlus Nord 2 review.
Good
90 Hz AMOLED screen

High-end MediaTek Dimensity 1200-AI SoC

Does not overheat

Warp Charge 65T

Solid battery life

50 MP main camera lens captured good detail

2 Android versions and 3 years of security updates

Efficient night mode
Bad
No dedicated telephoto lens

No wireless charging/IP rating/microSD port/3.5mm jack

Unreliable colorimetry in photos

Inferior photo processing software compared to the OnePlus 9

High Performance Mode doesn't tell much
OnePlus Nord 2 in a nutshell
The OnePlus Nord 2 will go on sale on July 28, 2021, where it will arrive in two configurations: 8 GB RAM/128 GB and 12 GB RAM/256 GB with a price tag of €399/$470 and €499/$590, respectively. This smartphone will come in two colors - Blue Haze and Grey Sierra.
Like the original OnePlus Nord, the OnePlus Nord 2 brings with it a fresh breath of air that should silence its critics. Last year, the manufacturer was criticized for the umpteenth time with a steady increase in prices. This year, OnePlus has been criticized for its merger with Oppo, having been perceived as moving away from its Never Settle philosophy.
Somewhat paying homage to a quote from G. Michael Hopf, which has since become a meme and used by those who falsely believe that history is nothing but a cycle that repeats itself: "Hard times create strong men smartphones..."
The OnePlus Nord 2 is clearly the flagship model of the Nord catalog, being a more premium handset than the recently released OnePlus Nord CE. Hardware specifications include a 90Hz AMOLED display, a MediaTek 1200-AI SoC, a triple 50 MP camera module, and a 4,500 mAh battery that supports Warp Charge 65T for fast charging.
OnePlus' promise with the OnePlus Nord 2 is to go even further than with the original OnePlus Nord which was released a year ago. The idea is no longer confined to simply offering a mid-range smartphone with a bit of premium hardware here and there. No, OnePlus clearly positioned its OnePlus Nord 2 as a flagship handset.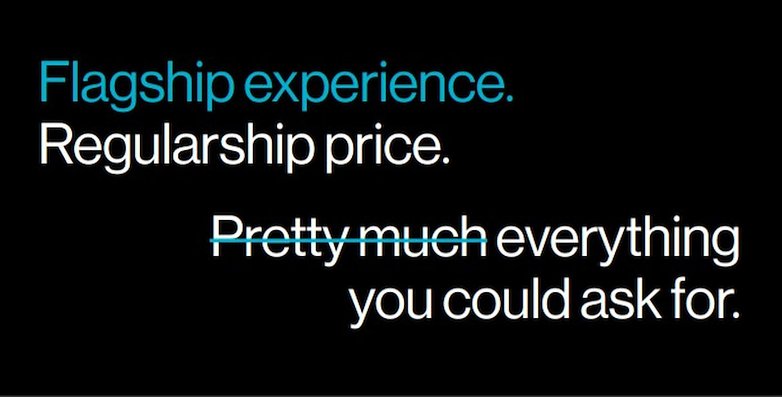 Given its asking price of €399/$470 which is the same price as the first OnePlus Nord when it was launched last year, you would inevitably suspect that the manufacturer had to make some sacrifices. I can tell you right away that this is indeed the case with the Nord 2. However, I find those compromises to be more acceptable in the Nord 2 compared to its predecessor - for now, at least.
Design and screen: Colorful with a 90 Hz refresh rate
The OnePlus Nord 2 sports a colorful glass design and a 6.43-inch Fluid AMOLED display and a 90Hz refresh rate.
What I liked:
Smooth screen even without 120 Hz refresh rate.
Design looks fresh and neat.
Updated cameras and flatter camera island.
What I disliked:
Lack of IP rating, 3.5mm jack, and a microSD memory card slot.
Screen colorimetry could be better.
Maximum 600 nits brightness is simply average at best.
Plastic frame, 'nuff said!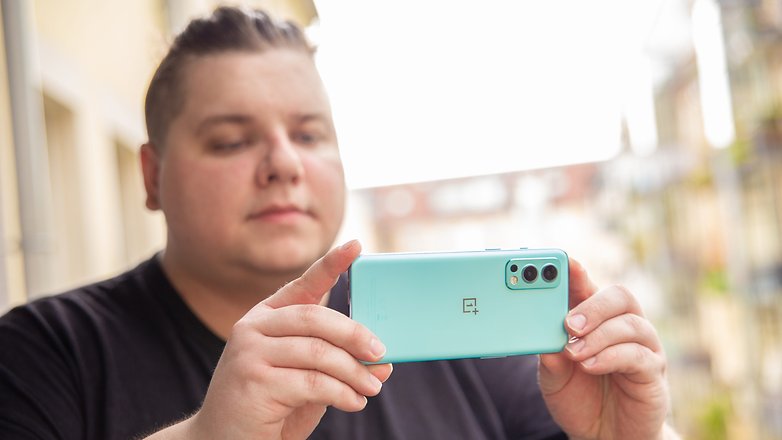 A fresh look that reminds you of summer
This rather clichéd title was intentional, rest assured. The design of the OnePlus Nord 2 is very conventional, but slightly less "boring" than that of its predecessor. The OnePlus Nord 2 is available in two colors in Europe: Blue Haze and Gray Sierra. For my review, OnePlus loaned me the Blue Haze version.
It looks somewhat like a shade of blue that resides between turquoise and cyan with a more "glossy" finish alongside a porcelain effect. I'm a big fan of this color, which evokes summer vibes in me for some reason.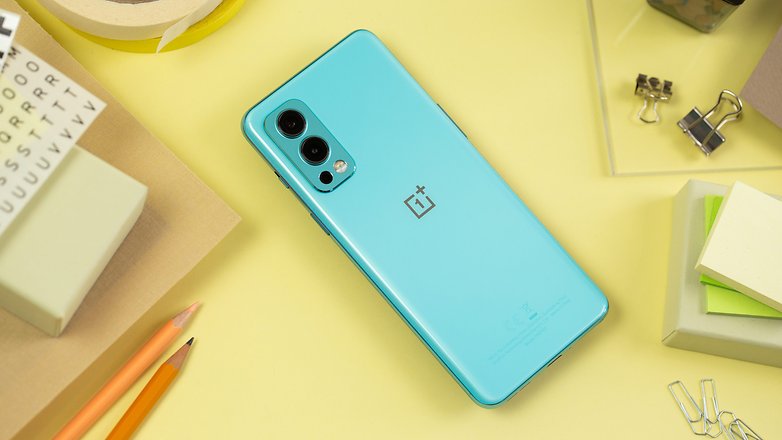 A more modern photo block
Looking at the back, the triple camera module is vertically arranged on a rectangular island which does not protrude too much. The rear design is also easy on the eyes, as I prefer this configuration to the pill-shaped camera module of the first Nord which had since gone out of fashion even in 2020.
The Alert Slider button and the power button are located on the right side as usual, with the volume controls on the left. Gorilla Glass 5 graces both the front and back, with the frame of the OnePlus Nord 2 being made of plastic.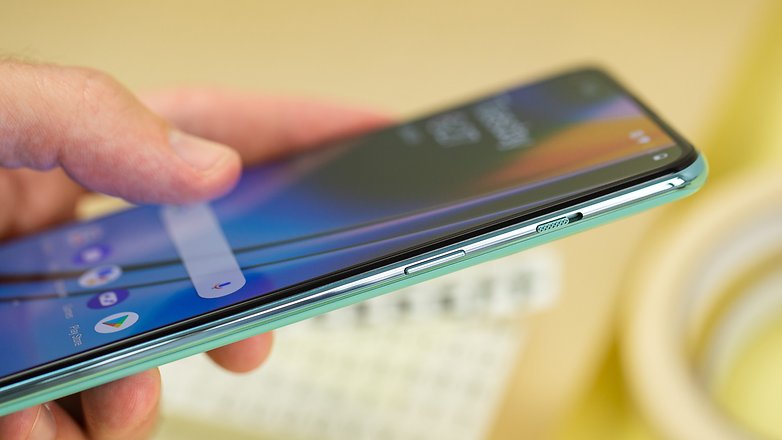 The OnePlus Nord 2 features a dual SIM slot, but does not support microSD memory cards for further expansion. It also lacks IP certification (which was missing in its predecessor as well) and a 3.5 mm jack. The rounded corners provide it with a good grip.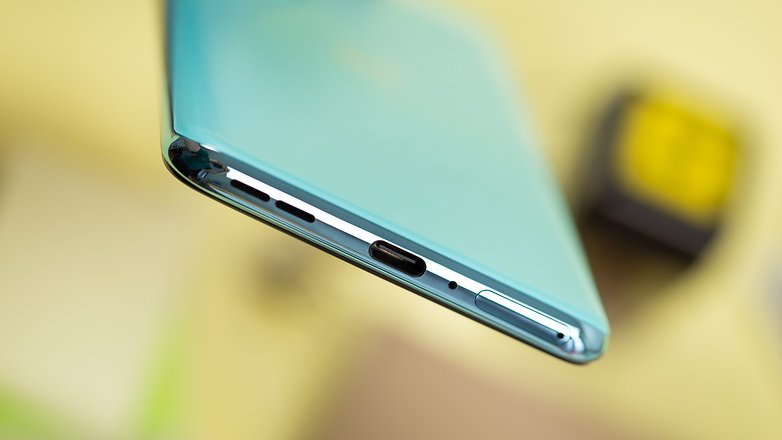 Very smooth AMOLED display even without a 120 Hz refresh rate
As for the display, the OnePlus Nord 2 boasts a 6.43-inch Fluid AMOLED display with a resolution of 2400 x 1080 pixels, which is equal to a pixel density of 410 ppi at a 20:9 ratio. The refresh rate stands at 90 Hz (this is yet another compromise). The OnePlus Nord 2's is also supposed to benefit from the AI ​​functions found in the MediaTek Dimensity 1200 chipset.
The average brightness stands at 430 nits with a peak brightness of 600 nits, which is ultimately rather average when compared to other midrange devices which are even cheaper.
Too cold colorimetry
It is as though OnePlus would like me to continue making puns with the word Nord. However, I won't give in to the temptation unlike the entire tech industry and my colleague Ben, whom I already hear is preparing a dad joke to send to me on Slack.
I would like to say that the colorimetry of the OnePlus Nord 2's display is a little too cold for my taste which tends to trend toward blue tones. OnePlus mentioned the AI Color Boost feature that claims to improve the colorimetry of images as well as AI Resolution Boost that upscales selected video content to HD (this feature is compatible with YouTube, Snapchat, and Instagram).
Nothing beats the few seconds spent playing around with the display settings in order to calibrate the screen to your preferred settings.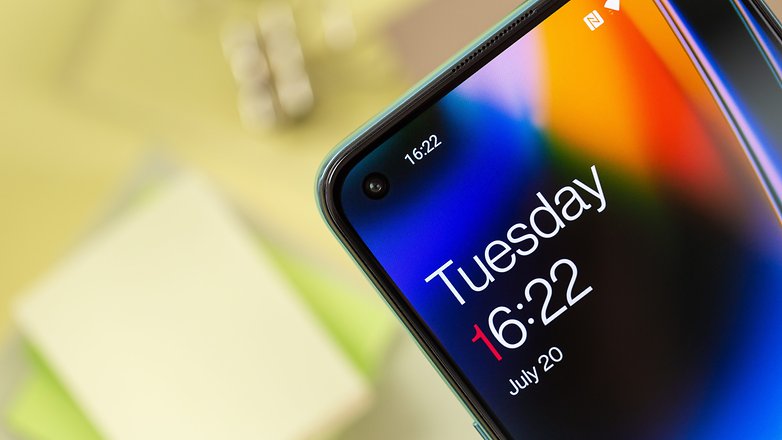 The OnePlus Nord 2 is almost visually indistinguishable from the OnePlus 9 apart from its wider chin. The design was certainly inspired by flagship Android handsets to a certain extent, but fails with its plastic frame and lack of no IP rating. However, in terms of feel and grip, the experience does feel more premium compared to its predecessor.
The same reproach can be made on the screen. The colorimetry is a bit cold, but thankfully, it can be corrected. The 90 Hz refresh rate is the bare minimum in 2021, or perhaps even unacceptable at this price range, but do not expect to experience a significant drop in smoothness. OnePlus is also one of the few manufacturers to work with selected game studios to enable games to run at 90 FPS or higher on their smartphones.
User Interface: OxygenOS 11.3 and its "high performance" mode
The OnePlus Nord 2 runs on the latest OnePlus OxygensOS 11.3 skin that is based on Android 11.
What I liked:
Smooth OxygenOS 11 performance.
Extensive personalization options.
Guaranteed security updates for up to 3 years.
What I disliked:
Ambiguous high performance mode.
Battery Utility app lacks versatility.
---
2 Android versions and 3 years of security updates
This is the first smartphone to run on the common codebase between ColorsOS and OxygenOS ever since the announcement of their "merger" in early July. On the surface, there is not much in terms of features or visual identity, at least for now. This merger should allow the manufacturer to facilitate better and more frequent software maintenance of its devices, among other benefits.
In terms of software support, OnePlus promises two major versions of Android and three years of security updates, although they did not disclose the security update frequency.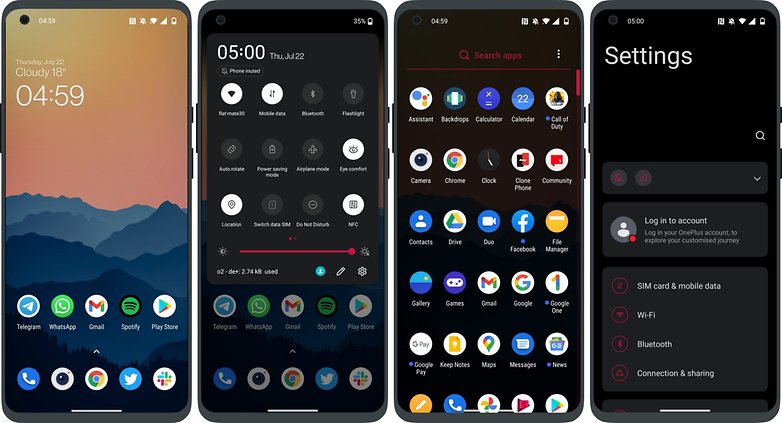 OxygenOS is still here
As for the rest of the mobile operating system, it should not take too long for you to settle comfortably if you are used to OxygenOS 11. I was surprised to see how much bloatware has been reduced with the Nord 2. Apart from the Google suite of apps, only Netflix came pre-installed on my review unit after setting it up.
The customization options have always been very varied, which is something that I am pleased with, but nothing much has changed at all since the previous OxygenOS version. We find that AOD has been integrated in the OnePlus 8T with different styles as well as a dedicated menu for the ambient display settings. Why not, right?
The only notable negative change in my books is the visual overhaul of the Battery Utility. There are no more graphs generated to view, as you simply have to be content with percentages and figures which are not really meaningful.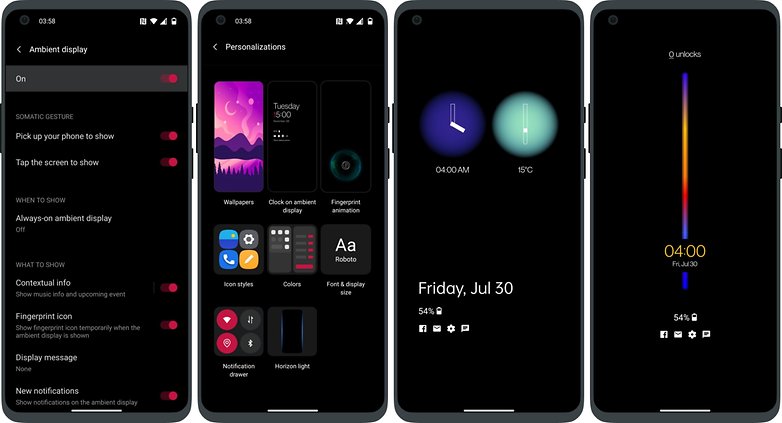 A strange high performance mode
Mucking around with the settings, I found a new option in the battery utility that I do not have on my OnePlus 9 which is powered by OxygenOS 11.2.7.7. This option is known as "High performance". I do wonder whether this option has anything to do with OnePlus' recent setbacks concerning performance throttling on the OnePlus 9 and 9 Pro.
I've asked OnePlus about this matter and received the following response:
"Everything about the 'throttling' of the OnePlus 9 range has been discussed in-depth in the OnePlus blog. There were internal optimizations made for the 9 series because of the high-performance Snapdragon chipset used. When users activate 'performance mode' on the Nord 2, they get "control" of the SoC so that all applications can run at the SoC's highest frequency."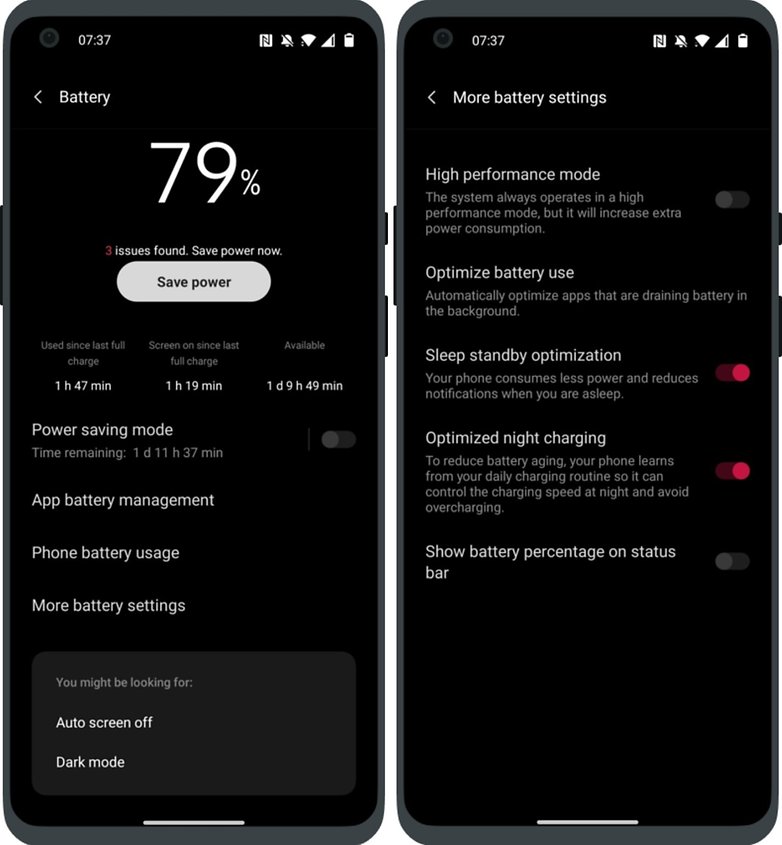 The next day after receiving this extremely generic response from OnePlus in Germany, OnePlus Global decided to reveal that yes, the OnePlus Nord 2 also operates on "optimizations" - which is to ultimately preserve battery life. Thankfully for users, there is a function to disable this restriction.
After numerous reminders and several discussions, OnePlus Germany simply explained that the "High Performance" mode is not a way to opt-out from processor throttling.
Clearly, this high performance mode can run all of your apps according to the maximum capability of the SoC on a permanent basis, even if it means draining the battery faster. But OnePlus refuses to state clearly for now whether this mode does affect the current performance throttling or otherwise.
In short, there is nothing very notable to report on the software side. I really like OxygenOS, it's my favorite Android skin to date, even after it has dropped the stock Android look with OxygenOS 11. I found some native applications to be rather limited in capability, such as Notes or the alarm clock (the lack of accuracy when setting my alarm gives me the shivers).
But all of these details are totally negligible and irrelevant to really affect the end user experience. I find their commitment to software updates to be welcome, although Samsung is currently doing far better. I do find the lack of clarity concerning the throttling and actual potential of the high performance mode to be disturbing.
Performance: MediaTek and the power of AI
The OnePlus Nord 2 features a MediaTek Dimensity 1200-AI SoC, a high-end chip and the first SoC in a OnePlus smartphone that is not from Qualcomm.
What I liked:
Huge performance jump compared to its predecessor.
Efficient thermal control.
What I disliked:
Not on par with the Snapdragon 870 unless high performance mode is enabled.
Overheats with high performance mode enabled.
The "optimization" by OnePlus remains imperceptible even when in use.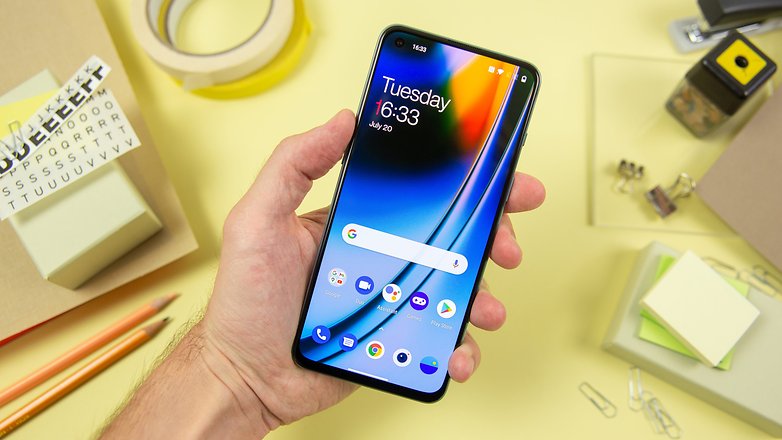 Solid high-end performance
The Dimensity 1200 is indeed the flagship chip rolled out by MediaTek in 2021, manufactured using the 6 nm process with a 1+3+4 CPU configuration that is built around a Cortex-A78 core with a clock speed of 3 GHz, a trio of Cortex-A78 cores clocked at 2.6 GHz, and four Cortex-A55 cores with a clock speed of 2 GHz.
We can therefore fully consider this SoC as a high-end chipset. Not quite on par with the Snapdragon 888, but comparable to the Snapdragon 870 in this case. Unfortunately, we have not yet been able to review a smartphone that is powered by the Snapdragon 870 to make a comparison.
In everyday use, the MediaTek Dimensity 1200 seems to behave more like a Snapdragon 865. The smartphone does not overheat under normal circumstances, and I was able to run Call of Duty: Mobile with all the graphics options cranked to the maximum without slowing down.
When activating the High performance mode, I noticed a net gain in power with relatively higher benchmark scores. But honestly, the difference is imperceptible when in use, apart from it overheating near the camera island after a few minutes.
OnePlus Nord 2
Graphics benchmark

| Benchmark | Normal | High Performance |
| --- | --- | --- |
| Geekbench single/multi | 811/2690 | 851/3377 |
| 3DMark Wild Life | 4175 | 4308 |
| 3DMark Wild Life Stress Test - best/worst loop | 4181/2515 | 4308/2532 |
| PassMark Disk/Memory | 69.304/31.648 | 108.640/32.669 |
The power of AI
The "AI" suffix refers to the Dimensity Open Resource Architecture program, which allows some manufacturers to directly customize MediaTek chips so that they can be calibrated according to their needs. Hence, the specific photo and video features that were mentioned above.
In terms of performance, these AI improvements from the MediaTek chip will supposedly allow more efficient network usage in reducing latency in (online) games as well as offer a reworked GPU scheduling algorithm that further reduces power consumption by up to 10%.
In any case, I only noticed a small improvement in the benchmark results once the famous "high performance" mode was activated.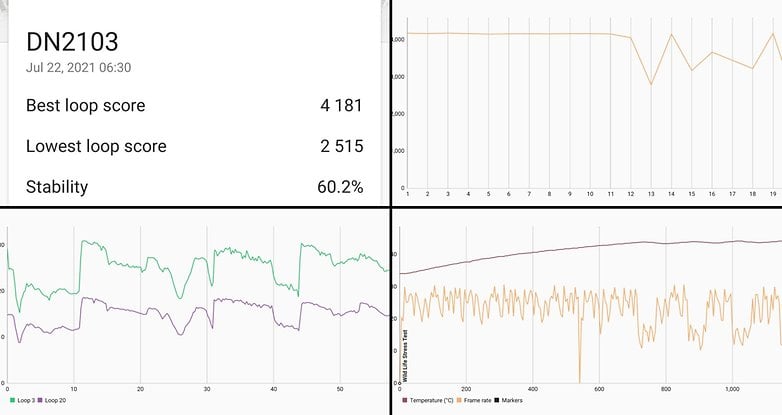 As mentioned above, as long as you do not activate the High performance mode, the temperature control is rather effective, as the smartphone does not overheat. On the other hand, this means you will never be able to eke out the full potential of the chipset in the long run.
During the Wild Life Stress Test which simulates intensive gaming use for 20 minutes, we can see how the frame rate remained very stable at around 30 FPS but dropped sharply after 800 seconds (13 minutes). In reality, I suffered a few slowdowns when playing Call of Duty once I go beyond the one hour mark.
Overall, the OnePlus Nord 2 offers performance that remains completely consistent within its price range. The performance limitation is not felt during the review and its temperature control remained effective as long as the High Performance mode was not activated.
Photo: 50 MP triple camera module worked just fine
The OnePlus Nord 2 packs a triple camera module that is powered by a Sony IMX766 ultra-wide angle main sensor, which is the same one found in the OnePlus 9 and 9 Pro.
What I liked:
Captured good detail under bright conditions.
Correct dynamic range.
Usable digital zoom results in 2x and even 5x.
Efficient Night Mode.
What I disliked:
Lacks a telephoto lens.
Software processing can get too aggressive.
AI mode distorts the colorimetry.
Secondary lenses have limited performance in low light conditions.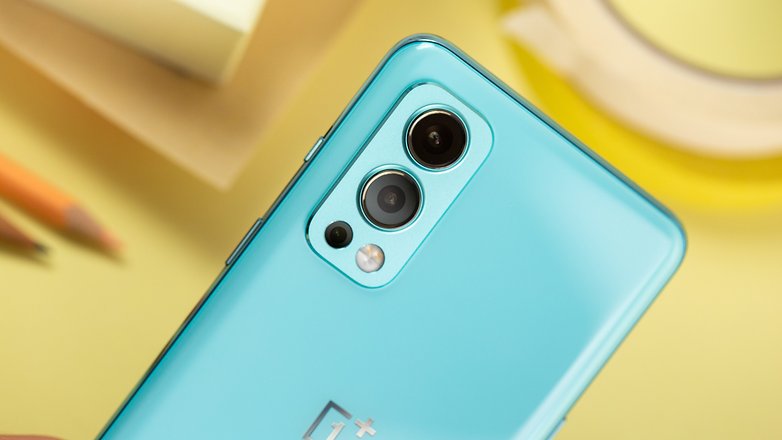 While we actually find the same main sensor on the OnePlus Nord 2 as the one used in the OnePlus 9, the rendering achieved in the OnePlus Nord 2 leaves much to be desired. In terms of software, there is no Hasselblad touch which was reserved for the company's flagships, but rather, to rely on the AI functions in the MediaTek chipset. Once again, we are faced with disappointing results.
However, I can only applaud the abandonment of the pretty-much-useless 2 MP macro and depth lenses, although the 2 MP monochrome sensor has been retained.
The main photo lens
By day, the ultra-wide-angle lens duo does capture absolutely decent shots, but that's the case for ALL smartphones I've reviewed so far. The sharpness is too pronounced if the HDR remains activated (I left it in automatic for my review), but we do see on a good level of detail captured in general.
I found the dynamic range to be rather wide, but the rendering of the second ultra wide-angle lens (the Sony IMX355) is significantly lower and has colorimetric and exposure inconsistencies.
During the day, the ultra-wide-angle lens captures some pretty decent shots. The sharpness is there, allowing us to achieve a good degree of details.
The AI Photo Enhancement feature is supposed to operate like a scene detector that we've seen in other manufacturers. Specifically, the OnePlus Nord 2 is supposed to be able to recognize up to 22 different scenes before making automatic adjustments on the image processing side for a better result.
When activated, it over-saturates the colors and makes a mockery of the dynamic range by overexposing the scene. As far as clichés go, I would say that much of the natural look is lost here.
Digital zoom without telephoto
In terms of zoom, the OnePlus Nord 2 doesn't offer a dedicated telephoto lens (which is another compromise) and its main lens is capable of up to 10x digital zoom. As long as you remain close enough to the subject, results captured at 10x are still usable, with the image looking sharp at 2x or even 5x albeit with an acceptable degree when it comes to detail loss.
As soon as you move away from a given subject, it's best to stick with the 2x magnification and not try too hard to go beyond that. It's ultimately a pretty similar experience as with the OnePlus 9 considering how both smartphones feature the same primary lens.
NightSight night mode
In low light conditions, I would not recommend you use anything apart from the primary ultra wide-angle lens. With the second ultra wide-angle lens, the scene ends up drowned in a digital mush that is severely underexposed and in dire need of sharpness. Night shots captured using the main lens remain rather usable, however.
But that is in low light conditions. When it got really dark, I was pleasantly surprised to see the level of detail that he main sensor was able to capture. Forget about zooming or ultra-wide angle here though, as the results will be unusable.
I attribute some of this success to the city lighting which is almost inevitable in Berlin, as is notable in virtually any major city. However, the shots captured using default settings were good enough for me and the night mode only made the scene even clearer without creating too much digital noise.
On the other hand, as soon as I moved a little away from the ubiquitous lamp posts to a slightly darker area, the quality dropped drastically. In fact, night mode only made the problems worse. Magnify the image below by clicking it and you will see for yourself just how messy it is.
In extremely low light conditions, an "ultra" automatic night mode is triggered when you use the Night mode option. However, I haven't been able to find a dark enough corner for it to activate that way.
It almost feels as though OnePlus is 'consistent' in this matter. Its camera performance always tarnishes the user experience somewhat, but overall it remains very convincing. Yes, the camera application will be updated regularly as is the case with each OnePlus smartphone, but we do not choose a smartphone or any other product based on what the future brings and non-contractual commitments of a manufacturer in exchange for our hard-earned money. It's all the more frustrating when OnePlus tries to do things right and it shows on the hardware.
Battery life: Warp Charge 65T
The OnePlus Nord 2 comes with a 4,500mAh dual-cell battery that supports Warp Charge 65T (65 Watts) fast charging.
On average, I lasted for around 16 hours with a screen time of between 3 hours - 4 hours and 30 minutes before dipping below the 20% battery life mark. In essence, it is safe to say that the OnePlus Nord 2 is capable of lasting a whole day and a third, if we were to begin with a 12-hour day.
And I also comfort myself that OnePlus has had to do a lot of tinkering on the software side to obtain such performance with the battery optimizer that kills apps in the background even faster than by default, in addition to the energy saving mode. How about the fact that the AI ​​functions of the MediaTek chip have been disabled by default?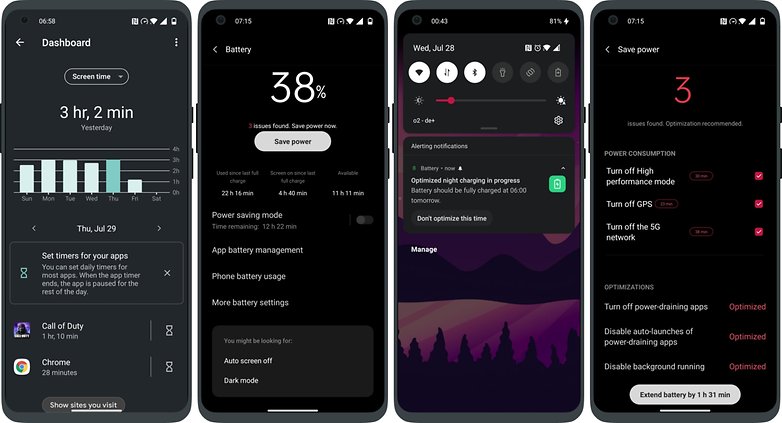 Instead of having a graphical representation in the form of a curve to depict your battery use over the past 24 hours, you will be served statistics in terms of percentage across the past three days. I preferred the previous way of depicting my battery usage as it allowed easy reference at a glance.
Warp Charge 65T is still as efficient and pleasant to use on a daily basis as before despite sporting a USB-A to USB-C cable and not USB-C to USB-C as found in the latest OnePlus models. The promise to fully charge your OnePlus Nord 2 in just 30 minutes hold true yet again. On the other hand, the smartphone does not offer wireless charging (another compromise).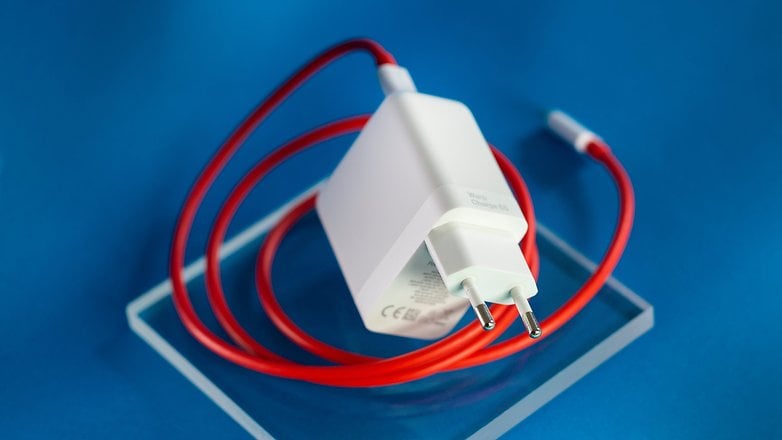 Overall, I found the battery life on the OnePlus Nord 2 to be very good. It is clearly not the longest lasting battery on the market in this price range, where Xiaomi/Redmi offers the best examples, but the battery holds up well and recharges very quickly. In this department, having 65W fast charging capability is nothing new for a mid-range device, but it remains an undoubtedly a strong point in favor of the OnePlus Nord 2.
OnePlus Nord 2: Technical specifications
OnePlus Nord 2
Technical data
Components
Specifications
Processor

MediaTek Dimensity 1200-AI
Octa-core up to 3 GHz
6 nm
Mali G-77 GPU

Memory

8/128 GB; 12/256 GB
UFS 3.1 / LPDDR4X

Expandable storage?
No
Screen

6.43-inch AMOLED
Full HD+ 1080 x 2400
90 Hz refresh rate

Camera module

50 MP main lens: f/1.88 aperture, PDAF, OIS
8 MP ultra-wide angle: f/2.25 aperture, 119.7° FOV
2 MP monochrome: f/2.5 aperture
32 MP selfie: f/2.45 aperture, EIS

Video

1080p at 30/60 FPS
720p at 30/60 FPS

Battery

4,500 mAh
65W fast charge

OS
OxygenOS 11 based on Android 11
Audio

Dual stereo speakers

Connectivity
Wi-Fi 6 / Bluetooth 5.2 / LTE / 5G / NFC
IP certification
None
Dimensions & Weight

158.9 x 73.2 x 8.25 mm
189 g

Colors
Blue Haze / Grey Sierra
Price & Availability
€399 / €499 from 28 July 2021 — Around $470 / $580
Conclusion: My initial impressions
Does the OnePlus Nord 2 offer everything you want in a flagship less than €400? No. But should we give a damn? Or can we give a damn? Yes and no.
On the one hand, I always use the manufacturer's promise as a plumb line for my reviews. It is the standard on the scale of which I appreciate and evaluate the performance of the device. OnePlus is touting the OnePlus Nord 2 as an affordable flagship? Hence, I'm going to evaluate the smartphone like I would with a high-end model.
So no, in absolute terms, it doesn't matter if you don't have a Snapdragon 888 SoC, IP rating, telephoto lens, 3.5mm audio jack, 120 Hz refresh rate, or wireless charging and a fantastic camera setup. Hey, for €400, you can't have your cake and eat it.
If that is the case, why does OnePlus claim otherwise? If I wanted to stick to my principles, I would give the OnePlus Nord 2 a 2.5 star rating, which is no higher than an average device. The product is good but it does not fulfill its promise as everything I want in a flagship.
On the other hand, we can say that for €400, regardless of the promise and marketing, if the quality/price ratio is there, that's all that matters. And at this price point, I find the OnePlus Nord 2 very hard to beat. Which model is better in this segment? The Samsung Galaxy A52 5G with its 120 Hz refresh rate and 4 years of updates? The Poco X3 Pro and its more powerful Snapdragon 870?
In both cases, I prefer the OnePlus Nord for the processing muscle and fast charging capability that Samsung lacks as well as its software updates and Android skin which, for ME (my personal preference), is lacking on Xiaomi devices.
So it's up to you to decide on what matters to you. For me, the OnePlus Nord 2 remains the best smartphone available for less than €400. It makes OnePlus Nord CE lose all of its advantages and could even be viewed as a OnePlus 9T. I am also taking into consideration rumors circulating that OnePlus is not introducing a Model T this year.