Nokia 7 Plus review: The affordable Pixel that Google denied us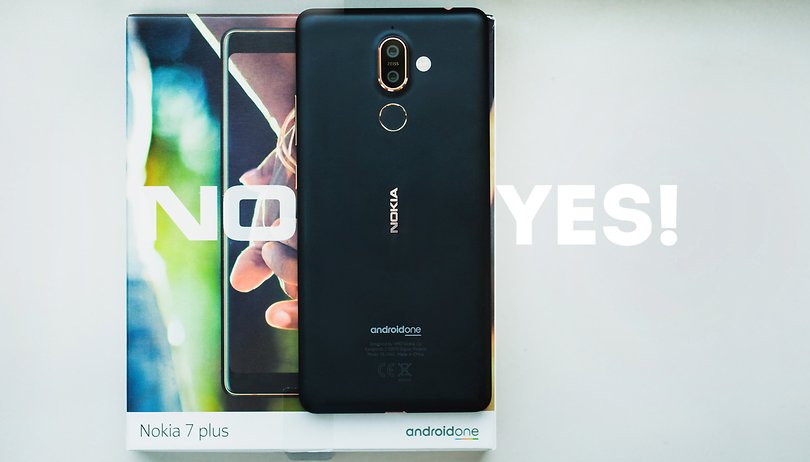 Nokia is back. The brand controlled by HDM Global was the most talked about at the Mobile World Congress 2018 thanks to the presentation of its new smartphones. Nokia 7 Plus is part of a small group of newcomers, and after a few weeks of comprehensive testing we're now ready to evaluate this device. So will users warm up to this new Android One smartphone? NEXTPITTV
Good
Original design

Unique details

Large display

Zeiss optics

Long-lasting battery

Android One
Bad
Slightly above average price

Nokia camera app could use some improvement
HMD Global is aiming high with this release
The Nokia 7 Plus makes it clear that the Finnish brand has a lot to say to the international smartphone scene. HMD Global is no longer selling the device as an entry-level device and currently you can buy it for $389 unlocked on Amazon, so it's hoping to enter a more competitive market segment.
There is fierce competition from smartphones such as Honor 9, HTC U11 Life, Huawei P20 Lite, Samsung Galaxy S7 and many others that will certainly be difficult to surpass, but buyers still have a keen eye on Nokia.
Nokia is offering an original design
The assembly and manufacturing of the Nokia 7 Plus is impeccable. HMD Global has demonstrated that despite the fact that several design changes (beautiful or ugly) have gone by, it has always maintained an excellent level of build quality.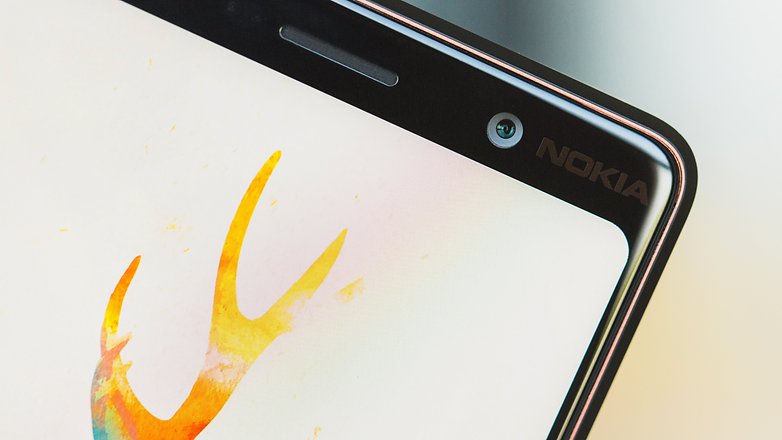 The structure of the smartphone is aluminum, and the back cover isn't removable with a six-layer matte cover that appears plastic. A copper 'ring' surrounds the whole thing, which gives the Nokia 7 Plus an unmistakable design. The Nokia logo on the body and the accents around the camera, fingerprint reader and display are also copper-colored. The smartphone is available in white or black, both with copper accents.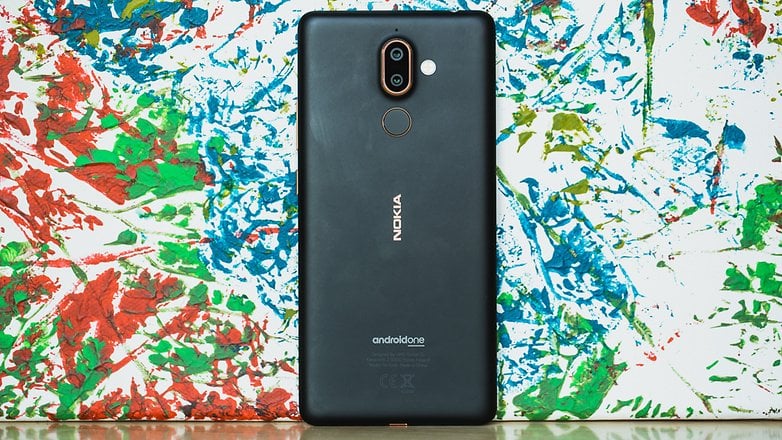 Speaking of the fingerprint sensor, I discovered something curious: the smartphone is almost the same size as the Google Pixel 2 XL, and even the cover of the Nokia 7 Plus fits perfectly on the Google smartphone (with obvious impediments to the side buttons and camera). The fingerprint reader is in the same exact spot.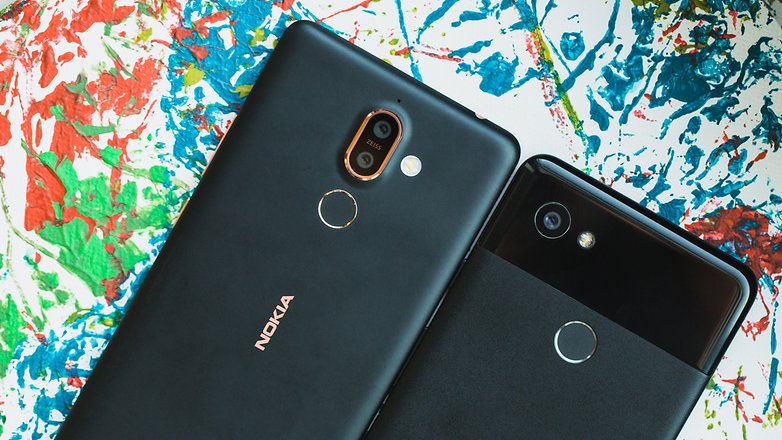 It's undeniably reminiscent of the Pixel 2 XL
The shape, size, rounded corners and edges around the display are also virtually the same as Google's Pixel 2 XL. Putting the devices side by side makes it easy to confuse them. The difference lies in the technology used: Nokia uses an IPS display unlike the LG AMOLED used by Google.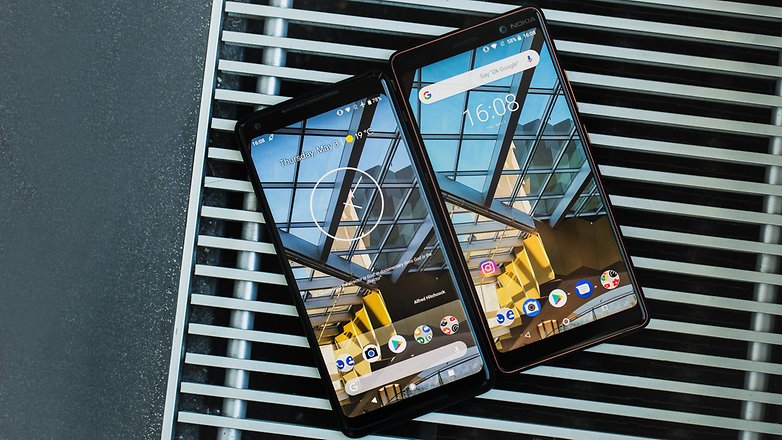 The 6 inch-panel in an 18:9 format with 1080 x 2160 pixel resolution has bright and pleasant colors (more than my beloved Pixel, I have to admit) and has sufficient brightness for any kind of indoor or outdoor lighting. The resolution is also sufficient to take advantage of some virtual reality apps, unless you're a really demanding users. The blacks aren't perfect because of the display technology, but at least they don't turn glaringly gray when you tilt the device.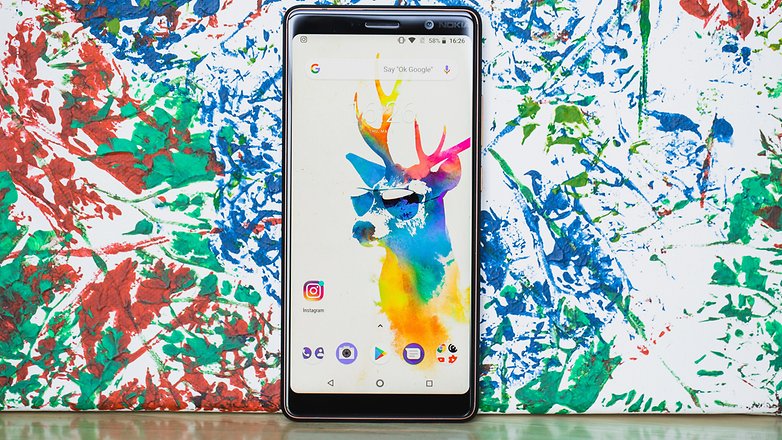 Though it has an ambient display mode the shows time and notifications when you pick up the device from the table, it doesn't feature an always on display function.
Everyone should get this software
The Nokia 7 Plus comes installed with the latest version of Android Oreo 8.1 without any customization. The security patches were already updated in April 2018, and Nokia once again has been very attentive to the updates and experience that users expect.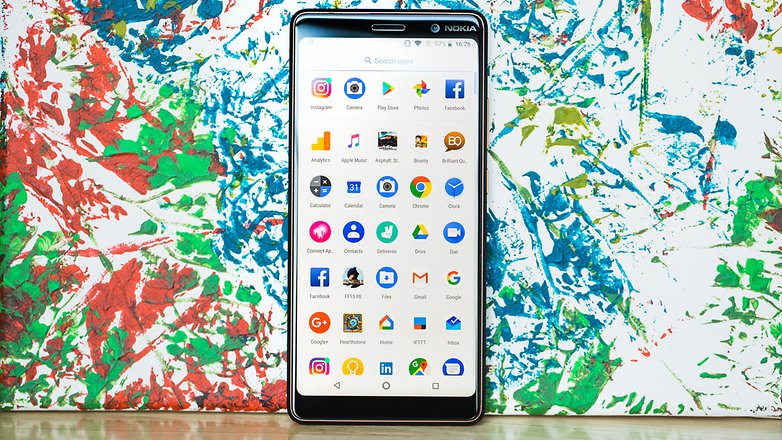 The Nokia 7 Plus is also part of the Android One program. HMD is therefore committed to providing the smartphone with a version of Android stock (with the addition of a few essential apps) and to update the device for at least two years after its launch with system updates. Security patches may be deployed for even longer.
So if you're looking for a smooth, fast experience and quick updates, you won't be disappointed with the Nokia 7 Plus. The only software additions I've noticed include the Camera app (discussed below) and the useful Nokia Mobile Care app. It contains the manual, support chat, frequently asked questions, a map of the nearest Nokia service centers, warranty status, and links to Nokia community forums.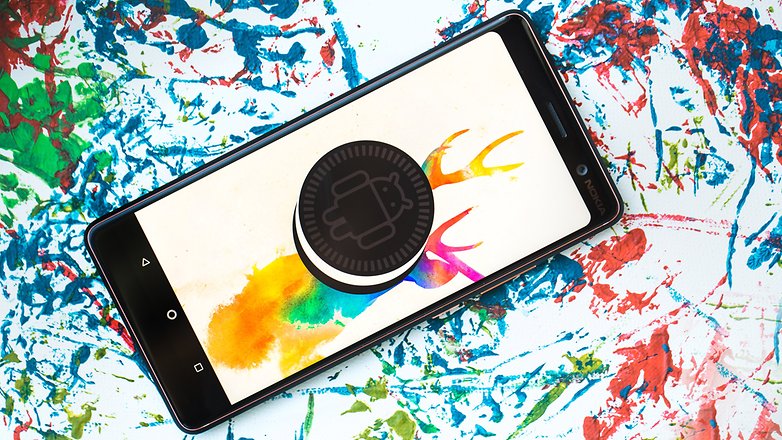 Performance that doesn't disappoint
The SoC used on this smartphone is Qualcomm's Snapdragon 660. The chip features an octa-core CPU (4x2.2 GHz Kryo 206 and 4x1.8 GHz Kryo 260) and 4GB of RAM. The chip keeps your smartphone running smoothly in all situations, including social media, photo editing, file operations, or browsing the internet.
The Adreno 512 GPU ensures that most games run without any problems. The biggest issues come with graphically demanding games such as Dungeon Hunter Champions, PUBG, or Final Fantasy XV Pocket Edition. With a mid-range chip, the performance is still excellent and is in line or even better than the competition.
Nokia 7 Plus: Resulting benchmarks
| Smartphone | 3D Mark Sling Shot Extreme ES 3.1 | 3D Mark Sling Shot ES 3.0 | 3D Mark Ice Storm Unlimited ES 2.0 | Geekbench 4 - single core | Geekbench 4 - multi core |
| --- | --- | --- | --- | --- | --- |
| Honor 9 | 1849 | 2989 | 28775 | 1870 | 6561 |
| ZTE Blade V9 | 446 | 805 | 12738 | 769 | 3908 |
| Google Pixel 2 XL | 3581 | 4763 | 38069 | 1873 | 6291 |
| Nokia 7 Plus | 1330 | 2018 | 26385 | 1634 | 5865 |
As you can see from the benchmark results, the CPU of the Nokia 7 Plus doesn't fall far from the more powerful Snapdragon 835 of the Pixel 2 XL. The graphic performances still lag behind, so it's not a smartphone for hardcore gamers, but it's more than sufficient for 99% of games and apps.
The internal memory is 64GB and is expandable with a microSD card. It comes with Bluetooth 5.0, Wi-Fi 802.11 ac, NFC, and a slot for the second SIM card if you want to forgo expanding the memory.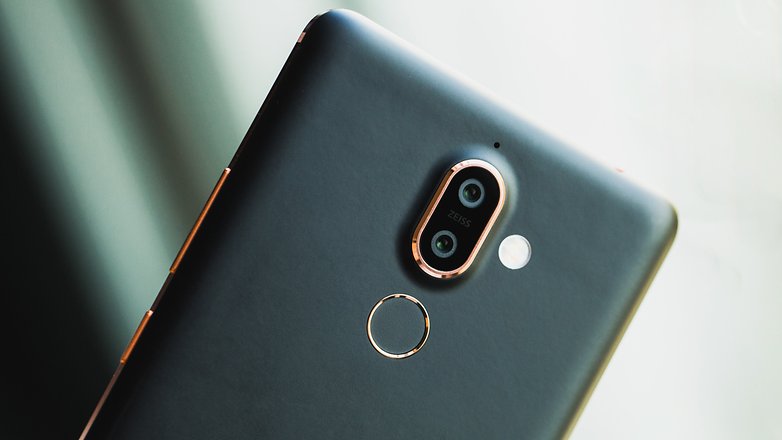 Nokia 7 Plus audio
The Nokia 7 Plus certainly doesn't offer the most exciting audio in the field. The only mono speaker is located at the bottom of your smartphone, so you'll most likely be covering it with the phone in your hands. The sound is in line with many other smartphones available on the market: if you want a better audio experience I recommend you pair your smartphone to a wireless speaker via Bluetooth.
Fortunately, despite using a USB Type-C port that works as an audio output, HMD Global decided to still include a headphone jack on the top.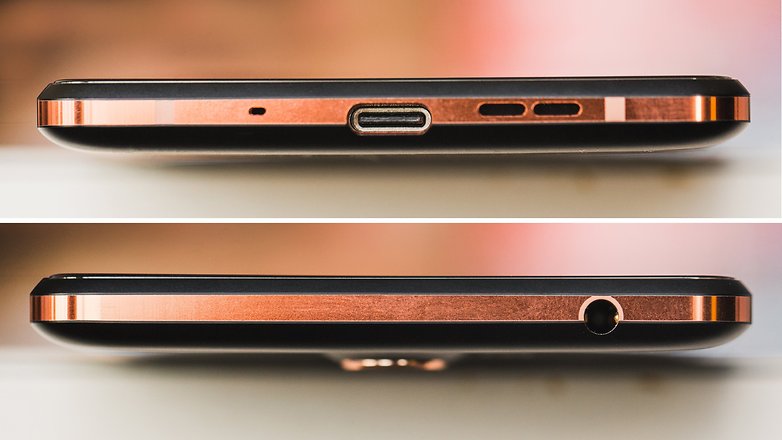 A gorgeous and simple camera
The Nokia 7 Plus packs a double rear camera. The first camera is a 12 megapixel f/1.8 wide-angle lens, while the second is a 13 megapixel f/2.6 lens with a 2x telephoto lens. Both lenses are made in collaboration with Zeiss and the main camera also has an autofocus PDAF phase detection that uses dual pixel technology and is incredibly fast.
I was able to try the camera in daylight as well as under difficult conditions, such as in gray or rainy days. In the dark, some grain appears that worsens the overall quality of the photo and considerably reduces the details. This isn't worrying though, since the smartphone has a camera that can compete with other smartphones in this price range. The second camera with the telephoto lens is certainly more useful than a second black-and-white sensor in everyday life.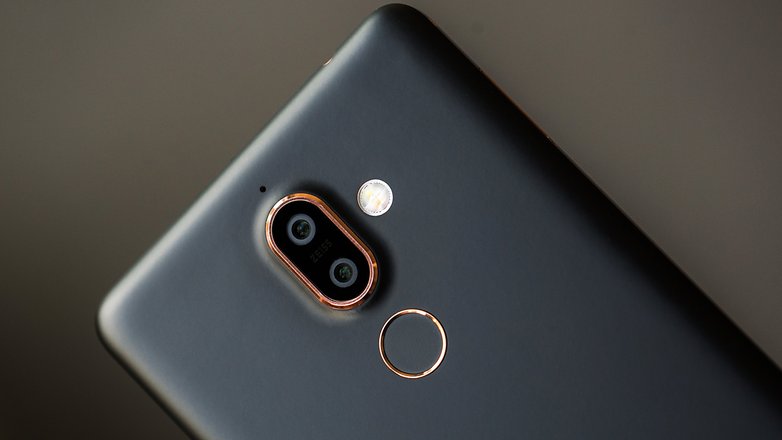 The 16 megapixel selfie camera also has Zeiss lenses with a focal aperture of f/2.0. The results are sufficient, but are certainly worse than the two rear cameras.
The camera app is simple and well-crafted. You can switch between automatic and manual modes by simply moving the shutter release button once. Moving it a second time opens up circular manual controls in the style of Nokia Lumia. To return to automatic mode, you can simply move the shutter release button in the opposite direction.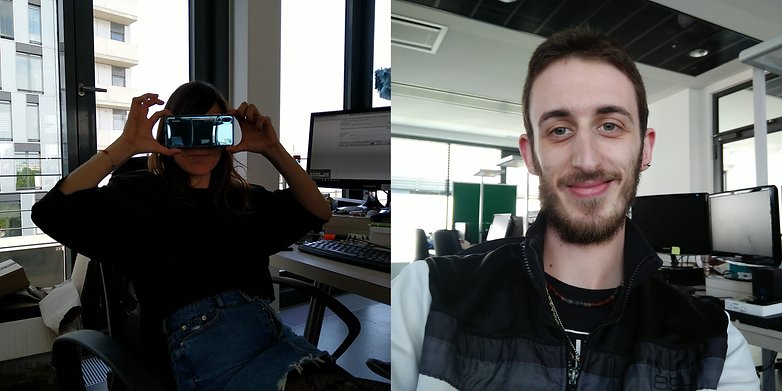 It comes with Dual and PIP features that we've already seen on the Nokia 8 that allow you to take pictures or record videos using both cameras at the same time.
Two days of autonomy without any problems
This is usually where I lament about smartphone batteries. In the tests of the latest smartphones that I've been able to use, I had to surrender to just a single miserable day of light use (I won't name the top-range Korean smartphone in question) or just a full day with other models.
Nokia 7 Plus doesn't fall into either of these categories, with a result of 9 hours and 58 minutes in the PC benchmark Mark Battery Work 2.0. In our rankings it comes in as a smartphone with one of the most durable batteries. In everyday use, this means two days of full use without sacrificing GPS, Wi-Fi, 4G, or energy-hungry apps.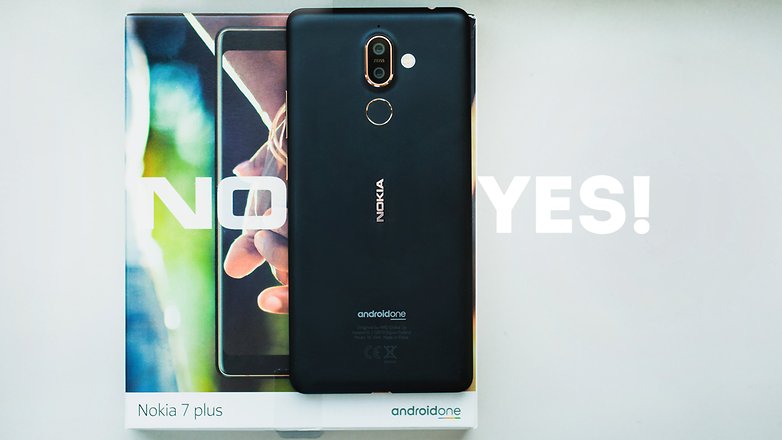 Facebook, Messenger, WhatsApp, Slack, Telegram, Gmail, and Inbox are just some of the services in constant operation and synchronization on the smartphones I use: despite all that, the Nokia 7 Plus can reach two days of use without needing to be recharged.
The 3800 mAh battery combined with optimized software and the sufficient but not too powerful technical specifications guarantees excellent durability. It is charged via the USB Type-C port and fast charging supports 5V/3A, 9V/2A or 12V/1.5A standards.
Nokia 7 Plus technical specifications
| | |
| --- | --- |
| Dimensions: | 158.38 x 75.64 x 7.99 mm |
| Battery size: | 3800 mAh |
| Screen size: | 6 in |
| Display technology: | LCD |
| Screen: | 2160 x 1080 pixels (402 ppi) |
| Front camera: | 16 megapixels |
| Rear camera: | 13 megapixels |
| Flashlight: | LED |
| Android version: | 8.0 - Oreo |
| RAM: | 4 GB |
| Internal storage: | 64 GB |
| Removable storage: | microSD |
| Chipset: | Qualcomm Snapdragon 660 |
| Connectivity: | HSPA, LTE, NFC, Dual-SIM , Bluetooth |
Want a Pixel but don't have the budget? Invest in Nokia
This final verdict should apply to much of the new Nokia range with Android One/ Go. The Nokia 7 Plus is a smartphone with excellent build quality and a unique design that is recognizable among a thousand other monotonous smartphones. The software on the device can be a bit drab: Android stock that is updated and responsive can be a bit boring, but in a good way. The best feature of any new smartphone should be Android made the way Google wants it run. Nokia is taking advantage of this.
The Nokia 7 Plus finds itself in a difficult and crowded price range, but it will certainly be able to satisfy its buyers. Although it's not the most powerful device on the market and doesn't have the strongest features, this Nokia has proven to be a complete smartphones with no real weaknesses.
What do you think of Nokia's new range of devices, including the Nokia 7 Plus? Let us know what you think in the comments!