New VanMoof S4 and X4 Models: Quality Biking on a "Budget"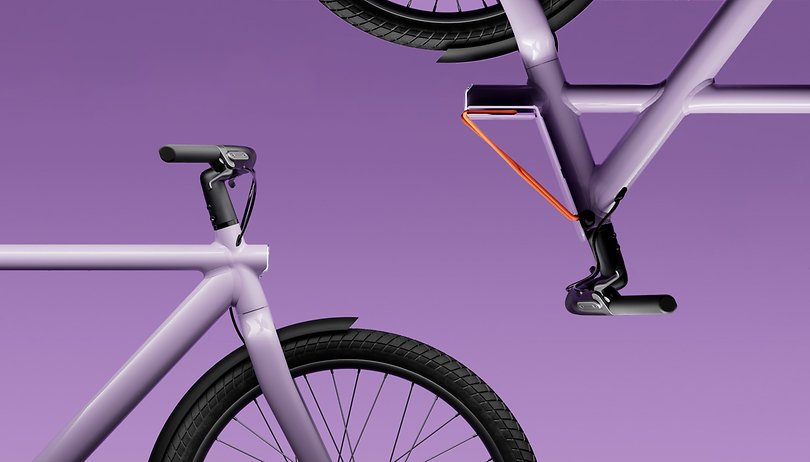 It is well known that things are not particularly rosy at VanMoof right now. Nevertheless, such turbulent moments have not stopped the e-bike manufacturer from launching two new bikes. The S4 and X4 models were advertised as affordable alternatives to the S5 and A5. The compromises made were acceptable when looking at the specifications. However, VanMoof still priced its bikes in the higher-end market.
With a reputation as "iPhone on wheels," VanMoof's e-bikes have certainly made a name for itself. Indeed, the latest VanMoof S5 impressed us at NextPit, leading our guide to the best e-bikes in 2023.
However, premium features like a powerful boost at the push of a button and the integrated kick lock integrated at the rear wheel have come at a price so far: You will have to budget around $4,000 for the S5.
To offer cheaper alternatives to its top models like the S5 and A5, VanMoof now introduced the new S4 and X4 models. It finally becomes clear why the Dutch manufacturer skipped a number when jumping from the VanMoof S3 (review) to the S5 and didn't present another X model until now.
In the following, we present the most important features of these new bikes and dive into where the cost-cutting has happened and whether it made a huge impact or not.
VanMoof S4 in four new colors
Let's begin with the S4, which hardly differs visually from the more expensive S5. As a first unique selling point, VanMoof introduced four new colors: Evergreen, Purple Fog, Sunbeam Yellow, and Foam Green. This is a good decision, as the S5 and A5 models can only be ordered here in a rather drab, gray color variant.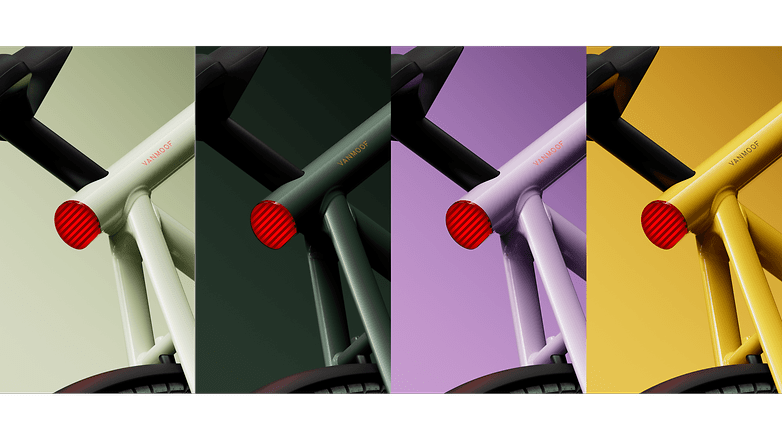 Functionally, VanMoof also relies on a 250-watt electric motor in the rear wheel, from which you can coax another 59 Nm—9 less than on the S5—for fast starts or quick overtaking thanks to the boost button. While the difference is minimal here, I'm surprised to see VanMoof increase the output of the frame-integrated battery by 15 watt-hours to 478 Wh. This results in a targeted range of 60 to 150 km.
What is a clear disadvantage as seen from the specifications is how VanMoof limited the automatic gear shift to just two gears. Based on my experience with the S5, this will have an effect on a slightly higher cadence when moving from a standstill. However, if VanMoof retained the highest gear's gear ratio, even the S4 will be comfortable and smooth to ride with a top speed of 25 km/h.
Both the gears and intelligent motor rely on data from a rotation sensor in the bottom bracket, which VanMoof already used on the S3 series. The more expensive VanMoof bikes offer a new torque sensor here.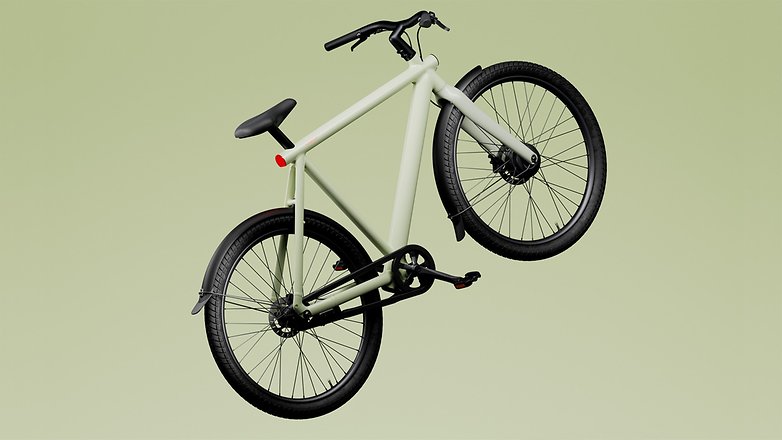 Other typical VanMoof features include built-in lights, app connectivity, a phone mount on the front handlebar, LED rings on both handlebar grips, and extensive theft protection including GPS tracking and an in-house squadron of "bike-hunters" who will return stolen bikes to you.
VanMoof also mentioned having two instead of four buttons on the handlebars of the bikes as well as the older kick lock in version 4.0 as additional differences. Apple fans might miss the support for the Find My network.
VanMoof X4 for smaller riders
VanMoof also continues its fancier frame design with a mini front rack in the X4. The X frame is a bit smaller and lighter, is said to be suitable for male and female riders between 155 and 190 cm tall, and comes with smaller 24-inch wheels. Apart from these features, you don't have to compromise on functionality.
Just like in the most expensive series, we see a split into a cruiser bike for rather tall people as well as a city bike for shorter people with a shorter wheelbase and smaller tires. Why VanMoof decided against having a step-through frame for the affordable models, however, is something only VanMoof knows.
Pricing, availability, and thoughts
As mentioned: VanMoof positioned its new 4 series as a cheaper alternative to the S5 and A5 models. The sacrifices you will have to make when you save more around $1,300 are really negligible in my opinion. This is especially so as the S5 and A5 models have apparently been priced at approximately $500 more shortly before the launch of the more affordable models.
The manufacturer informed us that the price change was not related to the launch of the new models, but failed to fill us up with more detailed information. I suspect it will go along the lines of "In view of increased raw material cost and inflation, bla bla bla..."
The slight increase in power in the Boost and the more complex gear shifting were fun in the S5's review, but like most other advantages, they are hardly essential in everyday cycling. With the S4 and X4, VanMoof made its most expensive e-bikes a bit gimmicky at first glance.
Of course, this seems a bit confusing at first, but if you were to look at the still months-long delivery times of the premium series, VanMoof could have worked out a smart move here. However, VanMoof must be able to deliver its new e-bikes on time and without any complications. We will probably find out whether this strategy works from August onwards, as that's when VanMoof will start delivering (!) its new models.
What do you think about the new VanMoof bikes? Are they sensible additions to the catalog or do you feel cheated as a buyer of the S5/A5? Share with us in the comments!