How to Use Apple's Newest NameDrop Feature on iPhone and Watch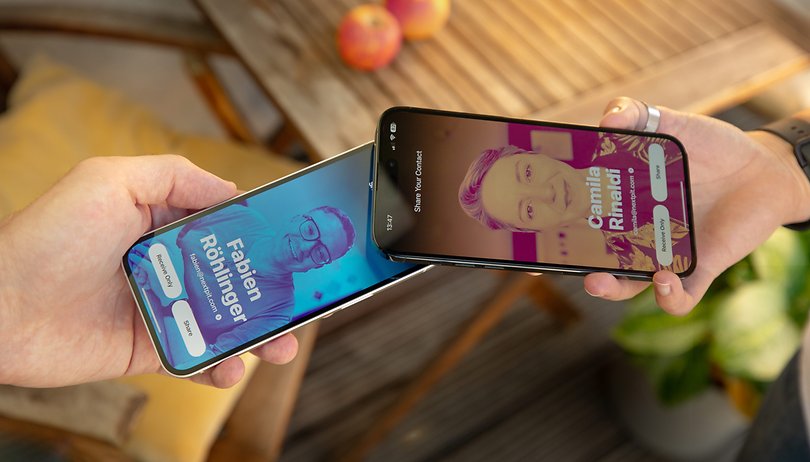 The iOS 17 debuted with numerous new features for the iPhones. But among that stood out was NameDrop. It's an upgraded version of Apple's AirDrop that lets you instantly share contact info between the compatible iPhone and Apple Watch models. We will tell you how to set up and use NameDrop.
How does NameDrop work?
Like with the classic AirDrop sharing method, NameDrop allows you to share or swap information from your iPhone to another device. But this is limited to your contact info such as phone numbers and email addresses. However, it has unique touches and advantages over the former, like showing animations along with the new Contact Poster and setup-free process.
While the concept for NameDrop sounds identical to AirDrop, the new feature uses NFC and ultra-wideband to connect to the other device instead of having Bluetooth or Wi-Fi. This explains the type of content you can share using it, although it was noted that it is integrated with AirDrop and can be utilized to initiate SharePlay or transfer media like photos.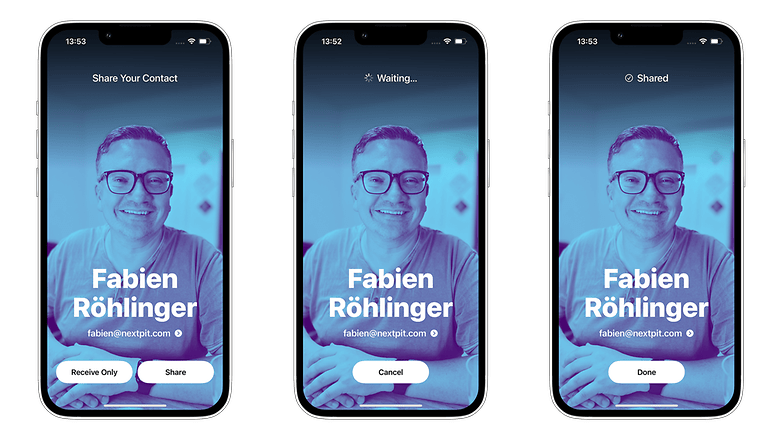 How to use NameDrop on the iPhone and Apple Watch
There's no need to set up or toggle anything from the AirDrop settings to use NameDrop. It automatically works whether your device is locked or unlocked and as long as it is running on iOS 17 or watchOS 10.
Currently, the feature is available for the iPhones that are on the beta build of iOS 17 while actual support for Apple watches may only be activated with the definitive version of the watchOS 10 arriving in September.
Here's how to use NameDrop between iPhones:
Bring two iPhones close to each other, preferably via the top section touching.
Wait for the flow effects to finish on the two iPhones.
Once pairing is done, a pop-up menu with the Contact Poster, if added, will appear.
You can choose to share your contact details or only receive the info.

Tapping the Share button will send the contact to the other iPhone(s).
Selecting the Receive button lets you take the contact info.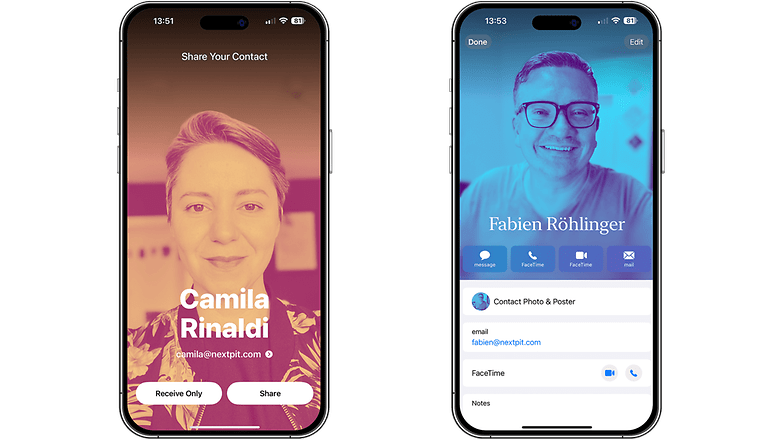 Are there security and privacy concerns you should be aware of when using NameDrop?
NameDrop only shares the contact details on your iPhone or Apple Watch, including the Contact Poster and email address. It doesn't reveal sensitive data like home addresses. In addition, you still have the option to only receive the contact of another user.
Which Apple iPhone and Apple Watch models support NameDrop?
Before using NameDrop, check your device to see if it is compatible and runs on the latest versions of iOS. For iPhone, this is a native function on iOS 17 and compatible with models from iPhone XR and iPhone XS all the way to iPhone 14 and iPhone SE 2 (2022). You can find the list of iPhones that can use the feature below.
iPhone XR
iPhone XS (Max)
iPhone 11 (Mini) and iPhone 11 Pro (Max)
iPhone 12 (Mini) and iPhone 12 Pro (Max)
iPhone 13 (Mini) and iPhone 13 Pro (Max)
iPhone SE (2022)
iPhone 14 (Plus) and iPhone 14 Pro (Max)
NameDrop-ing is also possible between an iPhone and an Apple smartwatch provided both devices should be on the latest watchOS 10 software. In the case of the Apple Watch, the feature supports Apple Watch Series 6 and later models.
Apple Watch Series 6
Apple Watch SE
Apple Watch Series 7
Apple Watch SE 2nd gen (2022)
Apple Watch Series 8
Apple Watch Ultra
As for the iPad, Apple didn't say if NameDrop will be added to its tablets in iPadOS 17. Perhaps, this could be shipped in the next version of iPadOS.
What other iOS 17 features are you excited to try most? Would you like to see more iOS 17 guides? Share with us your suggestions in the comments.