Motorola G8 Plus review: more Moto for the mid-range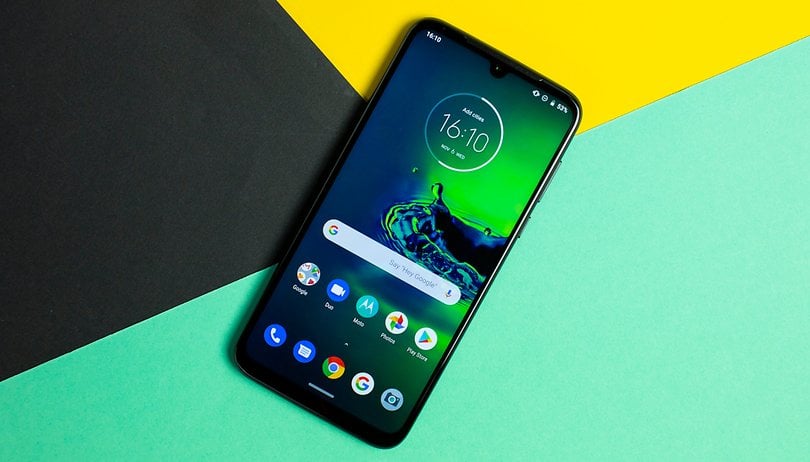 The Motorola G-series used to be a go-to for those looking for a quality Android on a budget. Is that still the case? The mid-range market is flooded at the moment, not least by devices from Motorola itself. So where does the G8 Plus sit among the Motorola One range? Here's our full review.
Good
Great battery life

Moto Actions are still great

Good build quality
Bad
Only 4GB of RAM available

Action Camera is a bit of a gimmick
Motorola Moto G8 Plus: All deals
Motorola Moto G8 Plus release date and price
Launched at the end of October, the Motorola G8 Plus enters a crowded middle sector of the market. In the UK the price is fixed at £239 (around $300). That's £30 less than the current price for the G7 Plus and the Motorola One Vision, but £20 more than a Motorola One Action. That's the smartphone market these days: a phone for every single price point down to a tenner or twenty quid here or there.
Two different color variants are available, Cosmic Blue and Crystal Pink. Currently, the only memory format available is 4/64GB. You can buy the phone directly from the Lenovo website, but it's also on Amazon.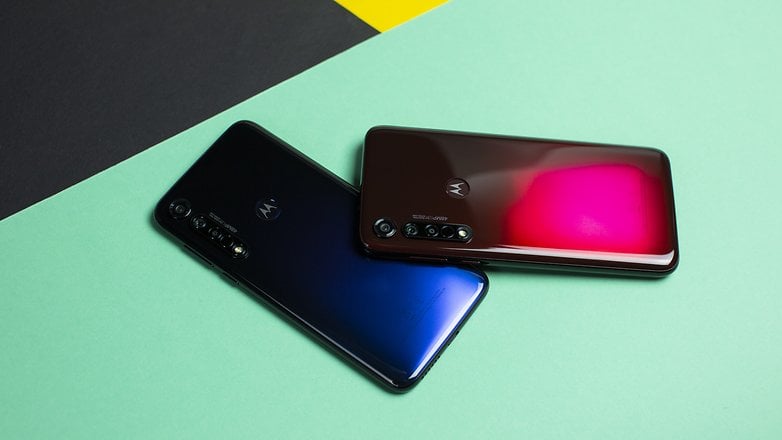 Classic Moto design and feel
Motorola hasn't really rocked the boat with the design of the G8 Plus. If you've owned a Moto G-series phone in the past things will feel pretty familiar. The large display is the focal point with its dewdrop-shaped notch at the top. The bezels are relatively slim, but still a far cry from what we see on flagship smartphones. The sides didn't bother me, but the bottom bezel could be trimmed a little.
Around the back, the Moto G8 is rather attractive. There's a two-tone graded effect going on with the colors where things are very dark at the top and brighten as you glance lower down the phone. The finish reflects light nicely and certainly gives the smartphone a more premium look.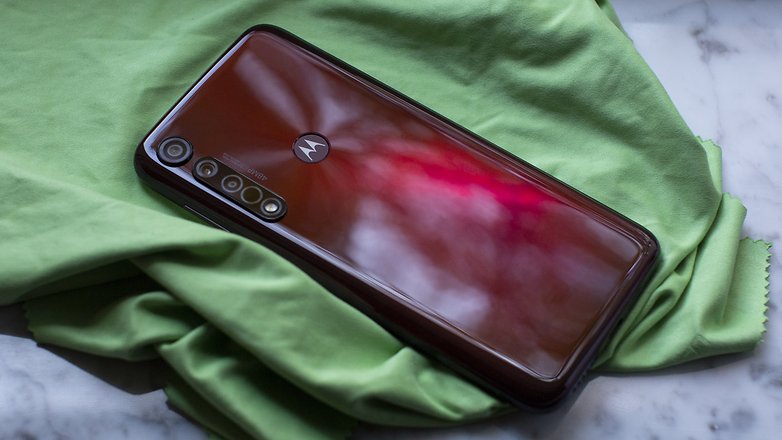 That premium look quickly fades once you pick up the device though. It's made from a mixture of polycarbonate and other plastics, which is normal at this price point. The phone doesn't feel weak or flimsy, quite the opposite. There is a reassuring weight (188g) to it and I'm convinced it could take a fair beating. It does, however, feel a little cheap on your fingertips.
The fingerprint sensor remains on the back and has the classic 'M' logo embedded inside it. The elaborate camera setup is mounted vertically in the top-left corner. More on that later. Other than that we get a single speaker next to the USB-C port at the bottom (another one sits just above the notch) and a 3.5mm headphone jack on the top of the phone. There's also NFC in this but no official IP68 certification for waterproofing. Motorola says it can resist light splashes though. You also get one of those hybrid SIM trays that can take either two SIM cards or one SIM and one microSD card.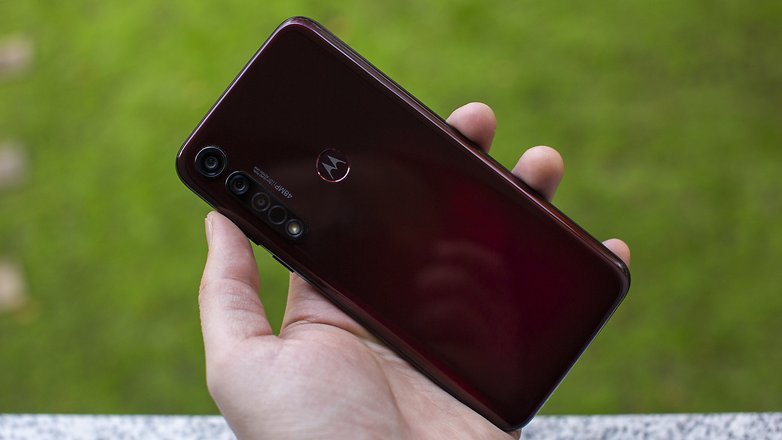 Motorola phones always feel wide in my hands at first, and this one is no different. After a short period of adjustment though, I enjoyed the design of the Moto G8 Plus. I certainly prefer it to the design of the Motorola One Vision with its hole-punched 21:9 display.
A decent display with Moto gestures
The Motorola G8 Plus features a 6.3-inch LTPS IPS LCD display in a 19:9 aspect ratio. The last Motorola phone I reviewed was the One Vision, and I really didn't like the 21:9, hole-punched display. Within minutes, the G8 Plus felt more reassuringly Moto to my eyes.
The resolution is HD+ (2280 x 1080 pixels) and, for the money, it does a decent enough job. It's bright enough in Berlin in November, but I can already imagine that the maximum brightness of 450nits would be a bit low for a bright summer's day.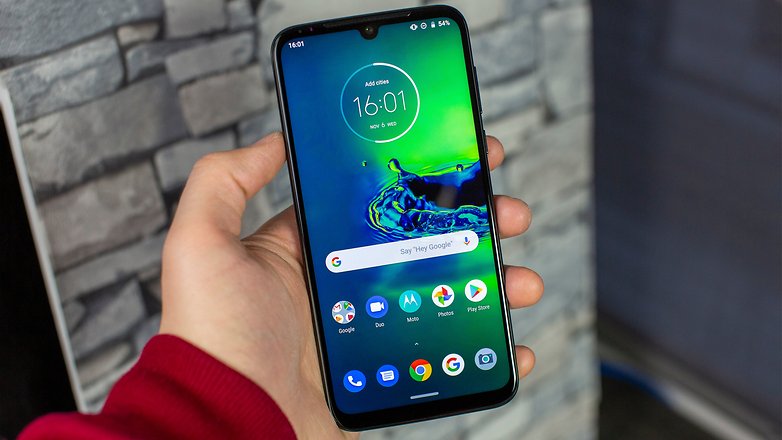 You can tweak the color temperature between three presets; Natural, Boosted and Saturated. Both Boosted and Saturated feel a little over the top to me, and the display, in general, accentuates blues more than anything else, but some people like that heavily saturated look I guess. I stuck to Natural for the most part.
You also get the Moto Display gestures that we've come to expect from Motorola. Two options are available, one of which is useful and the other is not. Peek Display allows you to interact with notifications while the screen is off. You can also preview notifications and information from your lock screen. It's cool when you are on the go and in a hurry.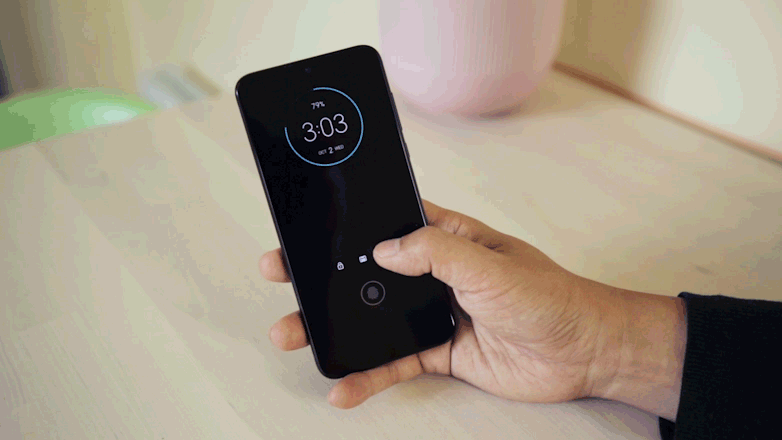 Attentive Display is a feature that keeps the screen on while you are looking at it by using the selfie camera. It seems like a solution for a problem that doesn't exist to me. When was the last time your smartphone display went off while you were looking at it? Most users will be constantly interacting with their phone if they are looking at it anyway, which already stops the display from timing out.
Android 9 Pie with Moto's garnish
The Motorola G8 Plus comes with Android 9 Pie out of the box. Android 10 is already confirmed for the phone, but you'll have to sit tight and wait a little while before you can make the upgrade.
I really like Motorola's approach to software. The basic OS is pretty much stock Android, but Motorola adds in a couple of its own little perks to sweeten the deal. The list of Moto Actions continues to grow and grow. Quick Capture for twisting your wrist to open the camera app and Fast Flashlight are still on board. The One Button Nav action, which replaces your classic three-button navigation system with a single bar, is particularly useful. If brings the phone closer the gesture navigation we have on Android 10.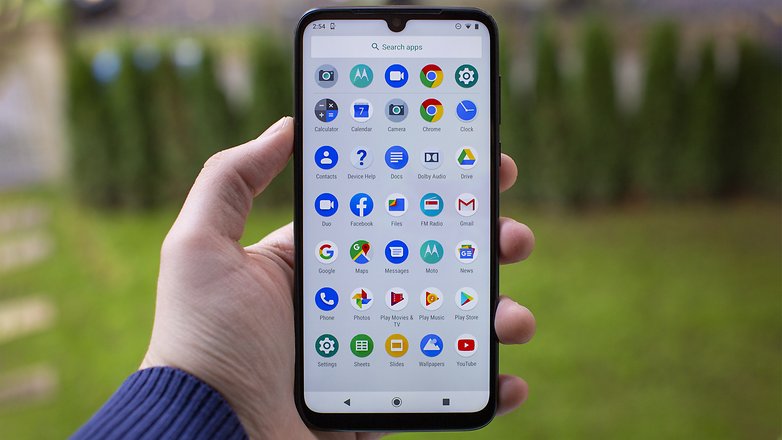 I was pleased to see Flip for DND arrive since I last used a Motorola smartphone. It's a feature I use every day on my Pixel, so well done to Motorola for borrowing this one. There's also a Swipe to Shrink gestures for making the smartphone easier to operate with one hand.
Decent every day performance
For the G8 Plus, Motorola has opted for a Qualcomm Snapdragon 665 processor with 2.0GHz octa-core CPU and Adreno 610 GPU, and a third-generation AI engine which is supposed to be 20 percent more energy efficient than the previous gen.
You shouldn't be expecting a performance monster at this price point, but because the software is nice and clean the G8 Plus can handle most of your daily tasks without too many problems. Multitasking is a bit of a drag due to the limited 4GB of RAM.
As you can see from the benchmark scores in the table below, the G8 Plus can comfortably keep up with the new Honor 9X, but is no match for the Realme X2 with its Qualcomm Snapdragon 730 and 8GB of RAM. Both the Honor 9X and the Realme X2 cost a touch more than the G8 Plus, but it just goes to show you that price and performance don't always scale equally.
Motorola Moto G8 Plus benchmarks comparison
| | Honor 9X | Moto G8 Plus | Realme X2 |
| --- | --- | --- | --- |
| 3D Mark Sling Shot Extreme ES 3.1 | 890 | 1080 | 2356 |
| 3D Mark Sling Shot Volcano | 932 | 1044 | 2221 |
| 3D Mark Sling Shot ES 3.0 | 1150 | 1745 | 3358 |
| 3D Mark Ice Storm Unlimited ES 2.0 | 16463 | 23075 | 36312 |
| Geekbench 5 (Single / Multi) | 322 / 1348 | 315 / 1398 | 540 / 1716 |
| PassMark Memory | 11875 | 12724 | 25511 |
| PassMark Disk | 58355 | 57779 | 61347 |
All that said, I didn't have any problems with performance on the Moto G8 Plus during my testing period. The home screen and app drawer were responsive, and I only really noticed the performance drop off when switching between the G8 Plus and a flagship smartphone that costs four times the price.
A pick 'n' mix of Moto's current cameras
The rear camera setup on the Motorola G8 Plus looks elaborate at first glance, but the manufacturer has slipped the autofocus module and the LED flash into this compartment, so what you are looking at is actually a triple rear camera - fairly standard for the industry these days.
Motorola has been mixing things up with the camera hardware on its One series phones, offering different sensors for different purposes on the One Zoom and One Action, for example. The G8 has taken bits from both, and you end up with a kind of pick-n-mix of what the company has used in the past. The Action Camera, which is a tilted image sensor, allows videos to be recorded in 16:9 in portrait.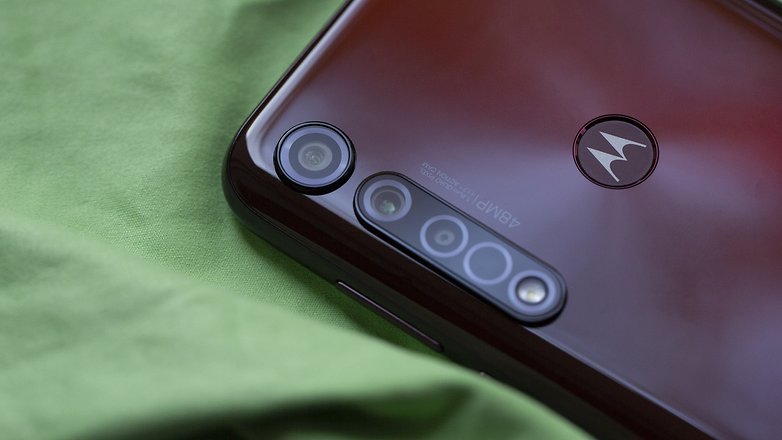 The camera setup in the Motorola G8 Plus is as follows:
48-megapixel main sensor (f/1.7, Quad Pixel technology, 1.6um)
16-megapixel Action Cam (f/2.2, Quad Pixel technology, 2.0um, dedicated ultra-wide FOV 117° video)
5-megapixel depth sensor (f/2.2, 1.12um)
There's also a 25-megapixel selfie camera (f/2.0, Quad Pixel technology, 1.8um). There's also some algorithm magic going on here too. Selfies are saved a 6.25-megapixels when the lighting gets poor to improve results. This one is taken from the Motorola One Zoom.
The main 48-megapixel camera does a solid job for daytime shots. If it feels like you've read this kind of sentence a million times before, it because you have. Almost all smartphones right down to those at the $300 level now have perfectly acceptable main shooters. The bells and whistles vary, of course, but for those who just want to point and shoot to capture photos for sharing on social media or sending to friends, you really don't gain much these days by spending more money.
The autofocus is particularly snappy on the G8 Plus, with that laser system doing its job rather well. Dynamic range could be better, but I'm nitpicking a little here. It's also not possible to actually take pictures with the wide-angle Action Camera designed for video. This seems like an obvious missed opportunity and a bit of a blunder. Perhaps a software update will add the possibility further down the line.
Excellent battery life
The Motorola G8 Plus packs a 4,000 mAh battery. You can easily expect to hit a full day of battery life from the G8 Plus, with more moderate users more than likely finding themselves getting closer to two full days. Fortunately, it seems like we are finally reaching the end of the microUSB's lifecycle, with now not even inexpensive smartphones sticking the older port. You'll get USB-C on the Moto G8 Plus.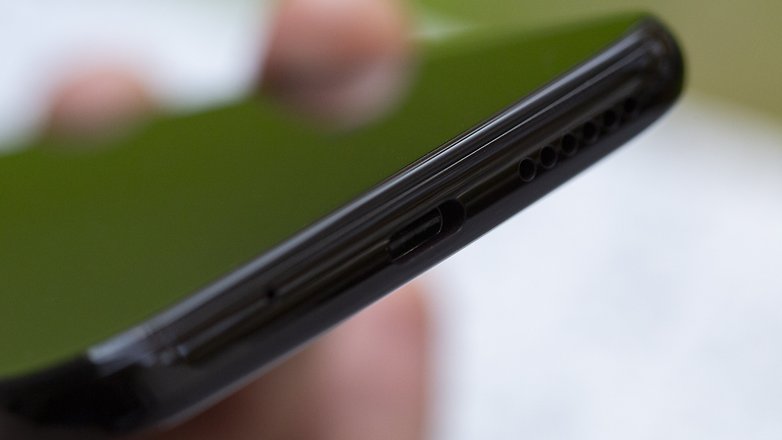 There is also support for both 15W and 18W TurboPower - Motorola's fast-charging technology - but it's the 15W charger that you'll get in the box. It still takes around two-and-a-half hours to charge from zero to 100 percent, which is not exactly lightning-fast, but it's better than nothing. Given the very good autonomy of the phone and the price of the device itself, I'm willing to give it a pass on the not-so-fast fast-charging.
In the PC Mark Battery test that we run on review devices, the Motorola Moto G8 Plus scored a mighty 15 hours and 11 minutes with the display set to 70 percent brightness. That's plenty.
Yet another solid mid-ranger
The mid-range of the smartphone market is exhausting at the moment. If you have between £200 and £400 pounds to spend on a new phone, you have a wealth of good options. With the Moto G8 Plus, Motorola has freshened up its offering in this crowded sector of the market.
The camera setup is interesting and there's enough battery to last you for almost two days of moderate usage. The display is not the brightest and the performance will struggle if you push the hardware but once again I find myself with a mid-range smartphone on my desk that is perfectly usable.
Customers in this market can start to be really picky. It's a great time to buy a mid-range smartphone, and the G8 Plus throws its hat deservedly into the ring.