Moto Z Play vs Moto G4 Plus: when buying cheap isn't paying dearly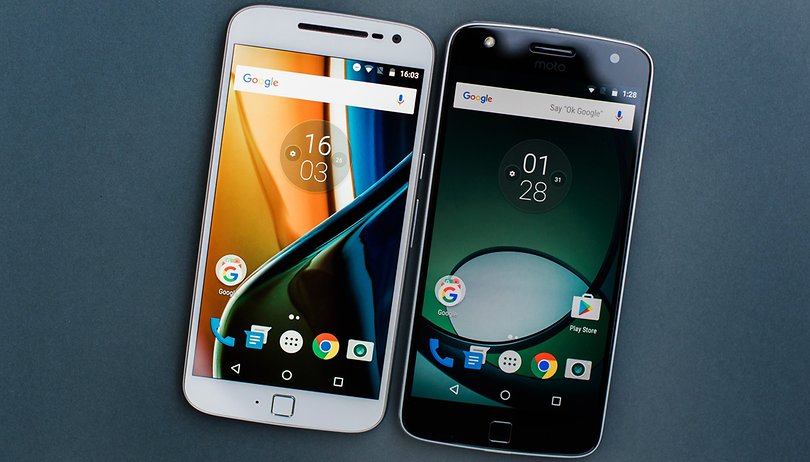 It's very common for people to have doubts when they're buying a smartphone, whether it's questions about specs, brands or even the price. The Moto Z Play was released for $500 while the Moto G4 Plus costs about $300 on Motorola's website. If you're doubting whether to buy the device with the modular concept or the mid-range model, keep reading this article. You'll discover for yourself whether it's worth it to invest in a high-end model or to be economic and buy a more modest one. NEXTPITTV
Moto Z Play vs. Moto G4 Plus - Design and Display
The Moto Z is a more advanced and expensive model, therefore, it's normal that it's seen as a more well made device than the Moto G4 Plus. It's finished with glass on the back and aluminum on the sides, which gives it an interesting feel while you're using it. My personal device has a glass back so I didn't have any issues using the Z Play - even with all the fingerprints.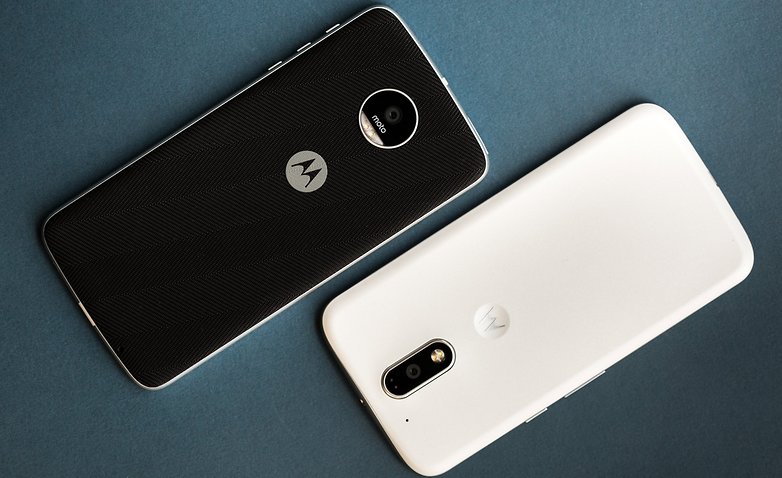 The Moto G4+ has a classic design and a simple finish made with silicone and plastic polycarbonate. By using this type of finish and lines that are less straight, it actually has a more anatomic feel when compared to the Moto Z Play. It's clear that it doesn't have the same precision in its design or the refined elements but it certainly wouldn't be considered a bad finish.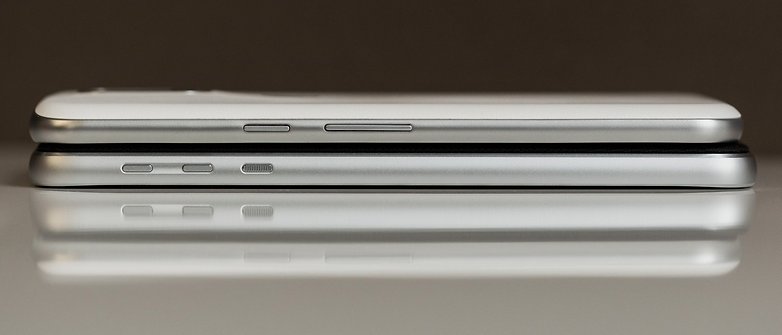 | | Dimensions |
| --- | --- |
| Moto G4 Plus | 153 x 76.6 x 9.8 mm |
| Moto Z Play | 156.4 x 76.4 x 6.99 mm |
The Moto Z Play has a better battery than the Moto G4 Plus. Nevertheless, it's still a thinner device. Motorola considerably optimized the look of the Z series to make them thinner and this is reflected, even more so, in a model with a better battery.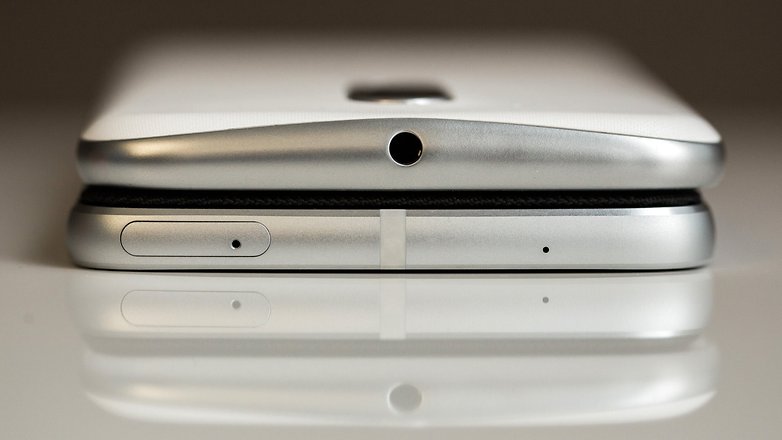 Both have similar layouts on their front panels: a biometric sensor on the bottom and speakers with sensors on the top. The sizes of the lateral borders, however, are the same. In this sense, the only difference between the two is that the Z Play comes with an LED flash on the front, perfect for selfies.
Both devices have very similar displays. They come with the same Full HD, 1080 x 1920 pixel 5.5-inch displays. The Moto G4+ has an LCD IPS panel while the Z Play comes with a Super AMOLED display.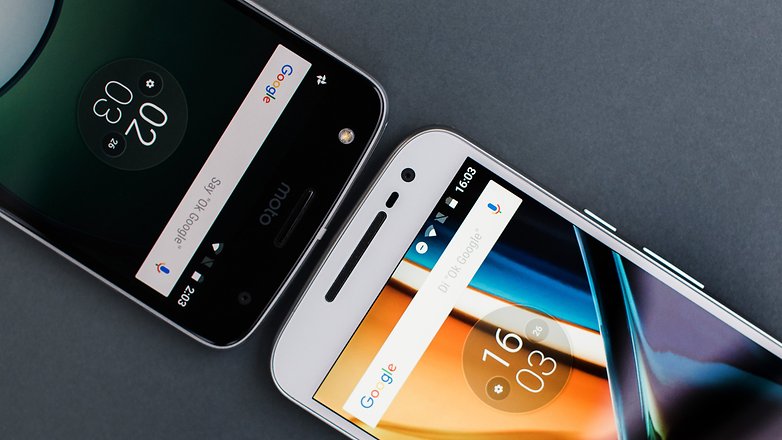 The difference between these two technologies is very small. Since the LCD panel of the cheaper model is still good quality and personally, I don't like Motorola's AMOLED displays very much. In my opinion, Samsung is the only company that packs their devices with high quality Super AMOLED displays. If you like more vivid colors and sharper contrasts than you will certainly prefer the Z Play.
The colors of the Super AMOLED display on the Moto Z Play are much more vivid.
When looking at the sharpness of their displays, they're basically equal. What the vivid colors change is the level of immersion that users of the Moto Z have when watching videos or playing games with more advanced graphics. Something else we prefer on this device is its brightness, which is a bit higher than the Super AMOLED display. This is important for users who normally use their device in strong sunlight.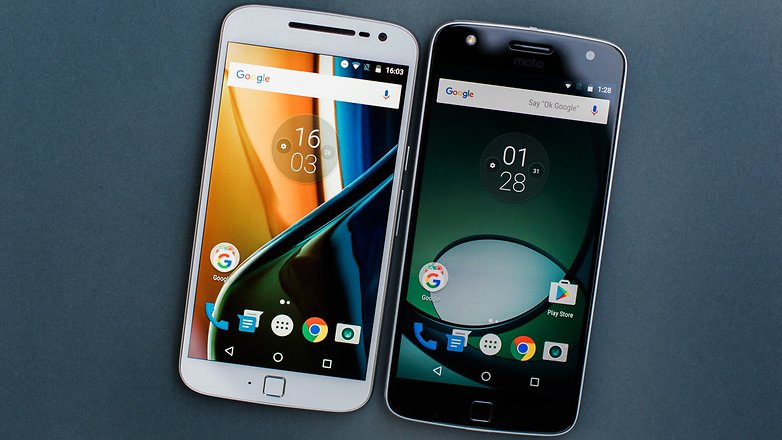 Moto Z Play vs. Moto G4 Plus - Performance and software
Just like with their displays, the software that comes with these devices is very similar. Both come stock with Android 6.0 Marshmallow and should get Nougat sometime within the year, according to the official list of updates that Motorola released. We're talking about "pure" software here and the new features that will come with the Z line are also available on the G4 plus, such as cameras with advanced manual modes.
You'll find the same options when it comes to their operating systems as well. Without much interference from Motorola, the version of Android that comes on these devices can be customized "to the customers taste", free of bloatware and duplicate Apps.
Motorola is moving away from voice commands, such as those that were highlighted on devices like the Moto X. Therefore, options to control the display - Moto Display - and movement and gesture operations are the same on both devices.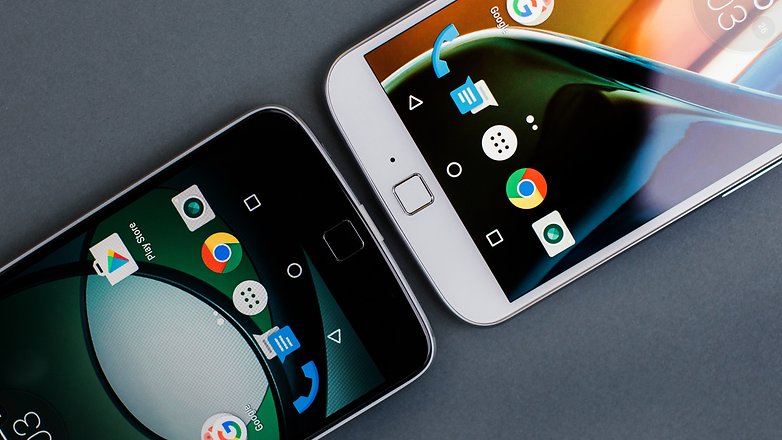 The "almost pure" software makes the performance on both devices identical, right? Yes, but with a few reservations. The Brazilian Moto G4 Plus isn't the same that is sold in other countries; we have 2 GB of RAM in the national model while other countries have 3 or even 4 GB. This 1 GB of difference could make the performance of the G4 plus more like that of the Moto Z Play, which in turn has 3 GB of RAM.
The processors are very similar but we have a model that is a bit newer and stronger in the Moto Z, Snapdragon 625, the same chipset that runs on the Zenfone 3. The CPU of the Moto G4 Plus has eight cores with a max velocity of 1.5 GHz versus the same number of nucleus in the Z Play but which has been clocked at 2 GHz. The memory of each is the same at 32 GB.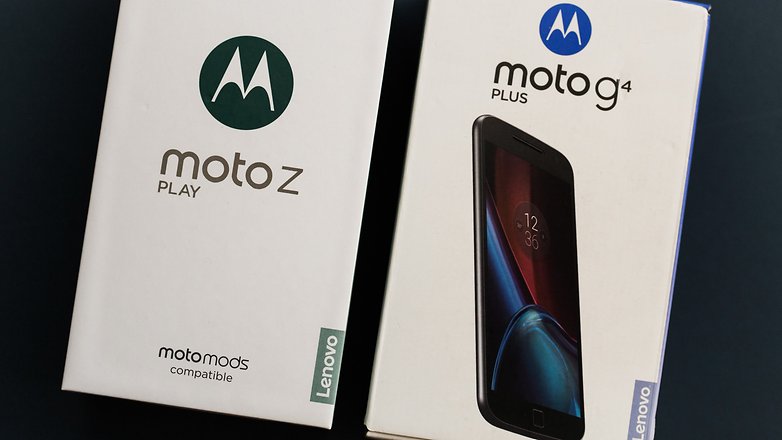 All right, let's get down to it. If you're thinking about buying one of these devices so you can use Facebook, Whatsapp and to casually play Crossy Road than you probably won't see any difference in performance between the two devices over the next few months. The Moto Z has more hardware to handle future system updates and bigger games with higher levels of graphic detail. This device is also capable of running even if you have the multi task full of paused Apps.
All in all, I can say that in terms of hardware, the Moto Z Play has a better performance guarantee in the long run. It's also safe to say that, normally, only more advanced users fully explore the hardware of a device like the Z Play with any consistency. So, if your budget is tight and your demands don't include a device with powerful hardware, the Moto G4 Plus can easily deliver what you need.
Moto Z Play vs. Moto G4 Plus - Technical specifications
Lenovo Moto Z Play vs. Moto G4 Plus technical specifications
Lenovo Moto Z Play
Moto G4 Plus
Dimensions:
156.4 x 76.4 x 6.99 mm
153 x 76.6 x 9.8 mm
Weight:
165 g
155 g
Battery size:
3510 mAh
3000 mAh
Screen size:
5.5 in
5.5 in
Display technology:
AMOLED
Sorry, not yet available!
Screen:
1920 x 1080 pixels (403 ppi)
1920 x 1080 pixels (401 ppi)
Front camera:
5 megapixels
5 megapixels
Rear camera:
16 megapixels
16 megapixels
Flashlight:
Dual-LED
LED
Android version:
6.0.1 - Marshmallow
6.0.1 - Marshmallow
RAM:
3 GB
2 GB
4 GB
Internal storage:
32 GB
32 GB
64 GB
Removable storage:
microSD
microSD
Chipset:
Qualcomm Snapdragon 625
Qualcomm Snapdragon 617
Number of cores:
8
8
Max. clock speed:
2 GHz
1.5 GHz
Connectivity:
HSPA, LTE, NFC, Dual-SIM , Bluetooth 4.0
HSPA, LTE, Bluetooth 4.1
Moto Z Play vs. Moto G4 Plus - Camera
If anyone has kept track of some of the articles that I've written about the Moto G4 Plus, including its actual review, knows that my opinion about the device's camera is this: the best in its class. As the Moto Z Play isn't in the same class as the G4+, we've got ourselves an interesting clash. I say this because the lens on the Z Play is basically the same as the cheaper model.
Both are 16 MP, come with Phase Detection Auto Focus (PDAF), Dual flash LED, HDR and an aperture of f/2.0. This is based on the more basic elements. Even if we took it to a more technical level, we'd still find many similarities between the two lenses. It's clear that the sensor on the Moto Z, manufactured by Sony, is a bit more up-to-date but in practical results, the photos turned out the same.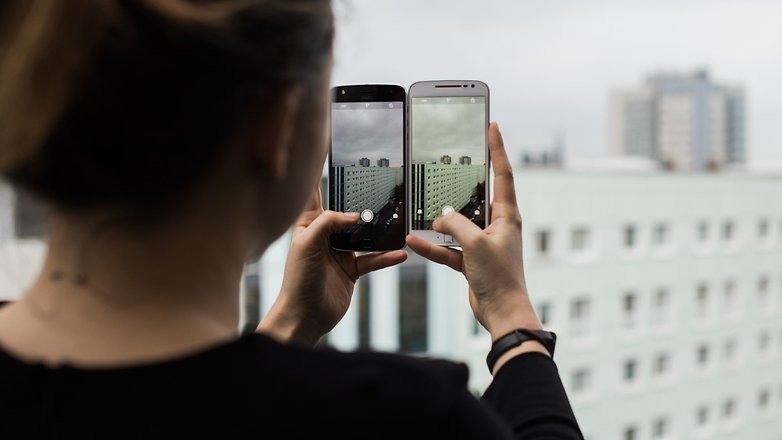 The Moto G4 Plus produces colors that are a bit softer while the Z Play's shades are a bit more real and the hues bluer (which ensures richer whites) Anyone that is looking to take videos in 4K should pay attention, the Moto G4+ does not come with this feature.
All in all, if you want to use social media or even if you have a more professional purpose, both cameras are good quality. Below, you can see a few photos taken by both cameras: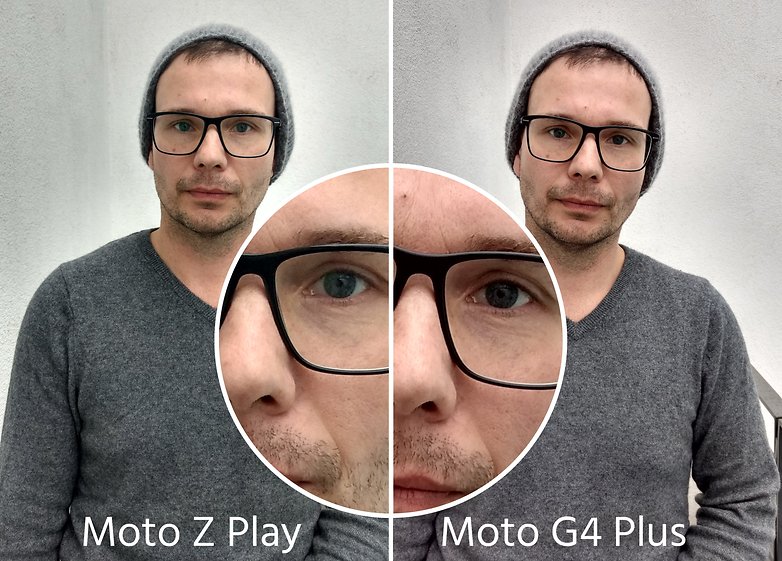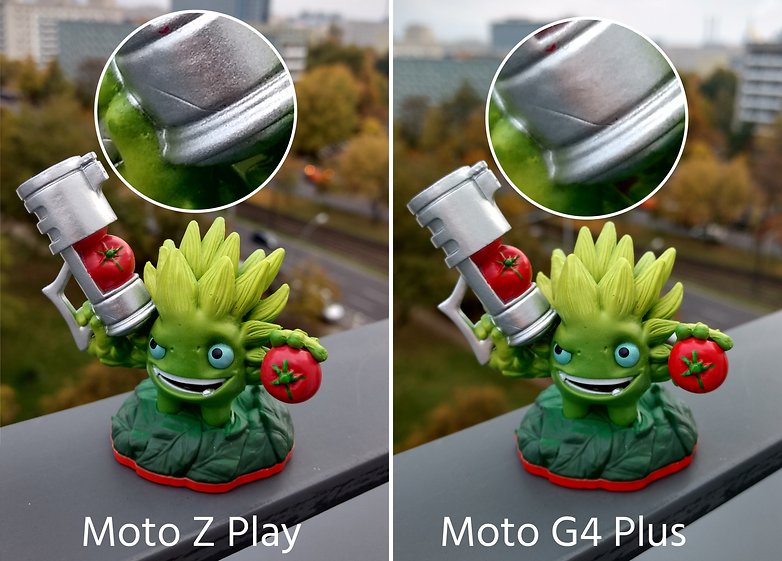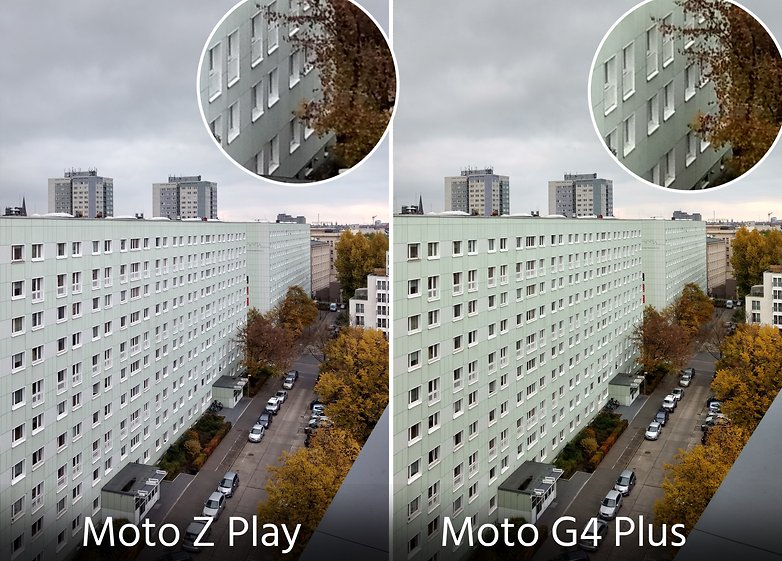 Moto Z Play vs. Moto G4 Plus - Which would I choose?
Honestly, this comparison was done to help answer doubts for those who are indecisive about investing in a high-end device with an innovative concept or to bet on a more traditional model. Both have good cameras, display, battery and performance. Where it varies, is how you're going to use it.
It's clear that the Moto Z Play is a unique model with a more refined design and it's packed with up-to-date technologies and concepts such as the Moto Snaps modules and USB Type-C. If you're looking to use these types of technologies, this model could be one of the best options out there. It's even better if you can afford to buy a module as well because without a doubt, you'll have a much more complete user experience.
If, right now, you don't want to invest in a Moto Z Play, you can go with the Moto G4 without any problem. As I've mentioned, it's not about choosing between the best or the worst, but more about understanding the differences and similarities between the two devices and making a conscious decision.
Today, if I needed a device, I would choose the Z Play. But I confess that my experience would be restricted to the device. I wouldn't buy any modules, either in the short or the long run. They still haven't totally won me over.
Which device is your favorite? Would you buy any other device for $680?