Moto G vs Nexus 4 comparison: battle of the low cost Android smartphones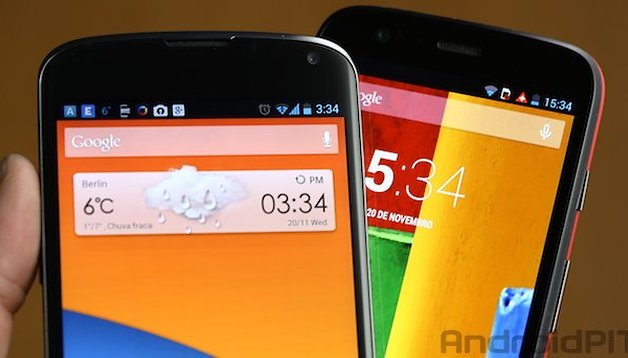 The Moto G has recently arrived in our office and many of our editors are impressed with it, especially considering it's almost ridiculous price tag: $179 for the 8 GB version and $199 for the 16 GB model. I'm a big fan of my Nexus 4, and even though the Play Store is no longer selling them, there's still plenty available in retail stores and online if you know where to look. The Nexus 5 has recently appeared and it of course blows both devices out of the water, but it's nowhere near as cheap as the Moto G. I wanted to know, is the Moto G the new best cheap smartphone? Here is out Moto G vs Nexus 4 comparison.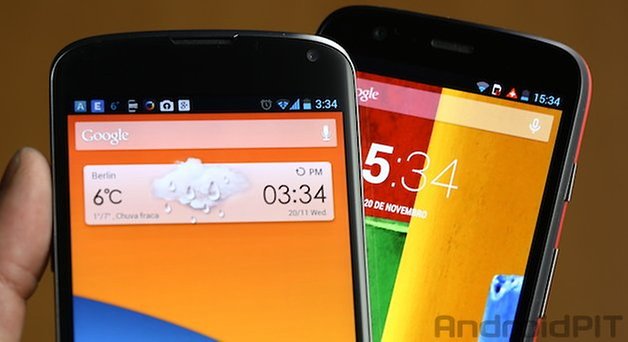 First of all, it must be noted that the Nexus 4 is a year old phone that has recently been superseded by the Nexus 5, and the Moto G only just dropped last week. But the Nexus 5 costs $349 and $399 for the 16 GB and 32 GB models respectively, making the Moto G a solid fifty percent cheaper. The Nexus 5 is a crazy good phone, but there's still plenty of Nexus 4 owners around who are still not sure about making the upgrade to the new Google flagship given the varying opinions on the Nexus 5. Considering the Moto G's price, as a future phone contender, it will certainly appeal to many who turned to the Nexus 4 in the first place because of its price.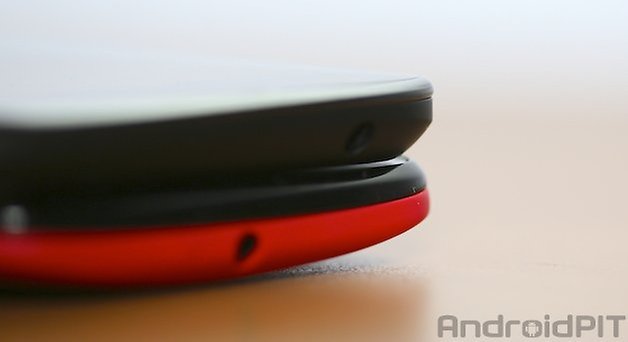 If you want to know more about how each device handles in action, you can read our original review of the Nexus 4 and the recent test of the Moto G. But for now, let's take a look at the specs on both devices and see if the Moto G has managed to improve on the Nexus 4's hardware. Motorola have had a year to come up with a better phone, which would normally be dead easy (take the Nexus 5 as an example), but is a half price phone capable of being better even after a year? Let's see them side by side and find out.
| | | |
| --- | --- | --- |
| | MOTO G | NEXUS 4 |
| Manufacturer | Motorola | LG |
| Operating System | Android 4.3/4.4 (depending on region) | Android 4.3 (updated to Android 4.4) |
| Display | 4.5-inch, LCD (1,280 x 720 pixel), 329 ppi | 4.7-inch, LCD (1,280 x 768 pixels), 318 ppi |
| Processor | Quad-Core Snapdragon 400, 1.2 GHz | Quad-Core Snapdragon S4 Pro, 1.5 GHz |
| RAM | 1 GB | 2 GB |
| Internal Memory | 8/16 GB | 8/16 GB |
| Camera | 5 MP (rear), 1.3 MP (front) | 8 MP (rear), 1.3 MP (front) |
| Battery | 2,070 mAh | 2,100 mAh |
| Connectivity | GSM/GPRS/EDGE/UMTS/HSPA+, Wi-Fi, Bluetooth 4.0 | GSM,HSPA+, Wi-Fi, Bluetooth v4.0 |
| NFC | No | Yes |
| Wireless Charging | No | Yes |
| Dimensions / Weight | 129.9 x 65.9 x 6-11.6 mm / 143 grams | 133.9 x 68.7 x 9.1 mm / 139 g |
| Price | 179 USD (8 GB) / 199 USD (16 GB) | 299 USD / 349 USD (no longer available) |
Some similarities
As you can see, there's some interesting improvements and backslides here. There's quite a few similarities too. Both devices will run Android 4.4 KitKat (the Nexus 4 now and the Moto G in January), both come in 8 GB and 16 GB versions, they're basically the same size and weight and have very similar screens and display resolutions. Both devices run stock Android, although Motorola's take on stock Android is a little different to Google's version on the Nexus 4. Still, both handsets offer a very similar Android experience without all the usual carrier bloatware and UI tweaks. Motorola only adds a very slim folio of apps to the Moto G, most with obviously useful functions like Motorola Migrate and Assist, which lets you enter meeting or sleep mode.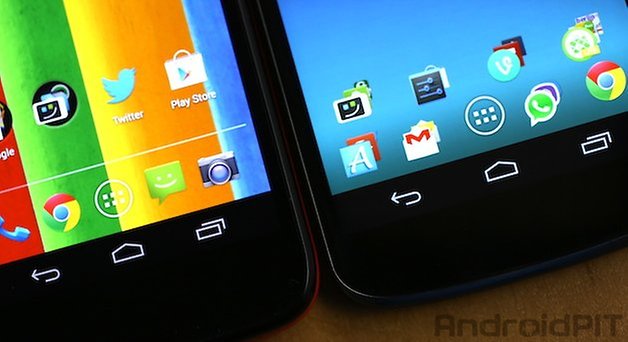 Processor and Performance
But there's a lot of differences, some that make the Moto G look better, some the Nexus 4. The Moto G has a quad-core Snapdragon 400 processor clocked at 1.2 GHz, the Nexus 4 a quad-core Snapdragon S4 Pro (based on a Snapdragon 600) clocked at 1.5 GHz. The Nexus 4 also has double the RAM as the Moto G, so it's obviously better at processor hungry things like gaming and just general navigation and app launching. The thing to note though is that if you're not generally one to notice things like processor lags and such, then you probably wouldn't necessarily notice any real difference in everyday usage. The Moto G also has all kinds of crazy optimizations the Nexus 4 is missing.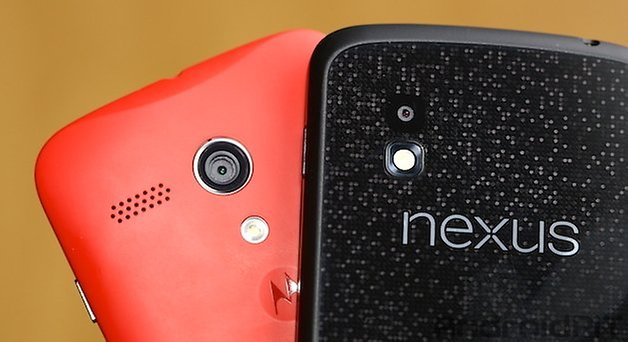 Sound, Camera and Battery
The sound on both devices is nothing spectacular, but the Moto G is a little louder and sounds a bit better with a nice range. Also, when you put the Moto G on a flat surface, the rear-mounted speaker actually gets a little louder thanks to the curved back panel, whereas the Nexus 4 goes almost silent. Both cameras are equally poor although the Nexus 4 is definitely better, and that's saying something as it's far from great. The Nexus 4 has a 8 MP stock Android camera, the Moto G a 5 MP Moto camera. The Moto G admittedly has a pretty good camera for a handset this cheap though and the camera app is probably better than the Nexus 4 (although the tap to shoot feature means manual spot focusing is not possible). Both devices have similar battery capacities, but the Moto G has much better battery management than the Nexus 4.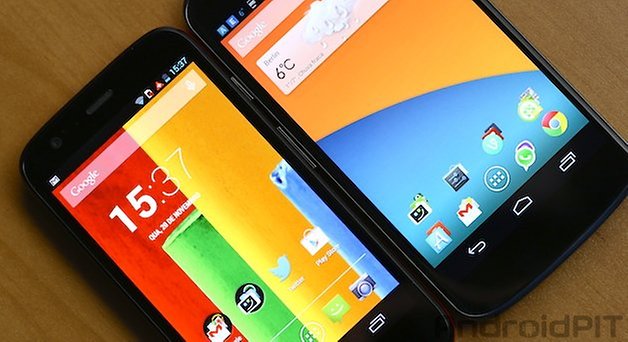 Display, Design and System
The display on the Moto G is quite pink, while the Nexus 4 in comparison looks a little green. The colors on the Moto G are much more saturated though, which is most noticeable in oranges and blues. The Nexus has a better white reproduction but looks a little dull beside the Moto G. When playing videos though both look pretty great. The Android platform on both is very similar and clean and both look and feel well built, despite the very different look of the two devices.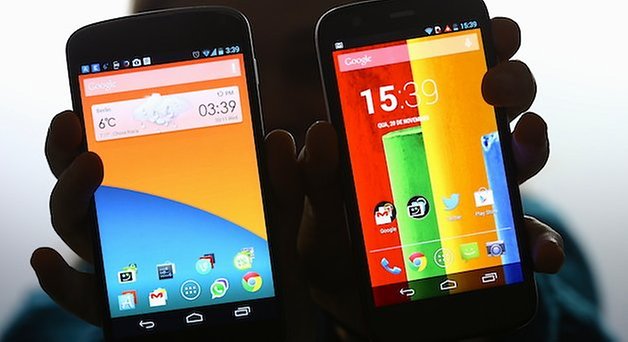 Conclusion
It goes without saying that no one will buy a Nexus 4 now considering the Nexus 5 is out and the 16 GB version costs the same price, but for anyone with a Nexus 4 (or other low-cost handset) that is looking for a replacement, the Moto G could very well be the next best cheap smartphone on the market. The Nexus 4 is, in my opinion, better than the Moto G, on paper as well as in use, despite being a year old, but the Moto G is incredibly cheap and for a device that costs under $200 I can't see anything else competing. It's close enough to the Nexus 4, and even better in some areas, but for that price it is unbeatable – just think how good it could be if it cost the same as the Nexus.
So while Nexus lovers and hardware fans will naturally opt for the Nexus 5, those simply in the market for a solid, cheap Android would do well to take a close look at the Moto G, because it has definitely taken the ''king of the low-cost handsets'' crown from the old Nexus 4, simply by virtue of the fact there's nothing else this good available at this price. Just as the Nexus 4 now has the Nexus 5, the Moto G has the Moto X. But as far as the little brothers go, the Moto G is a champion.
Would you consider a Moto G? What is the most important consideration for you when looking at a low-cost handset?