LG G4 vs Galaxy S5 comparison: can Samsung stay on top?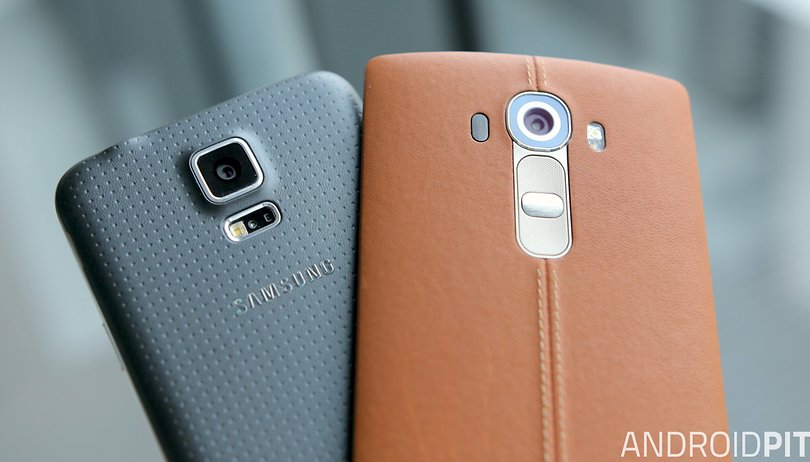 LG's G4 is a great phone and good value for money - and that means many Samsung Galaxy S5 owners may be looking at it lustfully. Is the G4 a worthy upgrade, or should you wait for the next generation? Find out in our LG G4 vs Galaxy S5 comparison.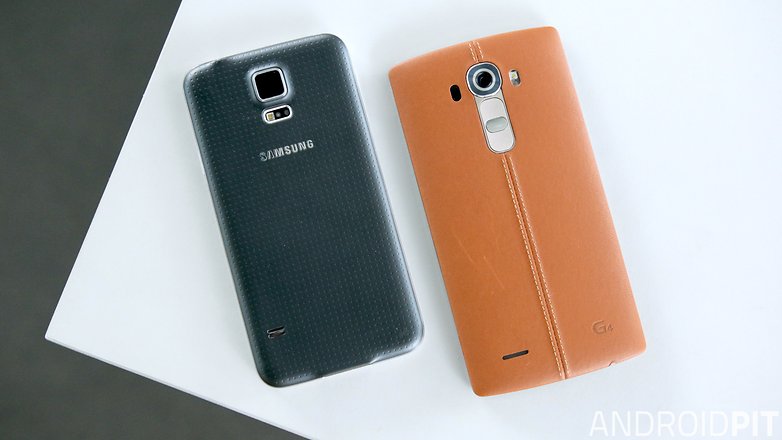 LG G4 vs Galaxy S5: design
When the Galaxy S6 was released there was a lot of discussion about how Samsung had finally embraced a premium design, but the truth is the S6 isn't dramatically different from the S5 when you look at it from the front, which is what you'll be doing when you use it. It's not something that's going to make you do cartwheels of joy every time you see it, but it's a perfectly decent-looking phone and it's actually easier to hold than its successor.
That said, it looks pretty ropey next to the LG, not least because where the Samsung is plastic the G4 can be leather. There's no other phone like it and the subtly curved glass isn't as odd as the curve LG put into the G Flex 2. It's stronger and more shatterproof than previous LG G series phones too.
LG G4 vs Galaxy S5: display
LG has stuck with QHD resolution (2,560 x 1,440) and this time out it's embraced the DCI (Digital Camera Initiatives) color standard, which focuses on more natural color reproduction than the sRGB standard most other smartphones use. It's not as bright as an AMOLED but it's much more natural-looking. The screen diagonal is 5.5 inches.
The Galaxy S5 is outgunned here. Its AMOLED screen is a lovely thing, but it doesn't have the same resolution - it's Full HD at 1,920 x 1,080 pixels - and at 5.1 inches it's a little smaller too. If the sheer number of pixels being pushed around matters to you, the LG G4 has the edge.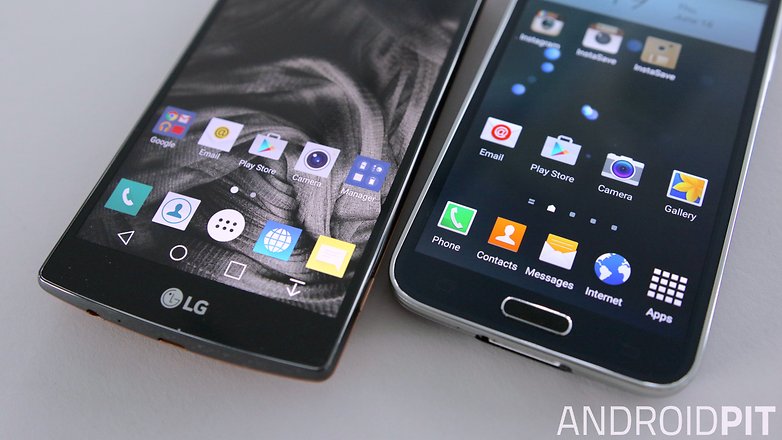 LG G4 vs Galaxy S5: performance
The S5 isn't just older than the G4; it's slower too. S5 benchmarks weren't brilliant and it was famously slow and glitchy, largely because of TouchWiz (something Samsung addressed in the S6). The processor itself is reasonably powerful, a Snapdragon 801 with four cores and a 2.5GHz clock speed, but the combination of a six-core Snapdragon 808 at 1.8GHz and a TouchWiz-free Android means that the G4 flies by comparison.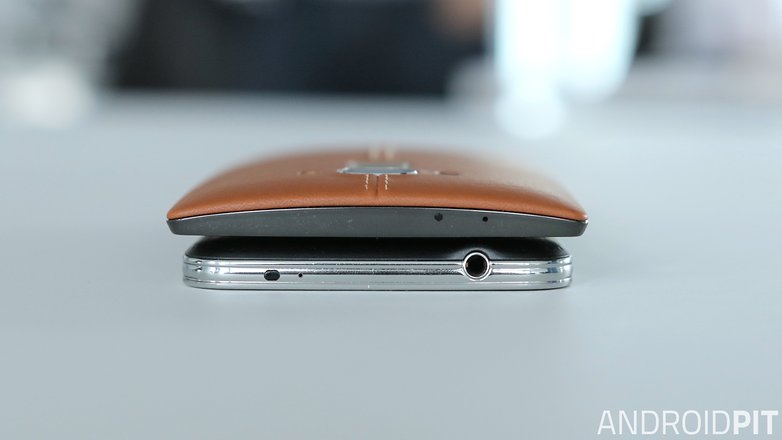 LG G4 vs Galaxy S5: camera
The G4 has an 8 MP selfie shooter on the front and a 16 MP camera on the back with LED flash. That main camera is almost but not quite as good as the one you'll find in the Galaxy S6, which is truly superb, and you get control over every aspect of shooting. If you're interested in photography beyond simple snapping you'll appreciate the effort LG has put into its camera.
The Galaxy S5 makes do with 2.1 MP on the front but again, the rear camera is 16 MP - and while it's a year old, it's still up there with the very best smartphone camera sensors. We think the LG has a slight edge, but the difference in image quality isn't that dramatic.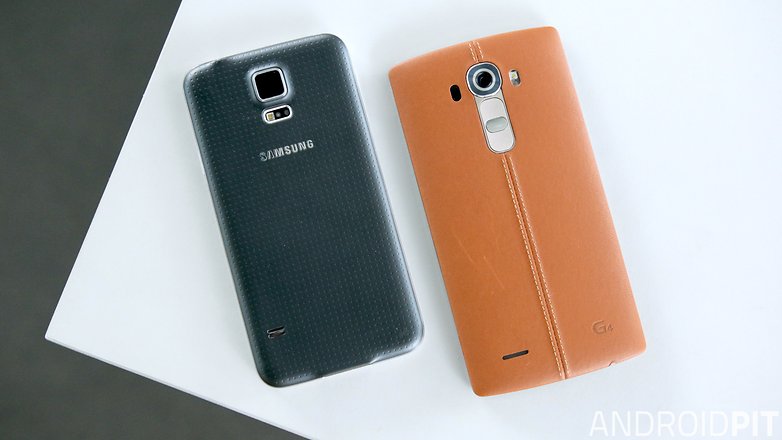 LG G4 vs Galaxy S5: battery life
On paper the G4 has the better battery - it's 3,000 mAh compared to the 2,800 mAh of the Galaxy S5 battery - but in the real world that doesn't matter: we got considerably poorer battery life from the G4 than we expected, possibly due to the larger screen. LG contacted us to say we'd been given an imperfect review unit and they've promised to send us another one with a battery that works properly, but until we've reviewed it we can't give the G4 a glowing endorsement on the battery front.
The Galaxy S5 has a slightly smaller battery but its screen isn't such a power hog. We don't think you'll notice a significant improvement if you upgrade to the LG.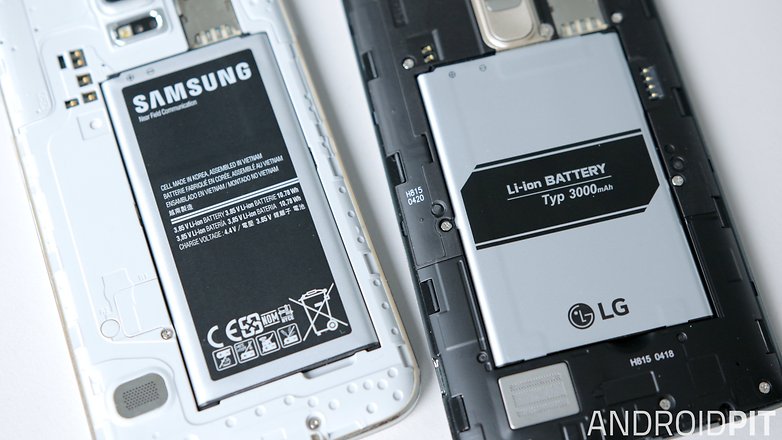 LG G4 vs Galaxy S5: software
Both the LG and the Samsung shipped with Lollipop, although as you'd expect the newer LG shipped with a newer build. The S5 also benefits - if that's the word - from Samsung's TouchWiz and apps, which we felt were rushed, inconsistent and unfinished.
We're not entirely sure about LG's design for Android - it's bright enough to melt your eyes - but it runs silky smooth, has a nice widget manager and includes Smart Settings, which ties in nicely with Lollipop's My Places location settings. You also get the Dual Window feature that was so great in the LG G3.
LG G4 vs Galaxy S5: verdict
The G4 is the better smartphone in multiple respects: LG's UI doesn't mess up Android as last year's TouchWiz did, the camera's more useful, the processor is more powerful and it's a lot nicer to look at. But TouchWiz aside, the Galaxy S5 is a really solid phone - and until we're sure LG has fixed the battery issues we encountered, we can't give it the wholehearted recommendation we'd like to. If were were S5 owners we'd certainly be tempted, but we'd probably hang on to our handsets for a little while longer.
What do you think? Would the G4 tempt you away from the S5? Let us know in the comments.