LG G Flex 2 vs Galaxy Note 4 comparison: can the ''best of the best'' be beat?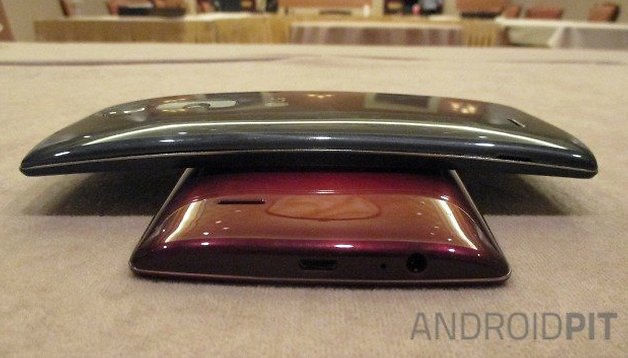 The LG G Flex 2 is the successor to the curvy LG G Flex, which was an interesting phone let down by a pretty bad display, a rubbish camera and a ridiculously high price tag. The new Flex 2 is the first phone to ship with a 64-bit Snapdragon 810 processor, the display's amazing and the camera is better too - but can it compete with the Galaxy Note 4, which we described as "the best of the best"? Let's find out in our LG G Flex 2 vs Galaxy Note 4 comparison. NEXTPITTV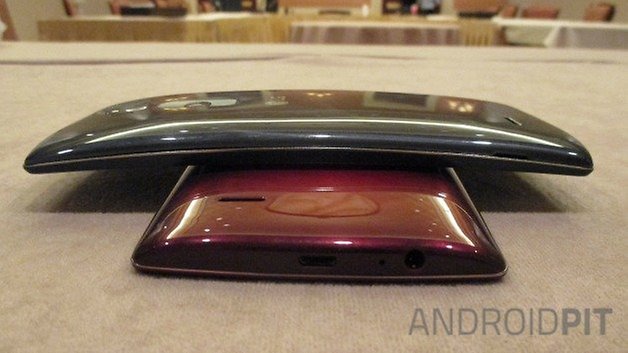 LG G Flex 2 vs Galaxy Note 4: design
The unique selling point of the G Flex 2 is of course that curved shape: LG is currently the only firm deliberately making curved and flexible smartphones. This second generation model has a stronger shell, a slightly smaller size and "self healing" rear bodywork that promises to vanish scratches in just 10 seconds. The display is tougher too, with "Dura-Guard" glass that's a coated form of Gorilla Glass.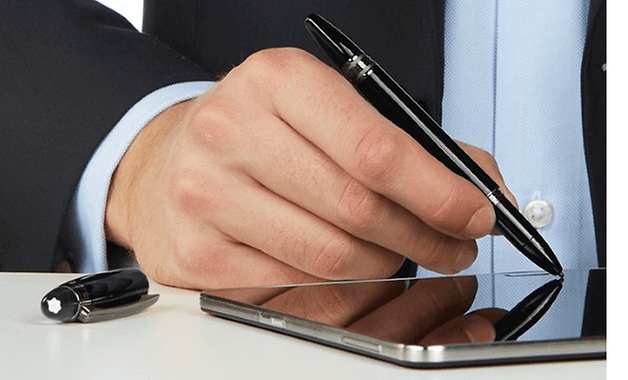 In comparison, Samsung may have had build quality niggles in the past, but the Note 4 feels more premium than its predecessors. There's no disguising the fact that it's as big as a house, but the beveled silver edges help make it look a bit sleeker and the faux leather battery cover is the least horrible faux leather we've seen on any Samsung device. It's nice enough, but you won't really get excited until you turn that screen on or pick up the S Pen.
LG G Flex 2 vs Galaxy Note 4: display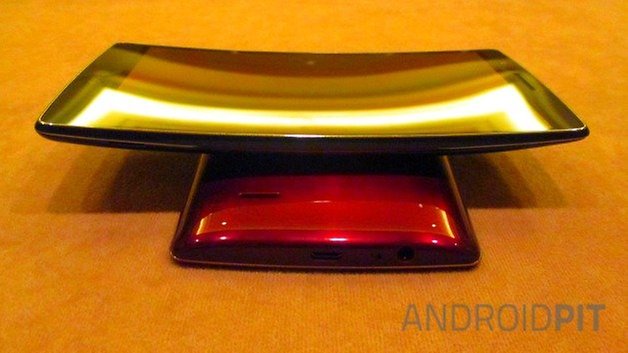 The G Flex 2 display has been upgraded from its HD predecessor, but it's a little bit smaller too. It's a 5.5-inch P-OLED screen running at 1920 x 1080 pixels. That's 401 ppi.
To compare one to the other, Samsung's QHD (2,560 x 1,440 pixel) 5.7-inch AMOLED screen is one of the biggest, bestest screens around. It is incredibly sharp, super bright, has great contrast, rich colors, great viewing angles and a ridiculously impressive pixel density of 515 ppi.
LG G Flex 2 vs Galaxy Note 4: software
The G Flex 2 comes with Android Lollipop 5.0.1 but the Samsung shipped with Android KitKat 4.4.4; an update for 5.0.1 is imminent.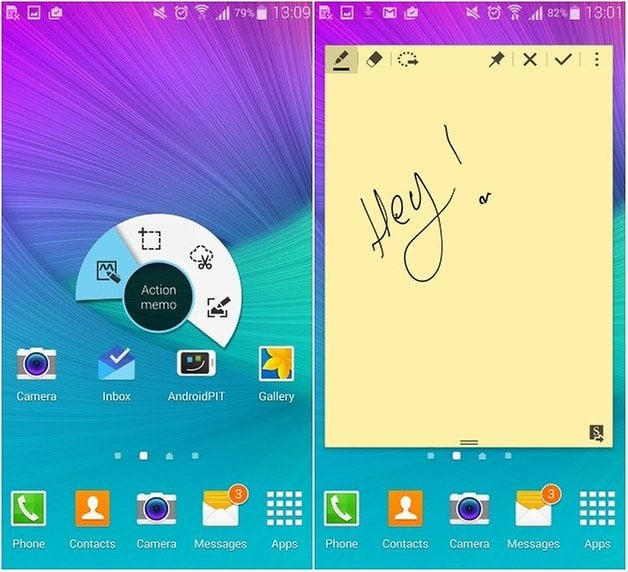 As with all Samsungs, the Note 4 comes with the like-it-or-loathe-it TouchWiz - and it also has Samsung's suite of software for its S Pen stylus.
LG G Flex 2 vs Galaxy Note 4: performance
The G Flex 2 comes with a speedy 64-bit Snapdragon 810 processor, but we're a bit worried by the accompanying RAM: if you go for the 16 GB model there's just 2 GB of RAM on board, which may not be enough to get the most from that processor. The 32 GB model has more RAM: 3 GB.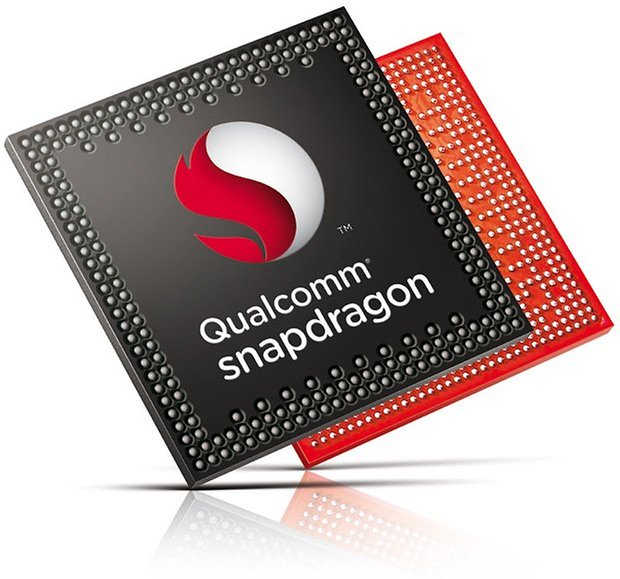 The Samsung is rocking a quad-core Snapdragon 805 at 2.7 GHz with 3 GB of RAM (there's also an 8-core Exynos 5 version), and while it's a fast processor we did notice some TouchWiz-related delays and the Flipboard app can be painfully slow to launch. It's a software thing, not a hardware thing: Samsung has promised that in future devices it'll give TouchWiz a good kicking to make it work faster. Even in processing power, our LG G Flex 2 vs Galaxy Note 4 comparison is a close one.
LG G Flex 2 vs Galaxy Note 4: camera
The G Flex 2 has a 13 MP rear camera with optical image stabilization and a 2.1 MP front camera, while the Samsung has a super-fast 16 MP Sony IMX240 that we absolutely love. The selfie camera is a very respectable 3.7 MP.
LG G Flex 2 vs Galaxy Note 4: battery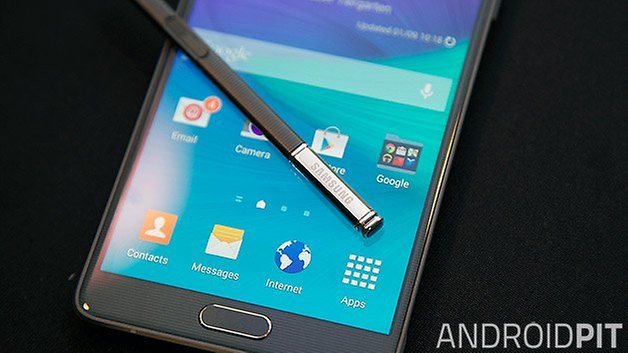 LG's phones have a reputation for long battery life, and the improved efficiency of the Snapdragon processor means that its 3000 mAh battery should last even longer than before.
The Samsung has a 3220 mAh battery, and while you'd expect the huge display and quad-core processor to drain that in a matter of minutes Samsung's LucidLogix technology delivers excellent battery life: with no power saving enabled and the display so bright it was stunning passing birds, we achieved nine hours of use.
LG G Flex 2 vs Galaxy Note 4: price
The G Flex 2 has been announced but isn't on sale yet, but LG tells us that the price will be similar to the price of the original G Flex - so that should be around $650 SIM-free.
Samsung's phone is a bit more than that. The Note 4 with 32 GB of internal storage is available now and costs 845 USD on Amazon for an unlocked international version, or you can grab one on AT&T for 299 USD on a two-year contract. T-Mobile is also offering the Note 4 outright for 750 USD. In the UK, you can the Galaxy Note 4 with Carphone Warehouse, Amazon and Clove for around 650 GBP but this depends on retailer and carrier.
LG G Flex 2 vs Galaxy Note 4: verdict
You get what you pay for: the Sammy may cost a fair bit more than the LG, but you get a lot more phone for your money. It's bigger, brighter and generally better, and it's big enough that if you lean it against a wall, you can probably use it as a tent. The LG is a very good smartphone, but in this company we think it's completely outgunned.
What do you think? Is small beautiful, or is bigger better? Would you compare anything other than what we have in our LG G Flex 2 vs Galaxy Note 4 test?