Hands-on Lenovo P2 review: the battery beast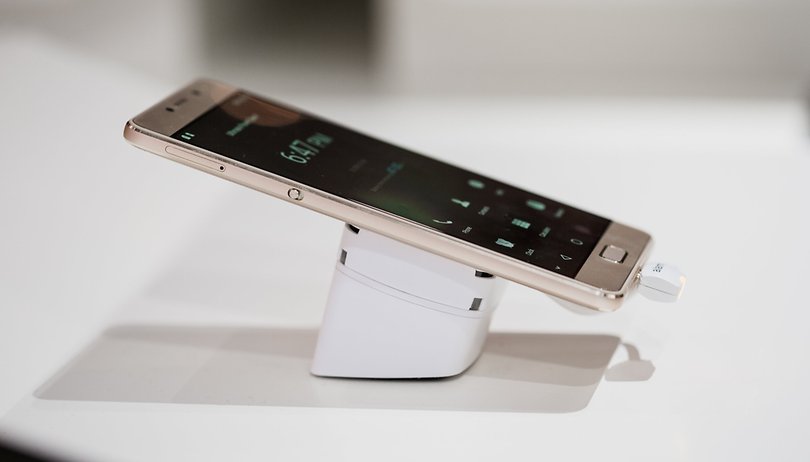 This past week, Lenovo introduced some of its new smartphones at IFA 2016, the Berlin tech conference. After a positive surprise with the Moto Z Play, this weekend it was the Lenovo P2's turn to leave a great impression on me. The reason for this is simple: an excellent battery paired with an elegant design.
Lenovo P2 release date and price
We don't have details on the Lenovo P2 release date just and are awaiting pricing details as well. In Europe, the P2 is expected to cost between 249 and 299 euros (in a direct conversion, that would be between $278 and $333), and will be available in November.
Lenovo P2 design and build quality
The Lenovo P2 is very beautiful, with an aluminum frame on the front and back . It also has a 5.5-inch screen. On the front is a biometric sensor that also functions as navigation buttons, depending on the pressure you apply to it, as well as multitasking.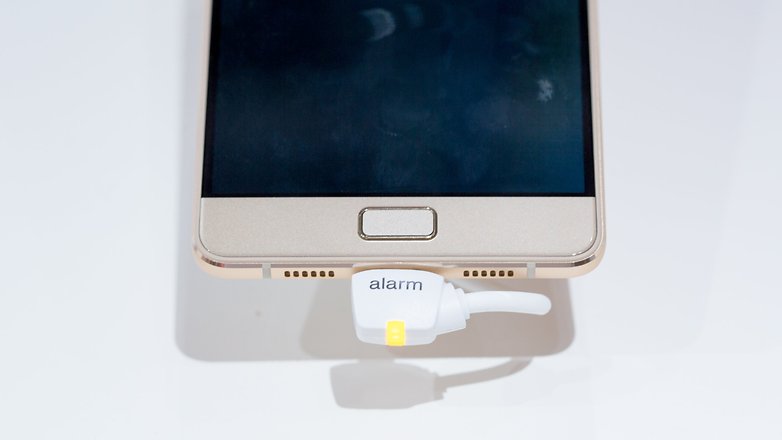 At the bottom is a USB 2.0 port in the center. It also has a speaker on one side and probably the other microphone.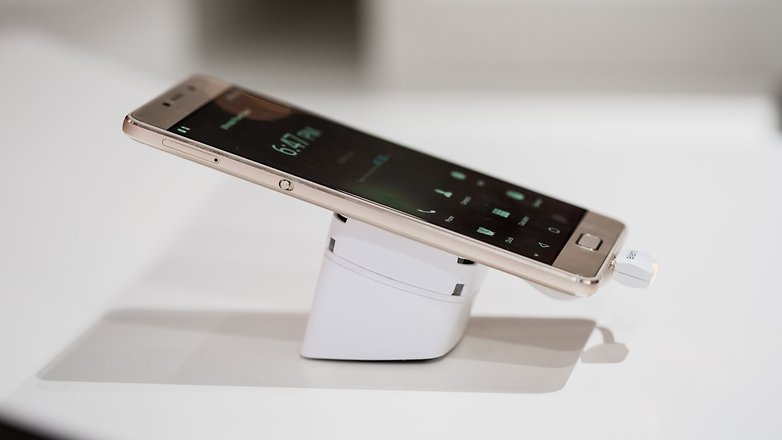 On the back is the main camera with a 13 MP Sony sensor, an LED flash and, like Sony, there is an NFC symbol signaling where the chip is located. And I'm happy to report that the aluminum back panel has no problems with fingerprints.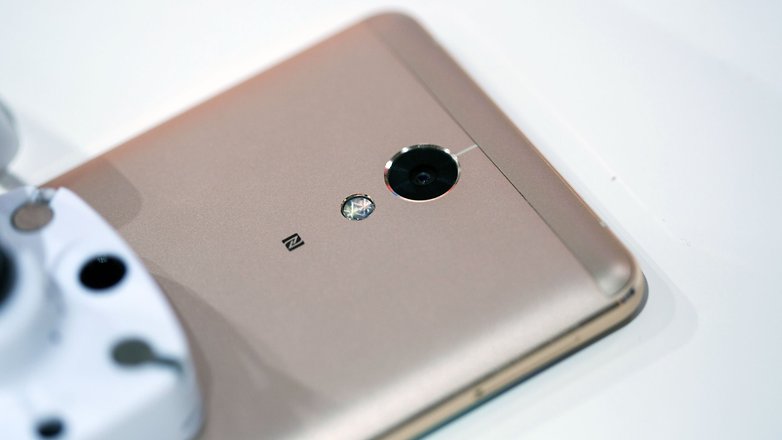 Regarding the design, the Lenovo P2 is a major player in the smartphone market with a large battery and great looks.
Lenovo P2 display
The Lenovo P2 has a 5.5-inch screen and Full HD resolution . The technology used in the display is the same as the Moto Z Play (AMOLED) which further optimizes the use of the hardware's power. This is due to the fact that with AMOLED technology, the LEDs go out with a black background and therefore does not emit light and saves energy.
Lenovo P2 software
Lenovo has updated its device software to Android 6.0.1 Marshmallow, while the first smartphone to leave the factory with Android 7.0 Nougat will be the LG V20. However, unlike Motorola, Lenovo strongly modifies the version of Android that comes from Google and offers a number of unique features and a single interface . Thus, the software update time will not be the same as it will take longer to adapt.
In addition, the company has a number of its own applications which weighs on the system. However, I still need more time with the device to say something in this regard, and some services may be removed and others just disabled.
Lenovo P2 performance
The Lenovo P2 comes with a Snapdragon 625 processor, clocked up to 2 GHz. That's almost the same specification of the new Moto Z Play. The device also comes with 4 GB of RAM and two options for internal storage: 32 or 64 GB. In other words, this smartphone has the specs of a champion. In addition, the main camera comes with a 13 MP sensor and the front with a 5 MP.
During my tests, I noticed some lagging, but the device I used was an IFA demo unit . To talk more about the performance of Lenovo P2, I still need much more time with the device.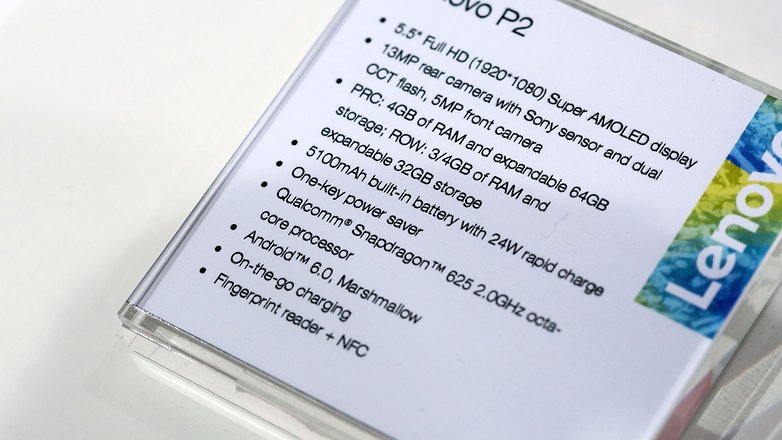 Lenovo P2 battery
What really draws attention in Lenovo P2 is the 5,100 mAh battery . When it comes to battery life, the manufacturer has some interesting names, especially after acquiring Motorola. The Moto Maxx was elected the smartphone with the best battery life in the market earlier this year, and Moto X Play users do not have to complain in this regard.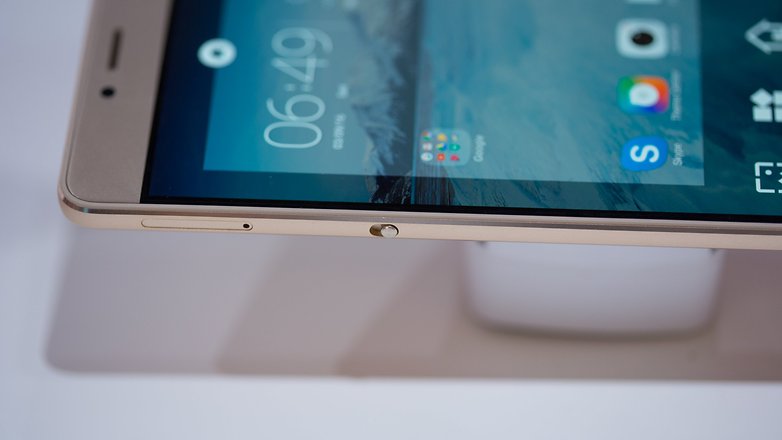 However, none of these models has the elegance of the Lenovo P2, or the mode of advanced energy saving in this unit. Lenovo brings a key on the left side that lets you enable the advanced mode of battery saving, called Ultimate Power Saver. In my brief testing, this feature just reminded me how low power consumption is of Samsung and HTC, since a limited number of device functions allow more time for smartphone use.
That is in addition to a battery capacity that's above average. The Lenovo P2 also has an advanced way of energy saving energy compared to other models of Lenovo and Motorola, and even comes with fast charging technology.
According to Lenovo, the P2 has a three-day battery life, and with only 15 minutes of charging, you get 10 hours of use.
Unlike what was reported at the time of its launch, the new smartphone from the Chinese manufacturer does not have USB Type-C, but USB On-the-Go, in other words, it is a supplement to USB 2.0.
Lenovo P2 technical specifications
Battery size:
5100 mAh
Screen size:
5.5 in
Display technology:
AMOLED
Screen:
1920 x 1080 pixels (401 ppi)
Front camera:
5 megapixels
Rear camera:
13 megapixels
Flashlight:
Dual-LED
Android version:
6.0 - Marshmallow
RAM:
3 GB
4 GB
Internal storage:
32 GB
64 GB
Removable storage:
microSD
Chipset:
Qualcomm Snapdragon 625
Number of cores:
8
Max. clock speed:
2 GHz
Connectivity:
HSPA, LTE, Dual-SIM , Bluetooth
Early Verdict
Lenovo has been showing itself as a company concerned with creating a better experience for Android smartphone users. This should be a result of the acquisition of Motorola, a company that has always been ahead in the evolution of the mobile device market.
The Lenovo P2 seems to me a good example of a company that listened to users because, despite this being a smartphone with a very specific niche (the user who wants to spend time with a mobile phone in use), the company has not forgotten the rest. The P2 comes with one of the best in class processors, two RAM variants and a minimum of 32 GB storage. Also, it does not just come with a super battery, but features to save even more energy.
If you were looking for a smartphone that can stay with you longer without having to be plugged in, but were always in doubt when looking at the list of specs, the Lenovo P2 could be a good option now. At least this was my first impression.
So, do you think this device would be a good option for you? Let us know in the comments.