Lenovo Moto Z vs Samsung Galaxy S7 Edge: has David met his Goliath?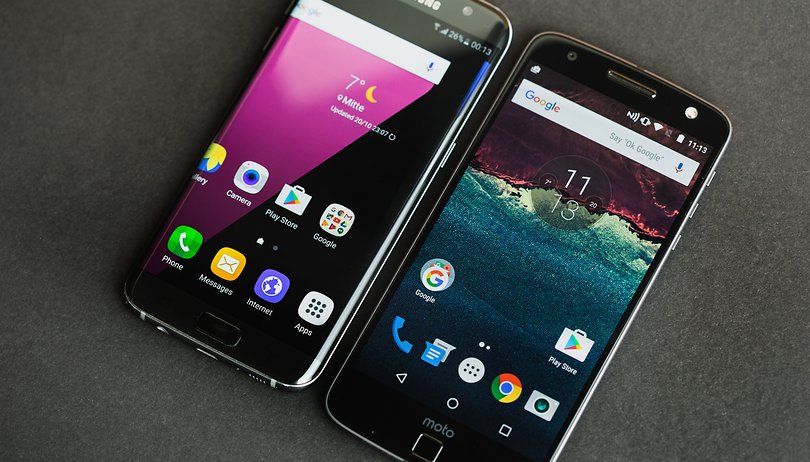 The Samsung Galaxy S7 Edge is generally considered as the heavyweight champion for all smartphone categories, a real giant for which contenders tremble when they hear the name. The Moto Z, on the other hand, is itself no lightweight seeing as it was created by Lenovo/Motorola. Is the latter fit to step into the Android ring contesting against devices like the S7 Edge. NEXTPITTV
Lenovo Moto Z vs Samsung Galaxy S7 Edge: design and build
The Galaxy S7 is known for its premium design which was unique in style before its contenders started copying it. I am obviously thinking here about its curved edges on the right and left sides of the screen which, for many people, are synonymous with the Edge range. The Moto Z also has a premium look but in a completely different manner, as we will see further down.
Before studying the details, let us observe the device's dimensions. The Galaxy S7 Edge is 150.9 mm in length and 72.6 mm in width, dimensions that are quite representative of phablets. The Moto Z is slightly bigger with a length of 153.3 mm and a width of 75.3 mm. The difference is more significant when it comes to weight though, with 11 grams difference between both devices, the Galaxy S7 being the heavier one at 157 grams.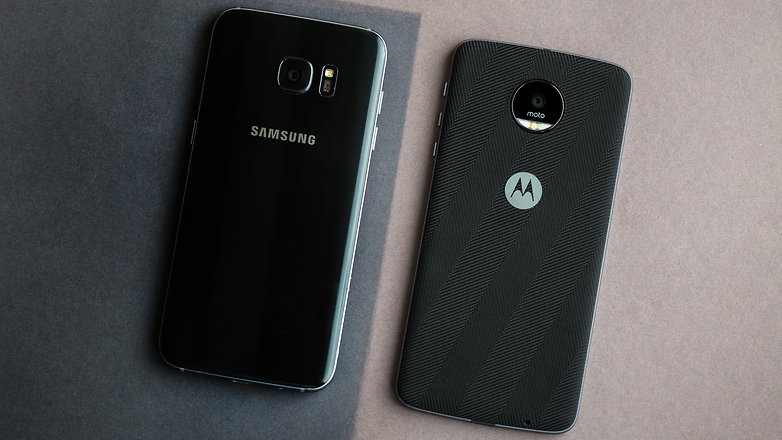 Why is there such a noticeable difference in weight? Being just about 5.2 mm in thickness, the Moto Z is much thinner than its Korean contender, which is 7.7 mm. This is one of Lenovo's strategies, the emphasis is placed on creating a slim and lightweight device. That being said, other elements are to be taken into account in order to understand the phone correctly. The back of the device offers a premium look though two elements tarnish this beautiful picture: on the one hand, a camera juts out and on the other hand, there is the presence of connectors to attach the MotoMods, which are accessories that attach onto the device such as a speaker for better sound (JBL Sound Boost) or a projector to be connected to the smartphone (Moto Insta-Share Projector) etc.
I don't think I am alone in thinking that having the lens of a camera sticking out is not a very attractive feature and neither are the small connector points at the bottom. Lenovo uses a fabric-made cover to hide these eye sores. When attached to the device, this cover gives the phone a totally new look, which in my opinion is certainly less premium. That being said, this is the price to pay for such a customizable phone. The cover also allows for more stability as the device is less likely to slip out of your hand.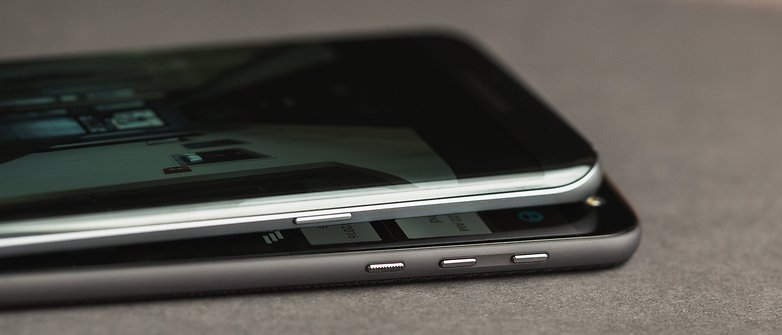 The buttons are located on the sides but, unlike many devices currently on the market, there is a slot for SIM and SD cards at the top of the device and not at the front. Since we are on the topic of buttons, the Moto Z also has a button (but non-functional) on the front, under the screen. Unlike the one from Samsung's, it is not oval but square and it does not serve as a Home key, it is a simple fingerprint reader. It is located below the "Moto" logo (which is also below the screen), which I think is quite an unfortunate decision, aesthetically-speaking.
In summary, two philosophies are facing each other: the Galaxy S7 Edge offers Samsung's entire collection and premium range of features (curved edges, IP68 certification, Gorilla Glass 4…), whereas the Moto Z combines premium (considering aspects like Gorilla Glass 4, for example) with the customizable (use of Mods and the possibility of using a cover).
Lenovo Moto Z vs Samsung Galaxy S7 Edge: display
Here, our two protagonists find themselves on a level playing field with their 5.5 inch screens, though it is necessary to specify that the screen/dimension ratio is a lot more interesting on Samsung's device since the screen covers 76.1% while on the Moto Z, it's only 72%. The S7 Edge's screen uses Super AMOLED technology, while its rival uses AMOLED; though there's a difference in digitization, in practice there is hardly a difference. Super AMOLED is more a Samsung brand name than a real technological gain.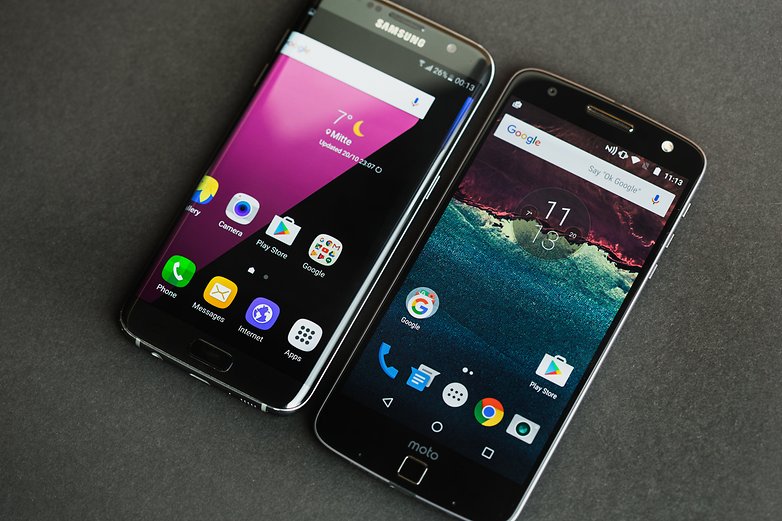 The resolution is also the same for both devices, that is to say QHD (1440 x 2560 pixels), now a typical feature for 2016's high-end phones, and is more than sufficient for all types of usage. Seeing as virtual reality is also a growing fad, 4K displays would definitely have been more beneficial but the market is still a newbie in this area.
Lenovo Moto Z vs Samsung Galaxy S7 Edge: software
The two devices run Android Marshmallow by default but not exactly the same version: the Moto Z has Android 6.0.1 while the S7 trucks along with 6.0. Clearly, the two devices will use Android Nougat at some point as well.
Getting back to the idea of opposing philosophies: Motorola and Moto smartphones (distinguishing here past Motorola phones to present ones from Lenovo) bring us a refined interface along the lines of Android stock, which is a must-have for purists: no bloatware and Nexus-like graphics (that is to say, quite dark). In contrast, Samsung uses TouchWiz as its usual customized interface, deeply integrated in the device, containing several pre-installed devices (there are differences based on country) but at least it has benefit of being a lot brighter (great for reading, not so great for your battery). In practice, this also means that more modifications will have to be carried out to get Nougat on TouchWiz since its interface is fairly different from Android stock.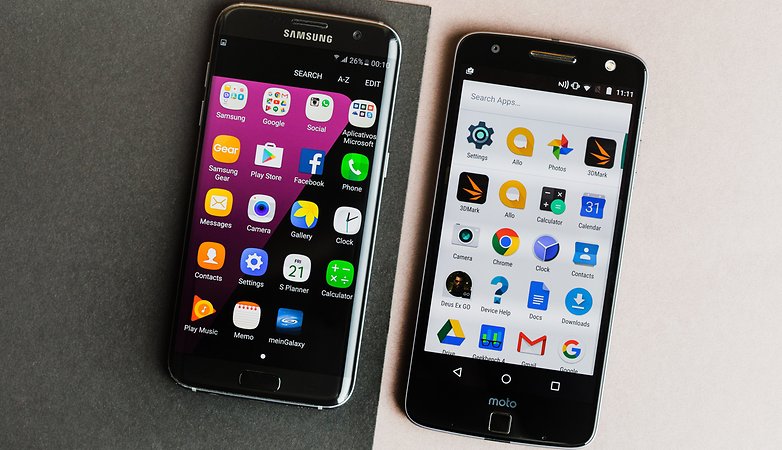 Unlike its rival, Samsung's device has several distinctive features (thanks to both its affiliation to the Samsung family as well as that to its Edge range), like its quick access to apps or shortcuts thanks to the curved-screen edges. Samsung's AMOLED Always On Display mode is also a useful feature allowing you to check the time, the calendar or other notifications without actually turning on the entire screen.
Lenovo Moto Z vs Samsung Galaxy S7 Edge: performance
The Moto Z and the US version of the Galaxy S7 Edge carry the same lightning-fast processor, the Snapdragon 820. Lenovo has chosen the most popular processor of the year, which has already proven itself on devices such as the OnePlus 3, which is one of the most noteworthy devices in the field. The European S7 Edge uses a different processor, the Exynos 8890, a top-hitter in benchmark tests.
The graphics chip in the Moto Z is an Adreno 530 and that in the S7 Edge (European) is Mali-T880. 32/64 GB of internal memory (possible extension with a microSD card), 4GB of RAM assist the processor in both models. This considerable amount of RAM ensures a smooth experience.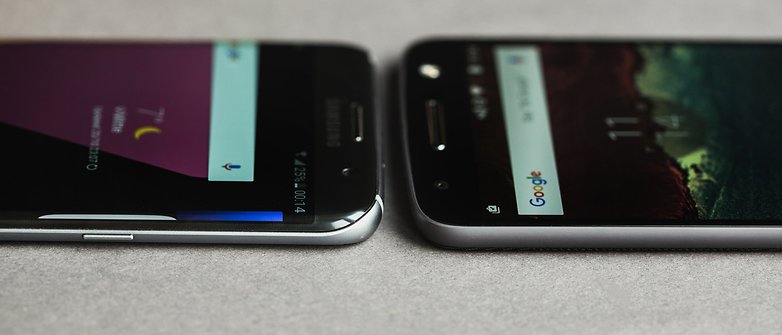 What does this all mean in practice? Both smartphones are simply excellent. You can play without encountering any problems or lags, including when playing demanding games. Though application crashes are unavoidable, I didn't notice any specific problems or lags while using either device.
Regarding the SAR, both smartphones do quite well seeing as both are below 0.500. Having said that, it is quite difficult to find truly reliable information about a phone's SAR, even from sites that are supposed to specialize for this. This is because the figures differ quickly (especially between the US and European markets since calculation methods are different).
Lenovo Moto Z vs Samsung Galaxy S7 Edge: camera
The Moto Z did well but could have done better with an IMX230 camera, which was already present in the Moto X Force, that is to say a 13 megapixel lens, though this time it comes with an f/1.8 aperture. The S7 Edge follows the family tradition of doing a stand up job again and again. It uses a 12 megapixel lens with an f/1.7 aperture. Both devices have optical image stabilization (quite normal for high-end devices) but the Moto Z uses laser automatic focus whereas the the S7 Edge has phase-detection microscopy.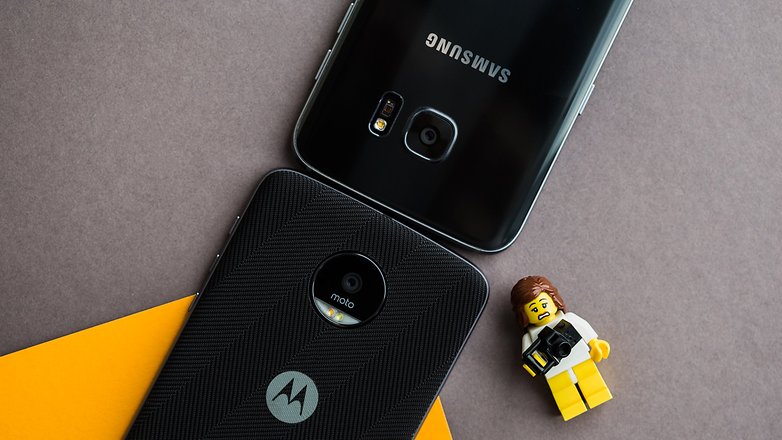 The Moto Z allows you to take good photos but it works better in a well-lit environment: the finish is really very good. As soon as darkness falls, the quality diminishes considerably. The Galaxy S7 Edge allows you to take very good photos in conditions where there is good lighting but also in darker settings, thanks to the larger aperture and different software features.
Lenovo Moto Z vs Samsung Galaxy S7 Edge: battery life
In order to achieve its desired thickness, Lenovo had to make sacrifices and was therefore not able to include a large battery: the Moto Z offers 2600 mAh, which is not necessarily bad in itself but for a phablet, it is not a lot. In practice, this should allow for an entire day of usage.
The Galaxy S7 Edge is once again a model student offering 1000 mAh more than that of its rival. That being said, it's not the size that counts how well the system has been optimized to use this power to its fullest. Samsung's device will last one or even two days without a problem when used moderately. In both cases, you will find a quick charge system that is truly extremely useful on a day-to-day basis.
Verdict
The Moto Z causes the Galaxy S7 Edge to lose its balance, though not enough to make it topple. Regarding camera and battery, the Samsung smartphone remains unbeatable. As for design and software, this comes down to a matter of taste: one banks on simplicity, the other on pretty effects.