iPhone 6s Plus vs Galaxy Note 5 comparison: the bigger battle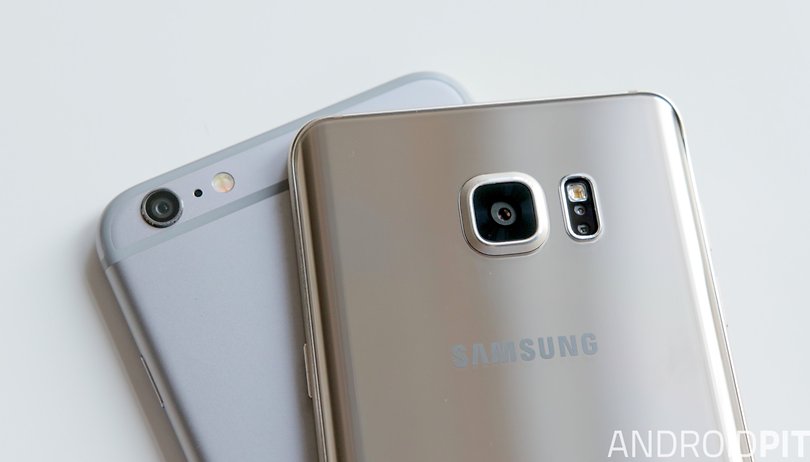 It's the clash of the titans, an epic battle between two giants. Yep, it's our iPhone 6s Plus vs Galaxy Note 5 comparison, which puts Apple's freshly announced phablet up against the enormous Korean contender. Which one will win? There's only one way to find out. NEXTPITTV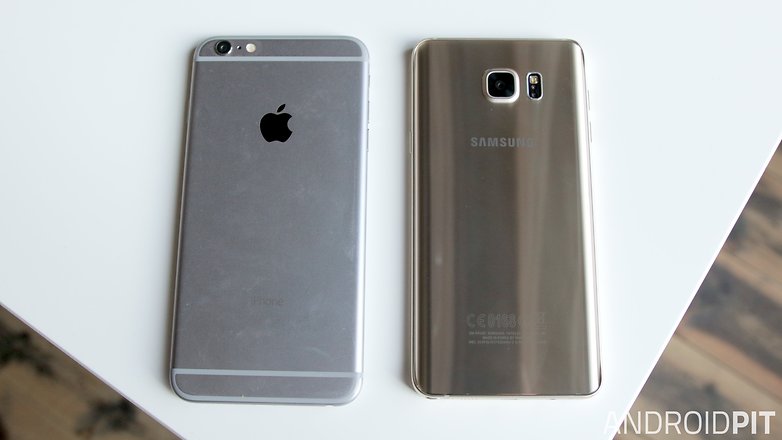 iPhone 6s Plus vs Galaxy Note 5 comparison: design and build quality
As we've come to expect from Apple's S models, the iPhone 6s Plus doesn't look dramatically different to the iPhone 6 Plus: the design still feels fresh though, and we're sure the new rose gold option will have plenty of fans. It appears to be another well built Apple device and this year's model is tougher than before, made from stronger aluminum to ensure it doesn't go banana-shaped if you sit on it.
The Galaxy Note 5 is better than its predecessor, with a glass and metal case that gets shot of the horrible fake-leather of its predecessor, and we think it's a fine looker. The Note 5 also has Samsung's S Pen, which many people find useful, although some people choose not to use it. There does appear to be one design problem though: as you've probably heard by now, putting the S Pen in the wrong way can cause serious damage to the Note.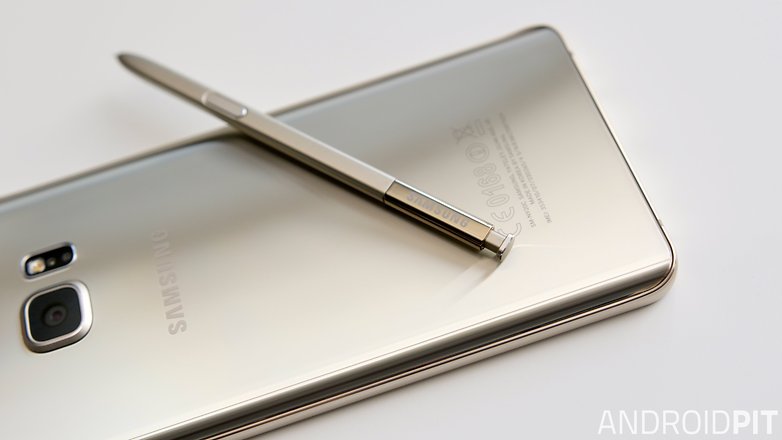 iPhone 6s Plus vs Galaxy Note 5 comparison: Display
The iPhone 6s Plus has the same 5.5-inch display as the 6 Plus, with 1920-by-1080-pixel resolution and 401 ppi. The important difference in the display is the implementation of Apple's 3D Force Touch technology, a pressure-sensing system similar to the one in recent MacBooks and the Apple Watch. It doesn't just detect taps, but presses and long presses too, and is baked right into Apple's operating system.
An example of how 3D Touch functionality can be applied to messages and emails was shown in Apple's recent announcement. In the iPhone 6s Plus's email app, you can press on a message and it will pop it out in a preview window. As soon as you let go, it will hide.
This functionality can also be applied to apps and it's impressive software because it means you don't need to close and re-open tabs or windows constantly for small tasks, you just use the touch gestures to load a preview.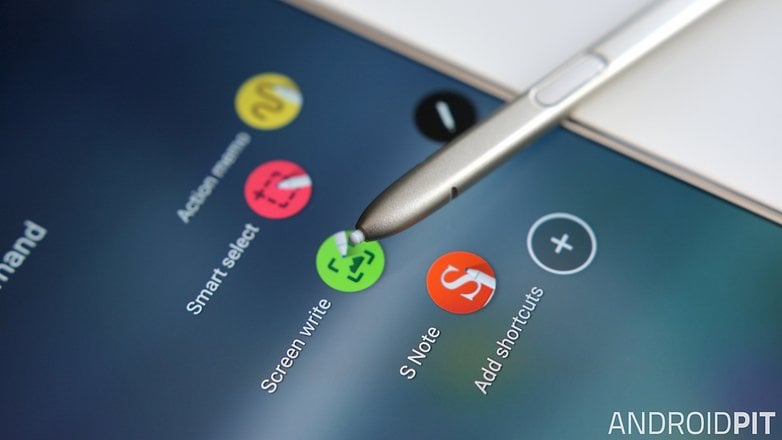 The Note 5 has a 5.7-inch AMOLED display running 2,560 x 1,440 pixels at 515 ppi. It's one of the best displays ever fitted to a mobile device and it's particularly good if you like your colors to pop and zing. It's denser than the iPhone display, and brighter without being oversaturated like earlier AMOLEDS were.
iPhone 6s Plus vs Galaxy Note 5 comparison: processor and storage
The iPhone 6s Plus comes with the new 64-bit A9 processor with an M9 motion co-processor. A direct comparison with Android devices isn't really possible here because Apple's control of hardware and OS means it can optimize its devices in a way Android firms can't.
On paper, iPhones with less impressive specs than Android devices often deliver better performance than their rivals, and that's likely to be the case here. Apple touts 70 percent faster CPU tasks and 90 percent faster GPU tasks from the A9 compared to its previous chip. The 6s Plus comes in 16, 64 and 128 GB storage options, all with 2 GB of RAM.
The Galaxy Note 5 has Samsung's own Exynos 7420 processor, running eight cores at up to 2.1 GHz, and it's backed with 4 GB of RAM and either 32 GB or 64 GB of on-board storage.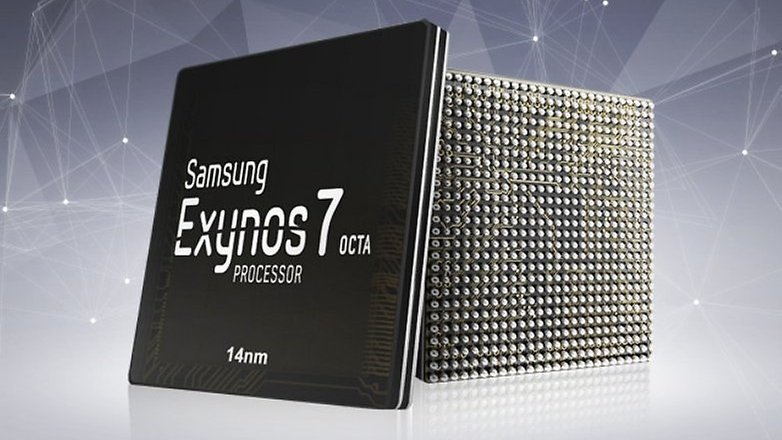 iPhone 6s Plus vs Galaxy Note 5 comparison: camera
Apple has long concentrated on image quality rather than mere megapixels, but with the iPhone 6s Plus the megapixel count is up from 8 MP to 12 MP, while retaining the optical image stabilization of the previous Plus. The front-facing snapper comes in at 5 MP, with the display now acting as a flash.
The iPhone 6s Plus can record video in 4K, meaning Apple is catching up to Android on that score, and by default the camera will turn photos into short videos. This looks like the same kind of software as HTC Zoe: the 6s Plus takes a 1.5 second video either side of the photograph so that you can press on them in the gallery to play a short clip. It looks impressive, but whether or not if will be more successful than Zoe we don't yet know.
The Note 5 has one of the best cameras around. It's a very impressive 16 MP shooter with LED flash, image stabilization and excellent low light performance. The front facing camera is 5 MP. On paper, then, the Note camera is better, but if Apple has worked its usual magic with the camera sensor there's a good chance the iPhone 6s Plus may still take the better photos.
In Apple's announcement they showed a number of unedited photos taken with the iPhone 6s Plus camera, and they did look stunning.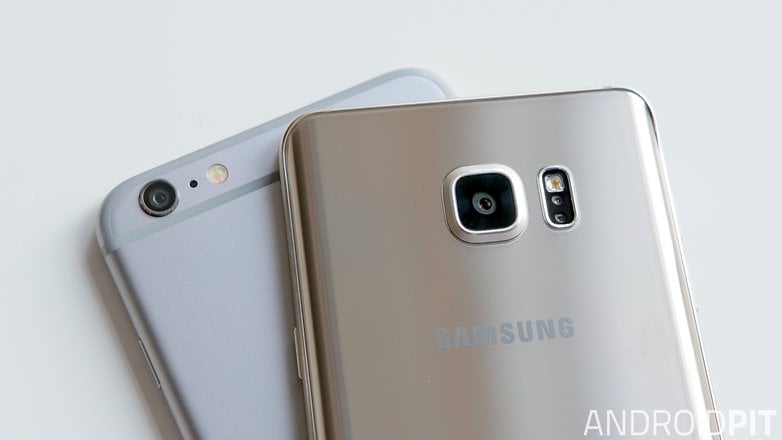 iPhone 6s Plus vs Galaxy Note 5 comparison: software
The iPhone 6s Plus ships with Apple's iOS 9, which is a relatively minor update: the headline features are improved Siri voice recognition and a Google Now-esque notification system called Proactive. The real work will be under the hood to improve performance and battery life.
The Note 5 ships with Android 5.1.1 Lollipop, Samsung's slimmer-than-before TouchWiz and the usual Samsung and S Pen apps. Of course, the Galaxy Note 5 will be inline for the upcoming Android Marshmallow update.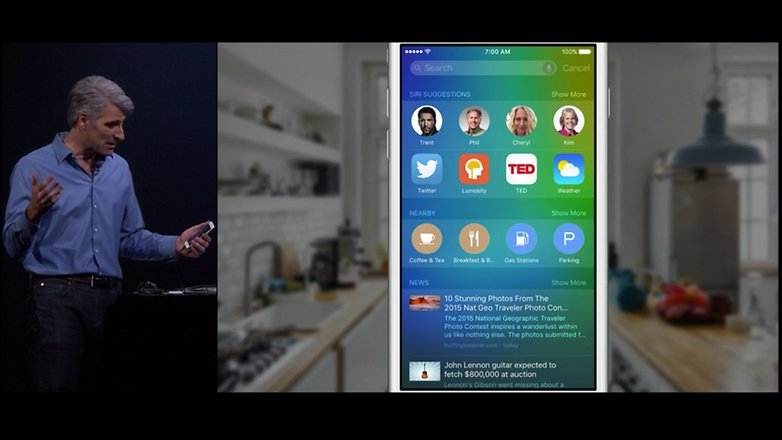 iPhone 6s Plus vs Galaxy Note 5 comparison: battery
The iPhone 6s Plus battery comes in at 2,750 mAh, a little smaller than the iPhone 6 Plus' 2,915 mAh. That may be compensated by iOS 9's power management and what we assume is a more efficient processor, as the likelihood of Apple releasing an iPhone with worse battery life than before seems rather small.
The Note 5 has a 3,000 mAh battery and unlike Apple, it supports fast charging and fast wireless charging. However in the real world we expect both devices to deliver a day's battery life in normal usage.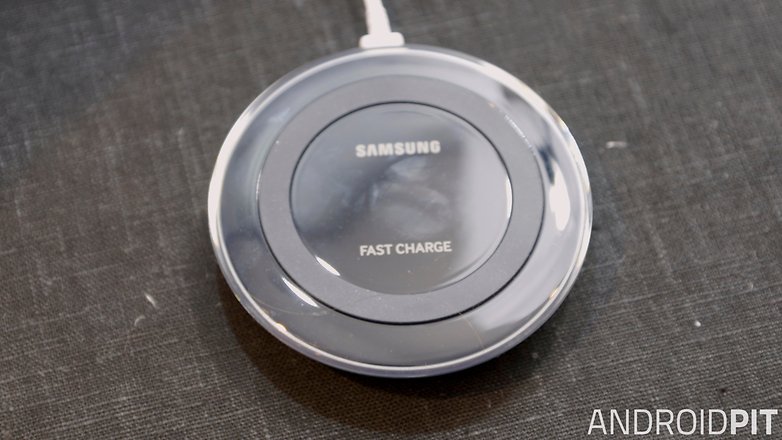 iPhone 6s Plus vs Galaxy Note 5 comparison: early verdict
Any decision between the iPhone 6s Plus and the Galaxy Note 5 is likely to be based on personal preference, rather than hard facts. Many people prefer the iPhone's style, or prefer iOS to Android, and for those people the Note simply won't figure: they like iPhones, so they'll buy iPhones. On the Android side there are people who want like the S Pen and want the ability to get their devices just so, and they'd go for the Note.
If you haven't already picked a team in the Apple vs Android battle and you're want the most powerful phone around, the Samsung has more horsepower, probably a bigger battery and more scope for personalization, while the Apple is more efficient, more elegant, likely to take better photographs.
But it's worth considering the wider picture too, because when you choose a phone you also choose an ecosystem: Apple Pay vs Google Pay, Apple Music vs Google Music, Apple's App Store vs Google Play, Apple TV vs Chromecast, Apple Watch vs Android Wear and so on. Naturally we're going to recommend going down the Android road with the Note 5, but if you're planning on buying an Apple Watch, Apple TV or Mac in the near future, then you might want to go for the iPhone 6s Plus instead.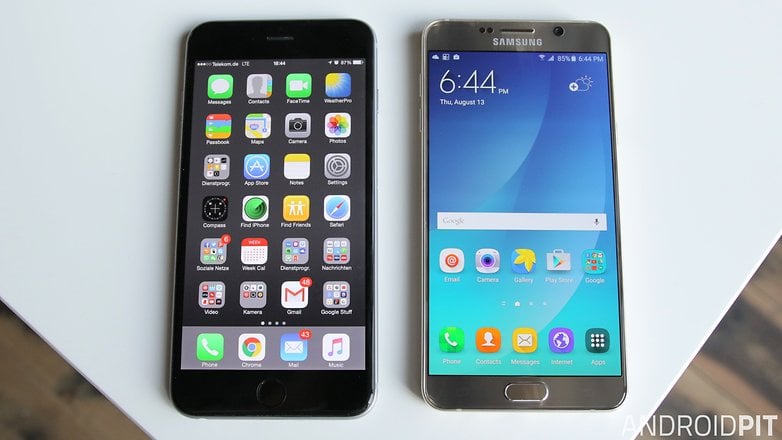 Then there's 3D Touch. Though similar technology will hit Android soon, there's no denying it is a credible feature that the iPhone 6s Plus can hold over the Galaxy Note 5.
If we're being totally honest, at this point the iPhone 6s Plus seems like the more impressive handset. Irrespective of what has changed or what is new compared to the previous generation, looking at both phones like-for-like, the iPhone 6s Plus just seems to provide more impressive functionality and better usability.
What do you think? Are the latest big phones a big deal, or are you saving your cash for next year's models? Let us know.