iPhone 6 vs. Sony Xperia Z3 Compact: comparison of the small premium phones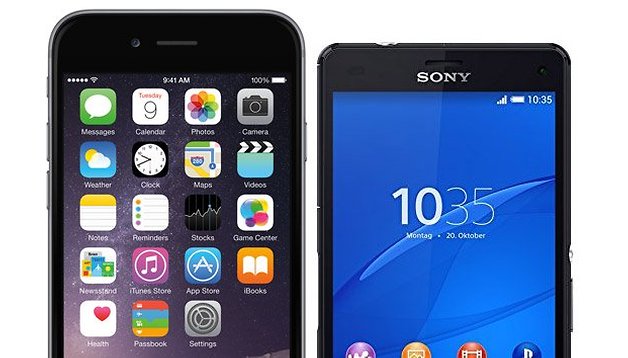 The Sony Xperia Z3 Compact and the Apple iPhone 6 not only play in the same league when it comes to their display, but they also have similar design properties. We compare the two compact wonders together and see how they stack up.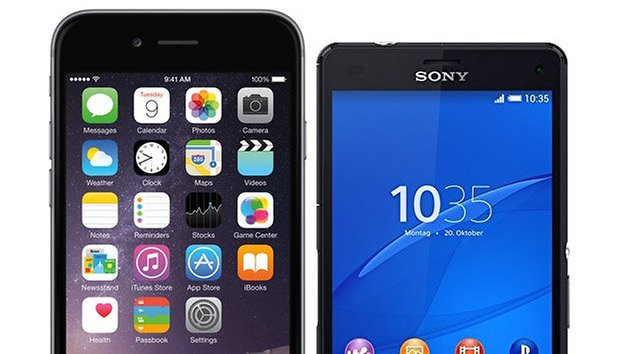 Design
Sony has done an excellent job on the design of the Xperia Z3 Compact. The design makes excellent use of the space and the bezel edges are absolutely tiny. Using the standard OmniBalance design that has become customary of Sony devices leads to the Z3 Compact coming in at a classy and high quality device and the only damper on this is the fact that it has a plastic frame. The iPhone 6 shows similar design choices as the Z3 Compact as well as moving towards a round frame. That being said, the iPhone 6 is much narrower as well as wider and longer than the Z3 Compact.

Display
The iPhone 6 has a display that measures 4.7 inches and the Z3 Compact comes in slightly smaller at 4.6 inches. The resolution is slightly higher on the iPhone 6 and comes in at 1334 x 750 pixels and corresponds to a pixel density of 326 ppi. The Z3 Compact has a HD resolution of 1280 x 720 pixels and has a pixel density of 319 ppi.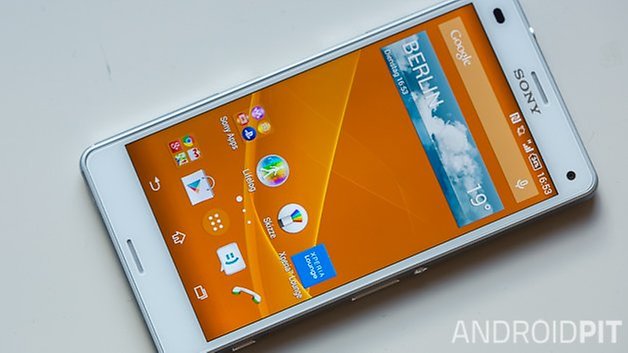 Hardware
The Xperia Z3 Compact is the only current Android smartphone that is considered to be "top of the line" and also comes in with a display under 5 inches. The iPhone 6 is the newly minted Apple flagship smartphone and reflects that in every single way. It's always hard to do a comparison between Android and Apple devices by simply looking at their hardware specs on paper since they both act differently in the realy world, but we'll take a subjective look at them anyway and let you decide.
The iPhone has 1 gigabyte of RAM and is powered by Apple's 64-bit A8 chip, which is a dual-core processor with a clock rate of 1.4 GHz. As well, the iPhone has a separate M8 chip that tracks anything having to do with movement and helps save the main CPU and conserve battery power.
The Z3 Compact comes with a Qualcomm Snapdragon 801 quad-core chipset that comes in at 2.5 GHZ and has 2 gigabytes of memory. Thus, the Z3 Compact is superior on paper, but experience has shown that Apple devices tend to perform as well despite having lower hardware specs.
Extras
Ever since the advent of the iPhone 5s, Apple has incorporated the fingerprint scanner into its devices and the iPhone 6 is no exception. As well, Apple has decided to throw in a NFC chip into an iPhone for the first time. As well, the iPhone 6 has a barometer for measuring air pressure. The Z3 Compact also has NFC on board and this has been a standard for Sony devices since 2012. It also boasts a high IP rating and is resistant to dust and water. An added bonus is due to this; the Z3 Compact can survive a 30-minute plunge into 1.5 meters of water with no problem.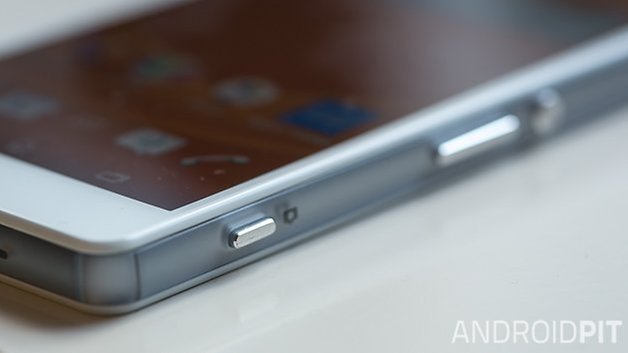 Camera
When it comes to the camera, the Sony Xperia Z3 Compact is vastly superior to the iPhone 6 with a maximum resolution of 20.7 megapixels. However, in our tests with Sony's high-resolution sensors, it's become apparent that the image quality isn't quite as high quality as it should be. This is the opposite on the iPhone. Despite only have a 8 megapixel camera, the iPhone provides some exceptional quality for photos and videos alike.
Battery
The battery life on iPhones has been average at best and isn't something that Apple is very well known for. However, the Xperia Z3 Compact has a relatively large battery for its size, coming in at 2600 mAh and really exceeds expectations when it came to our Xperia Z3 Compact review. We're not quite sure what's the size of the battery in the iPhone 6 is since Apple is always silent on this hardware specification, they've announced that it should be able to handle up to 250 hours on standby and a talk time of up to 14 hours on 3G. Sony has said that the Xperia Z3 Compact should have about 920 hours of standby time and also 14 hours of talk time on 3G.
Technical Specifications
| | Sony Xperia Z3 Compact | Apple iPhone 6 |
| --- | --- | --- |
| System | Android 4.4.4, Xperia UI | iOS 8 |
| Display | 4.6 inch LCD, 1280 x 720 pixels (319 ppi) | 4.7 inch LCD, 1334 x 750 pixels (326 ppi) |
| Dimensions | 127.3 x 64.9 x 8.64 mm | 138.1 x 67 x 6.9 mm |
| Weight | 129 g | 129 g |
| Accumulator | 2600 mAh | well |
| Camera | 20.7 MP (rear), 2.2 MP (front) | 8 MP (rear), 1.2 MP (front) |
| Processor | Qualcomm Snapdragon 801, 2.5 GHz, Quad-Core | Apple A8, 1.4 GHz, Dual-Core + M8 Processor |
| RAM | 2 GB | 1 GB |
| Internal memory | 16GB + microSD | 16/64/128 GB |
| Connectivity | HSPA, LTE, NFC, Bluetooth 4.0, Wi-Fi | HSPA, LTE, NFC, Bluetooth 4.0, Wi-Fi |
| Special | Waterproof to IP 65/68 | Fingerprint Scanner |
Conclusion
In the past, there really wasn't an Android smartphone that had a display smaller than 5 inches that could compete technically with the iPhones, but the Xperia Z3 Compact is definitely starting to take Apple on a run for its money. On paper, it is superior to the iPhone is almost every single category and is also equipped with some better protection, particularly to dust and water, right out of the box. In reality, it has a slight competitive edge over the iPhone and packs it all into a slim design that doesn't trade off hardware specs for saved space.
(originally by Johannes Wallat from AndroidPIT.de)