iOS 6 vs. Android 4.1: How Apple's Newest Features Compare to Android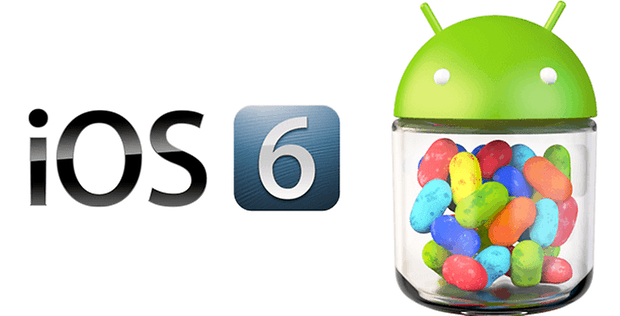 iOS 6 is officially available to download as of yesterday. The latest version of Apple's mobile OS is said to offer more than 200 new features. Since, in addition to my Android, I also own an iPod Touch (fourth-generation), I decided to install the latest iOS version and compare its newest features directly to their Android 4.1 equivalents. Here's what I found!
Apple Maps vs. Google Maps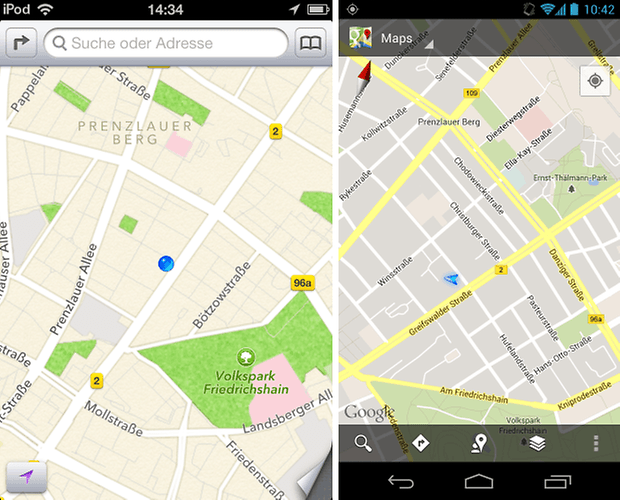 Much ado has been made about the inaccuracy of Apple's new maps service. It is indeed a disaster, plagued by navigation issues, inaccurate information and a bevy of apocalpytic 3D graphics. But, on the bright side, Apple now finally offers the turn-by-turn navigation Android has been offering for over a year.
In our tests, we preferred the look of Google Maps for Android, hands-down. Not only do the maps show more information, but the navigation was on a street-level, not from a birds-eye-view – much more helpful if you're lost. Even worse (of course): Apple gave us the wrong directions to a popular Berlin landmark, Alexanderplatz. In reality, the entrance to the soaring tower is on the other side of the street.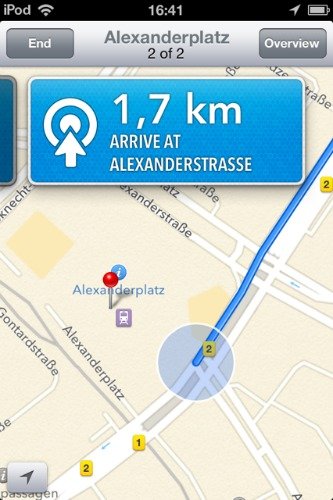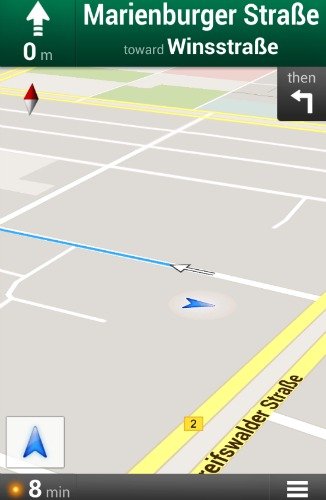 As far as 3D-mapping is concerned, Apple has created some impressively three-dimensional areas of the city, but by no means is every block available in 3D and even famous landmarks look really bad. In conclusion, Apple needs to update Maps with user-input ASAP! For now, it's no question: Android is the clear winner in every regard.
Facebook Integration: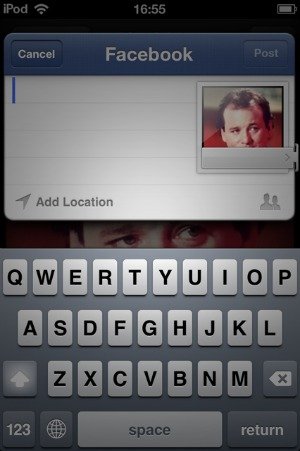 b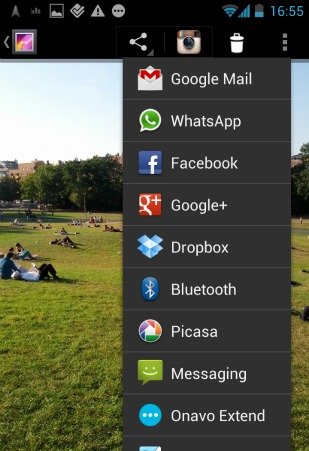 One of the features Apple is touting in their new iOS is complete integration with Facebook. Of course, Android owners probably wouldn't get too excited about that. We've been able to share anything on any network ever since Android 2.0. But it's a nice addition, and the way the Facebook icon pops up when you want to share is quite cute. Otherwise, there really isn't anything to see over here.
It must be noted as well that Android owners can also share photos and just about anything on not just Facebook but also Twitter, Dropbox, Bluetooth, Picaso, Skype and hundreds of other apps.
Apple does have one leg up, since they allow users to sync their Facebook contacts with their address book. Android 4.1 only offers a roundabout way of doing it; you need to download a 3rd party app to synchronize your Facebook account with your Android.
App Store vs. Google Play Store: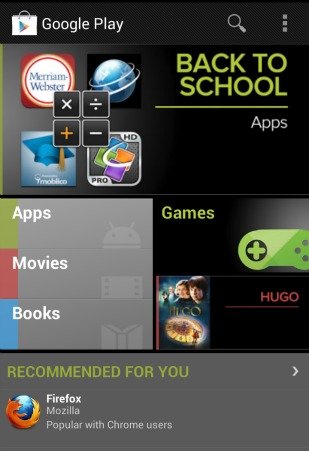 At long last, Apple has updated the look of their App Store. The refresh was sorely needed, in my opinion, as the old store wasn't so visually appealing.
The new design brings a much more aesthetically-exciting look but navigating around is actually harder. Maybe it's because the icons are too big now, but it looks like not everything fits into the screen. In fact, the icons on the far right are almost always cut-off. Graphically, it's quite pretty, but you can't help but feel that some space is being wasted.
Of course, the Google Play store is far from perfect. The apps don't look as shiny and appealing, for one, and there aren't any beautiful headers of which to speak, but at least everything fits on the screen.
Passbook: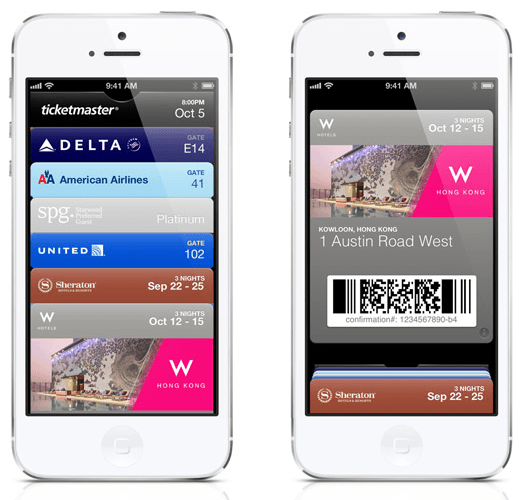 The idea behind Passbook is both simple and ingenious: an app that can organize movie and concert tickets, vouchers and coupons. To redeem, you can simply have someone scan your device. But that's not all: Passbook will even scan your location and open your ticket automatically when you unlock the screen; helpful if you're already distracted and trying to get to your flight. Passbook will even notify you of gate changes.
In other words, this is a damn cool service. There's really nothing this comprehensive in Android land.
Do Not Disturb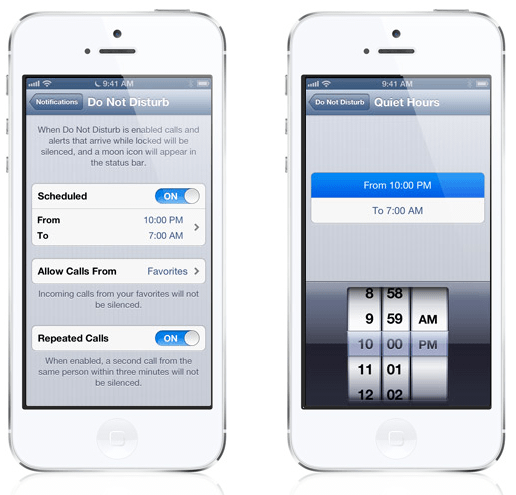 Another simple yet ingenious new iOS 6 feature is Apple's "Do Not Disturb." This allows you to set quiet times for your iPhone when no one should be able to disturb you. However, you can still make it possible for friends and loved ones to call you anyway, or even set the app so that if someone calls multiple times in a row, the call will go through (in case of emergencies).
Stock Android 4.1 doesn't offer this feature, but certain ROMS like Cyanogen Mod offers something similar. Even if you don't root your Android, you can find a number of apps that allow you to create designated quiet times for your phone.
Conclusion: The More Things Change, The More They Stay the Same
Apple would like you to believe they've made over 200 changes to iOS in the latest update. In reality, the number of updates you'll actually notice is quite small. Although many of these changes were badly needed, they don't go above and beyond anyone's reasonable expectations. iOS has evolved a bit, but the evolution is too slow; the homescreen still looks the way it does five years ago, there still aren't any widgets and notifications aren't interactive like they are in Android. The only real innovation Apple has brought to the table seems to be Passbook – and you still can't use it with NFC because the iPhone doesn't even have that yet. In conclusion, Apple has barely innovated, and where they have innovated, sometimes they haven't done such a great job. At this point, it just looks like they're playing catch-up.