Want a pop-up camera on a budget? Meet the Huawei P Smart Z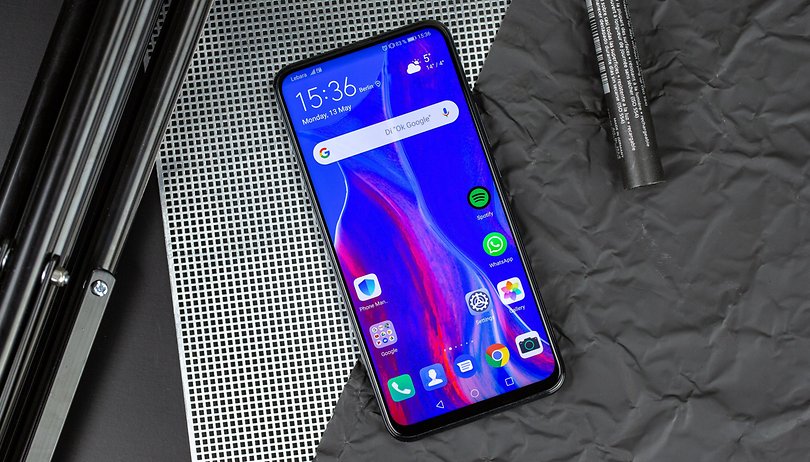 The P Smart is one of the best selling Huawei smartphones. After the P Smart 2019 and P Smart+ 2019, the family grows with a new device. What makes it different from the others? Mainly, its retractable camera, the first we've seen in a Huawei phone that appears every time you want to take a selfie. It hides behind the huge screen. Discover everything the new Huawei P Smart Z has to offer in this full review.
Good
Battery life

Large display

Performance

Expandable storage with microSD card (not NMcard)

Headphone jack

NFC
Bad
Weight

Camera performance

No quick charging

No facial recognition

No LED notifications
A mid-range price to match its rivals
The P Smart Z comes with only one possible configuration: 4GB of RAM and 64GB of internal storage. You can choose between three different colors: green, black and blue or, as they have been christened, Emerald Green, Midnight Black and Sapphire Blue. It is on sale since in May 2019 for 279 euros in Europe. That's a good price but places it in a range where the competition is fierce, even within the same brand.
Yeah, it's really quite big
They say first impressions count, and it can also be applied to smartphones. The first thing I thought when I took the P Smart Z out of the box and held it in my hand was that it was too big. And not just long, but especially too wide. With dimensions of 163 x 77 x 9 mm and a weight of almost 200 grams, there is no doubt that it is a bulky mobile. Luckily, this feeling is reduced a little thanks to its rounded edges, which make it almost comfortable to hold.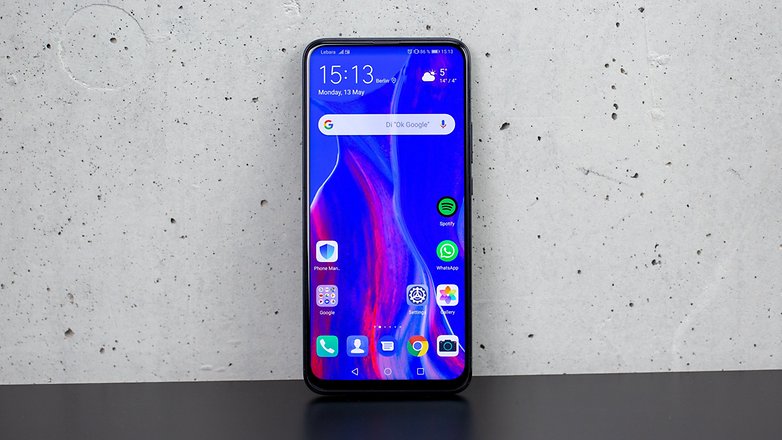 At the front there's not much to say: almost everything is a screen except very slim bezels, which are a little wider at the bottom. No trace of a notch, no hole in the screen, and no camera for selfies... Wait, wait, wait, wait, wait, wait. Where's the front camera? Huawei has decided to hide it thanks to a retractable mechanism in the style of the Vivo NEX, which only appears when you trigger it. But we'll talk about that later...
On the back, there is a fingerprint reader located in the center of the device, as well as a discreet double rear camera in a vertical layout on the left-hand side, followed by the flash. But the discretion ends here, since the manufacturer has added the legend "AI Camera" and some large letters with the name of the brand, in case you forget that you have a Huawei in our hands.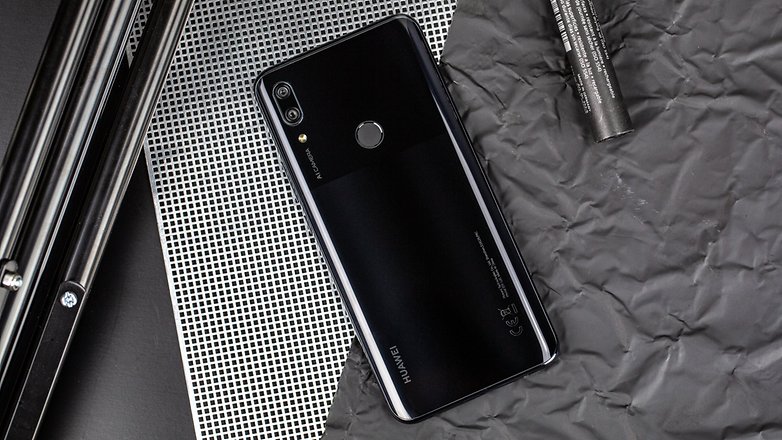 Although Huawei has chosen plastic for this device, I did not miss other materials such as glass or metal. All right, it's not the nicest mobile on the market, but overall it's well-built.
A screen that hooks you
The screen is one of the strong points of this smartphone , at least if we talk about size. Huawei has increased the 6.21 inches of its P Smart 2019 display to the 6.59 inches of this model, maintaining the 19.5:9 ratio that provides a density of 391 pixels per inch. It has a Full HD+ resolution of 2340 x 1080 px, but it is not an OLED but an LCD, which is noticeable in the quality. Sometimes brightness leaves something to be desired, especially outdoors.
Despite that, the overall feeling is good. It will delight those who like to watch multimedia content on their smartphone, whether it's YouTube videos or Netflix. During my review, I myself watched the whole 90 minutes of a football match without missing my laptop.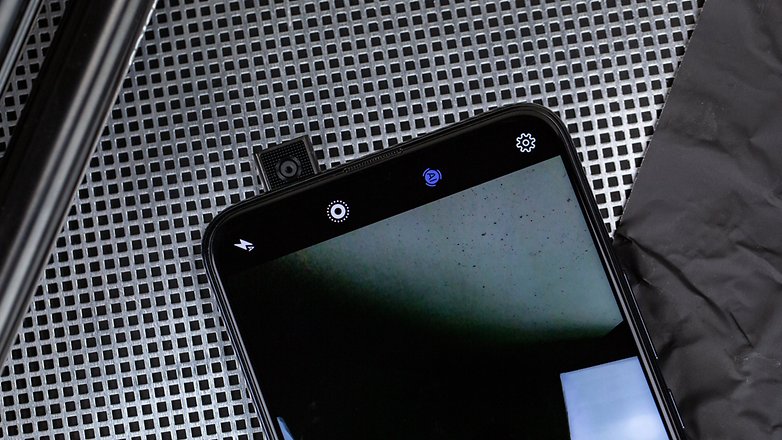 Android Pie with EMUI
Huawei has done its job and incorporated Android Pie into the P Smart Z. The latest version of the operating system arrives with its customization layer, in this case, EMUI 9.0.1 and security patch from March 1, 2019.
If you're already familiar with EMUI, you'll know that it's an interface far removed from pure Android. Its negative side is the amount of bloatware that comes installed from the factory, with duplicated apps that do not provide added value. I had to spend a good time cleaning and removing apps (or disabling them, as often you can not completely delete them) until I got the P Smart Z to my liking. But not everything is negative with EMUI, which offers many options and a high capacity for customization.
Performance is solid
This smartphone is powered by the HiSilicon Kirin 710F 8-core processor, a slightly modified version of the Kirin 710 that is in many Huawei and Honor models such as the P30 Lite, the Honor 8X and the P Smart 2019 itself. In addition, it comes with 4 GB of RAM, which is satisfactory for its price.
It has a storage capacity of 64 GB, which is expandable up to 512 GB via a microSD card. Although Huawei is trying to introduce its new NM cards in its smartphones, especially the high-end ones. This time, the company has ceded and will allow us to use the classic cards.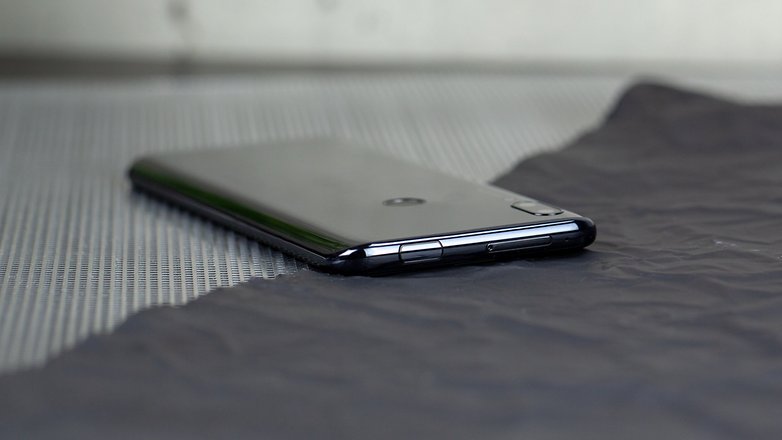 I haven't had any problems in my daily use of this device, which runs smoothly and efficiently. Although you won't find performance at the level of the best phones available, it's more than satisfactory. We have compared the P Smart Z with the latest models in Huawei's mid-range, offering very similar results, as well as with the Xiaomi Mi 9 SE, which is slightly superior.
Huawei P Smart Z: benchmark results
| | 3DMark Sling Shot Extreme | 3DMark Sling Shot Vulkan | 3DMark Sling Shot | 3DMark Ice Storm Extreme | Geekbench 4 (Single/Multi) | PassMark memory | PassMark Disk |
| --- | --- | --- | --- | --- | --- | --- | --- |
| Huawei P Smart Z | 824 | 1361 | 840 | 16361 | 1538/5391 | 11725 | 53257 |
| Huawei P Smart 2019 | 824 | 1355 | 902 | 16742 | 1522/5276 | 10584 | 54661 |
| Huawei P30 Lite | 827 | 1167 | 829 | 16849 | 1537/5393 | 11694 | 50642 |
| Xiaomi MI 9 SE | 2067 | 1990 | 2944 | 29177 | 1881/5965 | 12361 | 61318 |
Mono sound, but with a headphone jack
The sound is what you would expect for the price you pay, without big boasts but with acceptable quality and power , both through the speaker and if you choose headphones. The sound is mono, as it only has one speaker, located on the bottom right. You have to be careful with this. If you hold your smartphone horizontally while watching content or playing a game, it's very likely that you'll cover the only speaker available, so you'll have to adopt a position that's not very natural. On a positive note, Huawei continues to rely on the 3.5 mm headphone jack, as well as putting (very simple) headphones in the box.
And since we're talking about how well the Chinese brand has done in keeping the jack connection, I'll tell you about two things I miss. The first of these is facial recognition, despite the fact that the fingerprint sensor on the back perfectly fulfills its job. On the other hand, the P Smart Z does not incorporate LED notifications, something that is happening more and more with new devices. It may seem like a very basic thing, but you really miss it when you don't have it.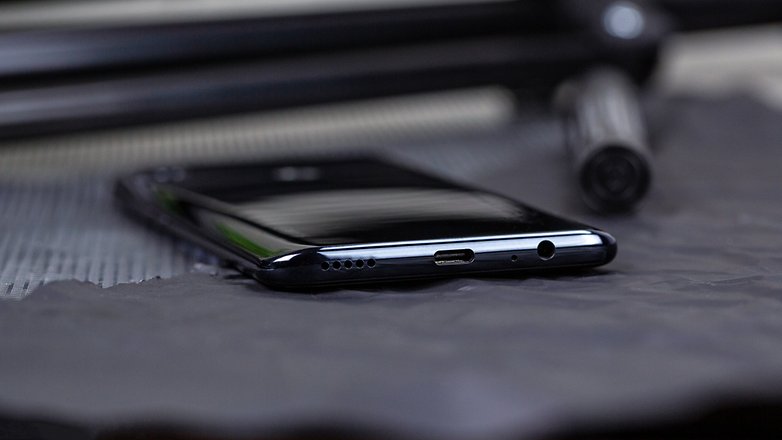 Pop-up camera with mixed results
If we talk about the camera section, all the attention goes to the 16 MP (f/2.2) retractable selfie camera , which appears only when called upon. When you open the camera app and select the front camera, the mechanism is activated, and voilà! It appears in the form of a periscope in less than a second. Although during my testing it has worked properly and it is thanks to this system we can enjoy an almost full screen, I still have doubts. What happens if it breaks? Is it robust enough? Huawei assures us that none of this is a problem, as they have tested this mechanism more than 100,000 times in all types of conditions, in addition to being able to withstand a pressure of 12 kg.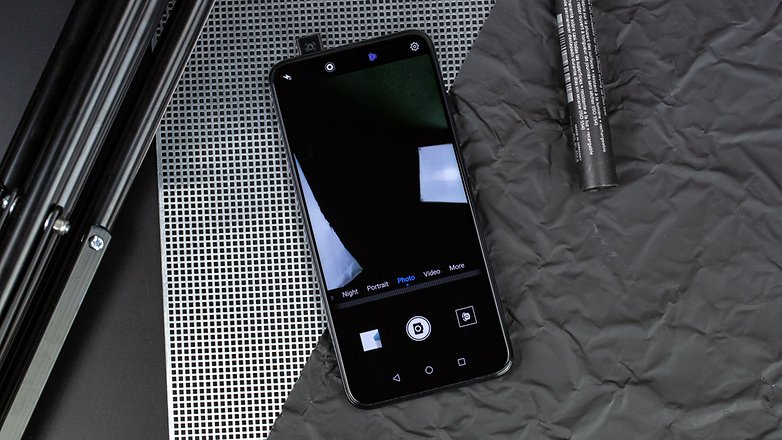 Its main camera has two lenses, one 16 MP f/1.7 aperture and one 2 MP secondary, used for the portrait mode. As usual with Huawei phones, Artificial Intelligence is very important in the camera. It is able to recognize eight different scene types quite successfully. If you are not convinced by the results, it can be deactivated with a simple click.
The application is quite complete, offering a lot of possibilities, in addition to including a night mode that is appreciated in a mid-range device. In practice, the results are discreet, with some shots capturing few details and a brightness that sometimes leaves something to be desired. If you're a little picky about your camera performance, the P Smart Z won't meet your demands.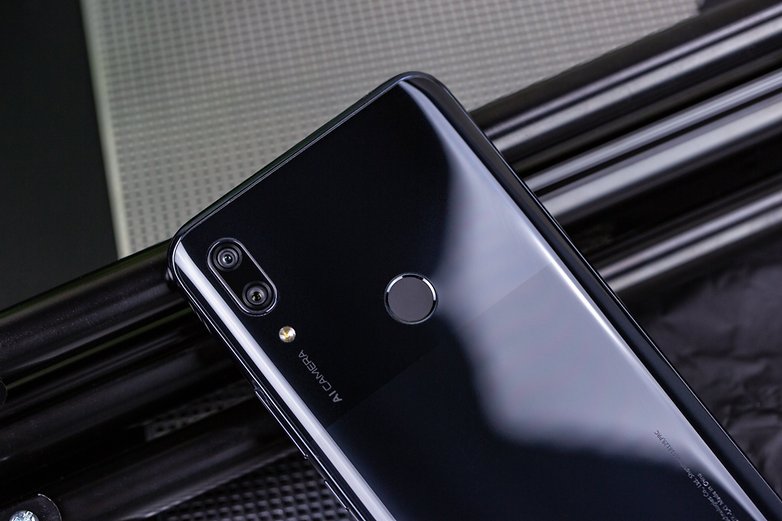 Battery that does not let you down
If there's one thing you can't complain about with this smartphone, it's the battery life. As I said, the P Smart Z is quite bulky, but it has to house its large 4,000 mAh battery somewhere. Thanks to that, this device reaches the day of autonomy without any type of complication, even reaching two days with moderate use.
Unfortunately, it doesn't have wireless charging or even fast charging: in the box, we only find a 10W charger that connects to the USB-C port.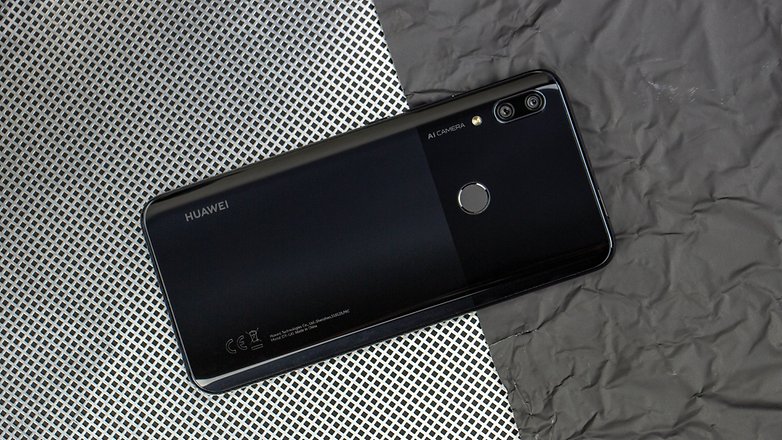 Huawei P Smart Z technical specifications
Final verdict: what is the price for a pop up camera?
Huawei has decided to launch this new device, adding a Z to its successful P Smart 2019. This can be interpreted as a nod to generation Z (those born between 1994 and 2010), possibly the generation that spends more time with their mobiles in hand and is looking for a model with good characteristics as well as an economic design. And this P Smart Z with its huge screen, its reliable range and a moderate price of 279 euros, is a good choice.
Even so, it has very tough rivals within the mid-range, whether within the same Huawei/Honor brand or other brands such as, for example, a Redmi Note 7 that costs 100 euros less. But of course, none of them have a pop-up camera...