Huawei Mate 10 Pro vs OnePlus 5T: Looking for alternatives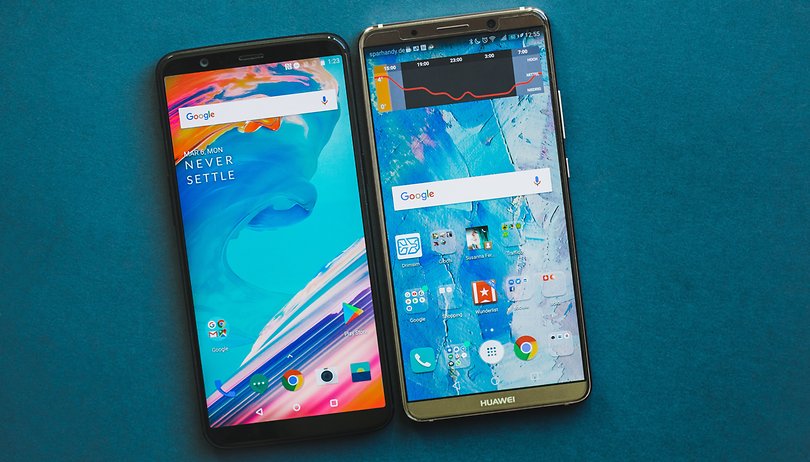 The Huawei Mate 10 Pro is currently not officially available in the US but can be found via unofficial Amazon sellers for over $900 at the time of writing. That's a lot more expensive than the similarly equipped OnePlus 5T, which starts at $499. Is the Huawei worth its price? There are many reasons why it's not. Steffen and Eric take a closer look at the Mate 10 Pro and OnePlus 5T in this comparison.
Both manufacturers' dual cameras are more or less equally good. Huawei features AI gimmicks such as portrait mode and live post-processing. Huawei's second camera has a monochrome sensor, and OnePlus uses a module that is exceptionally suited for weak light. Both cameras are good but are not as good as those on the Pixel 2 or the Galaxy Note 8.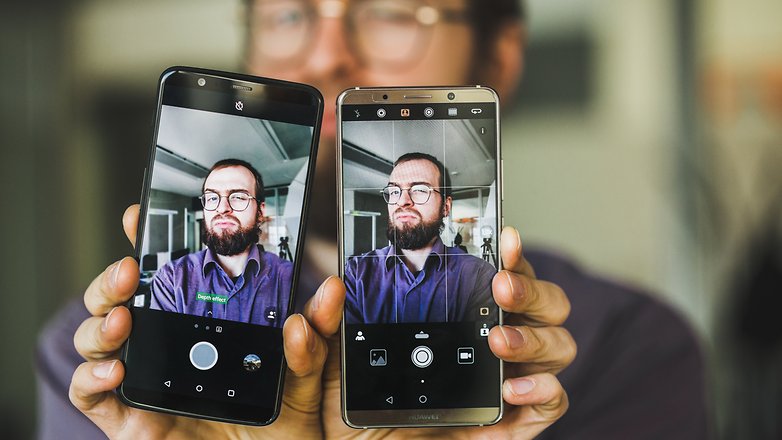 Voice quality in Huawei Mate smartphones is traditionally awesome, making them a must-buy almost for this reason alone. Background noises are completely filtered out, and noisy environments are no longer an issue.
Here's something else that's cool: The housing's loudspeakers switch to stereo mode in landscape format. Not cool at all: Huawei has eliminated the headphone jack, and I am not satisfied with any of their reasons for doing so. OnePlus achieves the same water ingress protection despite having the headphone jack (even if it cannot be certified).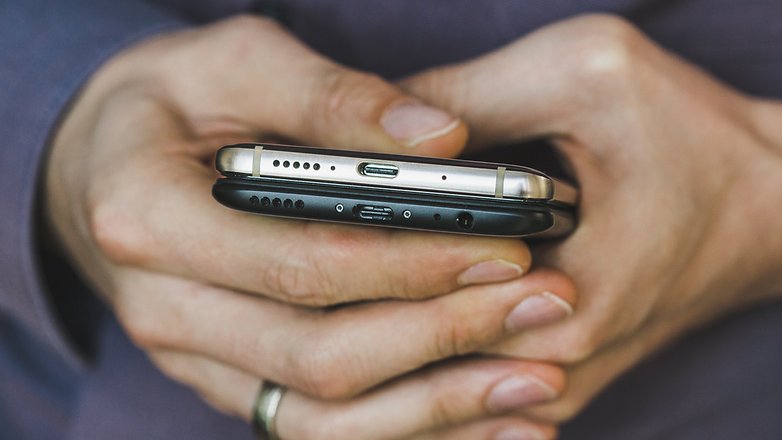 Huawei's software has more bloatware than OnePlus, although it's supposed to be a matter of taste. But above all, the state of the Mate 10 Pro review unit software is not OK from an objective standpoint. It's pretty critical when the user interface freezes so much that you can't receive incoming calls (which has happened on two review units so far).
Luckily, Huawei has not yet sold devices with this firmware. And thankfully, most reviewers have apparently fared better than we did, according to internal surveys.
OnePlus angers attentive customers in a different way: It installs apps that spy on users in the background and sends data to a foreign server without asking. This and other errors are negligence in the software that, due to their privacy aspects, are more serious than the mere quality defects in Huawei software.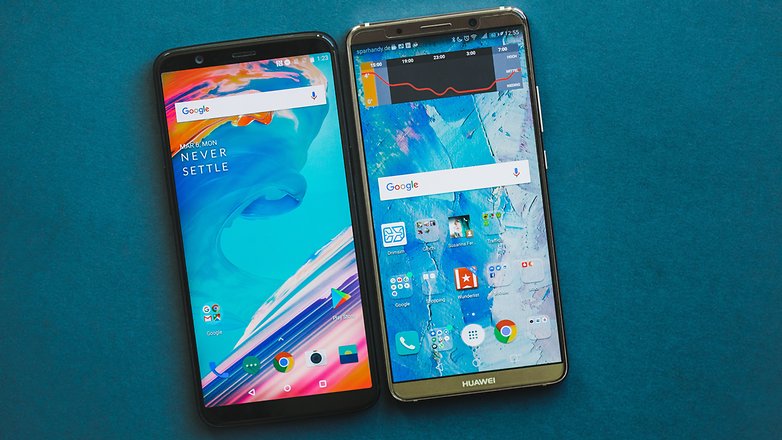 When it comes to performance, both devices go all out. OnePlus is supplied by Qualcomm, whereas Huawei builds its own chipset. Both are more or less equally fast and offer subunits for on-chip artificial intelligence. Even gaming performance is comparable on both devices; on the other hand, neither of the two manufacturers offer VR. Another bummer: Both forego memory card expansion.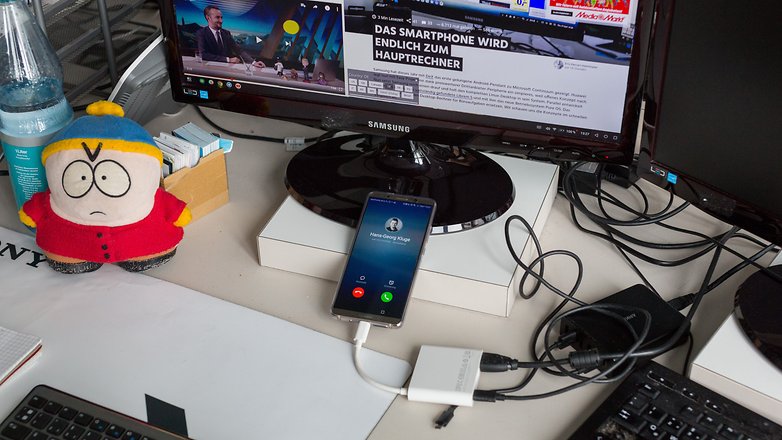 The Huawei Mate 10 Pro's new super feature is EasyProjection: You connect a conventional HDMI adapter to the Type-C port to work on a PC monitor or another large screen. Together with Bluetooth peripherals, the Mate 10 Pro becomes a rudimentary desktop workstation. Although the implementation is still a bit meh, it's still there and is therefore expandable.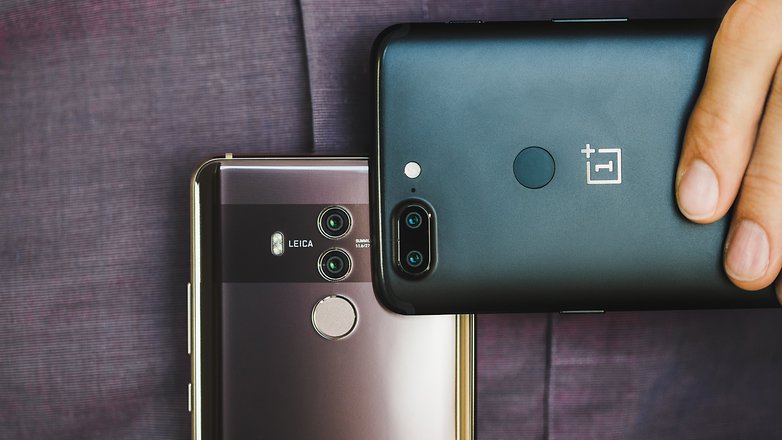 OnePlus has implemented face unlock for the first time on the 5T, which works great and is a true boon for convenience. Although the technology is not as refined as Apple's—it only works two-dimensionally—it is incredibly fast and unlocks virtually without delay. Nevertheless, the OnePlus 5T could not be fooled with a photo or a video and definitely not by a stranger's face during testing.
The Mate 10 Pro's battery life is outstanding. Huawei promises 1.8 days and keeps this promise, and it no longer achieves this by aggressively closing apps that should actually be running in the background, which was one of the weaknesses that I had suspiciously observed on earlier Huawei devices. When the battery is empty, it can be recharged lightning fast with both the original and Power Delivery power adaptors.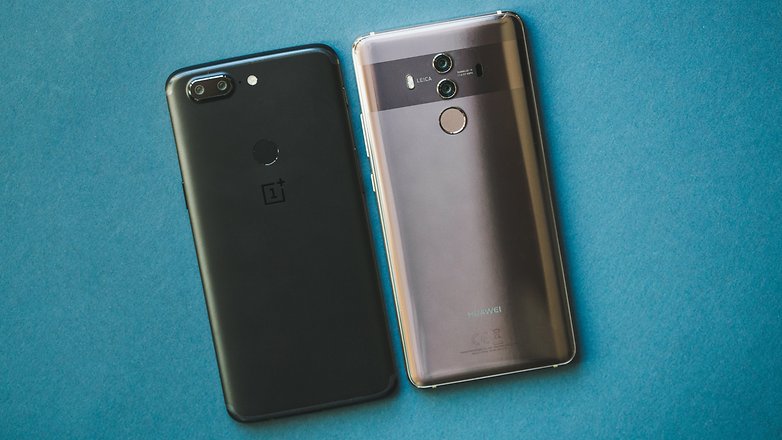 The OnePlus 5T's battery lasts for a similarly long time, and its stand-by consumption above all is very low, but there's no wireless charging here either. Instead, it has the fastest quick-charging technology on the smartphone market with the included Dash-Charge power adapter.
OnePlus 5T or Huawei Mate 10 Pro: Which one should I buy?
The Huawei Mate 10 Pro is significantly more expensive at around $900 and offers few advantages in return. Even if it would officially come to the US, it would still be a more pricy option. EasyProjection could have been a reason to buy it if Huawei were fast enough at giving the software the necessary improvements.
OnePlus has properly strutted its stuff and even outdoes competitors such as the iPhone X or the Note 8 with its face recognition on the 5T. On the other hand, its software always causes negative headlines that you can't afford to ignore. In this sense, I would currently look for an alternative to both devices, which is not a problem at this price range.
The OnePlus 5T would be the winner when it comes to the price-performance ratio. Those savings come with a price of their own, but for many users, it's still a bargain.