Huawei Ascend G7 review: a big phone at a small price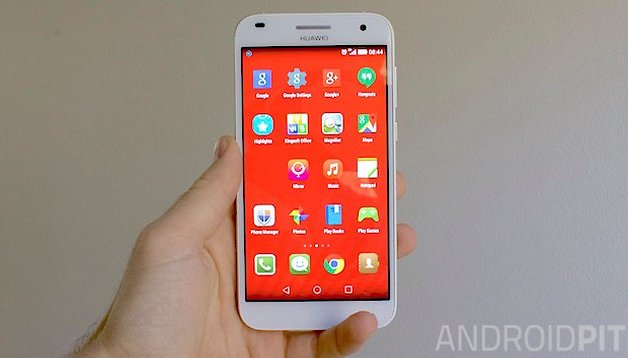 The Huawei Ascend G7 is the Chinese smartphone giant's attempt to entice those in the UK looking for a solid mid-range phone. With a 5.5-inch display and elegant metal-and-glass design, the Ascend G7 transcends its price tag by looks alone. While the performance doesn't quite match the look, read our Huawei Ascend G7 review to find out if it's still a great option if you're looking for a big and affordable mid-range handset.
Good
Biggest screen around at this price

Elegant metal-and-glass design

Good camera

Generally fast performance
Bad
Occasional lag even when not under load

Poor graphics power
Huawei Ascend G7 release date and price
The Huawei Ascend G7 release date was in March, so it's widely available in the UK and Europe now. The Ascend G7 price stands at £149.99, placing it in the entry-level/budget pricing bracket. Huawei also told us that it's expected to be released across Europe with a similar price tag soon after, while a US release is yet to be confirmed.
Huawei Ascend G7 design and build quality
The Huawei Ascend G7 looks every bit the premium smartphone. The front is all glass, with a glass bezel that extends from the screen to the edges of the phone. Underneath the glass, the bezel is white, with a fine grid pattern giving it the illusion of texture (be warned that this is merely an illusion and the phone is actually quite slippery).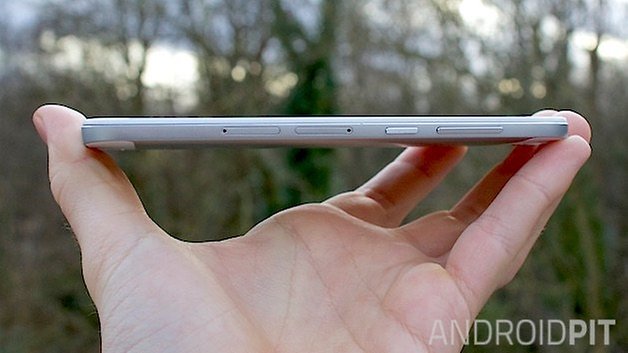 Aluminium bodies are de rigeur among smartphones these days, and the Ascend G7 joins the trend with its aluminium rear and sides. There are plastic strips at top and bottom of the phone's rear so that the antenna and other internals relying on wireless signal can communicate with the outside world. At the top of the rear is a slightly offset 13MP camera, with the LED flash in the middle - a design choice which may lead to bigger hands (which are a prerequisite for using this phone) sometimes making an unwelcome appearance in the top corner of photos.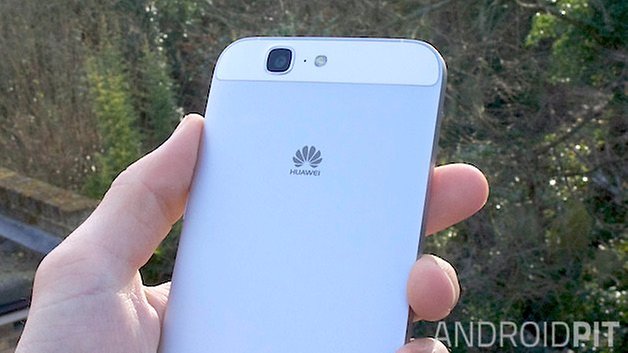 Another interesting design choice was to squeeze the volume and power buttons, and SIM and microSD (up to 32GB) slots all on the right side of the phone. While not having buttons and slots scattered on all sides of the phone makes for a clean look, the close proximity of the volume and power buttons inevitably means you'll often not press the button you intended. Rounding off the Ascend G7's design is a headphone jack at the top and microUSB port at the bottom of the phone.
Huawei Ascend G7 display
At 5.5 inches, the IPS screen on the Ascend G7 is a beast that'll satisfy those on a budget looking for plenty of screen real estate. This comes at a cost of pixel resolution, which stands at 267 PPI. While this lower than the 294 PPI of the Moto G (2014) – the G7's rival at this price point – we think that the extra half-inch of screen space more than makes up for the slightly lower clarity.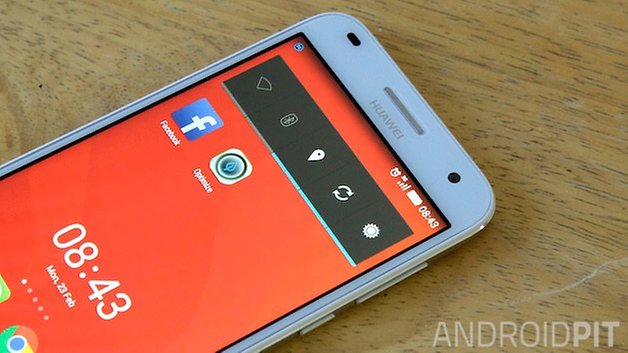 Most colors on the screen are vivid, although whites and yellows suffer from a slight case of murkiness. Viewing angles are a non-issue on the Ascend G7.
Huawei Ascend G7 software
The Ascend G7 packs Android 4.4.4 KitKat and Huawei's Emotion UI 3.0. The new Emotion UI adds some welcome slickness to the Huawei's phones. EMUI 3.0 lets you resize homescreen grids and icons.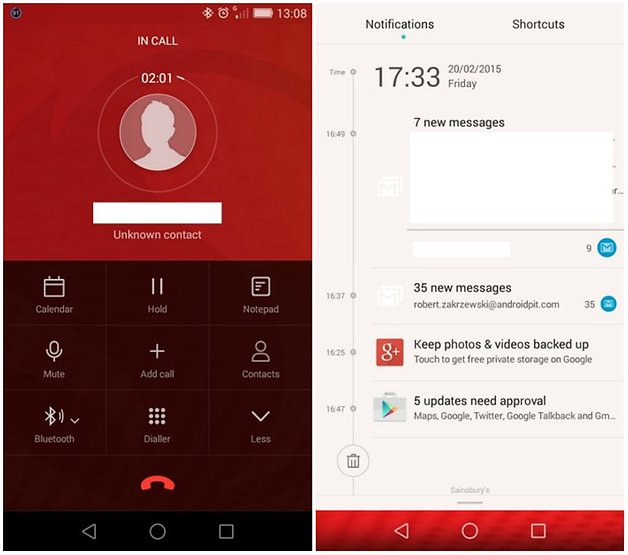 One of the handier software features is during calls, when you can tap an arrow to bring up shortcuts to the Calendar and Notepad apps on the phone – which are both likely to come in handy during a call. The notifications menu has an interesting design too, with a timeline down the left side of the screen showing when you receive notifications.
The most frustrating thing for me about the UI is that it doesn't have a dedicated 'Installed apps' screen, instead throwing every installed app onto the homescreens. There may be some who like this iOS-esque approach, but for me it feels like I've just bought a new home and the previous owners left all their furnishings there - sure I'll keep some things, but for the most part I'm looking at a lengthy cleanup job just to get things arranged how I like them.
Mercifully, there aren't too many superfluous apps crammed onto the Ascend G7. It comes with the latest version of Kingsoft's WPS office – a decent suite for document creation.
Huawei Ascend G7 performance
On paper, the Ascend G7 specs are impressive, as it packs a powerful phone packing a Snapdragon 410 chipset with quad-core 1.2GHz Cortex-A53 processors and 2GB RAM. This makes the phone reliable enough for standard tasks like browsing the web, sending emails, and watching videos.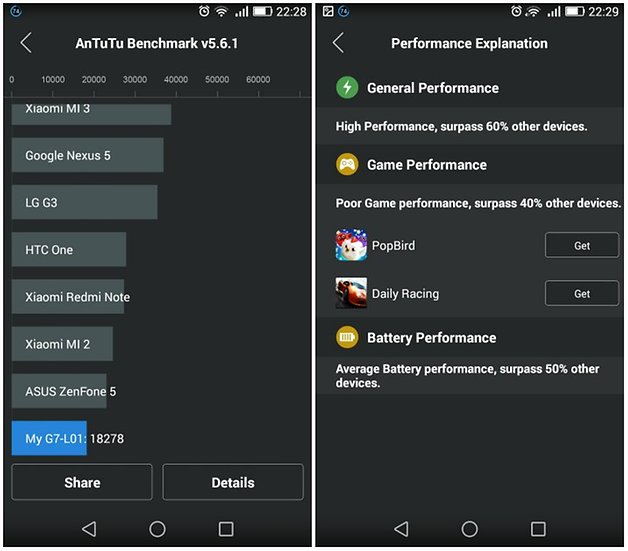 However, we experienced some inexplicable lag when using the Ascend G7. The framerate on the lockscreen, for instance, gets a bit jittery, sometimes making it difficult to use. The same sometimes happens with the Notifications menu and occassionally web browsing. Given the otherwise smooth running of the phone, we're hoping this is something that will get ironed out in a forthcoming update.
For all its screen size, the Ascend G7 is not a great gaming device, so don't expect to play the latest first-person shooters or the wonderful Limbo with much pizazz. In this day and age of great indie development however, there are plenty of creative and enjoyable 2D games out there to enjoy, so you're not missing out on too much.
Huawei Ascend G7 camera
Huawei is spoiling us by treating us to a 13MP camera with a sizeable F2.0 aperture. As with the Ascend P7, the Ascend G7 features Sony's 4th generation BSI sensor, minimising noise in pictures. Overall, the camera performs very well. It does an apt job in low-light conditions, though is prone to a bit of over-exposure in daylight .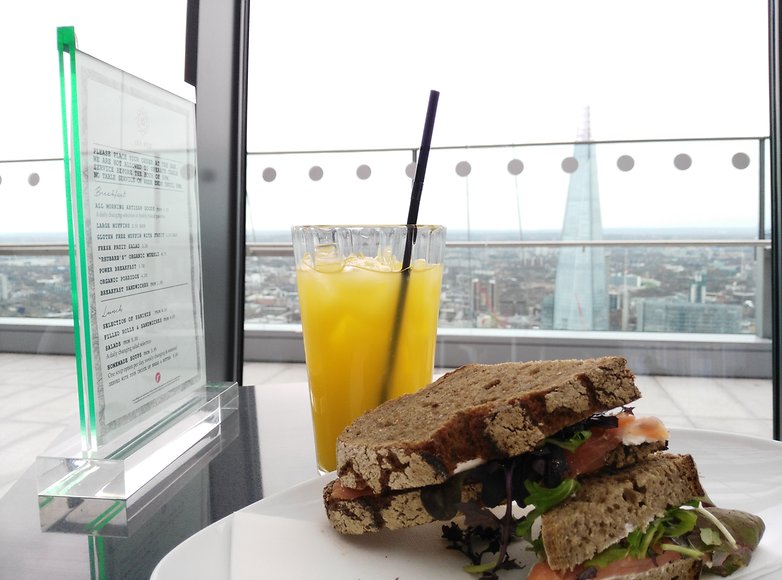 The camera software has plenty of handy features, such as 'Capture smiles' – which automatically takes photos when it detects a smile – and the ever-useful option to use the volume button to snap photos. It's just a shame that the camera options cover the whole screen, because you can't see adjustments – such as exposure and contrast – in real-time as you're making them. This is a small niggle however, in what is otherwise an excellent camera at this price point.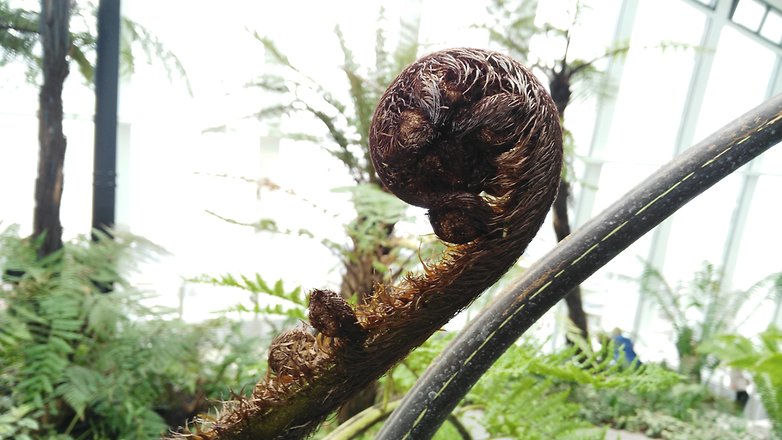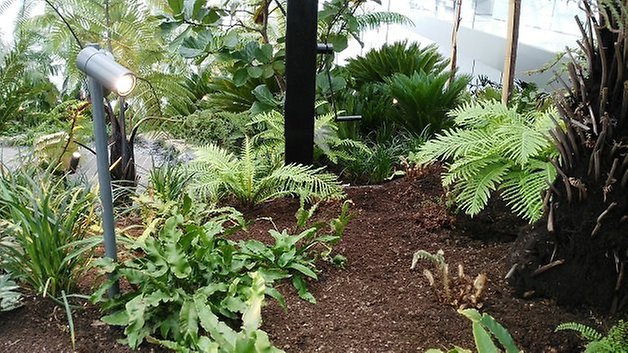 Huawei Ascend G7 battery
The non-removeable 3000 mAh battery in the Ascend G7 goes a reasonably long way from our testing. You'll get over a day's use out of it if you're not pushing it to the limit (a task made easier by the fact that 3D games are virtually unplayable on it). Huawei claims that if you use the G7's energy-saving mode, then it can last an extra 24 hours with just 10 percent battery, but we were unable to test this feature.
Huawei Ascend G7 technical specifications
| | |
| --- | --- |
| Dimensions: | 153.5 x 77.3 x 7.6 mm |
| Weight: | 165 g |
| Battery size: | 3000 mAh |
| Screen size: | 5.5 in |
| Display technology: | LCD |
| Screen: | 1280 x 720 pixels (267 ppi) |
| Front camera: | 5 megapixels |
| Rear camera: | 13 megapixels |
| Flashlight: | LED |
| Android version: | 4.4.4 - KitKat |
| User interface: | Emotion UI |
| RAM: | 2 GB |
| Internal storage: | 16 GB |
| Removable storage: | microSD |
| Chipset: | Qualcomm Snapdragon 410 |
| Number of cores: | 4 |
| Max. clock speed: | 1.2 GHz |
| Connectivity: | HSPA, LTE, NFC, Bluetooth 4.0 |
Final verdict
The Huawei Ascend G7 is the frugal person's big phone of choice. A large display is a priority for plenty of people, and if you're not keen on splashing out for a pricey Google Nexus 6, Huawei Ascend Mate 7, or even the more affordable OnePlus One (which is still around £100 more than the Ascend G7), then this is well worth a look. With its aluminium body, it also looks more like a premium than an 'affordable' device.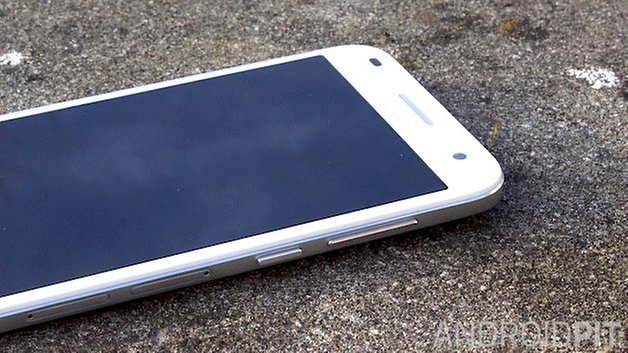 For the most part, the Ascend G7's internals match up to what you'd expect of a mid-range phone. It doesn't pack much graphics power, but does most standard smartphone tasks smoothly - barring the strange slowdowns on the lockscreen and notification menu. Lollipop-style UI elements - such as the navigation buttons - deceive the fact the Ascend G7 runs KitKat (with no news yet of the Lollipop update), which is worth bearing in mind if you like to keep on top of the latest Android updates.
All in all, the Huawei Ascend G7 is one of the best - and biggest - phones around at this price, and gives the smaller - yet more refined - Moto G (2014) a run for its money.
Do you agree with our Huawei Ascend G7 review? Have you bought one and had a different experience? Let us know.