HTC One M7 review: An Android Superhero!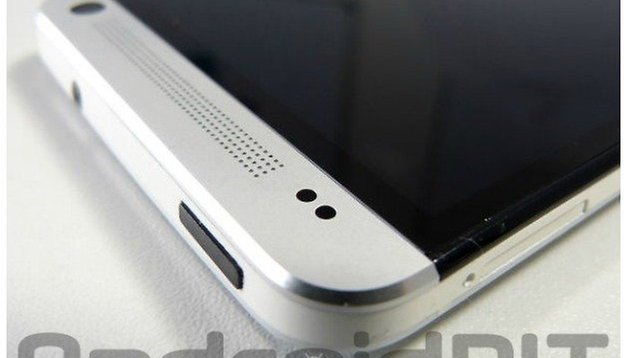 HTC is getting back to basics: after starting a long One series over the past few years with One X, One S and One V, the manufacturer has presented its master smartphone at the start of 2013. With its minimalistic design and technological superiority, the flagship makes all if its predecessors look old-fashioned and teaches its competitors the meaning of fear. The HTC One ups the ante for the Android Champion league and its pros heavily outweigh its cons. When putting the challenger to the test, is this device as good in practice as we expect it to be? The naked truth will be revealed to you in today's hands-on test.
Good
Display

Design/material

Performance

Sound
HTC One design and build quality
HTC has put all hopes in one hand with its new flagship, the HTC One. It's been a losing battle for the Taiwanese company over the last little while as they experienced less than desirable sales, never really finding their way back to the road of success. This bad luck was fueled by many unfortunatly occurrences like oddly planned product politics and marketing decisions, bad support, missing and late updates, the list goes on.
That's why it was crucial for HTC to finally have a bout of success. With the HTC One, the chances look good. Once you have the device in your hand, I admit it's hard to give back. Whether you are a Samsung hater or not, the thought of switching the sleek aluminum chassis for the shiny piece of plastic, the Galaxy S4, is not a pleasing thought.
You can only really get a sense of how successful HTC is with its new cool device when you actually have the smartphone in your hand for the first time. It's uni-body's backside is made of luminescent aluminum, it has a display made from Gorilla Glass and is accented with white and black plastic. When combined, these give it a flattering look as it lies in the palm of my hand. Thanks to its slightly bent back, it sits perfectly in your hand. The coolness of the aluminum leaves an elegant impression; its weight gives it a stable sensation. The craftsmanship is impeccable, the pieces fit seamlessly together, free of rattling or moving pieces. The only hardware buttons are the volume control and the power button. Behind these hide infrared sensors that transform the device into a remote control.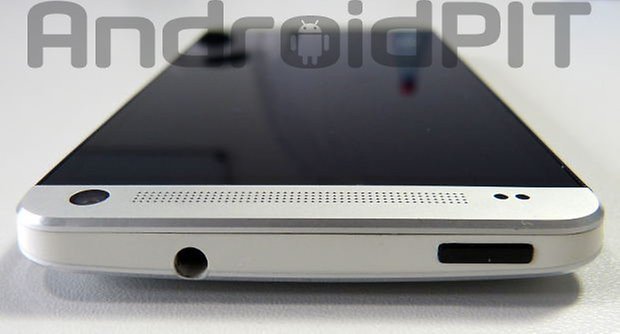 There are also very few openings. On top you have the earphone jack, underneath a microUSB slot, which doesn't flaw its otherwise sweet-looking exterior. The only feature, which bugs the HTC One's nearly perfect design, is the power button found on the top left side. This makes it impossible for left-handed people to activate the lock-screen using one hand only. Placing it on the side would have been friendlier for everyone. That being said, I don't have anything else to complain about in this category.

HTC One display
The scratch-proof Gorilla Glass protects one of the best displays available on the market right now. Yet when comparing it to the Galaxy S4, it doesn't compete in terms of brightness. When placed next to the Sony Xperia Z and the LG Optimus G, the HTC One comes out a clear winner. The full HD resolution (1920x1080 pixels) and the 4.7'' diagonal screen display result in a pixel density of 468ppi. This makes individual pixels disappear for the naked eye. The visual angle is also paramount; even when tilted it at the extreme horizontal perspectives, the display content is still quite recognizable. Unfortunately we couldn't test out the readability in direct sunlight because of the constant snow and overcast state that Berlin is currently experiencing.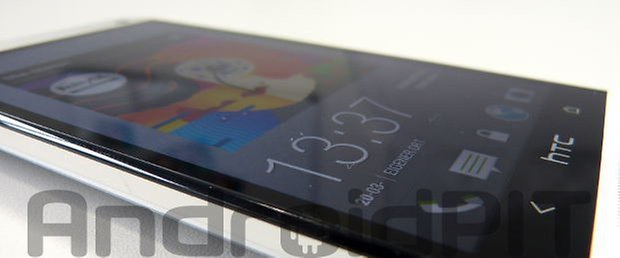 HTC One software
HTC offers the One with Android 4.1.2 and as usually, the user interface Sense. The HTC One is the very first device, which offers the most recent version of Sense 5. It appears refreshingly cleaned up and serious compared to older versions. The company has made an effort in making its device look high-end and to offer the client not just an excellent device technology-wise, but also the attractive-looking whole package.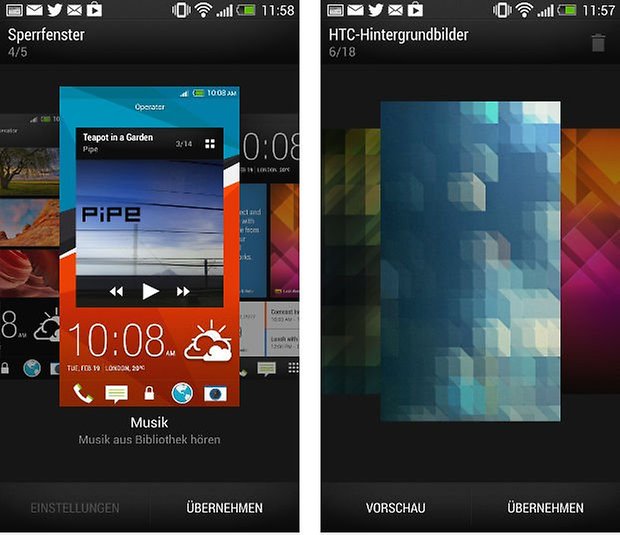 Whether you keep Sense is a matter of taste. It's user-friendly and setting up its widgets, backgrounds and themes is can easily be carried out. The most important settings are found without any lengthy searching. Extra features like lock-screens, music, news-feed and picture gallery apps are also at your disposal. The launcher found under the display's edge is divided into four standard apps: telephone, messages, browser and camera. Changing or customizing them can be accomplished by going through another route.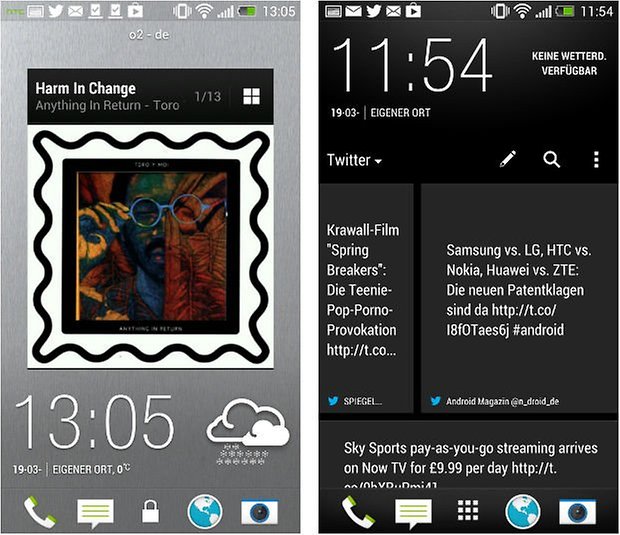 The advertized BlinkFeed, found on HTC One's home screen is also not quite what I had expected. It's a live-feed and an RSS-Reader in one and delivers non-stop news from Facebook, Twitter and/or your customized news sources. A few channels and categories are there by default and you're not able to add other sources. This way the user is assigned a few pre-selections chosen by HTC. BlinkFeed loses a lot of points because of this. What's more, the automatic synchronization is sometimes limited to WLAN connections, protecting your data from being completely milked. You can't actually completely suppress the BlinkFeed either, nor can you completely displace it on your phone.
The help offered by HTC, which is at your service right when you purchase your first smartphone. There are several possibilities to transfer data from older devices with the HTC transfer program that is offered through Play Store. You can also configure your smartphone via web-setup to your PC, in order to open email accounts, choose backgrounds and install data.
Another note-worthy feature is the audio-software BeatsAudio, an HTC standard. The manufacturer works with studio quality, which you can't actually hear using normal headphones. The sound is surprising and is produced by stereo speakers along with BoomSound software. Listening to music with HTC One is enjoyable, even with smartphone speakers. The sound comes out crisp and if you listen a little closer, you can even hear a bit of bass.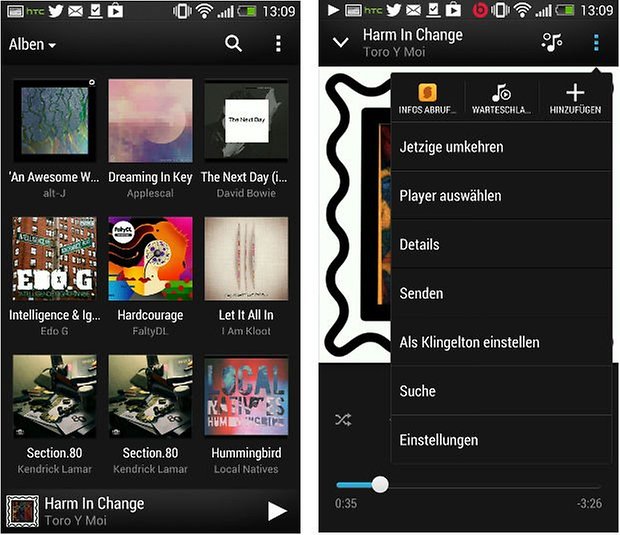 The smartphone lets you enter words just like Swype, instead of typing them in. During my test, it worked quite well, only fudging up my words a few times when writing up an SMS or a WhatsApp message. I needed about five tries before it recognized the word ''joke''. After a while, you get the hang of it and then it goes smoothly. If you compare it to other devices though, the keyboards belonging to LG Optimus G or Sony Xperia P work much better.
HTC One performance
HTC One is decked out with a Snapdragon 600 processor and a 2 GB memory. The quad-core chip from Qualcomm beats at 1.7 GHz, making it one of the fastest processors on the market, bestowing HTC One with a speed that lives up to expectation. The device and its navigation components run as fast as lightening, without any lag-time, freezing or other problems.
Photo taking worked like a dream and my music was only paused for a second or two when snapping a few pics. With older versions, it was often the case that the music will pause when using the camera (or anything for that matter) and you need to manually start it up again. The HTC One allows you to comfortably snap pictures and listen to music uninterrupted.
Normal usage will lead to a device warming up, making it the perfect hand warmer for those especially colder temperatures. However it's expected that high-end smartphones remain cool. But when it comes to performance, the HTC One is a real powerhouse as you can see in our Quadrant and AnTuTu tests.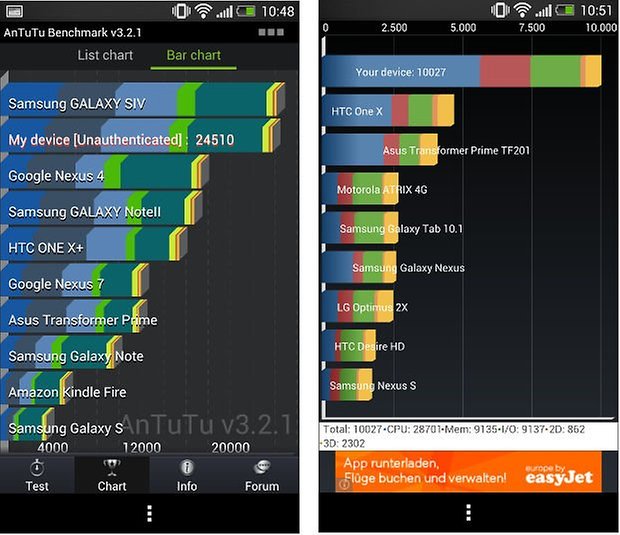 HTC One camera
At the heart of HTC One's many great features lies the camera. The company has ventured in a whole new direction with its ultra-pixel technology and has presented a one of a kind camera for its smartphone. Instead of simply stagnating with the normal 13 MP that most of the other sought-after smartphones have, it dives right into using a 4 MP sensor. What's achieved are bigger pixels that supposedly capture more light, reduce image noise and improve the overall quality.
This isn't just a theoretical enhancement, it worked when put into practice too. The results were fantastic and were even more impressive on a computer screen. On the other hand, I was left with another impression when it came to the automatic mode, which was tested while comparing the camera along with other high-end devices(Galaxy S3 and Xperia Z). The colors fell flat, especially when there was little light. Perhaps the reason for this is that HTC optimized its camera software for the production of smoother pictures with less saturation and color noise. When zooming in, it looks as if the image has been flattened out. The details in zoomed-out pictures don't look very good; close-ups are more acute and detailed.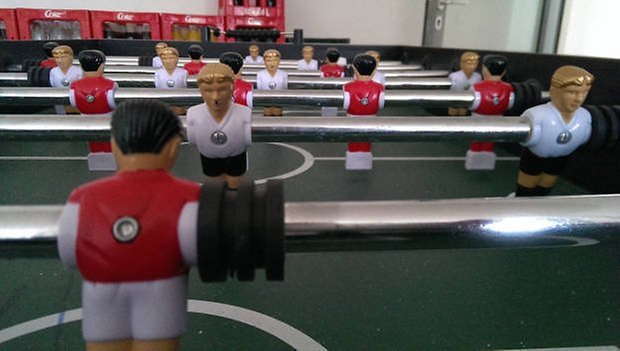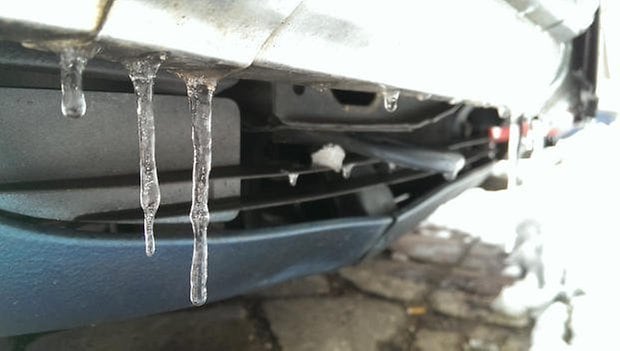 Honestly, I'm being a little nit-picky since HTC One has clearly completed leaps and bounds when comparing it to other devices. I wasn't able to prove its promised 300% more light during our testing. Even the front camera can take HDR pictures, though the results are less than promising. The front lens is impressive with its wide-angle and high representational quality.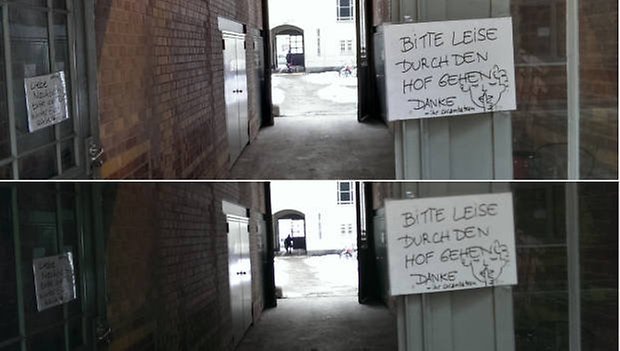 Using the panorama function was a blast. In my first test, I simply turned around on one spot, which then resulted in a good quality, awesome 360º picture.

HTC Zoe is yet another nice feature, whose software amalgamates multiple pictures and short videos into small clips. These can then be shared on any of your social networks. You'll have to activate the Zoe function in the camera menu in order to accompany a photo with a three second long clip with sound.
HTC One battery
HTC One has a built-in, non-removable battery with 2300 mAh, which doesn't do much to set it apart from its competitors. Its capacity is more than sufficient for day-long usage, however when I tested it out for the first time, it didn't leave a very good impression. After about seven hours, the battery was almost completely milked. This also had to do with the fact that I was heavily using it to sync all of my data from my older device, listen to music, take test pictures and set up Facebook email and Twitter accounts. This tuckered the poor lil guy right out!
On the other hand, when I used the device as someone would on any normal day, it was more than promising. Throughout the day I used it for music, mobile internet (emails, Whatsapp, Facebook, Twitter), Google Maps with GPS, about 10 minutes of photo taking and four calls lasting from 3 to 5 minutes. Once I got home, the device was in desperate need of power. Its energy saving plan lets you scrape a few more minutes out of the remaining power reserves. All in all, its battery performance did well, but I wouldn't compliment it too much for its endurance.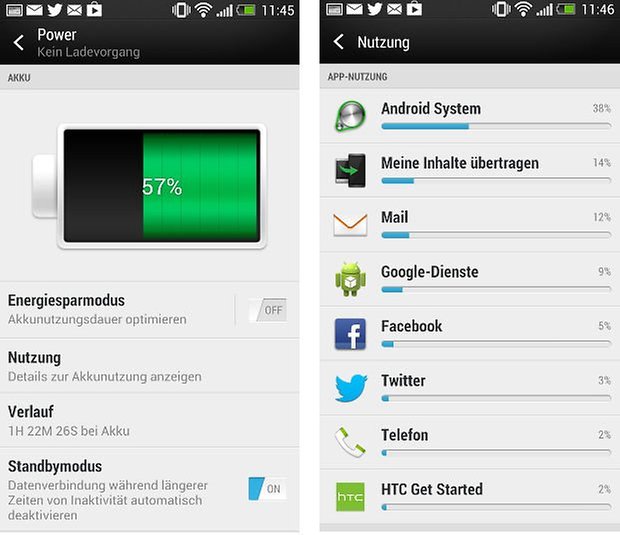 HTC One technical specifications
With the ONE, HTC decked it out with all the bells ans whistles, making it one of the best available on the market. The 4.7'' display offers a impressive pixel density, the Snapdragon S600 processor with the software creates a powerful combination and the camera is one of the best android cameras of the moment.
Final verdict
HTC has created a classy device with its new flagship, launching the manufacturer out from Samsung's shadows. Along with its first class hardware, HTC made some crucial decisions. For one, the design is distinct and sophisticated with a luxurious look and feel. The display makes for some eye-popping visuals with its 468 ppi, one of the highest resolutions at the moment. The device could even be an Apple relative; its aluminum chassis is reminiscent of the look and feel that Apple Macbook Pro exudes.
In comparison to other top-notch devices, the stereo speakers' sound optimized rocking-out music. The camera is a shutter-bug's dream with stress-free picture-taking, even though the final results weren't as good as promised. The HTC Sense overview has a styled and cleaned-up look and goes well with the phone's exterior. A downside for me was the BlinkFeed, which isn't for everyone. HTC offers the whole package and leaves little room for complaints. It easily takes a stand as a worthy competitor against the Samsung Galaxy S4.
Lastly, the cultivated HTC has claimed a title of underdog in that it has ventured away from the mainstream. It's the smartphone for the high-maintenance user, who wants something extra, something that not everyone has. Yes indeed, HTC One is definitely something else and has arrived just in time. Whether it remains a niche product or explodes into the mass market is yet unknown. The answer will be revealed when it finally rolls out in the coming weeks (some are luckier than others and will get the device sooner. Others like North America will have to wait.) It's more than possible that the Taiwanese company, with the HTC One, will climb its way back to the top.