HTC One mini 2 vs HTC One mini: the mini just grew up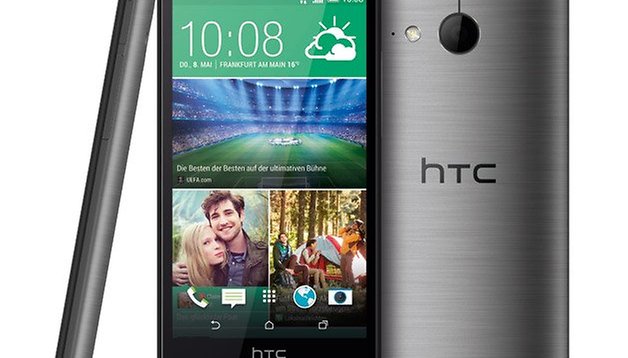 Because the HTC One mini 2 has practically nothing in common with the HTC One (M8), the best thing to compare it to is the previous version of the HTC One mini. That device also had very little in common with the then-flagship One, other than the same design. But the original One mini added a polycarbonate plastic trim to the device that many felt cheapened the HTC One brand. So how has HTC addressed the issues with the HTC One mini 2?

Design and Manufacture
HTC has stepped up to the plate boldly with the One mini 2. While it doesn't quite get the same unibody aluminum capsule the One (M8) received, it is a pleasure to behold. The same curved metal bowl holds the components together before transitioning to a rubberized plastic (reminiscent of the Nexus 5) at the edges before it meets the Gorilla Glass protecting the screen. It feels great, combining that premium build quality HTC is renowned for with the practicality of a sticky rubber edge for improved handling and grip. The smaller size of the device makes it a pleasure to hold too, even if it is 15 grams heavier than its plastic counterpart.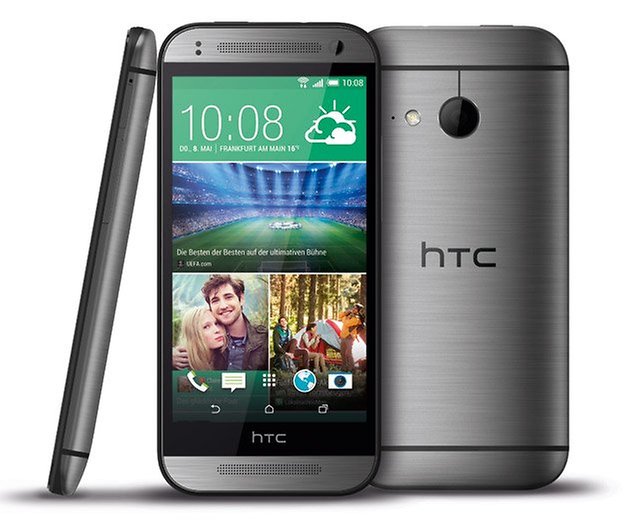 The HTC One mini on the other hand came in a slightly chunky looking polycarbonate plastic housing that almost looked like a bumper case. It had a glossy, almost ceramic sheen to it, that was widely accused of making the One mini look cheap. It was practical, to be sure, and kept the costs and weight down, but the One mini 2 takes the same challenge and delivers with style. The original One mini had sharper corners and was a little shorter than the One mini 2. Nevertheless, the latest mini is the clear winner here in my opinion.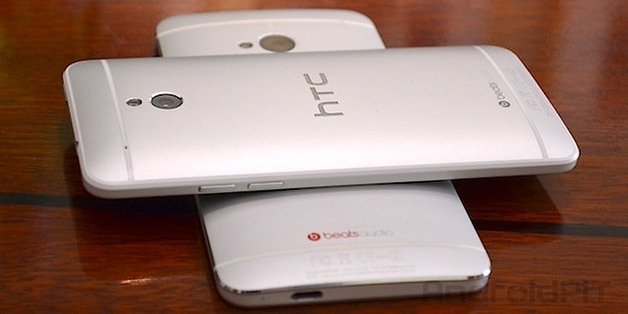 Display
The One mini 2 gets a slight display diagonal bump to 4.5 inches up from the original one mini's 4.3 inches. This may seem like a boon for the new One mini but the same display resolution has been used (1,280x720 pixels), meaning the HTC One mini 2 has a lower pixel density (326 ppi) than its predecessor (342 ppi), a very odd move in today's bigger is always better environment. Both devices have a Super LCD2 display covered by Corning Gorilla Glass 3 and pack Adreno 305 GPUs.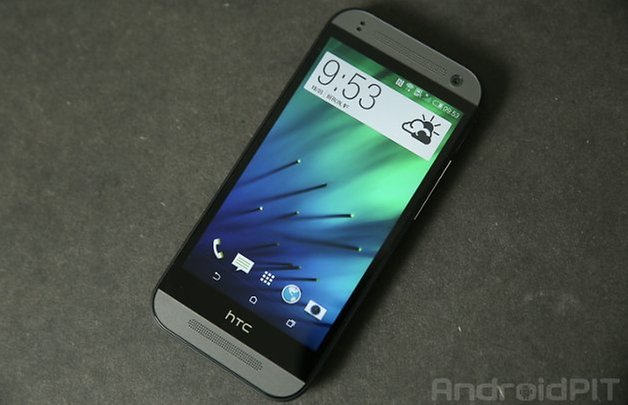 Both screens are framed by rather large bezels and the same front-mounted BoomSound stereo speakers, which occupy large tracts of chassis above and below the screen. The One mini actually seems to have made better usage of this space though, and offers a better ratio. The One mini 2 does have the benefit of moving the capacitive buttons on-screen though, although you still get that black band with the HTC logo taking up space, meaning you actually lose more of that additional screen real estate to the on-screen button/logo bezel combo.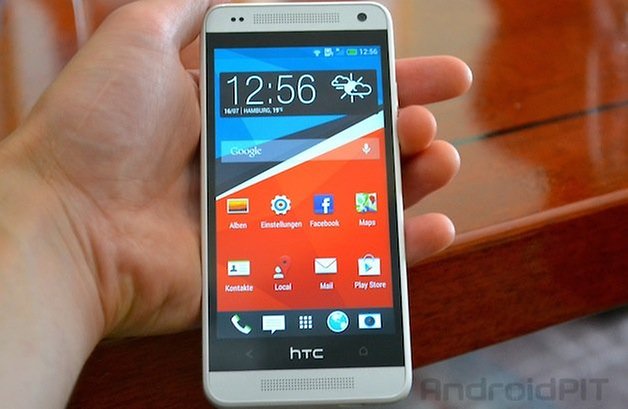 Interface and software
I won't go into much detail about the HTC Sense interface here, as you either love it or hate it and the two devices don't currently share the same version. It is currently unknown if the HTC One mini will make the jump to Sense 6, which comes preloaded on the One mini 2, but it seems highly likely sooner or later, most likely around May-June if the rumors can be believed. As it stands though, the One mini 2 has the original One mini trumped on UI. The One mini 2 doesn't however, include some of the nice software features we saw on the One (M8), like Motion Launch gestures. We'll have more info on the One mini 2's software features once we've had more time to do a full review. Both devices run Android 4.4.2.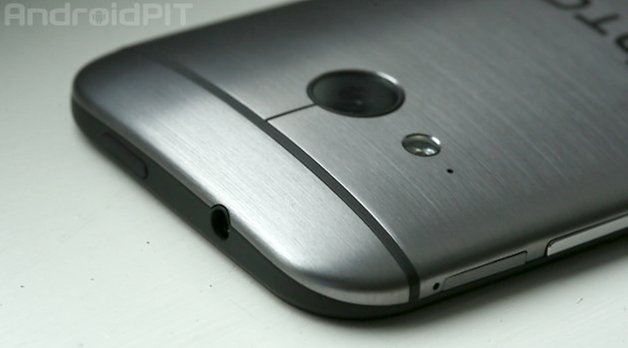 Camera
Without having had sufficient time to do a full camera test between the two devices we'll keep this part of our comparison to the specs. Considering the HTC One mini 2 is not in its final production version yet either, it would be unfair to compare it with the existing One mini. On paper though, the One mini 2 is a significant change from the One mini, which had a 4 MP UltraPixel camera. The new mini has switched out HTC's UltraPixel technology for a standard 13 MP shooter, a fact that will have many people happy. HTC never really sold the UltraPixel concept very well to customers, who mostly see a significant drop in megapixels and are technically unable (as I am, admittedly) to fully grasp just how UltraPixels compare to ''normal'' megapixels. Once we do a full camera test though you'll be able to see the results for yourself. The One mini 2 also gets a selfie cam boost from 1.6 MP to 5 MP. Again, based on paper alone, I'd have to give it to the One mini 2.
Hardware and performance
The One mini 2 is, naturally, a step up on the specs from the original One mini, but in which respects? Both devices run a Snapdragon 400 processor, although the One mini 2 ticks at 1.2 GHz (Krait 400) on a quad-core SoC while the One mini is a dual-core processor clocked at 1.4 GHz (Krait 200). Both devices have 1 GB of RAM in support but those additional cores will make a significant difference, even with a lower clock speed, so you can expect the One mini 2 to have a nice speed boost when compared to its predecessor.
On the hardware front, both devices have BoomSound stereo speakers mounted up front and sensors positioned to the left of the upper speaker grill. The front-facing camera lies to the right. The One mini has a 1,800 mAh battery while the One mini 2 gets a 15% capacity hike to 2,110 mAh. The One mini 2 gets an additional LTE band (2,600, Cat 4) and the cherry on top, a microSD expansion slot, for up to 128 GB of additional storage. Both devices come with 16 GB of built-in storage.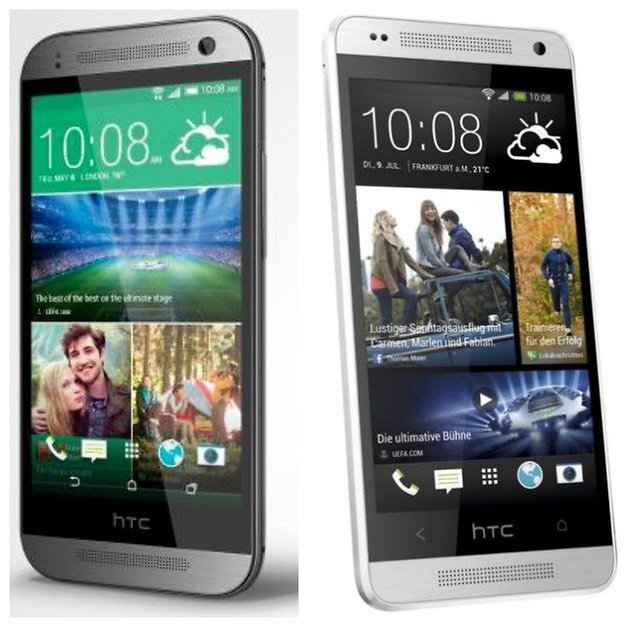 Technical specifications
| | | |
| --- | --- | --- |
| | HTC One mini 2 | HTC One mini |
| Build material | Aluminum, rubberized plastic | Polycarbonate |
| OS | Android 4.4.2/ Sense 6 | Android 4.4.2, Sense 5.5 |
| Display | 4.5-inch, Super LCD2 (1,280 x 720), 326 ppi | 4.3-inch, Super LCD2 (1,280 x 720), 342 ppi |
| Processor | Quad-Core Snapdragon 400, 1.2 GHz | Dual-core Snapdragon 400, 1.4 GHz |
| RAM | 1 GB | 1 GB |
| Internal storage | 16 GB | 16 GB + microSD (up to 128 GB) |
| Camera | 13 MP (back), 5 MP (front) | 4 MP UltraPixel (back), 1.6 MP (front) |
| Battery | 2,110 mAh | 1,800 mAh |
| Connectivity | GSM, CDMA, HSPA+, LTE, Wi-Fi, Bluetooth 4.0 | GSM, CDMA, HSPA+, Wi-Fi, LTE Bluetooth 4.0 |
| NFC | Yes | No |
| Waterproof | No | No |
| Dimensions | 137.4 x 65 x 10.6 mm / 137 grams | 132 x 63.2 x 9.3 mm / 122 grams |
| Price | 449 EUR (at launch) | 449 EUR (at launch) |
Conclusion
While there's a few areas where I think the original One mini is better, or at least on par, with the new One mini 2, it's pretty obvious that HTC have made some wise choices in the new mini mix. The two most significant ones of all though would have to be the ditching of UltraPixels (despite HTC vowing to stick to their guns) and the inclusion of microSD expansion. These two decisions, combined with a larger battery fulfill the trifecta of what most smartphone customers want the most: good camera, good battery and expandable memory (both devices had the same launch price). Add to this the sexy new design of the One mini 2 and you've got a mini that will appeal to a lot more people than the original one did.
Do you think HTC made the right changes to the mini mix? What would be in your perfect mini smartphone?