HTC One M9 vs iPhone 6 comparison: can HTC take a bite of the Apple?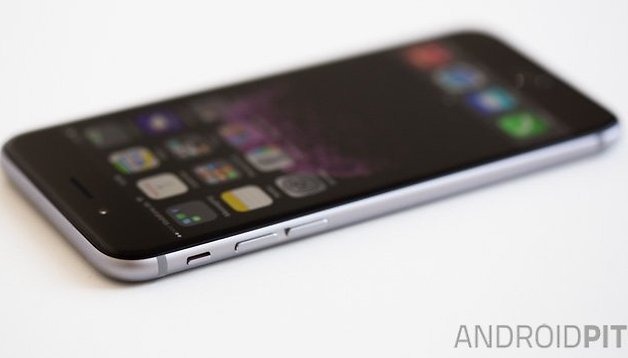 The iPhone 6 and HTC One M9 are not so very different from each other. They're both phones with excellent reputations for looks and design, sporting rounded edges and all-metal bodies. Conversely, neither phone goes all-out on the specs, rejecting the trends for QHD resolutions and super-powered cameras. Which one of these comes out on top? Find out in our HTC One M9 vs iPhone 6 comparison. NEXTPITTV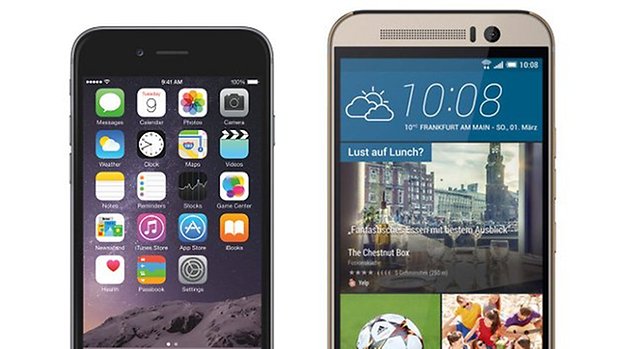 HTC One M9 vs iPhone 6: design
The HTC One M9 looks predictably great, inevitably sleek, boringly brilliant. Whatever description you choose for it, it will always lead back to the HTC One M8, from which the design has changed little. The power button has moved from the top to the side, all models of the One M9 now have a brushed-metal posterior (making it a good bit grippier), and the sides now have a noticeable 'step' - giving it a slightly more angular look than its predecessor. There's no denying that's it's still a looker, but we've seen it all before.
The Apple iPhone 6 suffers from the same design issues as the HTC One M9 in our eyes. It's familiarly pretty, obviously elegant, and . While us Android afficionados like to see change however, Apple has always angled itself towards offering improvement yet familiarity to its loyal customer base. With its aluminum chassis, rounded edges and antenna strips on the back, the iPhone 6 has undoubtedly taken a few design cues from HTC, but for the most part it's the same old annoyingly beautiful iPhone - and it's what Apple customers want.
Rather than attempting to dazzle and innovate, HTC and Apple are two companies who really seem to have settled on their designs with the One M9 and iPhone 6. And why not? They're two of the best-designed phones in the world.
It's impossible to pick between these two, so it's a draw for design. 1-1.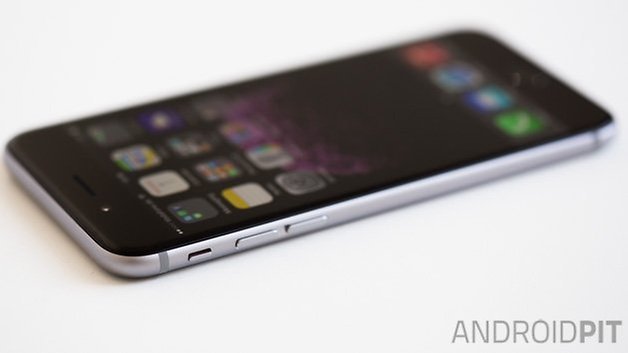 HTC One M9 vs iPhone 6: display
The HTC One M9 has a 5.0-inch, Full-HD display delivering a 1920 x 1080-pixel resolution. It looks great, just as the HTC One M8 display looked great. You know why? Because it's the same display! We understand HTC's 'Porsche' philosophy of offering internal improvements while retaining a stylish design, but we consider the display an internal improvement (even though it's outward-facing), and it would've been good to see even some slight improvements to color reproduction on the display. Not that they're bad by any means, but we'd like to have seen them get better in the one year since the HTC One M8.
The iPhone display is smaller, with a 4.7-inch IPS Retina display delivering 720 x 1334 resolution at 326 ppi. Even with its smaller size masking its lower pixel resolution, it's still clear (when you look closely) that the One M9 display is sharper. It's not an absolute trouncing though, as the Retina display has the colors to compete with the One M9, but it's not enough to win the point.
2-1 to the HTC One M9.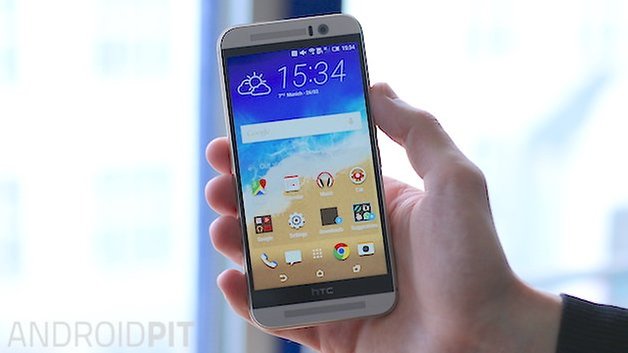 HTC One M9 vs iPhone 6: performance
The HTC One M9 features an octa-core Qualcomm Snapdragon 810 processor, backed up by 3 GB of RAM and 32 GB of expandable storage. It's a performance powerhouse, and the benchmark scores (below) prove it. It works great in practice too, running flawlessly on Android Lollipop. We used the HTC One M9 Snapdragon 810 vs 808 comparison too, where it ran the most graphics-intensive games flawlessly, and could even have up to three games running in the background simultaneously. That's power for you.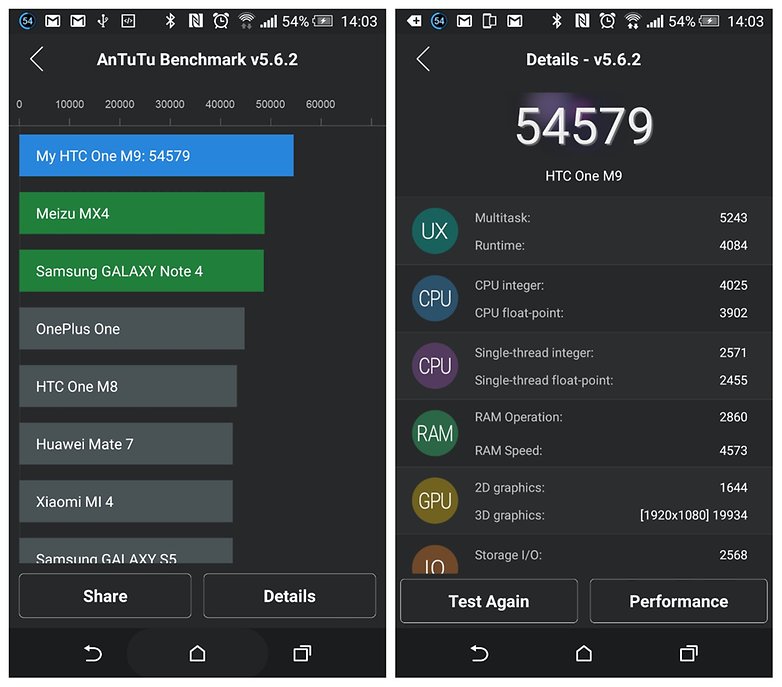 Apple uses its own processor in the iPhone 6, the Apple A8, a dual-core chipset clocked at 1.4 GHz with quad-core PowerVR GX6450 graphics. On paper it pales next to the One M9, but in practice Apple's tight control of its hardware and operating system means its devices are optimized to squeeze huge performance out of its components, so direct comparisons are difficult. The iPhone 6 copes with top-end games brilliantly, but its job is undeniably made easier by its smaller screen.
It's closer than you'd think, but eight cores do beat two in practice as well as in theory. 3-1 to the One M9.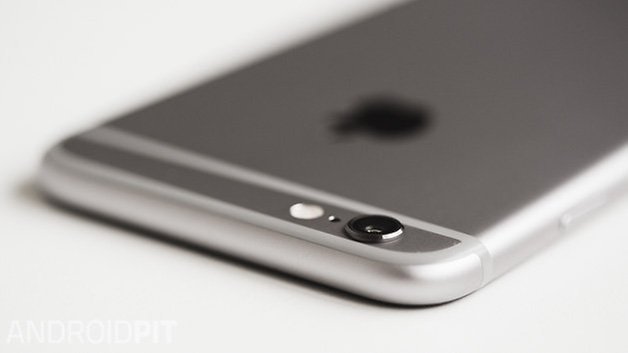 HTC One M9 vs iPhone 6: storage
The iPhone 6 comes in three versions: 16 GB, 64 GB and 128 GB. Its storage isn't expandable, which is particularly inconvenient since Apple raised the size limit of apps on its App Store from 2GB to 4GB earlier this year. In short, avoid the 16GB model if you're even a moderate collector of apps.
Each model of the HTC One M9 gets a moderate 32 GB of storage space, so it's better than the entry level iPhone 6 but worse than the more expensive ones. However, the big difference - and deciding factor for this category - is the option to expand One M9 storage using the microSD slot.
MicroSD wins the day here, making it 4-1 to the HTC One M9.
HTC One M9 vs iPhone 6: cameras
HTC One M9 once again features an UltraPixel camera, but this time it has been moved to the front of the device. This is an altogether better usage of UltraPixel technology, which excels in low-light, but not in definition. The rear camera is a theoretically powerful 20MP snapper, which unfortunately didn't quite deliver the best results in reality. Pictures tended to look faded in daylight and noisy in darkness. While detail in images was decent, it didn't feel like a flagship camera in our tests.
The iPhone 6 has an 8 MP main camera with software image stabilization, phase detection autofocus, and a dual-LED flash. And it's capable of HD video of 1080p at 60 fps.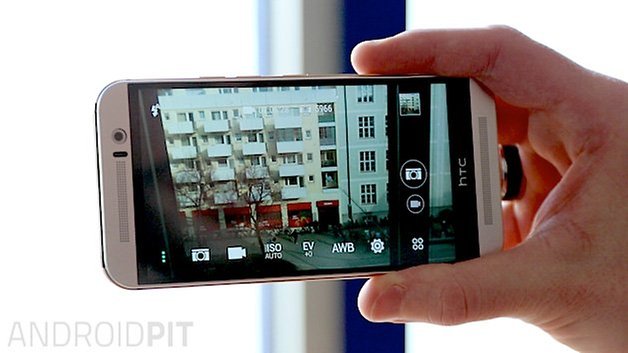 Remember what I said about raw pixel count? The iPhone 6 is a prime example of how a lower megapixel count doesn't automatically result in lower-quality pictures. The iPhone 6, with its iSight technology, is still hard to beat for brightness, color representation, and speed. The front facing camera, at 1.2 MP, is sure to be beaten by HTC's offering on the M9, though.
The iPhone 6 makes things interesting again, pulling the score back to 4-2.
HTC One M9 vs iPhone 6: software
The HTC One M9 runs Android 5.0.2 Lollipop out of the box with its new UI, HTC Sense 7, on top. The phone includes minimal bloatware, and actually has some fine apps in the form of Peel Smart Remote (which turns the One M9 into an infrared universal remote), Themes - which lets you customize your One M9 to your heart's content, and the news aggregator Blinkfeed. It all works together brilliantly for a sleek, fast, and intuitive software experience.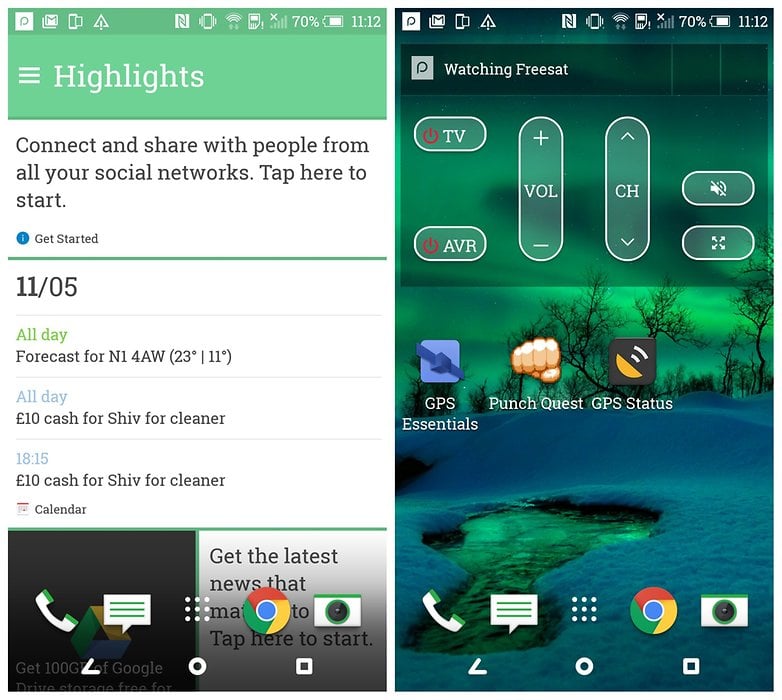 Apple's iPhone 6 comes with iOS 8, which is about as customizable as a dishwasher. Not that that's a problem for the many people who want a familiar, unchanging interface that won't throw up any surprises. It works very well too, with Apple's vertical unity of its operating system and hardware ensuring one of the smoothest smartphone experiences around.
It's a draw. Making the score 5-3 to the HTC One M9.
HTC One M9 vs iPhone 6: battery life
The HTC One M9 has a 2,840 mAh battery. This, combined with the more efficient processor and Android Lollipop's energy improvements, promised to deliver very solid all-day battery life for even the most demanding users. In practice however, battery life just managed to scrape a day at moderate usage, which is decidedly average in relation to its competitors.
With a 1810mAh battery, the iPhone once again far outperforms its seemingly average hardware. While the battery is only marginally bigger than the iPhone 5S (1570 mAh) and the screen is much bigger, better power-efficiency means that the battery life has improved. It drains very fast when gaming, but for the most part we'd comfortably get over a day's use out of it.
5-4 to the HTC One M9.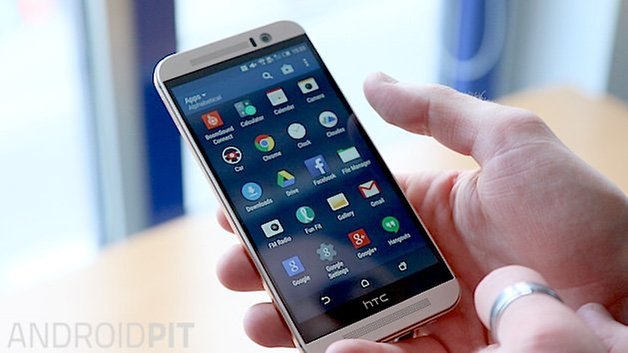 HTC One M9 vs iPhone 6: price
The HTC One M9 price currently stands at 649 USD or 579 GBP for its one-and-only 32GB model. The iPhone 6 is 649, 749 and 849 USD for 16 GB, 64 GB and 128 GB versions respectively - or 539 GBP, 619 GBP, or 699 GBP in the UK.
There's very little to separate the two phones here, so both get a point, making the final score 6-5 to the HTC One M9.
HTC One M9 vs iPhone 6: conclusion
This has been one of our closest-scoring comparisons yet, and even when there are two points separating phones in our comparisons, we've generally said that it's a matter of personal preference which one you go for. Naturally, with just one point separating the two, we're going to say the same thing here.
If you're looking for raw power and the ability to play the latest games for a few years to come, then the HTC One M9 is a better bet. If you're more of a smartphone photographer, then you're better off with the iPhone 6.
Being an Android-focused site, we imagine that many people reading this are Android fans, and were hoping to see a more comprehensive win for the One M9. But we give credit where it's due, the iPhone 6 is a great phone and the level of performance and quality it gets out of seemingly limited specs is rarely seen on Android.
Still, the One M9 did just win it, so you can't accuse us of being closet Apple fanboys! Do you agree with our verdict? Let us know in the comments.