HTC One M9 review: familiar on the outside, fresh on the inside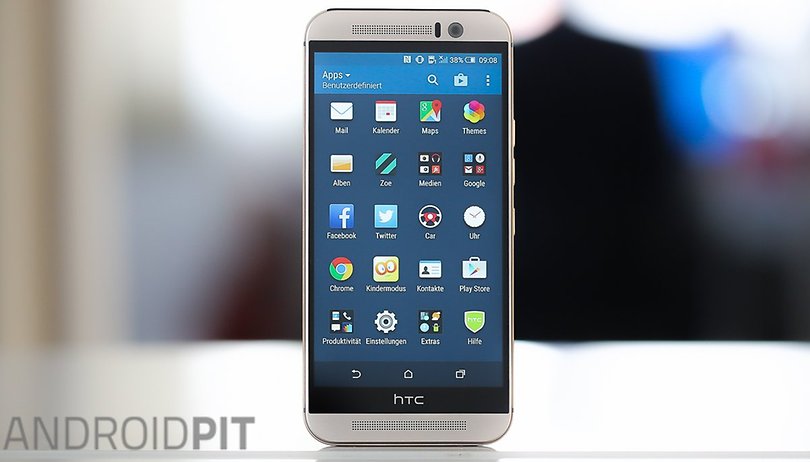 The HTC One M9 was one of the most eagerly anticipated flagship smartphones of 2015. This was largely thanks to the success of the HTC One M8 in 2014, which blew everyone away with its stunning design, neat interface, and powerful internals. The One M8 did leave a few crinkles that needed ironing out, mainly in the form of an experimental 4 MP 'UltraPixel' camera, so there was some work for the M9 to do this year alongside the regular chipset upgrade expected from an annual flagship successor.
With an octa-core processor, much-improved 20.7 MP camera, and some nifty features that come with the latest Sense UI, the HTC One M9 has taken big steps in some areas, while in others - such as the display and design - remains unchanged. Read our HTC One M9 review to find out whether this is for better or worse.
Good
Design remains classy

HTC Sense 7 UI looks great and has handy apps

BoomSound speakers are brilliant

Powerful processor
Bad
Over-familiar design lacks 'wow' factor

Disappointing camera

Battery should last longer
HTC One M9 release date and price
The HTC One M9 release date was back in March 2015, so it's readily available in the US and UK now. Its price has already dropped slightly since its release, and it can be picked up for under $600 in the US and £500 in the UK, which is a decent flagship rate that manages to undercut that of its major rival, the Galaxy S6. The best HTC One M9 price we could find was on Amazon.
HTC One M9 design and build quality
The HTC One M8 was a beautiful phone, raising the question of whether the HTC One M9 really needed to make many (or any) external changes to still be considered the most stylish, premium-looking device on the market. HTC clearly thought that it didn't, telling AndroidPIT back at MWC 2015 that it's "not gonna' try to fix something that's not broken." This is a reasonable approach - although it's equally reasonable that we found it hard to be impressed by a design that seemed so familiar.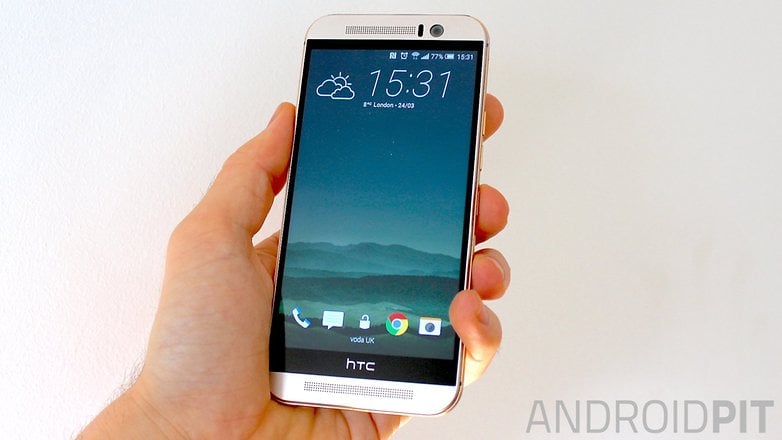 The HTC One M9 is enclosed in a two-tone aluminum chassis, with the same curved back and rounded corners as its predecessor (it even fits into the M8's Dot View case!). The brushed metal back of the One M9 is certainly more grippy than the matte-backed One M8, which was a bit on the slippery side.
On the front, there is a matte aluminum finish above and below the display - the same texture as the entire chassis of the silver One M8. Above the screen is a 4MP UltraPixel camera, demoted from its prime position on the back of the HTC One M8.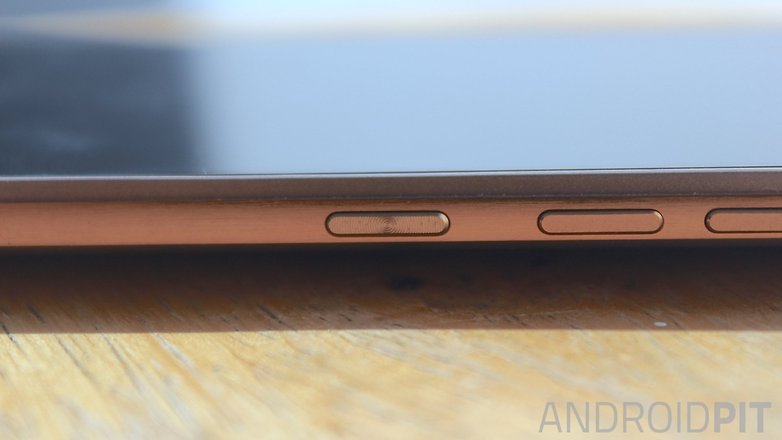 On the silver and gold One M9 that we received, the sides are gold while the front and back are silver, with the back and sides having a brushed-metal finish. The sides also do away with the tapered edges of the HTC One M8. Instead, the front part of the phone slots into the back, leaving a slight 'step' around the edges.
I think this doesn't look as graceful as the sides on the One M8, which do a better job of evoking the sense that the phone is really made of a single piece of metal. On the other hand, this design choice also makes the One M9 more sharp-angled than the relatively rounded One M8, which will appeal to the many people who thought the One M7 was the pinnacle of HTC's smartphone design.
The left side of the phone houses only the SIM card slot, while on the right side are the volume and power buttons, and microSD slot. The positioning of the finely textured power button below the volume buttons makes it easier to reach than having it on the top of the phone, although its proximity and similarity to the volume buttons does lead to mis-presses.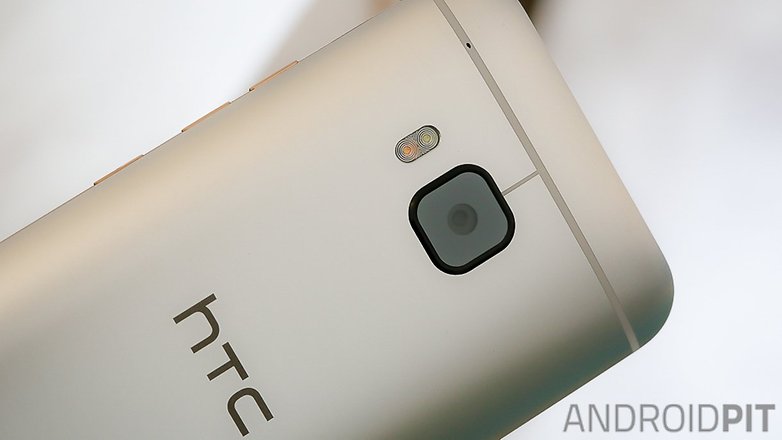 On the back we have a 20MP camera with a large square sensor. The square camera lens protrudes slightly, but is bordered by a plastic frame which prevents the glass from directly touching surfaces. The lens glass is made from scratch-resistant sapphire crystal. Despite all these precautions, there is something unwieldy about a phone that leans on its camera whenever it's on its back, and the protruding sensor is the one notable downside of an otherwise classy exterior.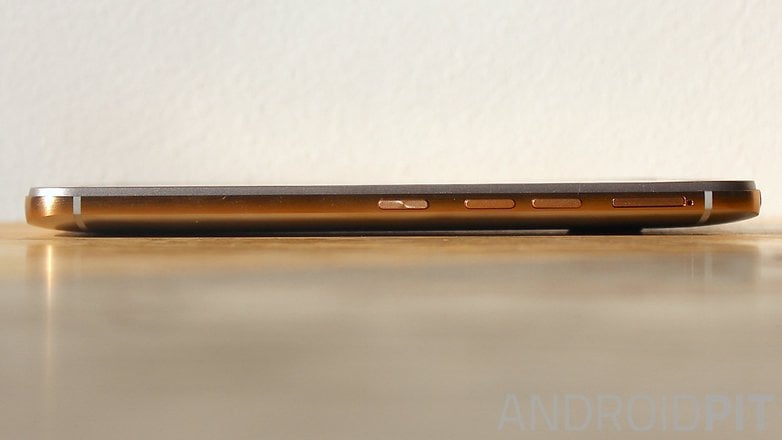 All in all, the One M9 has the feel of a luxury item - even a status symbol - rather than a mere accessory, and HTC's bold comparisons of it to a Porsche are not unjustified. With that said, externally it's essentially a sheenier version of the One M8. With aluminum flagship phones steadily becoming more common, the One M9 simply lacks that 'wow' factor of the One M8, and particularly the One M7, when they first came out.
The One M9 is still a head-turner of course, but that can be attributed to a shinier design that draws the eyes in more than a matte one. Some people will question whether they want a phone which causes people to peer over their shoulders on the Tube (London subway), but if you're not shy about showing off your phone, then you certainly won't mind the One M9.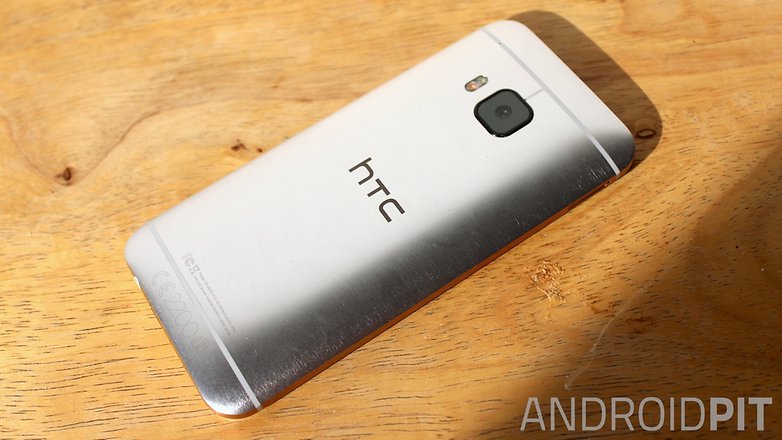 HTC One M9 display
The philosophy of, "if it ain't broke..." has also been applied to the HTC One M9 display, which is a 5-inch Full HD IPS offering, squeezing in a pixel density of 441 ppi. This places the One M9 just behind the likes of the Google Nexus 5 in terms pixels-per-inch.
It outdoes the Nexus 5 with vivid colors and flawless viewing angles (as you'd expect), but it's noticeably less bright and colorful than last year's top-end phones, such as the Galaxy Note 4 and Google Nexus 6 - which is really what we'd expect the One M9 to be competing with.
HTC's justification for keeping the same display as the One M8 was that it would result in better battery life. While this is a sensible idea and the One M9 battery is acceptable (more on that in the Battery section), it's not longer-lasting than that on the LG G3, for example, which has a QHD display. All that said, it's a solid mid to high-end display that - while unable to impress due to the fact we've seen it before in the One M8 - does a sturdy job.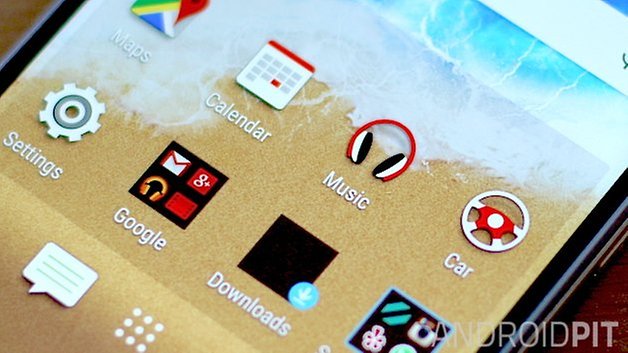 HTC One M9 special features
The HTC One M9 has an infrared sensor, allowing the phone to be used as a universal remote. While infrared may seem a bit '2005', this feature is easy to set up and actually comes in very useful. You can set it up to work with several devices, then simply swipe between the devices to control them all (see video below).
The HTC One M9 comes with expected flagship appurtenances such as Bluetooth 4.1 and NFC, and also features MHL compatibility - letting you plug the HTC One M9 directly into a TV's HDMI port. For this, you just need an MHL cable (it looks like a micro USB charger), which can be picked up for around 5-10 GBP or USD online.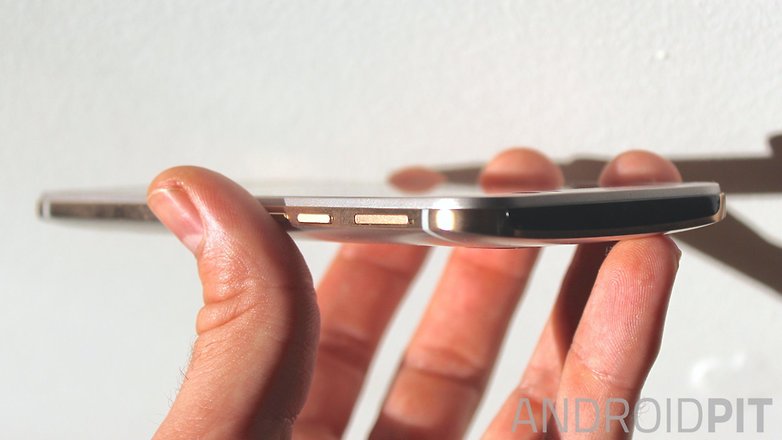 HTC One M9 software
The HTC One M9 runs Android 5.0.2 Lollipop and HTC Sense 7. Sense 7 takes a few page out of Cyanogen's book, and is hugely customizable thanks to the HTC Themes app. Using this, you can download hundreds of themes, which change the colors, icon styles and fonts on your phone. You can also create your own theme by taking a picture of the background you want, then letting Themes choose the most appropriate color scheme and fonts to match that background (see video below). This app alone makes Sense 7 one of the most personal Android UIs around.
The HTC One M9 also features a smart widget that lets you choose your homescreen apps depending on your location, so you can quickly switch between 'Home', 'Work' and 'Out' homescreens for example. The inclusion of a smart 'Downloads' folder, which displays anything you download right there on your homescreen, is a great touch (though the 'Suggestions' smart folder was decidedly less welcome).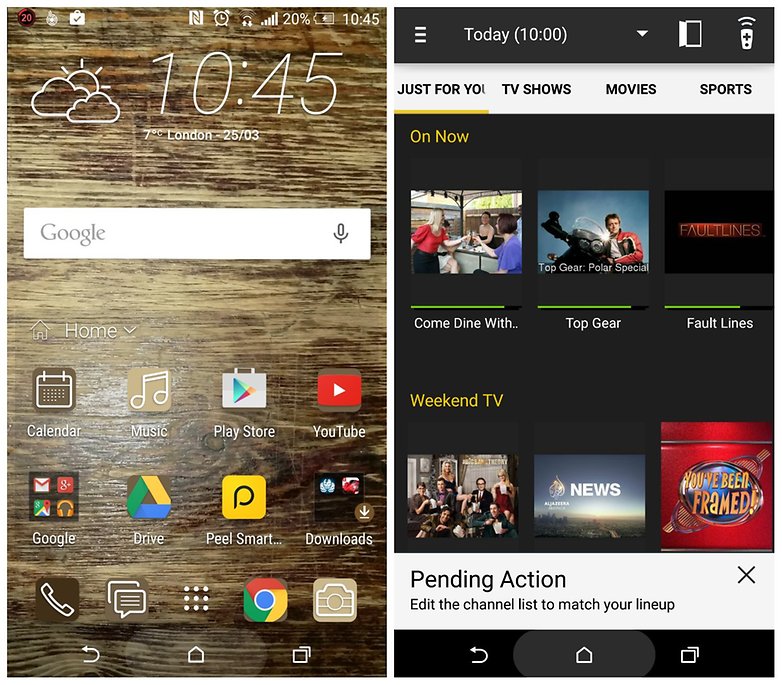 The Peel Universal Remote app is an upgrade on the HTC One M8's TV app, which uses the infrared blaster on the One M9 to control IR devices like TVs and sound systems.
What's special about it is that you can use it to browse shows on your respective TV service (so Sky, Freeview etc. here in the UK), then set reminders, record shows, and switch your TV straight to your favorite shows using your phone. To make it easily accessible, you can set the IR remote feature as a widget, giving you instant control of your devices from your homescreen.
Blinkfeed makes a return on the HTC One M9, in pretty much the same form as it was on the One M8. While the idea of a news/social feeds aggregator just to the left of my main homescreen didn't initially appeal to me, it actually proved itself to be quite useful. It seemed to focus on stories that are trending, and social posts that I would usually interact with. At the top, Blinkfeed displays your calendar events, giving it some organizational value as well.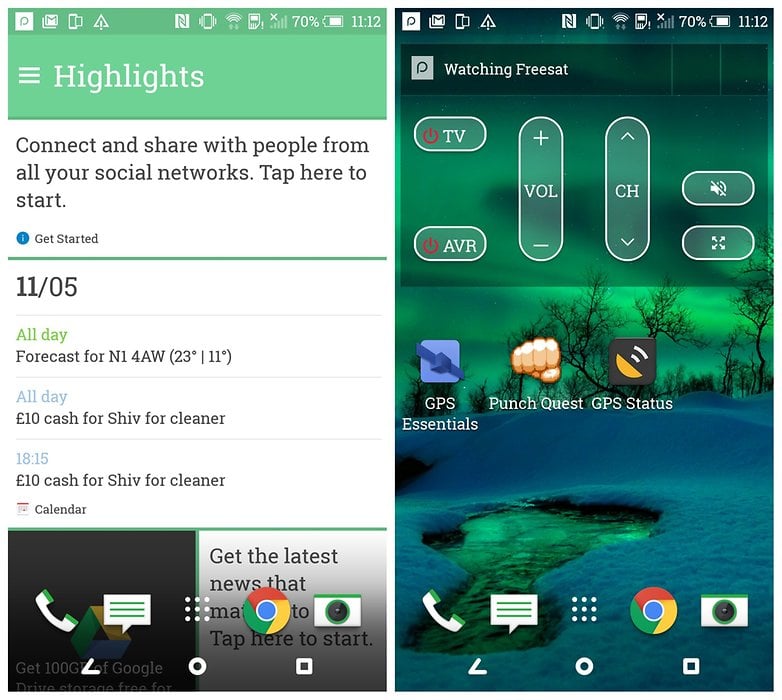 It goes without saying that all this software runs swimmingly, and the Lollipop-meets-Sense UI is a great combination in terms of both looks and usability. Sense 7 is quite possibly the slimmest Lollipop UI of all the big manufacturers, and we found it smooth and satisfying to use.
HTC One M9 performance
At last we come to the point in our HTC One M9 review where we start seeing the big differences between it and the HTC One M8. The One M9 specs include a Snapdragon 810 octa-core processor with clock speeds of 2 GHz (x4) and 1.5 GHz (x4). In conjunction with 3 GB DDR4 RAM, this ensures buttery smooth performance, just as you would expect from a flagship in this price range.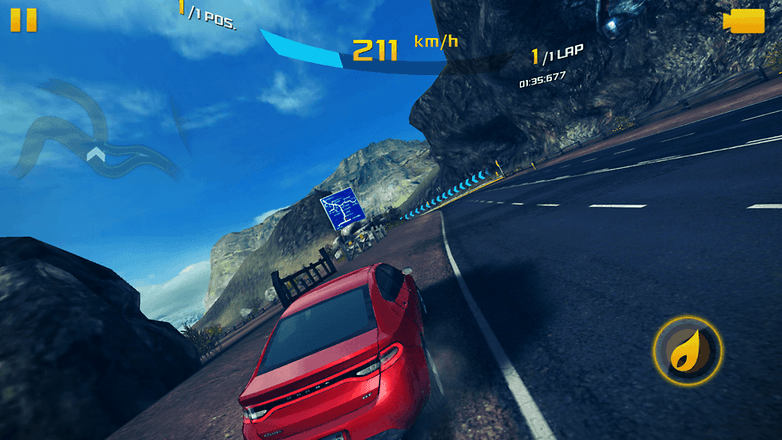 In the AnTuTu benchmarks, the HTC One M9 initially scored an anomalous 44385 - lower than the HTC One M8. Resisting the urge to immediately report this shocking score to the world, I tested the One M9 specs several more times, when it scored between 53,000 and 54,000 points, placing it above the Galaxy Note 4. I attributed the initial score to the fact that the phone was going through its first-time setup process when I did the test.
But the clinical numbers of AnTuTu don't tell the full story. More importantly, the One M9 is capable of tons of multitasking. You can leave at least 20 internet tabs open without slowdown and have several games running in the background without any noticeable slowdown. We're also happy to report that we didn't experience any overheating issues with the Snapdragon 810 in the few months that we've had the One M9.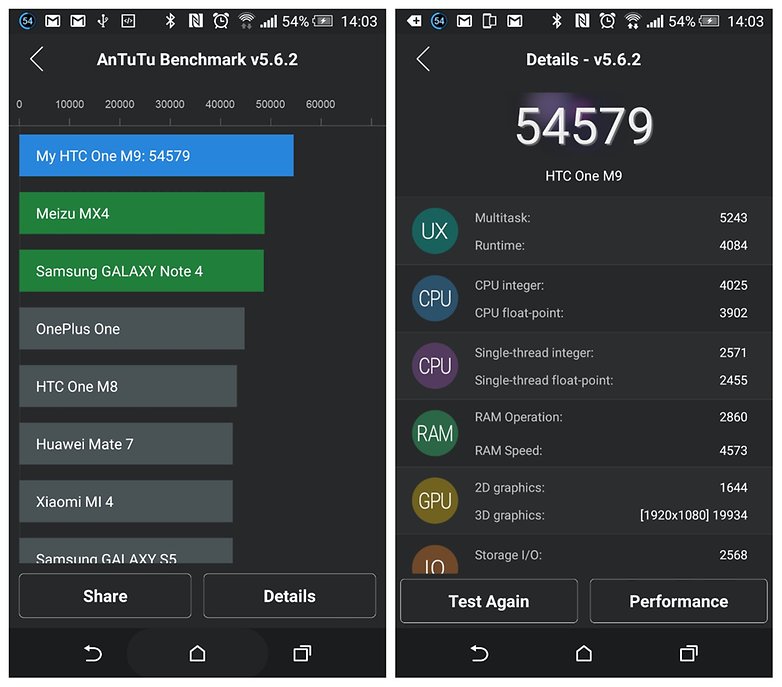 We also took the One M9 - with its Adreno 430 GPU - for a spin with Asphalt 8 and a blast with Shadowgun: Deadzone. Both games worked perfectly smoothly, suggesting that the graphics power of the Adreno 430 GPU inside the One M9 should handle any Android game coming out in the foreseeable future.
HTC One M9 audio
The BoomSound speakers deliver on their name, emanating formidable sound from the One M9's front-facing stereo speakers. Playing Asphalt 8 at full volume delivered crispy high notes and satisfying, crunchy bass. In a quiet environment, it wasn't even necessary to play at full volume. The One M9 speakers will certainly do the job as summer approaches and you'll be looking to take some music to the park with you - no more need to bop down there with a boombox on your shoulder any more!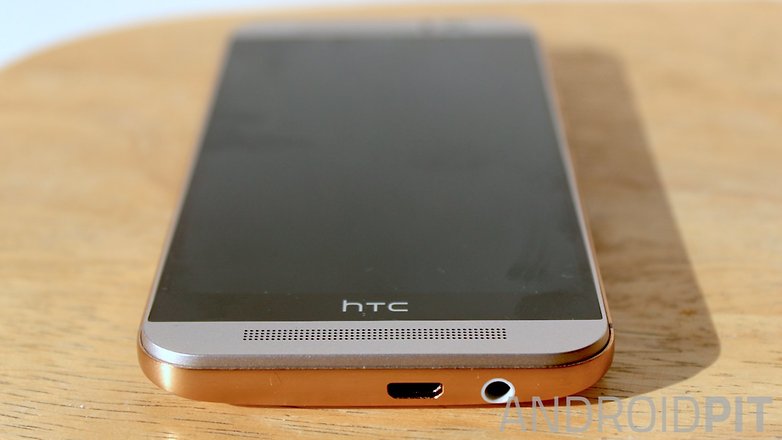 Adding to the One M9's arsenal of audio is aptX Bluetooth audio support. This boosts audio quality in wireless headphones way beyond the norm, so long as your wireless 'phones are aptX-compatible.
Call quality is solid, with no noteworthy bleed-in of background noises when speaking with someone in a noisy environment - and vice versa. Voices are crisp and clear, but anything less than that in the One M9 would've been a disaster, so it's simply a case of 'does the job as it should'.
HTC One M9 camera
The UltraPixel experiment on the HTC One M8 was a noble venture, but the camera failed to compete against those of other flagships. For the One M9, HTC has returned to trusty old megapixels. The HTC One M9 features a 20.7 MP snapper on the rear, with a dual-LED flash, smile detection and HDR. Notably, it lacks the superfast autofocus capabilities of cameras such as that on the LG G4, so takes a little bit longer to establish that perfect shot.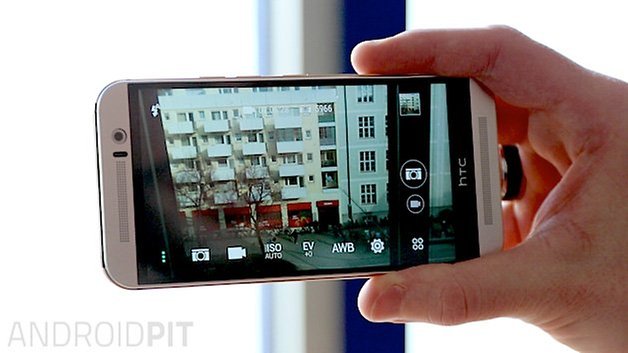 There are features galore on the HTC One M9 camera, with the obligatory 360 Panorama mode, split capture, and plenty of filters. Bokeh effects also make a return, but this time there isn't a dedicated secondary camera, so they're captured using software alone. It doesn't quite do the job as effectively as on the One M8, unfortunately, and you can't add crazy effects to separate the foreground from the background.
The disturbing and endlessly entertaining Face Fusion mode is back, where you can fuse one person's face with another to create a kind of Frankensteinian lovechild of those two people. Other favorites of ours included the kaleidoscopic effects you can add to images using 'Prismatic', and 'Double Exposure', which lets you overlay one image onto another.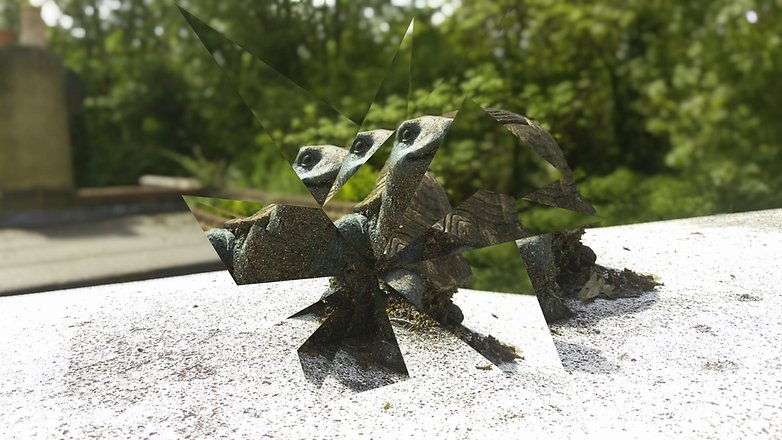 Photo quality on the rear HTC One M9 camera doesn't quite match what we'd have hoped for in a flagship. In low-light conditions, the shutter speed tended to overcompensate for the lack of light, slowing down to the point where images suffer from blurriness - and quite a bit of graininess. In daylight, images are decent, though with a tendency to be too dark or too ight when you focus on certain areas of image. We also experienced some sun glare in a couple of photos, despite not directly facing the sun at any point.
The front camera on the One M9 is more or less the same 4 MP UltraPixel camera that was on the back of the One M8, albeit without the Duo camera. While it never quite cut it as a rear camera, the UltraPixel does very well as a front one, being adaptable to low-light conditions, and also does well to adapt to facing sunlight (see left picture below). It has a face beautification feature as well, hence I look much more dashing in the right-hand picture with it enabled, than in the left-hand picture.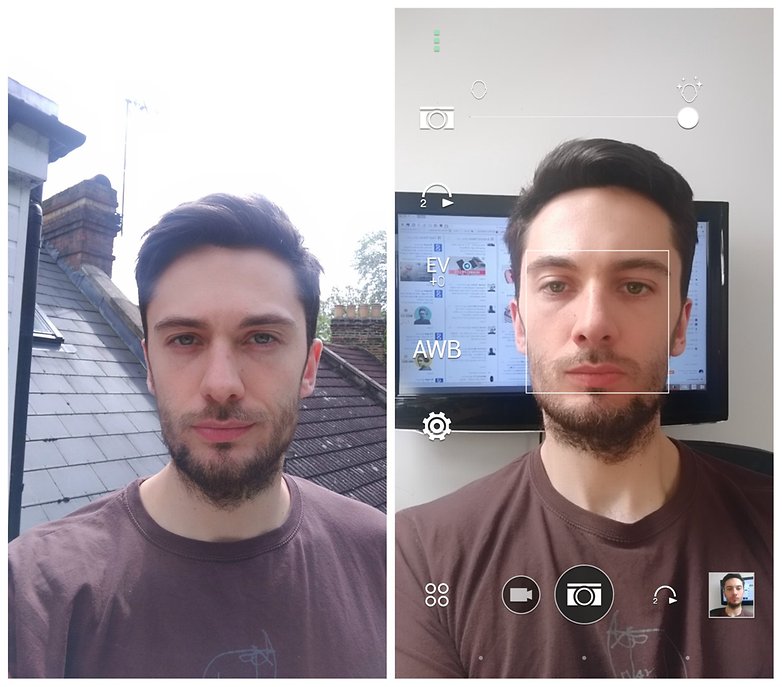 See the gallery below for our full HTC One M9 photoshoot.
HTC One M9 battery
The 2,840 mAh battery in the HTC One M9 increases slightly on its predecessor, although it's still smaller than that of other major flagship phones. The One M9 will usually need recharging after a day of moderate use - constant internet connection, an hour or so of calls, and some casual video-watching. This is disappointing, given HTC's words that the One M9 was sticking to the same display as the One M8 to help with battery life.
In its defence, the HTC One M9 features Quick Charge, which can inject two hours of life into your phone in just ten minutes, and have it fully charged in around two hours.
HTC One M9 technical specifications
| | |
| --- | --- |
| System | Android 5.0.2 Lollipop + HTC Sense 7 |
| Display | 5 inches, IPS LCD, 1Full HD (1,920 x 1,080 pixels), 441 ppi |
| Processor | Octa-core Qualcomm Snapdragon 810 (4 x 2.0 GHz cores + 4 x 1.5 GHz cores) |
| RAM | 3 GB |
| Internal Memory | 32 GB + microSD |
| Battery | 2,840 mAh (non-removable) |
| Camera | 20 MP (rear-facing), UltraPixel (front-facing) |
| Connectivity | USB 2.0, Wi-Fi 802.11 a/b/g/n/ac 2.4 & 5 GHz, LTE Cat. 6, Bluetooth 4.1, NFC, IR blaster, HDMI MHL 3.0 |
| Dimensions | 144.6 x 69.7 x 9.61 mm |
| Weight | 157 grams |
Final verdict
The HTC One M9 is a solid high-end phone, but it does seem like HTC rested on its laurels a bit with the design and display. The One M8 stood out from its rivals mainly through impressive design, but now the likes of Apple and Samsung have caught up, meaning that the One M9 just doesn't stick out from the crowd like its forebears did when they were released.
Day-to-day use of the One M9 is a treat, and the updated Sense UI certainly has the edge over rival UIs. It's a phone more for sound enthusiasts than visual enthusiasts, as the BoomSound speakers are enough of an upgrade on the M8 to be top of their class. Unfortunately, HTC once again falls short in the camera department, with a 20 MP camera that's not as great in practice as on paper.
The One M9 is one of the fastest handsets available, and arguably the most luxurious-looking. While it's not as far ahead of the curve as its predecessors were in their time, a similar strategy has since been taken by the LG G4 and Xperia Z3+ - both also relatively small improvements on last year's phones. So HTC's evolution with the One M9 is about on par with its rivals, which makes it worthy of any flagship seeker's consideration.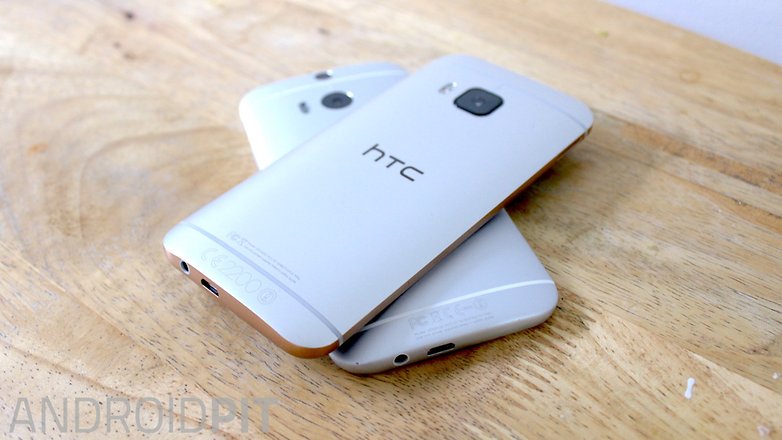 HTC One M9 - where to buy?
Please note: only the lowest tariffs and main networks are shown. Cheaper deals may be found with re-sellers.
UK
BEST DEAL: Tesco Mobile, £36 p/m (no upfront fee) with 1000 minutes, 5000 texts, 1 GB data
Three, £39 p/m (£19 upfront) with unlimited minutes, unlimited texts, 1 GB data.
EE, £31.99 p/m (£199.99 upfront) with 500 minutes, unlimited texts, 500 MB data
O2, £38.50 p/m (£9.99 upfront) with 500 minutes, unlimited texts, 500 MB data
Vodafone, £32 p/m (£69 upfront) with 500 minutes, unlimited texts, 500 MB data
US
Verizon, $80 p/m ($199.99 upfront) with unlimited minutes, unlimited texts, 2GB data
T-Mobile $60 p/m ($15 upfront) with unlimited minutes, unlimited texts, unlimited data (1GB 4G LTE data)
AT&T $65 p/m ($199 upfront) with unlimited minutes, unlimited texts, 1 GB data.
All information correct at the time of writing (June 5, 2015)