Hands On: HTC Desire 820 review: impressive mid-range fun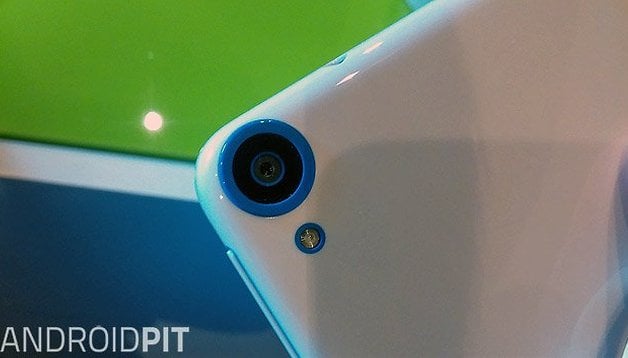 HTC has revealed its new mid-tier handset, the Desire 820, at IFA 2014. The manufacturer aims to reach a young audience, providing power in all the right places at a (hopefully) moderate price. Here is our first impression of the fun 64-bit phablet.
HTC Desire 820 design and build quality
The Desire 820 is made entirely ​​of plastic which acts as a unified whole. HTC uses the so-called dual-shot method, in which it produces a multi-colored unibody (rather than a front and clipped together). Unnecessary joints and edges fall away, and thanks to the rounded design and slim profile of only 7.74 mm, the phablet fits comfortably in the hand. Whether a glossy plastic finish appeals to you or not, is another question, but at least it cannot be said to be "low-quality".
"Simplicity is the essence of the Desire 820," it was officially stated by HTC, and this is reflected in the unit design. The Desire 820 features bright colors and a simple, funky design without much extraneous detail. The bottom line, the Desire border 820 is "fun" and will certainly appeal to a young audience.
HTC Desire 820 display
HTC relies on a practical HD resolution for the Desire 820, something of a standard for mid-range devices. This is integrated into a 5.5-inch display, with a slightly disappointing 267 ppi. However, colors are well represented, and the target market of the Desire 820 are unlikely to complain about the lack of Full HD. It is somewhat annoying that HTC has unnecessarily wasted a lot of space on the company logo, which could have been utilized instead to improve the screen-to-body ratio. We had already sharply criticized this on HTC One (M8), but unfortunately HTC has kept it firmly in place.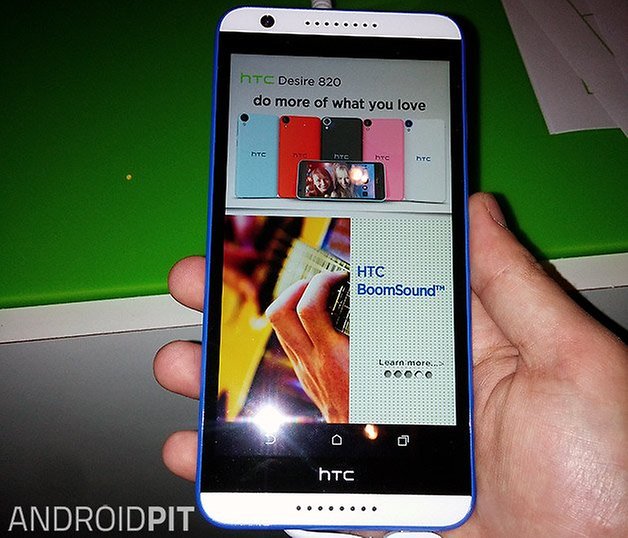 HTC Desire 820 special features
The 64-bit era is now being ushered in even by HTC. With the Snapdragon 615, the Desire 820 is making use of the current fastest 64-bit processor. Considering that we are dealing here with "only" a mid-range device... this is quite remarkable. In addition, the phablet supports two nano-SIM cards and memory expansion via microSD. These features are also usually absent in mid-tier smartphones.
HTC Desire 820 software
The Desire 820 runs on the current Android 4.4.4 KitKat and the manufacturer's own Sense 6.0 UI. Familiar features such as BoomSound and BlinkFeed are on board, as well as camera options like Live Makeup (for quick enhancements to portrait photos), and Photo Booth, which automatically compiles images and gives the option to morph faces.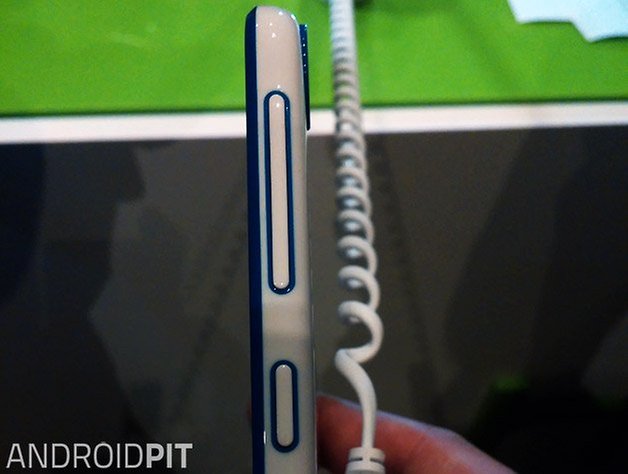 HTC Desire 820 camera
Here lies one of the main Desire 820 strengths: in addition to the main 13 MP, good for a mid-range device, HTC offers an 8 MP front camera, what is outstanding and should provide for some excellent high-resolution selfies. (It's in this area that TC's target market intentions are clearly visible.) The main Desire 820 lens has a maximum aperture of f/2.2, which should improve snaps taken in low light conditions.
HTC Desire 820 battery
HTC's new mid-size flagship comes with a 2,600 mAh battery. This corresponds roughly to the level of the upper class from last year (think it appears on the Galaxy S4) and is on par with this year HTC's flagship, the One (M8). We won't know exactly how well it performs until we do our full-review, but we don't think we will have anything to complain about, especially given that it is not powering a Full-HD display.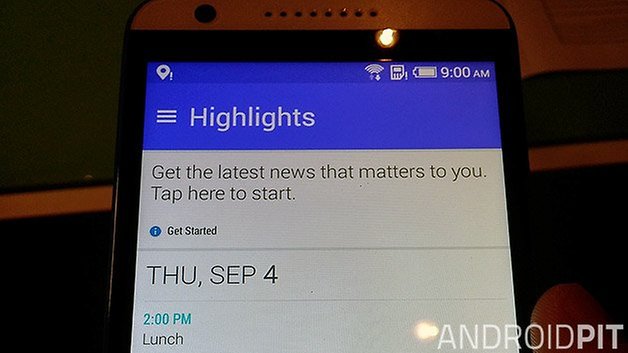 HTC Desire 820 technical specifications
Early Verdict
The Desire HTC 820 shows that mid-range smartphones can be impressive without taking themselves too seriously - at least that's what I've taken from a first impression. A young generation of smartphone users, which is less concerned with "business" and more about fun and lifestyle, should find this device to be a vibrant joy. Its success, however, will depend on the price. If HTC can hit us with an aggressive RRP, the Desire 820 could be a very appealing handset. At first glance, the Taiwanese manufacture is definitely on the right track.