How to record a phone call on your Android smartphone
Update:

Android 9 Pie ends call recording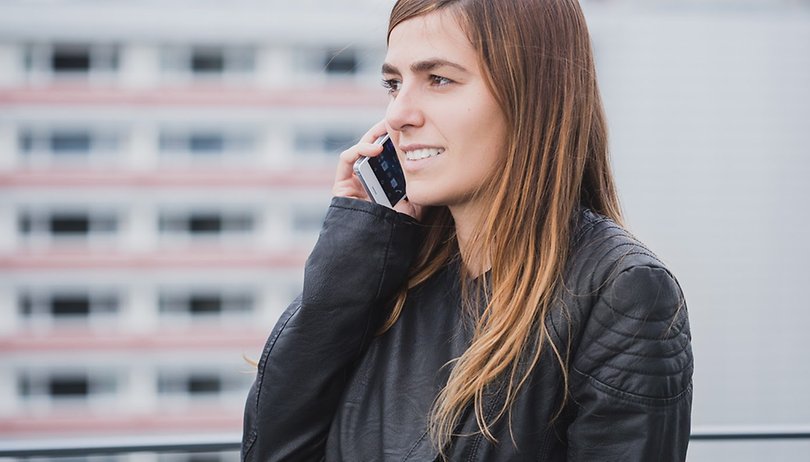 Hey, I'm not judging you. There could be any number of totally legit reasons why you want to record a phone call. Maybe you need the recording for your new podcast show? Or perhaps you have just one chance to speak to Bill Murray and you wish to capture the moment forever? Whatever your reasons, it is possible to record a phone call on your Android smartphone, and we're going to show you how, but not before an important update regarding Android 9.0 Pie...
Warning: Before we start, be aware that it could be illegal to record a phone call without the other person's knowledge in your country. Make sure you know what the law is before you do so.
Android Pie marks the end of call recording apps
We're all excited for the full roll-out of Android 9.0 Pie, and the cool new features it will bring, but one that might be coming to an end is call recording. Despite news back in February that Android P would add a call recording tone to support lawfully recorded phone calls, it now looks like Google is completely blocking call recording without rooting.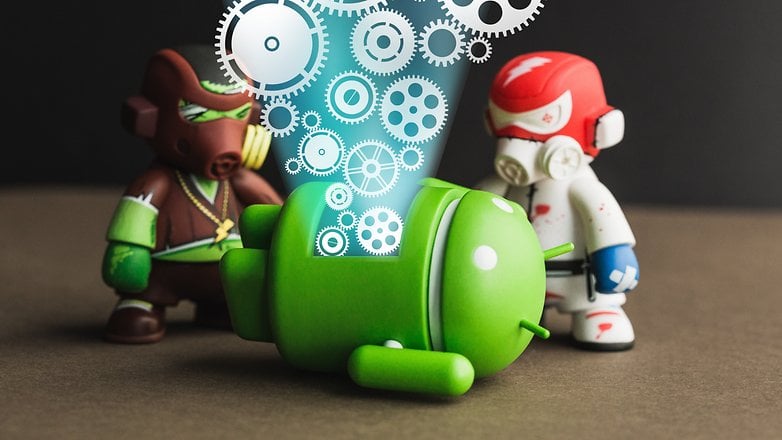 When Google scrapped its official call-recording API with the release of Marshmallow, developers were able to get around the issue and apps such a CallRecorder - ACR and BoldBeast's Call Recorder were born. However, both developers have now confirmed that the loopholes that made those apps possible are closed in Pie. This leaves root-only methods for those who want to record phone calls.
If you want to know how to record a phone call before the Android 9.0 Pie update hits, you can follow our guide below.
How to record a phone call on Android
The easiest way to record a phone call is with the help of an Android app. There are many out there that fulfill this purpose, but the one we can recommend is Smart Voice Recorder. It's simple and free, and you can download it from this link.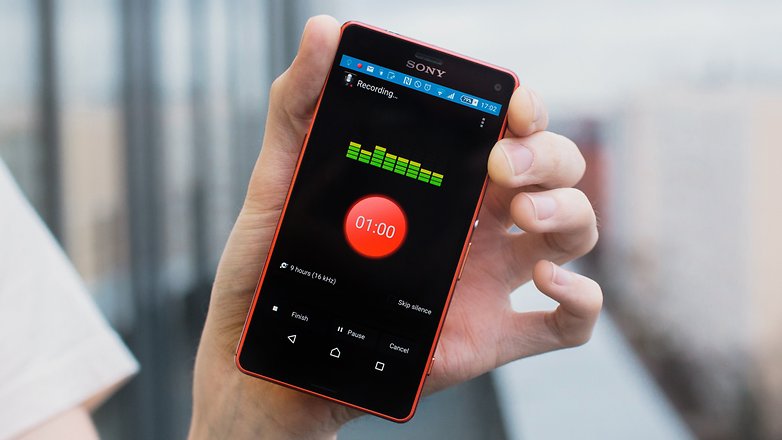 The images below demonstrate the process on a Sony Xperia device. Though your phone may look different, the steps are essentially the same.
Make a call or answer an incoming phone call.
Once the call is connected, ask the recipient if you may record the phone call. If they respond in the affirmative, you may continue with the following steps.
Switch your phone to speakerphone or hands-free mode (in this case, by tapping the speaker icon).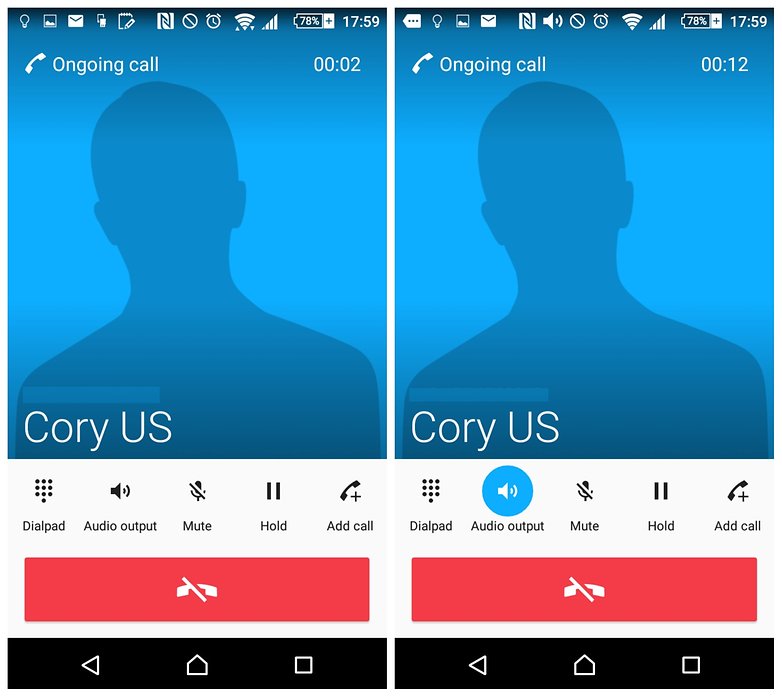 Press the home button to arrive at the homescreen without canceling your call.
Open the Smart Voice Recorder app.
Tap the big red button to begin recording (if it is successful, the colored waveforms on the display will visibly move as you talk).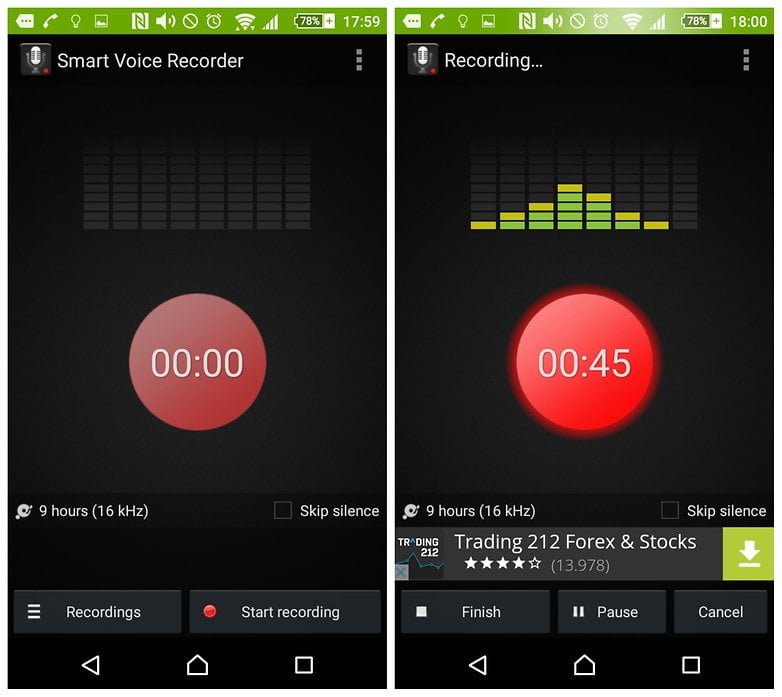 Make sure that the caller's voice is audible. The louder it is, the better it will sound on the recording. Increase the volume using the volume key on the side of the device if you need to.
When the call is over, tap the square button that says Finish in the Smart Voice Recorder app, and name the file if it prompts you to do so.
The recorded file will then be accessible in the Recordings section of the app. Tap and hold on a recording to interact with it.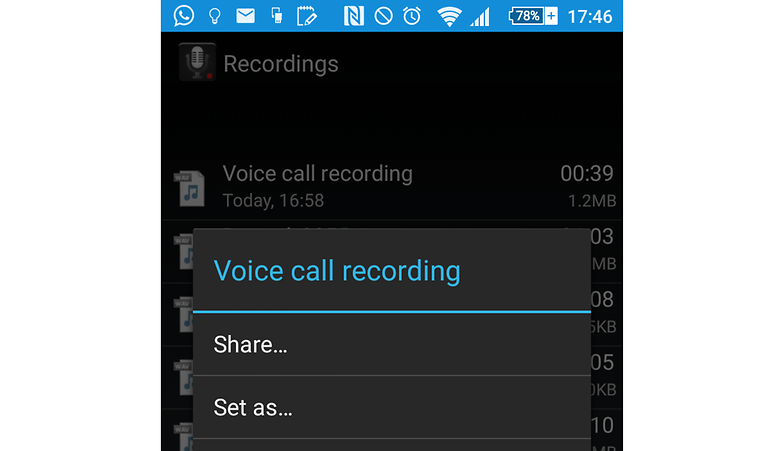 The legality of recording phone calls
How much trouble you can get into for recording a voice call without permission depends on which country you are in. The rules generally float between single-party and two-party consent, but even then there exceptional cases where call recording is allowed.
In the US, state law determines the level of consent. Florida, California and Nevada, for example, require that both parties consent to the call being recorded for it to be considered legal. Other states, such as Texas, Michigan and Illinois only require one party to consent to the recording.
In the United Kingdom, you are fine to make a recording of a phone call without notifying the other party as long as it is for personal use, but you cannot make it available to a third party - by using it on a podcast or playing it to someone, for example. In Germany, two-party consent is a must. In Italy, it's anything goes.
Despite the differences in legality from country to country, Google appears to be playing it safe and blocking it entirely. A new workaround may surface in the future, of course, but it seems unlikely at this stage. For now, it looks as though Pie users will have to go down the root-enabled application route if they want to record phone calls on an Android device.
What do you think about Android 9.0 Pie squashing the recorded phone call? Do you ever use call recording apps anyway? Let us know in the comments.