Multitasking on Android: how to use split-screen mode
Update:

Android Pie split-screen!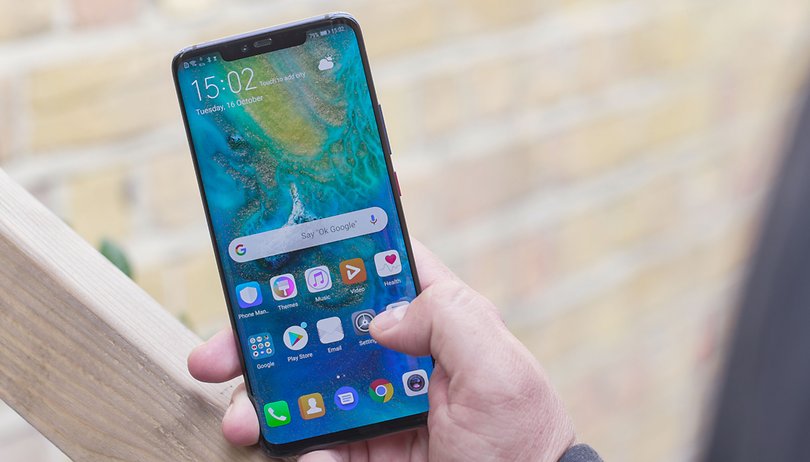 Scrolling through your social media feeds while listening to music on YouTube, taking notes and simultaneously watching videos is all possible on your Android smartphone. Thanks to split-screen mode (often called multi window function as well) you can have two apps open simultaneously for increased productivity. How do you use this feature? We'll show you in our article!
Shortcuts:
What does split-screen mode do?
The multi-window function on Android allows you to work side by side with two applications and use them at the same time. In this way you can perform two operations at once, such as responding to a message on WhatsApp without closing the navigation app as you're walking down an unfamiliar street or listening to music on YouTube and composing tweets at the same time. It's especially useful if you have a smartphone with a large display, since you can comfortably see and navigate both apps.
Split screen on Android Pie
While Android Pie might have brought multiple quality of life improvements, using split screen in the latest version of the operating system seems less intuitive and harder to find. Don't fret, however! We'll explain how it works:
Open the recent apps through the navigation bar or via gestures if you own a Pixel phone
On your app of choice, tap the icon above it.
If the application can be used in split screen mode, you will see the Open in split screen view option.
You can then simply open the second application of choice through the app drawer.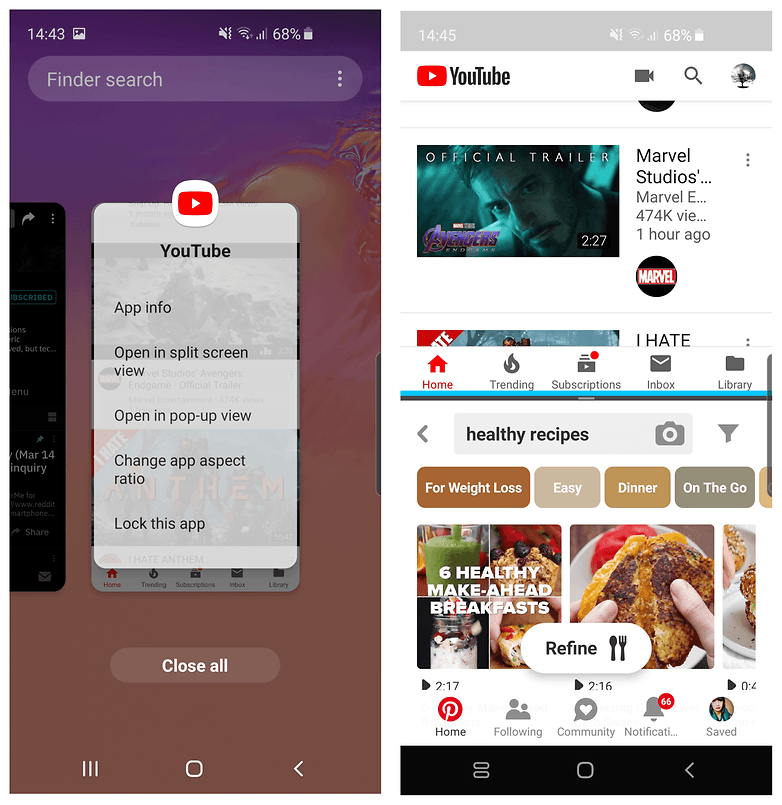 Finally, there's also the option to open an app in pop-up view. It opens the app in a small window reminiscent of those you'd find on PC, resize and x buttons included. It can be displayed on top of other applications.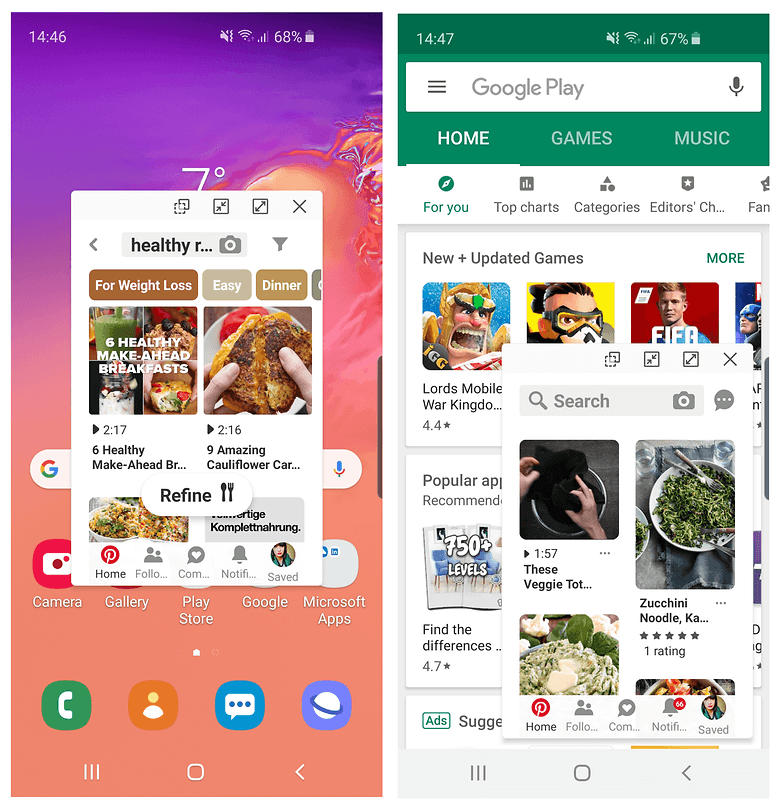 You should note, however that not all apps will be compatible with split-screen. You can force all activities to be resizable through the developer options, but that might also result in less than stellar performance and app crashes. You've been warned!
Use multi-window on Android Nougat or Oreo
On version 7.0 of its operating system, Google introduced the multi-window function for the first time, making it available to everyone. Obviously with Android 8.0 Oreo the version has remained available and can be activated in the following way:
Open the app that you want to view at the top of the screen.
Press and hold the multitasking/recent key for a few moments.
Now you can navigate through the open applications and choose a second app to view.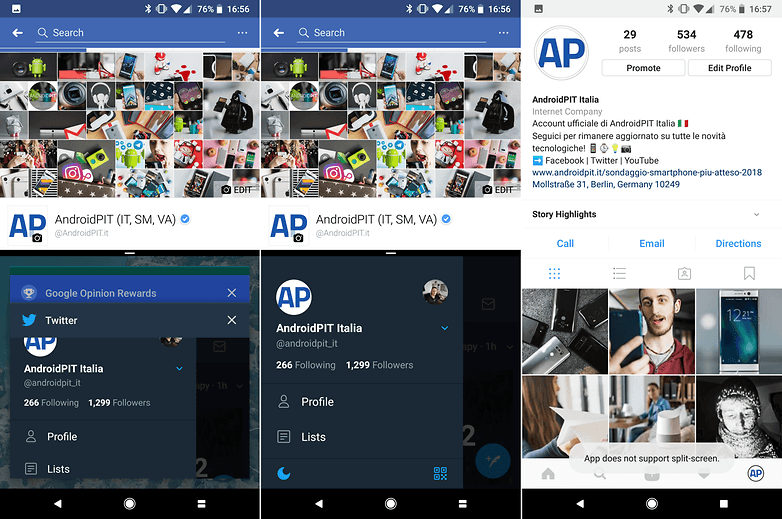 Please note: If the second application is not among your recent apps or those you can open, just press the home button after that step and you can launch the second app as you normally would.
You'll need some practice before you understand which applications support this feature because the app developer may have blocked this function, which is the case with Instagram.
How to use multi-window on Android Marshmallow and earlier versions
Unfortunately, not all smartphones have the multi window function with versions earlier than Android Nougat. Some of the exceptions are Samsung, Huawei/Honor and LG smartphones.
Multi-window on Samsung smartphones
You can still use the multi-window function on some older Samsung smartphones. Typically, compatible smartphones include the S series or Notes, but you can check if your device is compatible through the following steps.
Go to Settings.
Look for Multi-window.
If you have the function, simply activate the corresponding switch to enable it.
Once the function is activated in Settings, you will need to add two apps to place next to each other:
Press and hold the return key for a few seconds.
A menu will on the right side with the list of supported apps.
Drag the first app in the top half of the display.
Drag the second app in the lower half of the display.
Only some system applications and a few third-party apps are supported.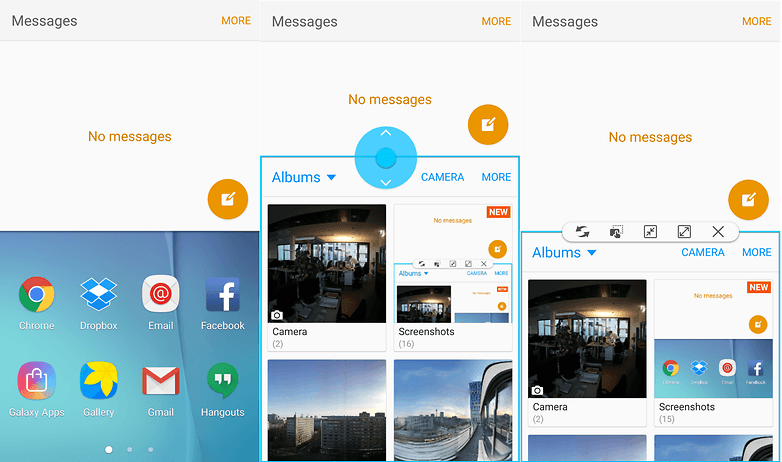 Multi-window on Huawei/Honor devices
If you have a Honor/Huawei smartphone with Android 6.0 Marshmallow and EMUI 4, you can take advantage of the multi-window function by following these steps:
Press and hold the multitasking/recent key for a few moments.
Select the two desired applications from the menu displayed.
Please note that even in this case only some system apps and a few third-party apps are supported.
Multi-window on LG smartphones
LG long ago implemented a multi-window function with the name Dual Window that allows you to use two applications at the same time, well before Android Nougat was released. Here's how to activate it:
Press the multitasking/ recent button.
A button called Dual Window will appear below. Press it.
A new window will open in the middle of the display and allow you to select the two apps next to each other.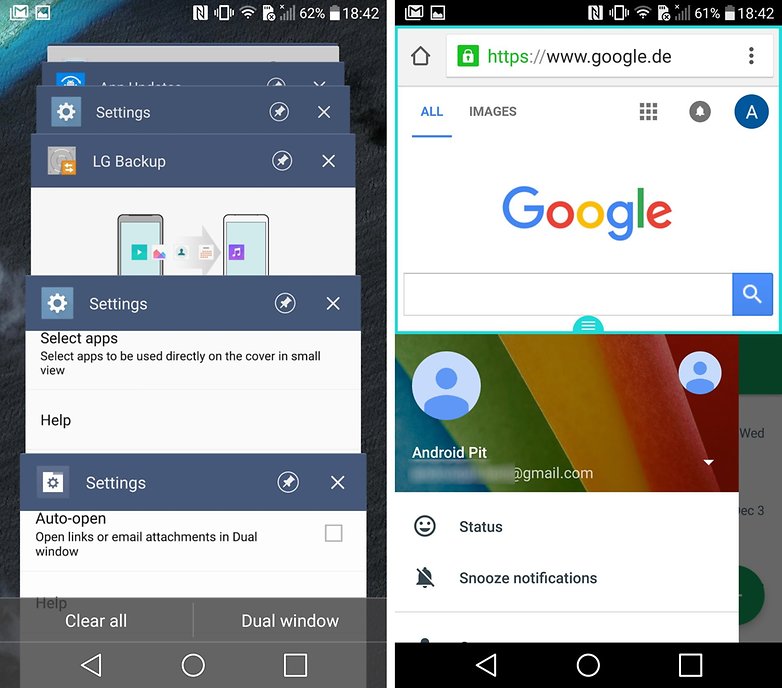 Use a modified ROM
For other smartphones that unfortunately don't allow this option you can always try modding. For a limited number of smartphones, there are in face some modified ROMs that will allow you to upgrade your device to Nougat or that may have enabled the function on previous versions of Android.
In case you're interested in the topic I've provided some links to useful guides. As always, remember that you're following the procedures at your own risk and that each smartphone brand and model may slightly differ. Modified ROMs are not for the weak!
Do you use multi-window on your smartphone? If yes, with which apps?