A player's journey: How I learned to love Android gaming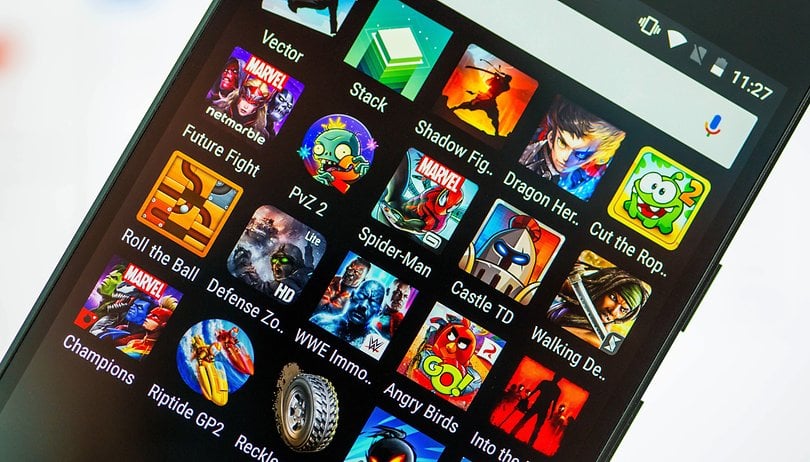 I've been a gamer as long as I can remember, since I loaded tapes into the Commodore 64 as a kid. This led me down a path of increasingly sophisticated hardware from Sega and Nintendo consoles, through Playstation and ever more advanced desktop PCs. But I never really gave mobile gaming a chance until now. What I found surprised me.
Mobile games have a bad rep. At least among PC or console gamers. When you're used to sinking hours into immersive AAA gaming experiences on the big screen, squinting at a small screen in your hand has little appeal. Nor does poking and swiping at that same screen to control instead of a more comfortable gamepad or keyboard+mouse setup.
Technology moved on though, and modern smartphones pack better hardware than the machines that powered my most beloved games back in the day. With the stacks of smartphones of the AndroidPIT editorial office at my disposal, I resolved to get to grips with what mobile tech had to offer in the video games department. Could I learn to love Android gaming?
You don't need AAA graphics to have a good time
A flagship smartphone can boast impressive specs, but it's never going to compete with a high end gaming PC. But honestly that's not an issue. Good gameplay is engrossing even when it's not dressed up in shiny graphics. I have to admit that the overly cartoony aesthetic favored by many Android games isn't really to my taste. But Android does have some graphically beautiful games out there that remind me of playing on console. For example, take Dead Trigger 2:
There are actually plenty of Android titles with good graphics out there especially for high-end smartphones, but a big part of my journey from PC gaming to mobile still involved prioritizing gameplay over graphics. Although, it also led to me to realize that satisfying gameplay on mobile isn't the same as it is on desktop.
A good mobile game needs different rules
Obviously, context is important when thinking about mobile games vs PC gaming. To sit down and play for an evening at home, I'm obviously sticking with my PC. But there are plenty of times when I'm on the go and I've got time to kill. And while I'm killing time, I may as well kill some digital bad guys.
From the morning commute to long distance travel far away from my desktop, there's opportunity for playtime but it's just not convenient to carry a laptop. Because I'm more likely to be out in public, and thus need to be aware of my surroundings, a good mobile game is one that is relatively low-risk, low-stakes if I happen to look away from the screen.
My favorite game for the morning commute, Sky Force Reloaded, delighted me with some skillful design that optimized it for this kind of situation. It's an engaging "bullet hell" shooter, a classic genre that typically demands intense attention to detail and lightning-quick reaction.
Not an obvious choice for gaming on the move then, but the game solves this by automatically going into super-slow motion when you take your finger away from the screen.
This, combined with well-paced levels that don't take too long to complete, make it forgiving when you have to keep an eye on crossing the road, or someone bumps into you on the subway.
Sky Force's solution is ingenious,given that some game genres lend themselves more to these situations than others. Adventure games and turn-based games in particular benefit from their slower pace on the move, so there's a wider variety of these types on Android compared to other genres.
Another format that surprised me with just how easy and addictive to play on the move it was were the various Pixel Dungeon titles, roguelike dungeon crawl games with primitive graphics (but great gameplay), that punish failure harshly, but were so easy to pick up and play again after every character death that I stopped worrying and learned to love restarting.
It can be a great nostalgia trip
For gamers of a certain age, retro-games are a great gateway to get into Android gaming. As someone with many fond memories of the Sega Genesis, I was overjoyed to find classics like Sonic the Hedgehog, Altered Beast and Golden Axe on the Google Play Store.
These older games usually had just three actions buttons for controls, a simple set-up that just about translates to Android, but I have to admit that the controls on these Sega ports can sometimes feel awkward. It's not just console platformer games that got scrubbed up and released on mobile. I was really happy to see that my favorite Dungeons & Dragons based computer RPG, Planescape: Torment, was available on Android alongside Baldur's Gate and Icewind Dale.
While playing these ports is fun and I appreciate the revival of old school game styles on Android, it's clear that the best games out there are the ones designed and optimized for the mobile platform, even if they borrow some retro looks or mechanics.
The thing is, there's plenty of low quality bait out there that promises to replicate games I'm familiar with, but are basically traps of ugly design, with so much of the content locked behind predatory in-app purchases. Of course, if developers are going to put the effort into making good new games for mobile, they're going to need to see some reward for their work. Which brings me to my next point.
It's worth paying a little upfront for good quality
There are a lot of free games for Android, and I appreciate that. But if you're a gamer looking for a quick way to separate the best quality games available on the play store from the dross, then a good rule of thumb is that you get what you pay for. Upfront.
The ubiquity of "pay to win" and micro-transactions is part of what gives mobile gaming a bad rep, and I find it unbearably frustrating if a game requires repeated payments to progress or get an edge on the competition. In the sea of free offerings, it may be a turn-off to see a game demanding payment before you play, but one could do worse than take a chance on an app that has the confidence to know its worth.
The best games I've found on Android aren't free, but they often deliver a lot of great content for the price of a couple of beers, and don't pester me with paywalls after. After struggling to run unofficial ports of my beloved old-school games on Android, I decided to spend a little money on their modern 'spiritual successor' games that were designed and supported to run on Android.
I wasn't disappointed. My favorite games on my phone were all paid for, but they didn't cost more than $5-10 at most. Thimbleweed Park, the latest adventure game from Monkey Island series designer Ron Gilbert, perfectly blends nostalgia with modern convenience:
And, after some wasted hours trying to get one of the free unofficial Heroes of Might and Magic II ports to work properly on my phone (and lamenting that the stellar Heroes of Might and Magic III HD was only available for tablets), I took a chance and paid $5 for Royal Bounty HD, which promised gameplay inspired by the classic series of my youth.
I wasn't disappointed. This campaign-focused game provided exactly the kind of experience I was looking for, with the sad exception of randomly generated skirmish maps.
Probably the game that got me most excited for the potential of Android gaming was Crashlands, which, for four bucks, gives a ton of content and plays so well on Android that it's one of the few games I play on mobile that I'd never care to try a PC version of. A superbly well-designed game with exploration, strategy and RPG elements, it's even got a level editor.
Continue? Yes/ No (8 secs remaining...)
Now that my eyes are opened to the world of mobile gaming, I'm having fun with new ways to be an insufferable geek in public. When I laid down my old Game Boy all those years ago, I thought I'd grown up and left handheld games forever in favor of more high tech, but deskbound, options.
That's not to say, I don't still spend plenty of time playing on my PC, but my journey back to the joys of handheld gaming on the move has been surprisingly informative as well as fun, and I'm going to do my best to share my thoughts and future discoveries as I keep on.
How about yourselves? Was mobile gaming everything you thought it would be? What titles would you recommend?