Honor 9 vs OnePlus 5: Which will win your heart?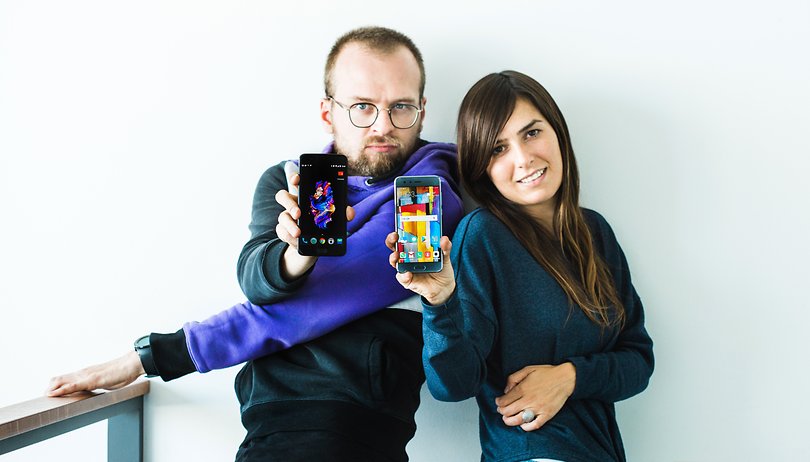 If your budget for a new smartphone is capped at $500 or so, you have two very strong contenders with the OnePlus 5 and the Honor 9. Both were released in 2017, are technically up-to-date and look good too. But which is the better option? We decided to pit the two phones against each other.
Honor 9 vs OnePlus 5: Price
Ideally, you should buy your device, whether it be the Honor 9 or the OnePlus 5, from its respective manufacturer. The price begins at $495 for the Honor 9 and $479 for the OnePlus 5.
Honor 9 vs OnePlus 5: Design
Honor 9 (Jessica Murgia)
Even with smartphones, we can see how divergent tastes can be. The Honor 9 certainly doesn't present a unique design, and ultimately, it's reminiscent of the Samsung Galaxy S7. The difference is more obvious in the striking reflection on the rear and edges. The ergonomici of this phone is defined by features such as its rounded edges, metal frame, glass and 2.5D edges on the display.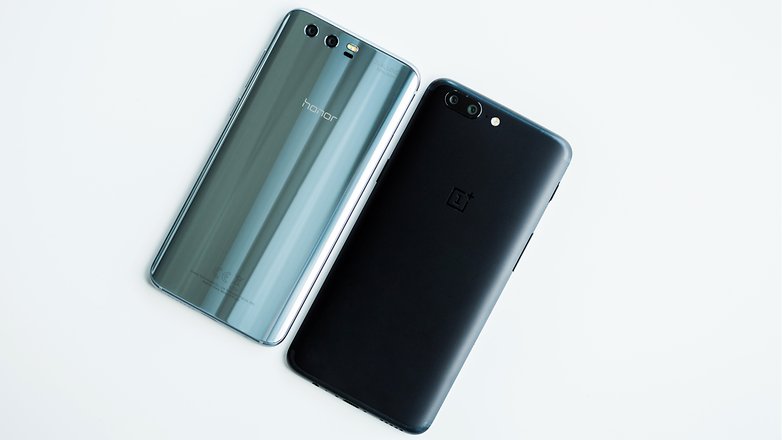 With a diagonal screen size of 5.15 inches, the Honor 9 is better suited for smaller hands. The way the dual cameras are set on the backside is nicely done, and they allow the device to lie smoothly on its back. A further strength is the provision for two SIM cards, or one SIM and one MicroSD card. Unfortunately, the Honor 9 is still missing IP certification and splash water protection.
OnePlus 5 (Eric Herrmann)
Jessica's description of the Honor 9 also applies surprisingly well to the OnePlus 5. Clearly there is a rise in meta-eclecticism in China, where even the imitations are imitated. But the design of the OnePlus5 comes from Apple, whereas Honor can be traced to Samsung. And this isn't especially a good thing.
The OnePlus 5 is slimmer and I personally prefer the matte aluminium backside to glass, which gets too greasy in my hands and slides around the table too easily. Additionally, OnePlus offers prettier cases. These improve the design even further and fix the wobble caused by the phone's protruding camera. On the other hand, the transparent plastic case from Honor makes it less slippery, but doesn't look good at all.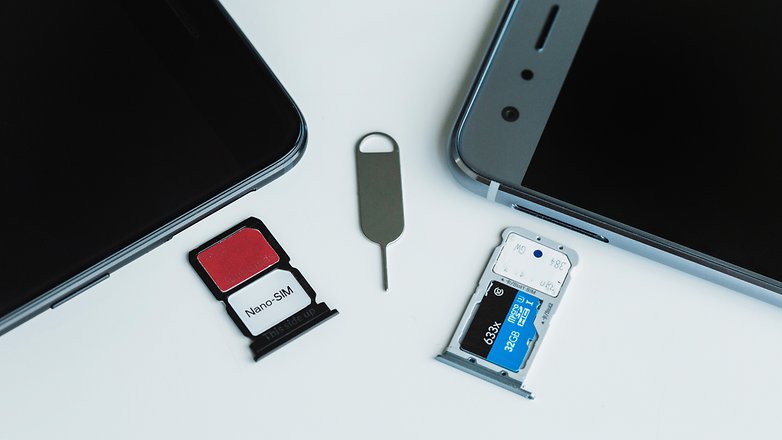 Like the Honor 9, the OnePlus 5 has no IP certification. Nevertheless, the results of broad testing have shown the following: it can be cleaned with water and won't break instantly when in contact with tap water (no salt or soap). Other features like a dual camera and dual SIM slot can also be found here, with only MicroSD support missing.
Honor 9 vs OnePlus 5: Display
Honor 9 (Jessica Murgia)
The 5.15 inch full-HD display may not be suitable for demanding VR applications, but it can nevertheless handle all daily tasks. You can select the color temperature of the LC display yourself. Although it's not AMOLED, the minimum display brightness is still outstanding.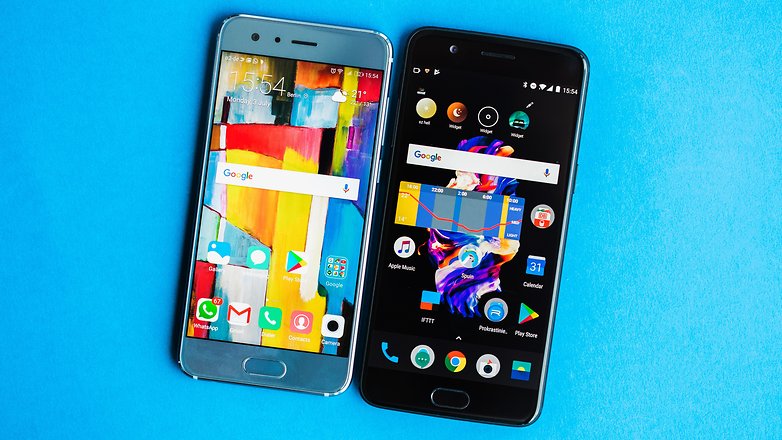 OnePlus 5 (Eric Herrmann)
What can I say? OnePlus does have AMOLED, but has built it the wrong way round. The result is a delayed image composition, which leads to so-called 'jelly scrolling' in a few devices. This isn't so tragic in your day-to-day use of the phone, but it's more embarrassing for the manufacturer because you know why it's happening. OnePlus also provides professional features like the DCI-P3 color space and a new reading mode. However, even at minimal brightness, it doesn't go as dark as the Honor 9. So the point for the most comfortable night reading goes to Honor.
Honor 9 vs OnePlus 5: Software
Honor 9 (Jessica Murgia)
The user experience with Honor's software is vastly different from that of OnePlus. The Honor 9 is delivered with EMUI 5.1, which is based on Android 7.0 Nougat. This looks and feels different from the stock Android, which is made to Google's template. Despite multiple modifications, the system has good performance and allows fluid operation.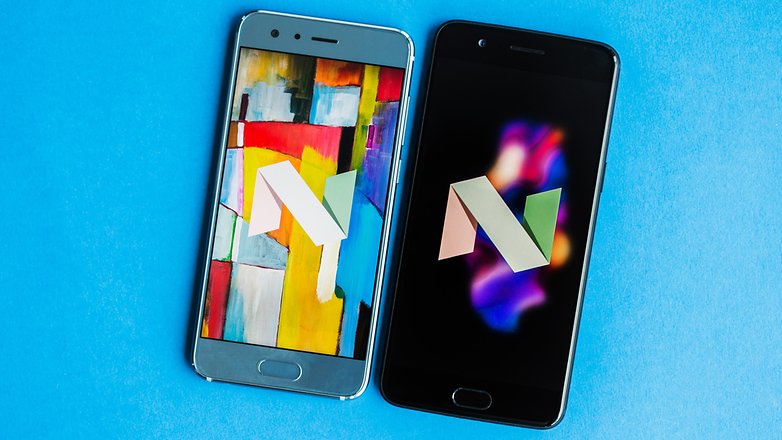 One great addition is the Gallery app from GoPro. With this app, you can create shareable video collages from your photo memories. But my favorite app is Phone Clone. This migration app is now a system component and allows you to easily switch from your old Android or iPhone to the Honor 9. The transfer is so perfect that afterwards all apps and their settings work immediately on the new smartphone. This immensely improves the switch-over process. Another special feature in the software is App Twin, which allows you to run two versions of Whatsapp or Facebook in parallel, in case you use two accounts.
Another great feature is the gesture-sensitive fingerprint scanner. Instead of pressing buttons, you can give the command for Home, Back or Recent with a swiping motion over the fingerprint scanner. One last advantage of the Honor 9 is the infrared transmitter on the top. You can use this to remotely control your TV device or AC unit.
OnePlus 5 (Eric Herrmann)
The backup feature from Honor is really cool and useful if you've had a device from Honor or Huawei in the past. Otherwise you can reach for the OnePlus 5, for which the software is based on Android 7.1.1. In its early days, it was updated almost weekly. Aside from a number of practical improvements, OnePlus 5 is essentially Android but based on Google's template.
On top of an AMOLED-friendly dark mode, the phone also features display gestures as seen in the OnePlus One, programmable buttons and it comes with barely any pre-installed apps (apart from Google's). And if those are too much for you, you can switch firmware with the OnePlus guarantee. Modders have always praised the openness of OnePlus devices.
Honor 9 vs OnePlus 5: Audio
Honor 9 (Jessica Murgia)
The Honor 9 houses a single loudspeaker on the bottom right, which luckily sounds crisp and clear. The device boasts great sound quality during calls. There's even a 3.5mm jack so you can continue to use your existing headset.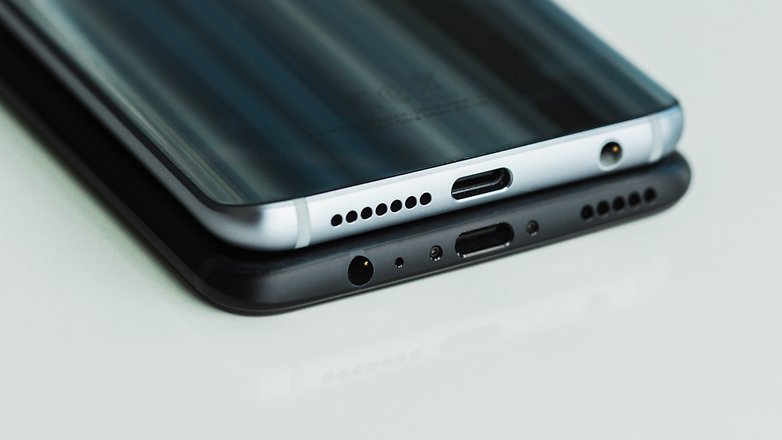 OnePlus 5 (Eric Herrmann)
The OnePlus 5 unfortunately has nothing to add here. The sound is loud and clear, but still just mono. If it were stereo, the faux pas with warped stereo in videos would definitely have been noticeable.
Honor 9 vs OnePlus 5: Performance
Honor 9 (Jessica Murgia)
For a fair comparison in performance, we'd need a OnePlus model with 6GB RAM and 64GB Flash memory. This comes close to the basic specifications of the Honor 9 with 4GB RAM and 64GB Flash. The following values correspond to the 8GB/128GB model of the OnePlus 5. Measurements regarding processor performance are already comparable.
In summary, I can say that the daily performance of both devices is outstanding. You don't need to deal with long charging times. The memory and computing performance of both devices are great. Even the devices' Wi-Fi and 4G capabilities are top-notch.
At the heart of Honor 9 sits the Kirin 960 Octa-Core-Processor with the GPU Mali G71-MP8. This pairing already made an impression last Fall in the Huawei Mate 9, showing that Huawei wants to catch up in gaming performance.
OnePlus 5 (Eric Herrmann)
Regardless of whether you need it or not, with the OnePlus 5 you're getting enough performance for the next three years: games, multitasking, 4G. The given value for data storage is flawed, so I wouldn't believe it at face value. A feature of the F2FS file system presents some devices with ridiculously high PC mark values, to the point that Honor 9 is 78 percent faster. Nevertheless, I'd also agree with Jessica that both devices perform excellently on a daily basis. You won't need to make any compromises on either device.
Honor 9 vs OnePlus 5 benchmarks
| | Honor 9 | OnePlus 5 |
| --- | --- | --- |
| 3DMark SlingShot ES 3.1 | 2011 | 3341 |
| 3DMark SlingShot ES 3.0 | 2907 | 4337 |
| 3DMark Ice Storm Unlimited | 29132 | 39419 |
| Geekbench Single Core | 1858 | 1944 |
| Geekbench Multi Core | 6446 | 6666 |
| PCMark Work Performance | 6155 | 6545 |
| PCMark Storage | 9019 | 5044 |
Honor 9 vs. OnePlus 5 technical specifications
Honor 9
OnePlus 5
Dimensions:
147.3 x 70.9 x 7.4 mm
154.2 x 74.1 x 7.25 mm
Weight:
155 g
153 g
Battery size:
3200 mAh
3300 mAh
Screen size:
5.15 in
5.5 in
Display technology:
LCD
AMOLED
Screen:
1920 x 1080 pixels (428 ppi)
1920 x 1280 pixels (420 ppi)
Front camera:
8 megapixels
16 megapixels
Rear camera:
20 megapixels
16 megapixels
Flashlight:
Dual-LED
Dual-LED
Android version:
7.0 - Nougat
7.1.1 - Nougat
User interface:
Huawei EMUI
Oxygen OS
RAM:
4 GB
6 GB
8 GB
Internal storage:
64 GB
64 GB
128 GB
Removable storage:
microSD
Not available
Chipset:
HiSilicon Kirin 960
Qualcomm Snapdragon 835
Number of cores:
8
8
Max. clock speed:
2.4 GHz
2.45 GHz
Connectivity:
HSPA, LTE, NFC, Dual-SIM , Bluetooth 4.2
HSPA, LTE, NFC, Dual-SIM , Bluetooth 5.0
Honor 9 vs OnePlus 5: Camera
Honor 9 (Jessica Murgia)
We know the dual camera system in Honor 9 from the Mate 9. The monochrome sensor uses 20 megapixels, and the colored sensor uses 12. The aperture is f/2.2 Despite all recent optimizations, some things are still true: you'll only get a truly good photo in bright daylight and the end results are impressive due to good color fidelity.
Honor has equipped the camera app with many games to put the dual camera through its paces. Bokeh effects simulate the depth-of-field effects of a reflex camera, but this is inaccurate when capturing object edges. 2x zoom and 3D effects as well as a 3D panorama provide interesting shots.
At dusk, long shutter speeds make things blurry, even with laser focus but in pro mode, these settings can be changed manually, which enthusiasts will be happy about.
Gallery of Honor 9's test photos in full definition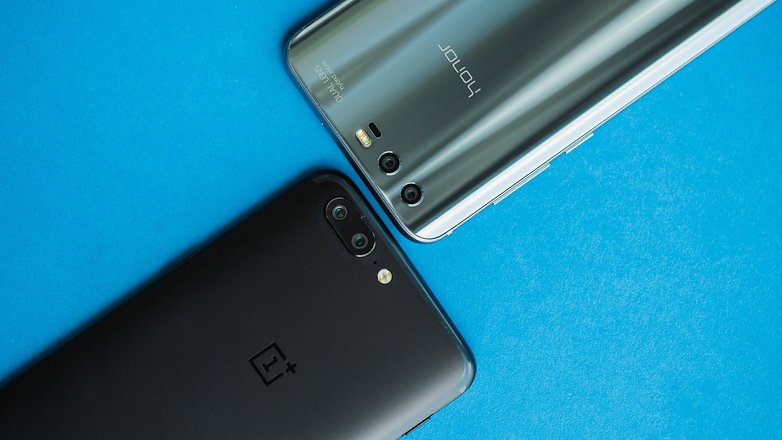 OnePlus 5 (Eric Herrmann)
With my OnePlus 5, I'm jealous of Jessica for the laser focus in her Honor 9. This is missing on the OnePlus, as is optical stabilization, meaning that many of my pictures become blurry in the dark. In addition, OnePlus has some post-processing features that need to be patched up. In terms of hardware, the OnePlus camera is better, and better suited for low-light photos with a f/1.7 aperture.
Our camera expert Stefan Möllenhoff weighs in
In daylight, both OnePlus 5 and Honor 9 produce richly detailed photographs with correct white balance. Using standard settings, the photos from OnePlus 5 appear more colorful, which can be edited in post-production. However, certain detail shots reveal problems. For example, when photographing trees with OnePlus 5, there is a distinct lack of detail, similar to watercolor paintings. This is fine for Facebook, Instagram and the rest, but wouldn't suffice for print.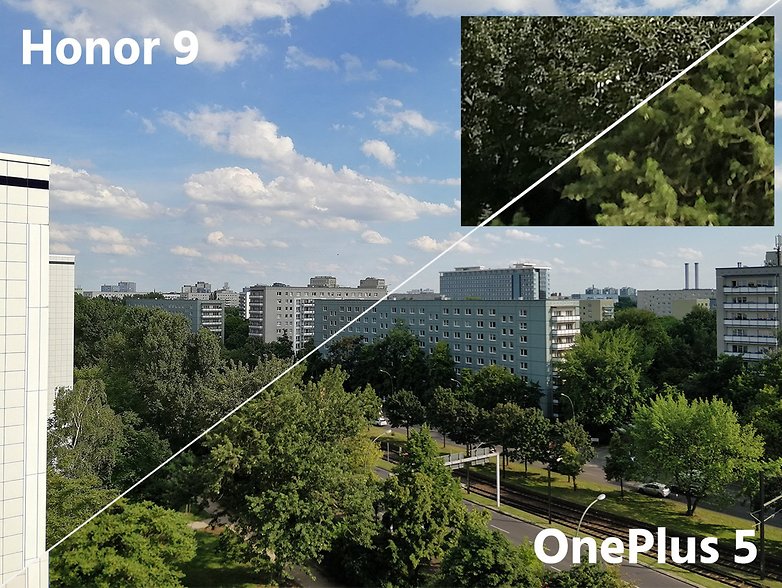 Both devices offer a portrait, or bokeh mode. This is when you take a picture and use post-production to artfully blur the background. In my opinion, this function on the OnePlus 5 is very limited. As a user, I can't set the focal range and thus the strength of the effect. But with the Honor 9, I can digitally zoom in on the picture and set a virtual aperture up to f/0.95. An extra point goes to Honor for its more convincing bokeh effect.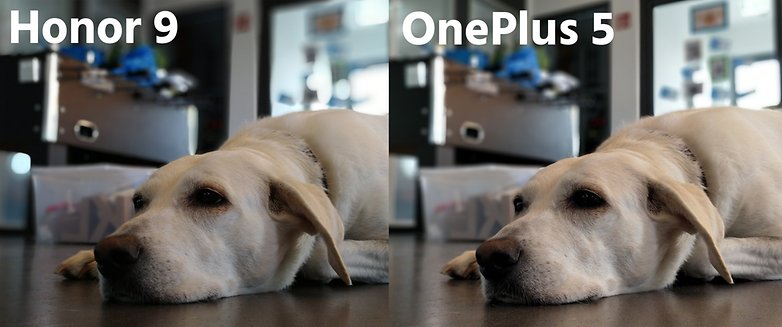 Both the OnePlus 5 and the Honor 9 promise a 2x zoom without loss of detail. But this is achieved in two different ways. Honor 9 performs this through a higher resolution monochrome sensor for which the light information is then fused with the digitally enlarged picture from the RGB sensor. OnePlus on the other hand utilizes the different focal ranges of its two cameras - 24 and 26 millimeters. Pressing the 2x button will switch to the telephoto lens, and simultaneously zoom in on the picture. This interpolates to the sensor resolution of 20 megapixels. This convoluted method on the OnePlus 5 provides for a certain level of detail in zoomed images that the Honor 9 doesn't have. Both devices capture detail well, but the OnePlus 5 displays better micro-contrast.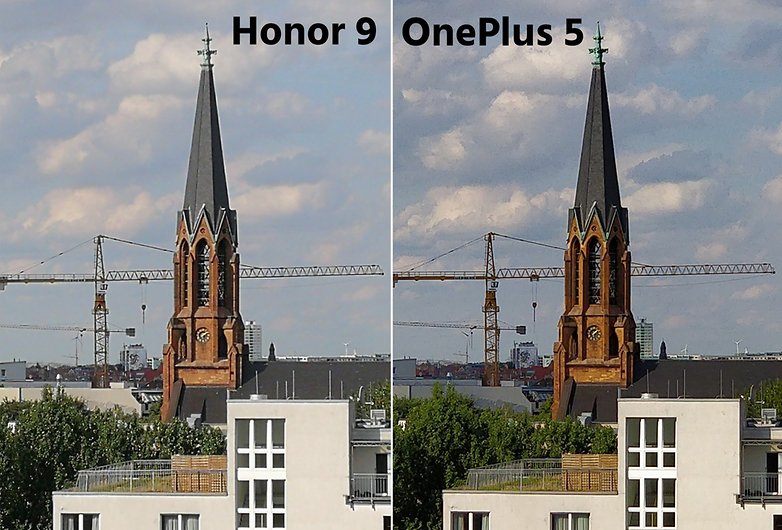 Both phones even offer automatic high dynamic range (HDR). The OnePlus 5 is more skilled at this and offers balanced exposure and vibrant colors. In direct comparison, the pictures on Honor 9 appear dark and dull. Photos on the OnePlus 5 have the typical HDR look that I've seen with the Google Pixel.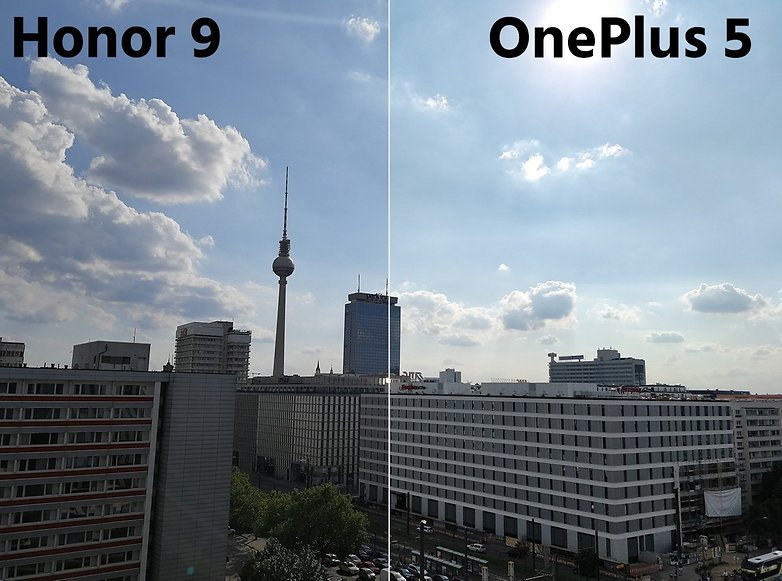 Both phones perform well in poor light. Picture noise has been minimized, but this suppression comes at the expense of detail. This loss isn't so heavy with Honor 9, which we can see by the rich detail in dark areas of the picture. In the test photo of the flowers, both phones were set to a short exposure at 1/17 second and an ISO of 2500. Longer exposure would only be possible with optical picture stabilization. In this situation, the Galaxy S8 flashes for a 1/4 second and can thus achieve the low-noise ISO 800.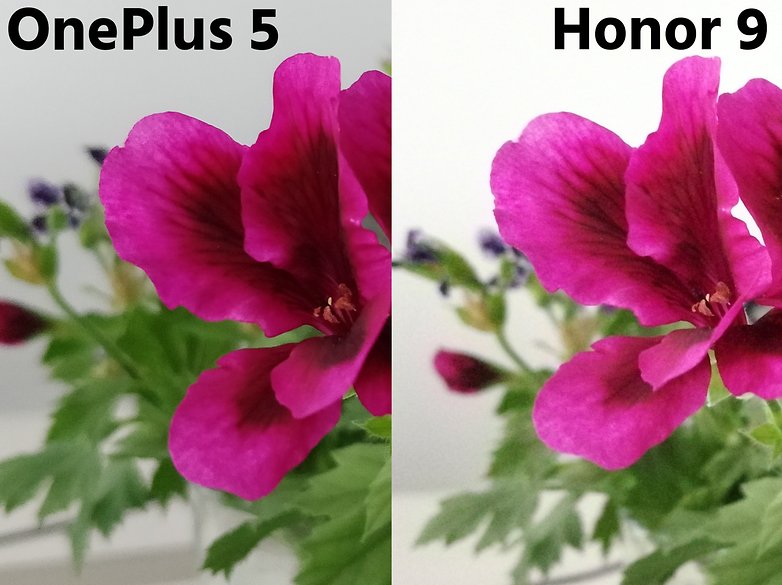 In the camera category, there's no clear winner. Make your own choice based on the conditions you take most photographs in.
Honor 9 vs OnePlus 5: Battery
Honor 9 (Jessica Murgia)
The 3200 mAh battery easily lasts a whole day. Nevertheless, its Huawei Quick Charge with 9V/2A falls behind the record set by its competitor's Dash Charge (5V/4A). A complete charge takes just over two hours instead of the 80 minutes needed by OnePlus 5. The battery life in Honor 9 is six hours and 58 minutes.
OnePlus 5 (Eric Herrmann)
With a 3300 mAh battery and larger display, the OnePlus 5 has a slightly shorter battery life: 6.5 hours. With OnePlus, I haven't encountered the power-saving modes which choke background apps and stop you receiving messages. EMUI devices like Honor have frequently disappointed me for these reasons.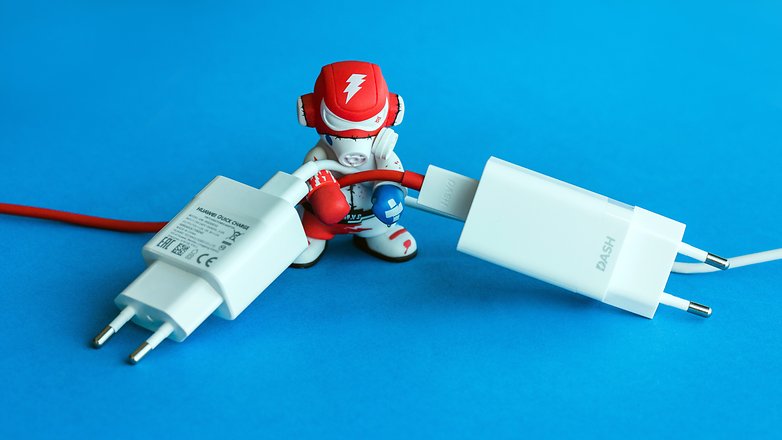 Honor 9 vs OnePlus 5: Conclusion
Honor 9 (Jessica Murgia)
In terms of value for money, I believe the Honor 9 just about creeps ahead. Certainly the OnePlus 5 offers more RAM at a premium, but for daily use the 4GB offered by Honor 9 is more than enough. At least I, as a heavy user, never noticed any downsides. The extra features of the software and quirky camera are interesting additions, which I use often and gladly.
OnePlus 5 (Eric Herrmann)
In my opinion, the OnePlus 5 is the more interesting phone. But both devices are such close copies of other phones that neither gets a point for design. For me, the splash water protection, beautiful photos and breathtaking performance of the OnePlus 5 give it the edge. The well-maintained, simple software also better suits my tastes. The OnePlus doesn't reinvent the wheel but it does allow me to resume Google services that I had in devices from other manufacturers. Maximum performance and minimum ballast - just how I like it.