Samsung Galaxy Note 8 vs Google Pixel 2 XL: Face off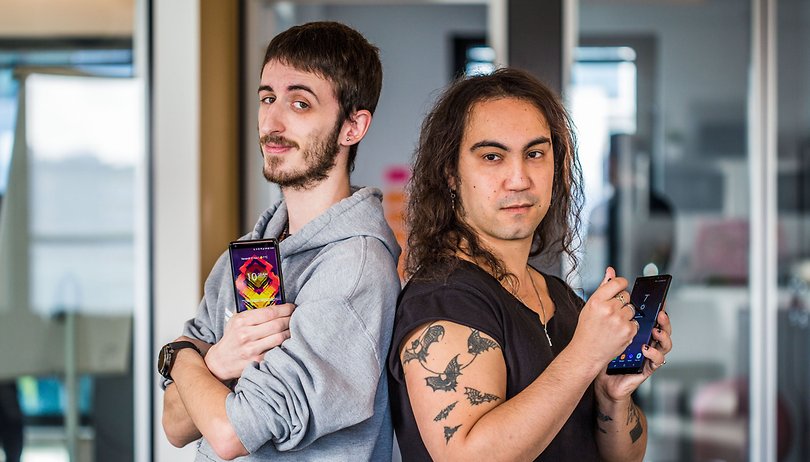 Samsung impressed us earlier this year with the remarkable Galaxy Note 8, but technology marches fast and there are several contenders this quarter that aim to knock the Korean company's phablet off the throne. One of the strongest challengers comes from the masters of Android itself in the form of Google's Pixel 2 XL.
Standing tall and proud and armed with the S-Pen, the Galaxy Note 8 phablet takes on the lean and cunning Google Pixel XL 2 in this battle of the big boys. I'll be repping my favorite phablet in this face-off, while AndroidPIT Italy's Luca Zaninello will be championing his beloved Pixel 2 XL.
Design: Large and in charge
Galaxy Note 8 (Nicholas)
Both smartphones come wearing this season's must-have outfits, namely glass and aluminium. The two devices can even look quite similar at a superficial glance, especially when in monochrome color. Samsung's Galaxy Note 8 sleek curves and glass back do give it a more premium and stylish feel. The Pixel 2 XL does, however, sport an attractive black and white 'Panda' version that elevates it in terms of appearance.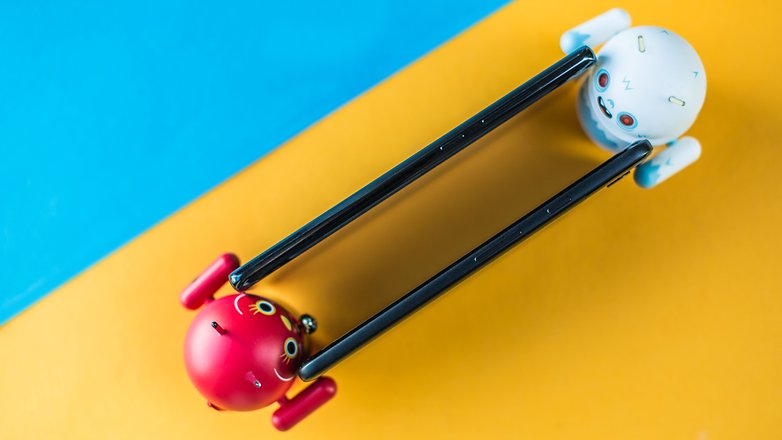 The Note 8's size is part of its charm and basically eliminates the discomfort of squinting at small phone screens, but does make it somewhat unwieldy. More than any other phablet, it often demands two-handed use and shuffling it up and down my palm to adjust its position. This takes some getting used to, but that's the price to pay for its best quality, the display.
Pixel 2 XL (Luca)
The Pixel 2 XL is more compact than the Note 8 but this doesn't mean that it is less bulky. The Google Pixel 2 XL is still a phablet with generous dimensions and it's very difficult to operate it with one hand. The construction is great but it doesn't reach Samsung latest flagship's glory. There's one thing that i really like about the Pixel 2 XL: the 2.5D glass on the front is really curved on the edges even without a curved display. In the hand the smartphone feels good and doesn't slip away that much, the metal body is solid but the plastic-like paint doesn't give you the same premium feeling that the Note has.
Display: Size isn't everything
Galaxy Note 8 (Nicholas)
While both phones feature an attractive display, it's in this field that the Samsung Galaxy Note 8 really shows its strength. The Note 8 has a display measuring a record-breaking 6.3 inches. The bezels have shrunk away to near non-existence accommodate the big screen. The Super AMOLED panel display in the new Galaxy Note has a 2,960 x 1,440-pixel resolution, and blew me away when it came to watching movies fullscreen, playing games or scrolling through websites. Even the default starry black 'sky' on the always-on display is a joy to behold. The only downside is that the curved edges, which make the overall shape of the phone more attractive and stylish, are actually not so practical for the display, which suffers from noticeable color distortion along the edges.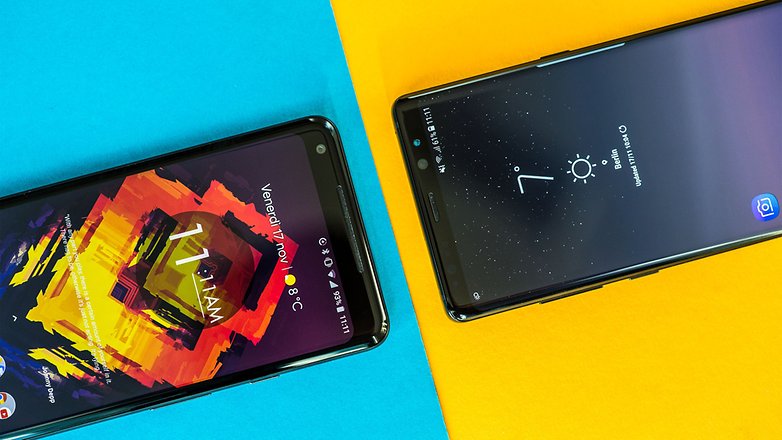 In daily use, the Note 8 could well turn you into a screen addict. I found that I always preferred to watch media on the Note 8, sometimes even not bothering to fire up my PC in favor of Samsung's phablet.
Pixel 2 XL (Luca)
Can we just skip this part? Jokes aside, the Google Pixel 2 XL is not famous for having the best smartphone screen in the world. The problems with the LG-made OLED panel made their way into the headlines of all the major blogs and there's nothing you can do to fix that. The 6-inch QuadHD+ panel is bright enough but not the brightest, the colors are well calibrated and natural looking but compared to the over saturated Samsung panels they just look washed out. If you have used a Samsung smartphone in the past few years, your eyes need to adapt to the changes.
Anyway the display is not that bad, and in everyday use, you'll be satisfied with the HDR and DCI-P3 colorspace capabilities, it just doesn't hold up to a direct comparison. Also, there's the bezels: around the display there's a lot of unused space because Google needed room for their "squeezable" frames and front facing speakers on the top and bottom.
Camera: The all-seeing eye of Google
Galaxy Note 8 (Nicholas)
The Note 8 has a seriously impressive dual OIS 12 MP camera setup on the back that is quiet, good in low light and benefits from fast autofocus. This makes it excellent for portraits, zooming, or shooting a moving subject. The front selfie camera is not quite as good at a resolution of 8 MP. The Note 8 is also great for video, capable of recording 30 fps video at 4K resolution and 60 fps at full HD. It bears repeating about the screen, too. Once you've got the video, the Note 8's gorgeous display is great for viewing it.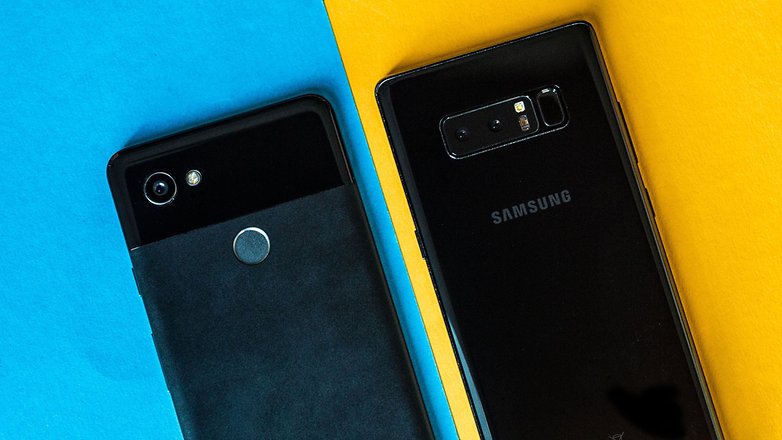 So, a really great camera from Samsung's side, fine. Maybe one of the best, but I'll admit compared to Google's latest, it might not be the best. Google's engineers are the masters of camera software optimization, and when it comes to smartphone photography, good hardware only takes you so far.
Pixel 2 XL (Luca)
Here is where Google does what they do best. On paper, the single 12 MP camera of the Pixel 2 XL is nothing exceptional, but the software optimization of the Mountain View company shows how good software can do a lot. The new pixels have a camera that supports PDAF for quick focus and uses these dual-pixels to achieve one of the best bokeh effects ever made, all without a second camera. Photos are great in almost any light condition and the dynamic range in the photos thanks to HDR+ is amazing. There is also a hybrid stabilization for videos that uses OIS and EIS at the same time. And that's not all: second-generation Pixels are equipped with a dedicated chip called Pixel Visual Core designed by Google that should further improve photographic quality with the help of AI.
The chip is not yet active so we will see the world's best camera for smartphones improve even more in the near future! It's a pity that there is no manual/pro mode, but the point and shoot of Pixel 2 makes the best out of its sensor in every situation.
Samsung Galaxy Note 8 (US-version) vs. Google Pixel 2 XL technical specifications
| | Samsung Galaxy Note 8 (US-version) | Google Pixel 2 XL |
| --- | --- | --- |
| Dimensions: | 162.5 x 74.8 x 8.6 mm | 157.9 x 76.7 x 7.9 mm |
| Weight: | 195 g | 175 g |
| Battery size: | 3300 mAh | 3520 mAh |
| Screen size: | 6.3 in | 6 in |
| Display technology: | AMOLED | POLED |
| Screen: | 2960 x 1440 pixels (522 ppi) | 2880 x 1440 pixels (537 ppi) |
| Front camera: | 8 megapixels | 8 megapixels |
| Rear camera: | 12 megapixels | 12.3 megapixels |
| Flashlight: | LED | Dual-LED |
| Android version: | 7.1.1 - Nougat | 8.1 - Oreo |
| User interface: | TouchWiz | Stock Android |
| RAM: | 6 GB | 4 GB |
| Internal storage: | 64 GB | 64 GB |
| Removable storage: | microSD | Not available |
| Chipset: | Qualcomm Snapdragon 835 | Qualcomm Snapdragon 835 |
| Number of cores: | 8 | 8 |
| Max. clock speed: | 2.45 GHz | 2.45 GHz |
| Connectivity: | HSPA, LTE, NFC, Bluetooth 5.0 | HSPA, LTE, NFC, Bluetooth 5.0 |
Features: Stab the Galaxy, squeeze the Pixel
Galaxy Note 8 (Nicholas)
The secret weapon of the Note 8 is the S-Pen. The Galaxy Note 8's stylus functions are unique among current flagships and actually really fun and useful. You can write and pen notes directly on a powered-off display, create GIFs, draw, precisely select and copy text even in difficult-to-reach places. At first, the stylus seemed kind of gimmicky, but once I started using it, I realized it was indispensable for getting the most out of the Note 8. The stylus enables an extra level of precision that's useful in a variety of situations, and makes two handed use feel much more natural and convenient.
It's certainly more useful than the Pixel 2 XL's party trick, the Active Edge.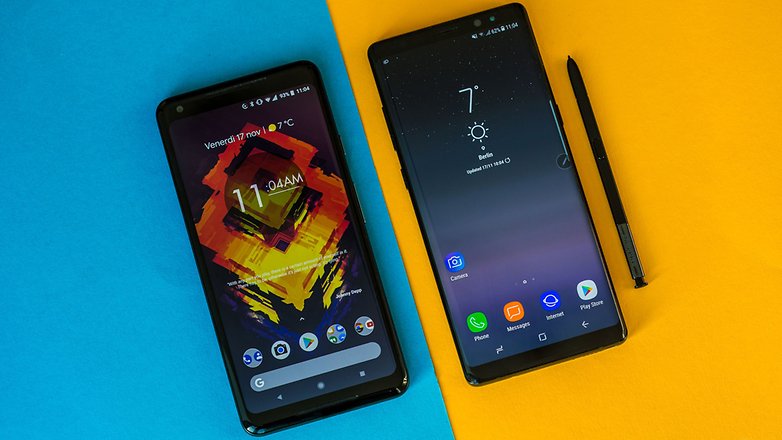 Pixel 2 XL (Luca)
Yeah, the Note has a stylus and so what? Not everyone might need that at all, even if it has to be said that its utility is indisputable. Personally, I have never had the need for a stylus and therefore it is certainly not its presence that will make me choose one smartphone compared to another. On the other hand, on Google Pixel 2 XL we find the Active Edge function, similar to the one found on the HTC U11. The squeeze is not programmable and is used to call up Google Assistant at any time even when the screen is off. It's not a revolutionary feature, but you'll find yourself using Google's AI much more often than you would believe. At the beginning, I thought it was a useless function, but in the long run it has its merits.
Battery: Is wireless charging worth it?
Galaxy Note 8 (Nicholas)
Samsung may have been overly cautious with the battery in the Note 8 after the tragedy of the exploding Note 7 that made them a laughingstock. The 3,300 mAh keeps it running all day and then some, depending on your use levels, but is still a disappointingly average power supply for a top-of-the-range smartphone. Thanks to Quick Charge and integrated Qi technology for wirelessly charging the battery, the Galaxy Note 8 can quickly and easily shoot back up to 100 percent while charging. The Note 8 is a device for power users, but the battery life doesn't really reflect that.
Pixel 2 XL (Luca)
The Pixel 2 XL has a 3,520 mAh battery. It is not the largest on the market, but it does its job well. Thanks to Google's software optimization and thanks to Oreo's new background process management the smartphone battery has never left me dry during my days, not even in the most demanding ones. There is a quick charge that (according to Google) guarantees 7 hours of use with only 15 minutes of charging time. The metal body prevents wireless charging unfortunately.
Verdict: The workhorse versus the adventurer?
Galaxy Note 8 (Nicholas)
Both devices are strong contenders in the competition for the hearts (and wallets) of the premium smartphone buyer. Both sell for over $900. Which one you drop your hard-earned cash on may well depend on the kind of user you are.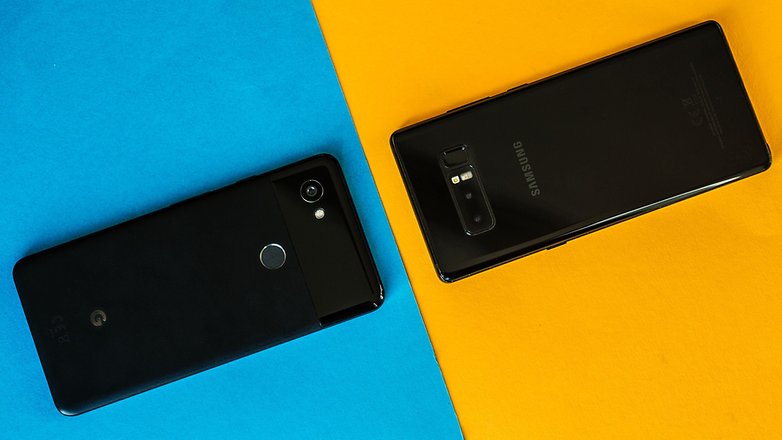 The Galaxy Note 8 stands out as the most powerful and versatile all-rounder. Thanks to the stylus, it's perfect for note-taking (waiiit...I see what they did there!) and more heavy-duty work. You can even use the DeX to connect it to your PC peripherals and use it as your desktop workstation. Samsung's flagship is more than just a big smartphone, its premium specs and adaptability give it the potential to become the focus of all your daily tech needs.
The Pixel 2 XL, on the other hand, might not be as good all-round but excels in its strong points. With its fantastic camera and seamless integration with Google's ecosystem, it lends itself more to fun, social and casual use.
Pixel 2 XL (Luca)
If your main use is working with documents, maps, mail and an intensive use of a stylus, Note 8 is the only choice. Note 8 is also the master of multimedia content (speaker aside). If you are looking for a more concrete smartphone in everyday life, in the use of social networks, with a simple but unbeatable camera and that doesn't leave you out to dry during your days, the Pixel 2 XL could be right for you. The Pixel 2 XL simply works. And it works very well. In addition, you have unlimited space for your photos on Google Photos and three years of updates directly from Google. It doesn't shine with its appearance or the quality of the display, but the user experience Google has managed to guarantee with this smartphone is second only to what Apple guarantees with iPhone and not by much.
Do you already own a Galaxy Note 8 or Pixel 2 XL? Let us know what you think!