Garmin Venu 2 Plus review: Primarily a sports watch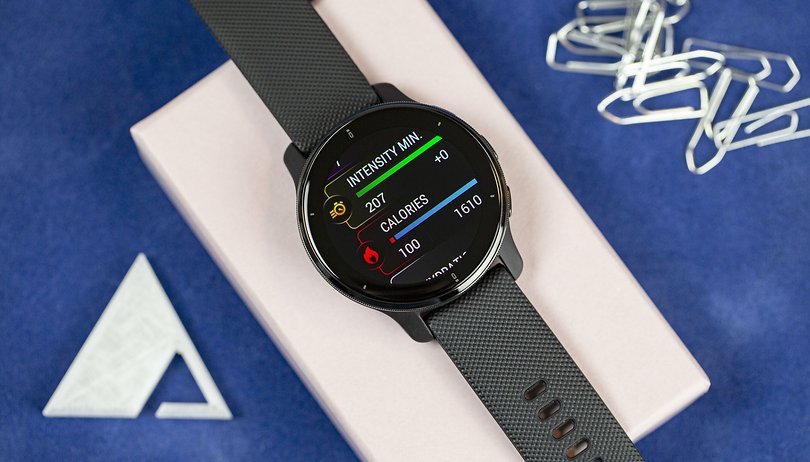 Garmin intends to improve their recipe for success further with the Venu 2 Plus. The "Plus" suffix makes the sports watch smarter: Garmin has now added a microphone, speakers and support for various voice assistants. That is nice, but the Venu 2 Plus' strengths lie elsewhere anyway.
Good
Extensive tracking capability

Huge accessory ecosystem

Solid build quality
Bad
No LTE version available

More a sports watch than a smartwatch

No ECG
Garmin Venu 2 Plus: All deals
Garmin Venu 2 Plus in a nutshell
Garmin has long been involved in the sports and outdoor markets, and the latest Venu 2 Plus radiates this from A to Z. No matter what your sport or physical activity is, the smartwatch supports you in a comprehensive manner during training. This means from warming up to heavy workout sessions, all the way to post-workout readings. In combination with the great battery life, the Venu 2 Plus is a great choice for casual athletes as well as professionals.
On the other hand, there are smartwatch capabilities thrown into the mix as well, and here is where the Garmin Venu 2 Plus falters somewhat. Yes, support for voice assistants is now part of the deal, the Spotify playlist runs via a pair of connected Bluetooth headphones, and yes, there are also notifications that pop up. But the setup is a wee bit tricky, and hopefully, it will be better in 2022.
However, if your focus is more on sports than on smartwatch features, then the Venu 2 Plus is certainly one of the best choices out there. Retailing for $449.99, it is pricier than the top models from Samsung, Fitbit and Apple, but it simply offers athletes a whole lot more. With Fitbit, you have to sign up for an additional subscription model to obtain the full range of functions.
Design and display
The Garmin watches in the mid- to upper price range are well-made, there is no question about that. Thanks to incremental upgrades, the Venu 2 Plus is a little bit more solid and chic than its predecessors.
---
What I liked:
Solid and lightweight build.
Great AMOLED display.
Good wearing comfort.
What I disliked:
Bezel offers very little protection for the display.
---
The Venu 2 Plus features an excellent build quality as usual, as per other Garmin devices. The lightweight case tips the scales at just 51 grams and features a stainless steel back and fiber-reinforced polymer at the sides. The bezel is also made of stainless steel and is flush with the Gorilla Glass 3 display. This makes the front look very minimalistic and smooth, but it also increases the risk of scratching the screen. I would recommend a screen protector in any case.
Garmin Venu 2 Plus Screen Protector (3 pack)
The round 1.3-inch AMOLED display has a resolution count of 416 x 416 pixels. The screen is sufficiently bright and absolutely legible under all light conditions, at least that's what I discovered during my time spent with it. The always-on display is deactivated by default. Turning the wrist reliably turns on the screen.
Apart from the touchscreen, the Garmin Venu 2 Plus now has a trio of buttons on the right side for various functions. The buttons are made of plastic and feature a clean press. I never had problems with accidental activation during sports, not even when the back of the hand touched the buttons during push-ups and the like.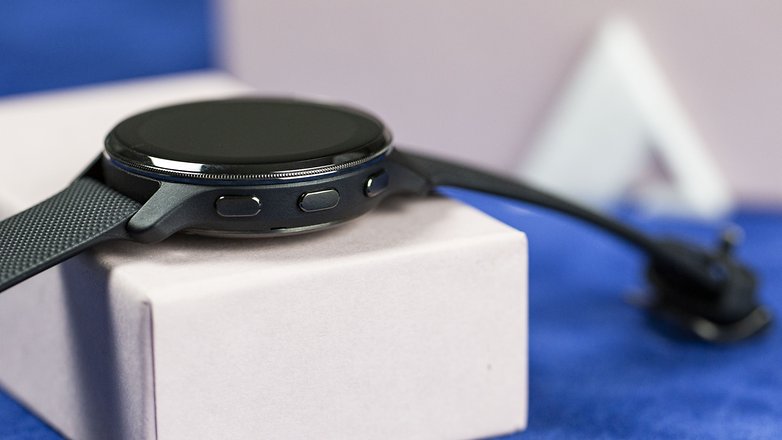 A silicone wristband is included with the Garmin Venu 2 Plus. It is suitable for wrist circumferences that range from 12.5 to 19.0 cm and feels very comfortable to wear. I did not have any problems with skin irritations during the review period.
Ease-of-use and smartwatch features
The Venu 2 Plus uses the same operating concept as the first Venu, and also many other Garmin watches before it. The way it works still serves it well in 2022, but the Venu 2 Plus looks a bit old-fashioned compared to Apple and Samsung.
---
What I liked:
Robust and flexible operating concept.
Now compatible with Siri, Bixby and Google Assistant.
What I disliked:
Smartwatch features that hail from 2019.
---
The operating concept of the Garmin Venu 2 Plus is quickly understood even for a new user. When vertical, the user swipes through a series of so-called "glances". These are small widgets, such as data from past workouts and sleep patterns, notifications or the Spotify music control, for instance. The widgets shown here and their order can be customized according to your preference.
You begin a workout with a short press on the upper button. The Venu 2 Plus first displays your personal workout favorites, and you can access the complete list with but a tap. A long press on the upper button leads to a configurable dialog of quick settings and features, for example, to adjust the display brightness, find your smartphone, control music playback, or have a live reading of your heart rate.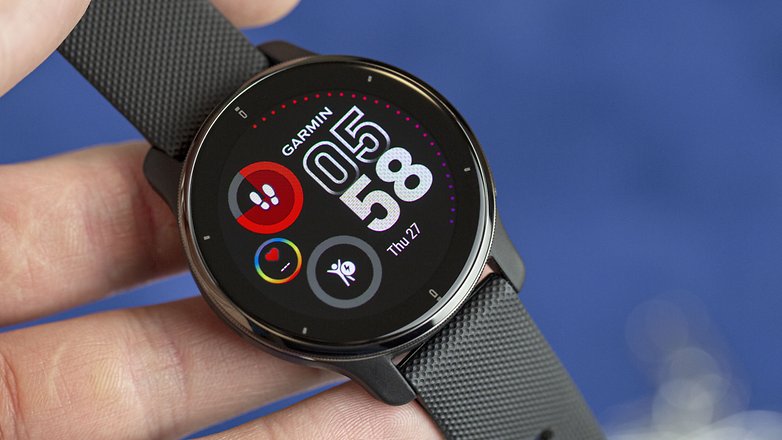 The lower button is the back button and always takes you back by one level. A long press on the button launches the watch settings. Most of these settings can also be found far much more conveniently via the Garmin Connect app on your smartphone. You can assign a specific function for the new center button for both tap and the long press actions. You can also choose between music control, save current position, alarm clock, stopwatch, timer, brightness, Garmin Pay, call list, dialer, contacts, volume, or no function at all.
Apart from the buttons and touchscreen, the Garmin Venu 2 Plus now also supports voice assistants: namely Bixby, Google Assistant and Siri. Depending on the voice assistant, a few settings on the smartphone are required for this to work properly. This worked well with Siri in the review. However, the integrated speaker is relatively weak whenever the surrounding sound is loud. In turn, this will affect the response from the watch.
Phone calls via the watch are also more suitable when you are in a quiet environment. Nevertheless, my conversation partners could understand me excellently via the watch, even while I was washing up in the kitchen. Notifications are less communicative, though: The Venu 2 Plus displays all notifications from the smartphone or only text messages or calls. However, it is not possible to reply via the watch or only via the voice assistant.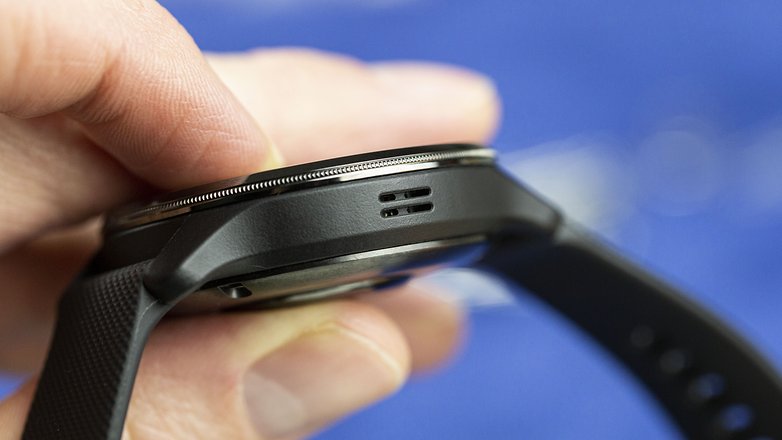 Finally, there is Garmin Pay which allows you to pay via the watch itself. As with its predecessors, the Venu 2 Plus also has a fall detection feature that can not only alert your emergency contacts, but it will also call them. It is a shame that Garmin does not offer the Venu 2 Plus with an LTE option.
Tracking & Training
Tracking and planning training sessions happen to be Garmin's main discipline , and the Venu 2 Plus knows which side its bread is buttered on, even if it does not follow the ECG trend in 2022.
---
What I liked:
Unbelievable number of tracking options.
Huge range of accessories from Garmin.
Precise optical heart rate monitor.
What I disliked:
---
Outdoor sports & GPS
Sports and outdoor activities are Garmin's signature disciplines. Whether you run, hike, bike or swim, Garmin has an extensive range of accessories for the Venu 2 Plus. There are optional waterproof chest straps as well as speed and cadence sensors for cycling or temperature sensors. And of course, the Venu 2 Plus also offers an integrated GPS sensor to precisely measure your outdoor activities. Acquiring a GPS signal was really quick. The localization was complete before I had finished lacing up my running shoes indoors.
Garmin HRM Premium Heart Rate Monitor Chest Strap, Black
Garmin Temperature Sensor for the Fenix Outdoor Watch
Garmin 010-12843-00 Speed Sensor 2, Black
And even while running, the GPS sensor delivers precise data regardless of where you are. Even when you are on small forest trails, the results are still coherent. For example, if I run the same route several times, the individual paths are a few meters apart at worst. In the screenshot below, you can see a path recorded simultaneously using the Garmin Venu 2 Plus and the Fitbit Sense. Where the two trails meet on the Venu 2 Plus, I actually walked across the same intersection in the woods twice.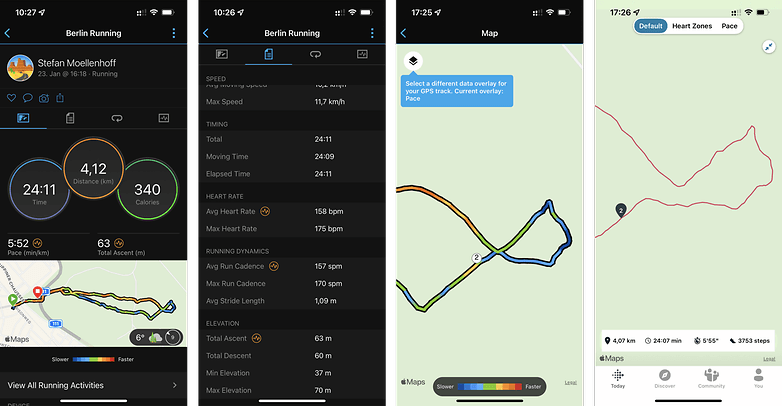 Heart rate measurement while running works great, as it does for all sports with very little wrist involvement. The Garmin Venu 2 Plus detected an average pulse of 158 beats per minute after a 24-minute test run. With a Sigma heart rate belt, I measured an average of 160, and the Fitbit Sense came in at 156 beats per minute. As is typical for optical heart rate sensors, the Garmin Venu 2 Plus also has a hard time with high pulse ranges. The Sigma watch measured a pulse of 178 at its peak, while Garmin came in at a maximum of 170.
Indoor sports & fitness
Let's continue with the pulse rate during indoor sports. As soon as the wrists are heavily strained or bent, its precision decreases. If the workout contains a lot of push-ups or dumbbell training, the Venu 2 Plus drifts a bit further away from the chest strap and records heart rates that are typically too low.
During a dumbbell workout for the arms and shoulders with rather lighter weights, the Garmin watch achieves exactly the same average heart rate as the Sigma chest strap. The Fitbit Sense also detected a too low result with 109 versus 113, twice. The difference becomes greater for chest and back training with body weight or heavier dumbbells, although the Garmin Venu 2 Plus always performs better than the Sense in this area.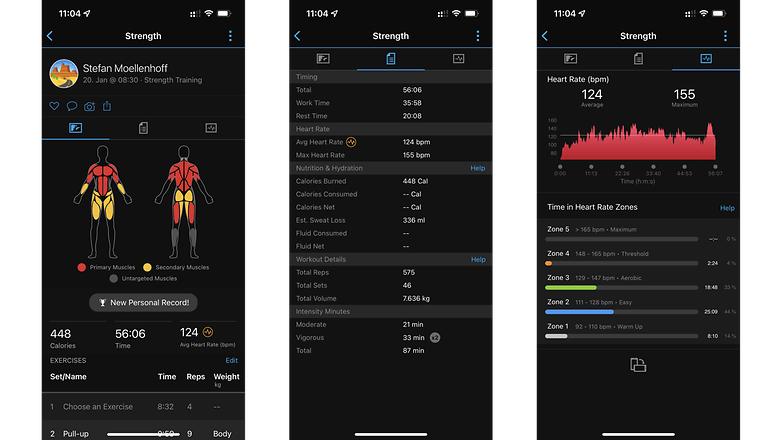 However, aside from the pulse rates, the Venu 2 Plus also offers detailed workout tracking for exercises and weights. You can divide the sets during the workout by pressing a button and taking note of the weights. The Venu 2 Plus counts the number of repetitions in a relatively reliable manner and even automatically recognizes most standard exercises. You can correct the number of repetitions directly during the workout and the exercises in the app afterwards. Here you also get an automatic evaluation of which muscle groups you have trained.
Training plans from A to Z
Last but not least, you can not only track your training with the Venu 2 Plus, but also plan it in advance. For example, there are training plans for running, for which you can enter distance and optionally also time goals or a competition date. You can then select a trainer or the corresponding training philosophy, and the Garmin Connect app generates your running plan. Various professional athletes and Olympians are the ones behind these running plans.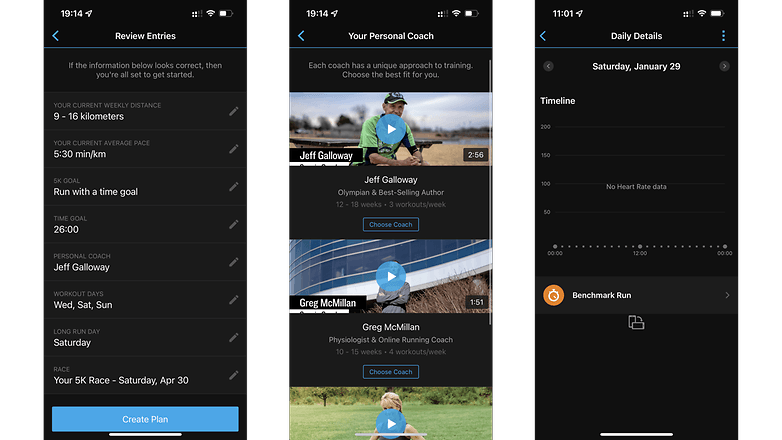 There are also predefined workouts for general fitness training which range from full-body workouts to Pilates and yoga to the obligatory "Hollywood" body plan. The workouts can be filtered by type (HIIT, strength, yoga, cardio, Pilates), difficulty, muscle groups, goals and duration. You can then put together a complete workout plan from the individual units and even create your own workouts to go with it.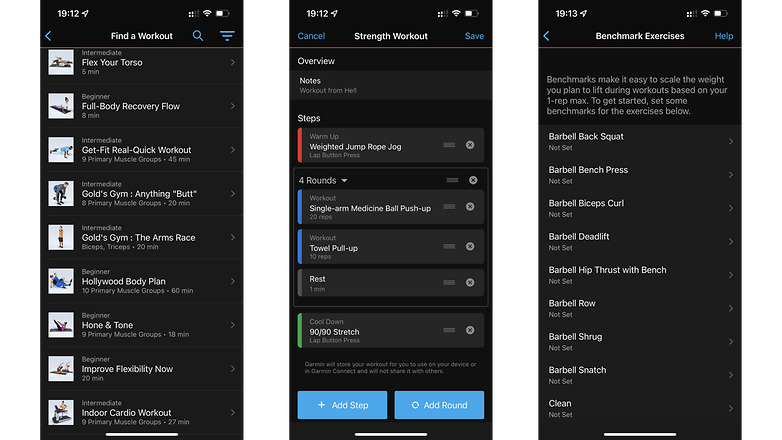 You can then send the workouts of your choice to the smartwatch and start them at any time you like. I find it somewhat unfortunate that there are currently only complete training plans for cyclists and runners, but not for yoga. You have to piece together your own calendar here. Unfortunately, there are no aids such as repeated workouts (i.e. Leg Day every Monday).
Sleep & Recovery
When it comes to sleep tracking, the Garmin Venu 2 Plus offers standard fare. It determines the total sleep duration and the associated sleep phases. You can also see your breathing rate and blood oxygen saturation during the night. This may indicate snoring and sleep apnea.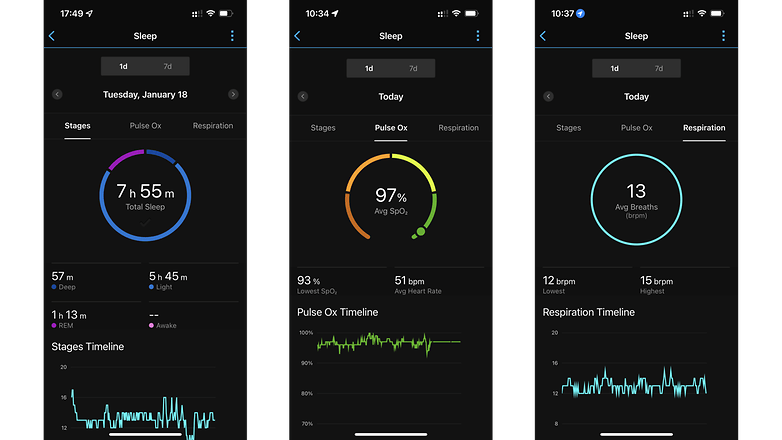 Incidentally, almost all data can also be extracted from the app as a PDF. This comes in handy if you want to pass this on to your doctor. The three dots at the top right also always contain detailed explanations of how the individual measured values on the respective screen are to be interpreted.
What else is missing?
In view of this gigantic list, are there any missing parts in the watch's specifications? Upon closer inspection: yes. While ECG sensors are now standard on Samsung, Fitbit and Apple devices, you can only find them on Garmin's new Fenix 7 series models. However, this feature should not play a major role for the vast majority of users.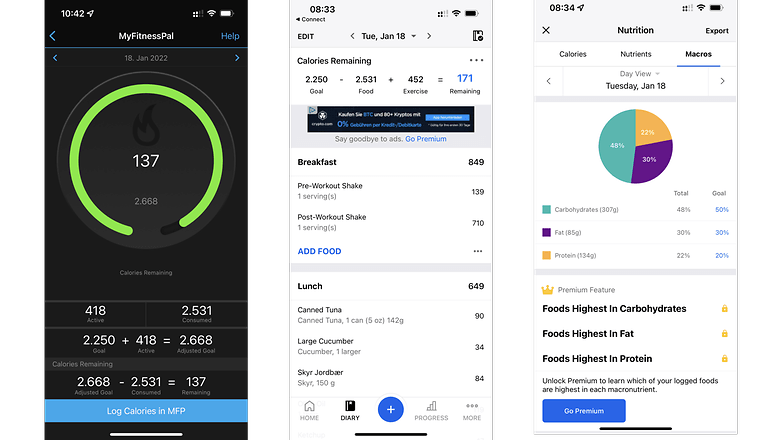 Another thing that you might want to take note of would be nutrition tracking. If you were to click on the calorie tile in the Garmin Connect app, you will see a rough overview of the food entered in MyFitnessPal. However, you have to switch to the app to check out other details such as macronutrients. And at least in the free version, MyFitnessPal is unfortunately, a very annoying app to use due to the number of ads, and requires a premium subscription to access the full range of functions.
Battery: It keeps on going!
The Garmin Venu 2 Plus offers an impressive battery life. Even with intensive use, it lasts well over the week. Only when you take blood oxygen saturation measurement into account, it reduces the battery life significantly.
---
What I liked:
Long battery life.
Charges from 0 to 100 in 90 minutes.
What I disliked:
No wireless charging.
Proprietary charging port.
---
You rarely have to worry about battery life with the Garmin Venu 2 Plus. Even with an always-on display, SpO2 tracking, one hour of exercise per day and fully activated notifications, the battery lasts anywhere from two to three days. If you were to choose not to use the 24-hour SpO2 tracking or the always-on display, battery life is typically doubled - or longer, if both options are disabled.
In the review, I charged the watch to 100 percent at 5:00 p.m. on Monday. With Always-On display and one hour of exercise daily (with and without chest strap), the 10 percent warning came at 11:00 on Friday morning, along with the suggestion to activate the energy-saving mode.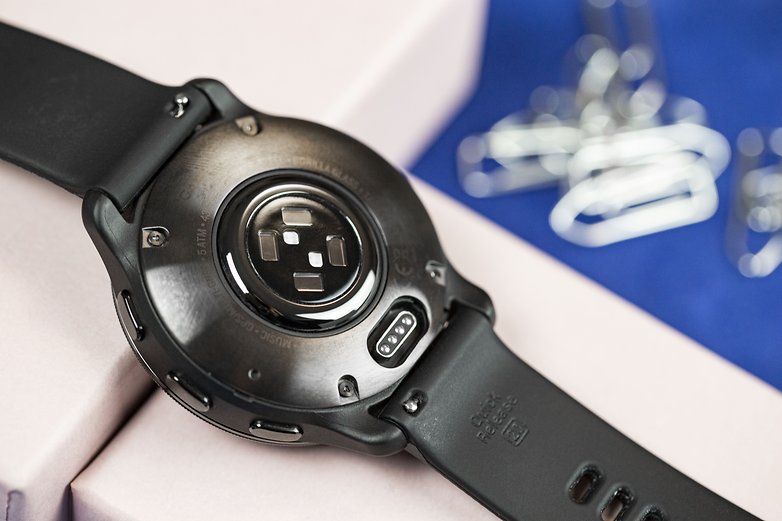 Unfortunately, charging only works via cable, which is also proprietary. At least Garmin uses the same port for the Venu 2 Plus as for many of its other Venu, Vivoactive or Fenix models. As a result, there are countless fancy charging dongles and charging stations that cut a much better figure on the table than the included cable that looks terrible when stuck at the bottom of the watch. Thankfully, charging is quite a speedy affair: After 35 minutes, the battery is half-full, and after about 90 minutes, it is filled from 0 to 100 percent.
Conclusion
The Garmin Venu 2 Plus is a great sports watch and a decent smartwatch. In terms of functionality, it can keep up with many of the current smartwatches, although the operation on the watch simply does not look as polished as Samsung or Apple in particular. Here, smartphone and watch simply work better together, from setup to everyday use.
On the other hand, the Garmin Venu 2 Plus is difficult to top in terms of tracking features. The watch churns out countless data and measurements, and offers detailed explanations of the individual results in the app. In combination with the detailed training plans and the numerous workout functions, this makes the Venu 2 Plus a great companion for everyday sports, not least thanks to Garmin's extensive range of accessories.