Garmin Forerunner 265 review: AMOLED at last!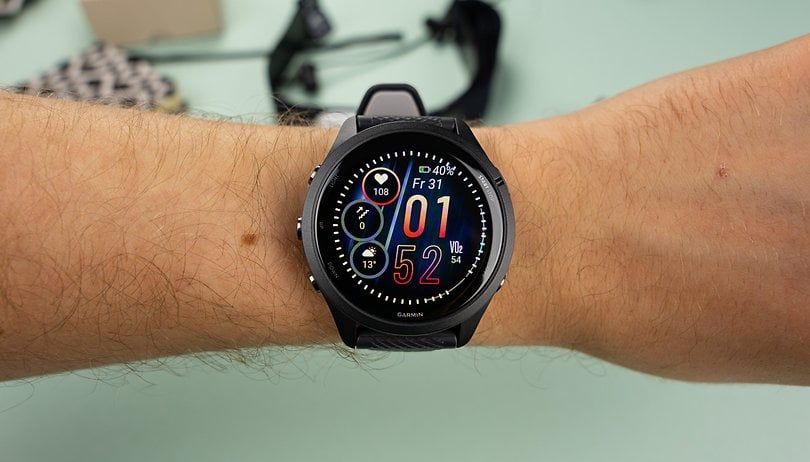 Garmin's new Forerunner 265 now comes with an AMOLED display, stores up to 8 GB of music, and reveals how dynamic your last run was. However, is the switch from the power-saving MIP technology really better for runners? Also, should you spend $450 on this running smartwatch? Let's find out in this NextPit review!
Good
New AMOLED display works great in everyday use ...

... and still enables long runtimes

Great presentation of fitness data

Music feature is now a standard
Bad
$50 more expensive compared to its predecessor

No new fitness features

Few smart functions

No wireless charging
The Garmin Forerunner 265 in a nutshell
The Forerunner 265 is a really good smartwatch that clearly targets runners. However, Garmin only improved minor details with the AMOLED display and standard music feature, while marking an increase in the smartwatch's price. If you are happy with a MIP display and can live without data being presented like the morning news, and a workout calendar, you can settle for the Forerunner 255 Music (review).
If you want to buy the latest Garmin model, you have to fork out $450 for one. If you would like to keep your options open, there are other alternatives out there, where you can find the best smartwatches compared and the best Garmin watches compared in our linked articles.
Design and operation
With the switch from MIP to an AMOLED display, Garmin dropped a unique selling point of its Forerunner smartwatch! The new display now lights up by itself and allows control via touch gestures. Apart from the new display, almost everything else remained the same - so you can expect a high-quality finish including Gorilla Glass 3 in front of the display and water protection up to 5 ATM.
---
Pros:
The new touchscreen display makes operating it a bit easier.
Self-luminous display is more legible.
Available in two sizes (42 and 46 millimeters case diameter).
Cons:
The MIP display had a certain charm.
The display protected by Gorilla Glass 3 is not outstanding.
The colorful design looks a bit cheap.
---
The design changes in the Forerunner 265 triggered mixed feelings in me after unboxing it. True, the AMOLED display is high-quality and better than, say, the MIP display of the Forerunner 255 Music (review), both on paper and in everyday use. However, the power-saving displays of the Forerunner series were also a unique selling point that appealed to many Garmin fans.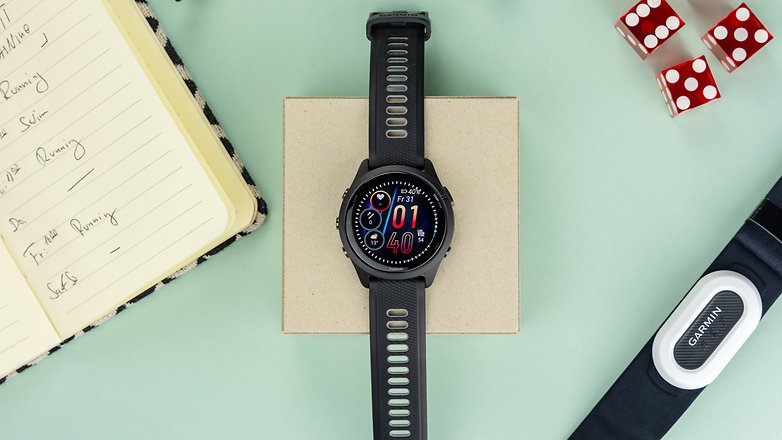 What is pleasing, however, is that Garmin integrated the benefits of the new display in a way that doesn't change the operation too much. This means that you can still operate the Forerunner 265 100% via the buttons located on the case. The touch controls are quite rudimentary—you can scroll through menus and select items as well as swipe up and down through maps from the watch face.
Garmin remained consistent and stuck to the vertical controls of past Forerunner models. The only addition would be the ability to swipe "up" and "down". However, the advantage remains: You can operate the watch completely using the buttons only, so wearing thick gloves is not an issue.
In the 46-millimeter model that we reviewed, the AMOLED display measures 1.3-inches and offers a high resolution of 416 x 416 pixels. Together with the high luminosity of the organic OLED pixels, this results in fantastic legibility in everyday situations. I could even read the information from the display when standing under direct sunlight.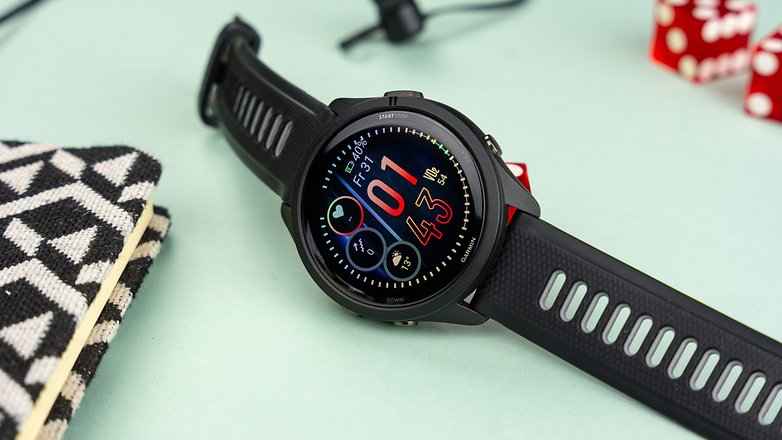 I found the fact that the screen is only protected with Gorilla Glass 3 to be quite a disappointment considering the relatively high asking price of $450. Could I have wrongly assumed that the flat top of the Forerunner will accumulate many scratches during a longer duration of ownership? Another drawback is a matter of personal preference, but I would still like to mention it:
The alternative wristbands as well as the watch faces of the Forerunner 265 are much more gaudy and colorful than its predecessor. This neon look makes the $450 watch look a bit cheap in my opinion. They all remind me of the gaudy G-Shock watches that enjoyed great popularity during my youth, and I feel that such a look doesn't really suit a manufacturer like Garmin.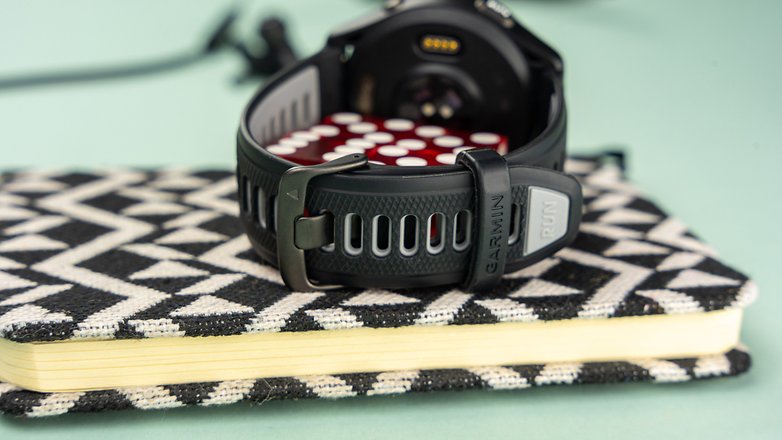 Of course, you don't have to agree with this rather subjective assessment. I also have to give Garmin credit for the fact that the watch faces can all be changed based on your personal preference. This allows you to mix colors, elements, and design of the interfaces and thus put together a look that you like and provide the information you need. Great!
Operating system
Garmin relies on its tried and true operating system: You will use a proprietary software together with two applications on your smartphone. One of them provides the smartwatch software with additional watchboxes and some apps while the other collects your health data. The fact that the Forerunner 265 can be configured almost entirely via your smartphone is another advantage.
---
Pros:
The own operating system is perfectly matched to the hardware.
Detailed information about your health.
Cons:
Requires two apps to achieve full functionality.
Only a few apps are available.
---
While Garmin worked a lot on the display of the Forerunner 265, everything else more or less remained the same when it comes to the software. You still need two different apps to view your health data, configure the smartwatch's functions, install apps, and additional watch faces. This is where I've been wishing over several Garmin generations to finally merge the two apps, but alas, it is not to be until today.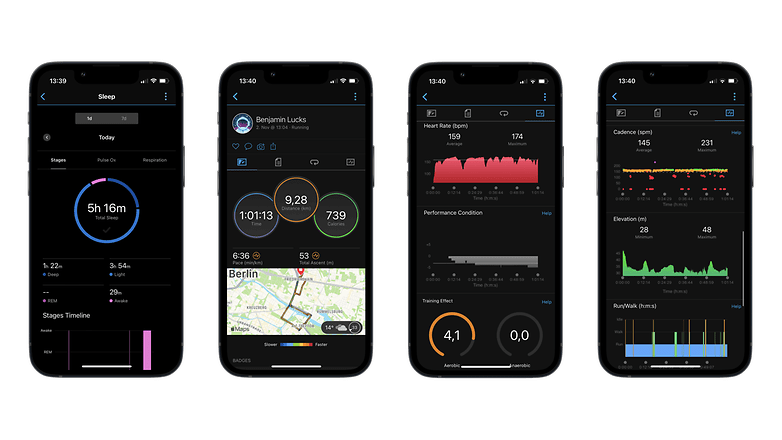 This is especially so as the Connect app works great as a daily driver, which is why I will forgive Garmin for this drawback. The Companion app is meticulous in drawing up your health information and presents it in an easily understandable manner. In addition, it is practical to be able to adjust almost all settings of the smartwatch on the smartphone itself, especially since the Forerunner 265 can be somewhat complicated to use.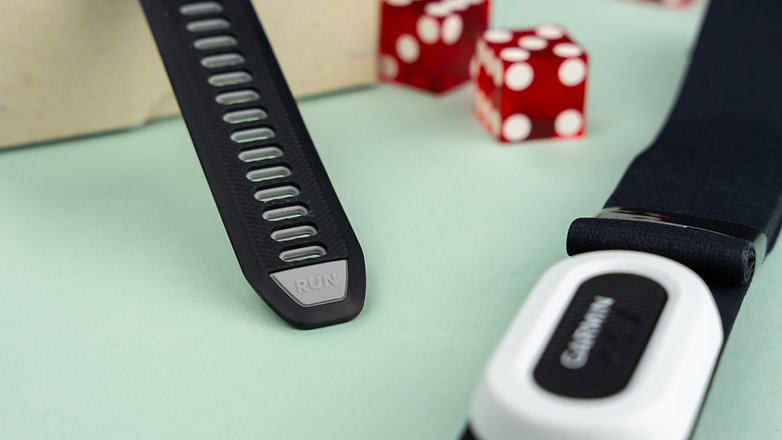 However, those looking for a smartwatch that can see its functionality expand via an extensive app store will not be happy with Garmin. The manufacturer only offers music apps such as Spotify, Deezer, and Amazon Music as its compatible music apps, a few weather apps, and a few watch faces for subsequent installation.
Here, the more expensive Forerunner 965 offers more with its navigation feature. Other typical smartwatch features are also limited: The list of banks supported by Garmin Pay for mobile payments is still relatively sparse in selected countries such as Germany. Come on, Garmin, it is already 2023!
It is again welcome that Garmin no longer differentiates between music models and non-music models. Thus, the Forerunner 265 can play music from Spotify, Amazon Music and Deezer as well as from the internal storage even without the corresponding addition in the name. Garmin installs 8 GB of internal storage for this, and the more expensive Forerunner 965 model can even store up to 32 GB.
Apart from the music functionality, the Forerunner 265 hardly offers any smart features. You can view notifications, but you cannot send any replies. Thus, the latest Garmin smartwatch is also more of a fitness watch with minor smartwatch functionality. This is a drawback that stings a bit more considering the higher price tag.
Sensors & Fitness
Garmin's Forerunner 265 primarily targets runners, but you can also track many other sporting activities with the smartwatch. It has a heart rate sensor, measures your blood oxygen level, tracks you on route via GPS, and uses the temperature of your skin as a further source of health information. Thus, while the Forerunner 265 only offers the tracking basics in the year 2023, but it gets a lot out of the data.
---
Pros:
A good companion for everyday activities thanks to its sports tracking and recovery features.
Integrated GPS.
Expandability thanks to additional hardware.
Cons:
Other smartwatches of a similar price range offer more tracking features.
Focus on runners has to be manually changed.
---
When it comes to tracking and fitness features, Garmin only integrated a few novelties compared to the Forerunner 255 Music. The competition calendar is checked by fitness coaches on request, and daily training recommendations and the morning report are innovations that could be introduced to older models via an update. This shows that Garmin is slowly but surely losing touch with other smartwatches.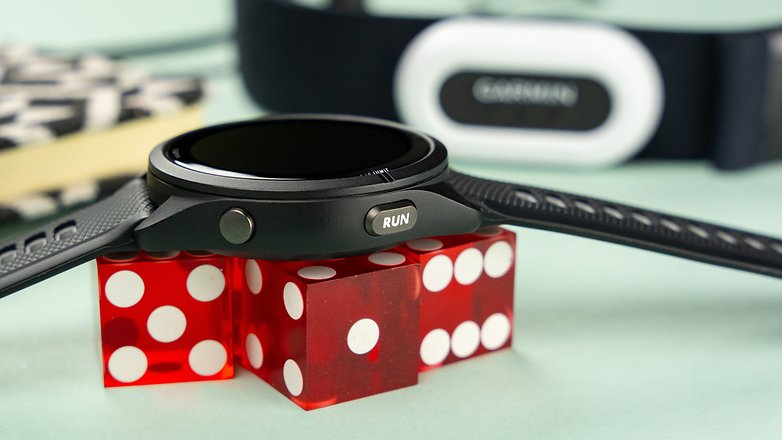 Let's take Huawei, which can still definitely hold its own in the wearable market in this country despite the US embargo. The company recently launched a real innovation with the Huawei Watch D with an integrated cuff for measuring your blood pressure. The same can be said about the Huawei Watch Buds, whose casing contains two earbuds with three hours of battery life. Of course, these products are rather niche, but I still found it annoying that Garmin keeps selling us similar products as a follow-up to the previous generation.
Apart from that, the Forerunner 265 really proved itself in everyday use and sports. While Garmin did not integrate any new sensors, the manufacturer did obtain plenty of helpful information from the collected data. Regular runners, the target group of the Forerunner series, can create a competition calendar right out of the box and prepare for it effectively and healthily with hints for training sessions and recovery times.
While it's certainly not a killer feature, I really like the morning reports that contain information about sleep, weather, recommended daily workouts, and your body's readiness for workouts. They are displayed right after you get up and can be scrolled through within a minute.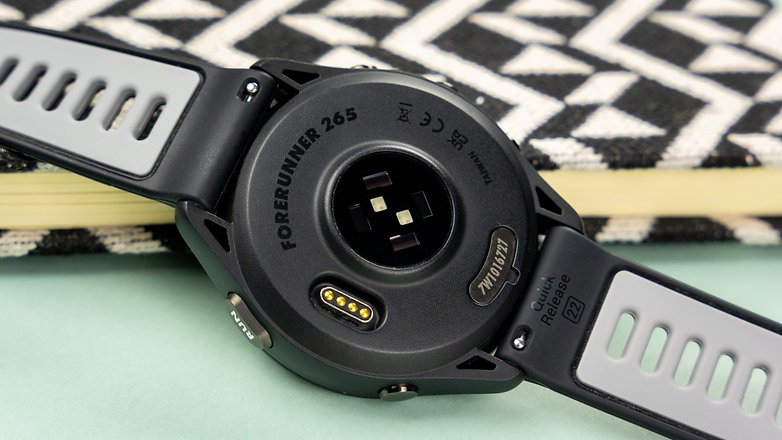 Garmin also provides compatibility with other Garmin hardware in the latest Forerunner model. This allows you to obtain information about your running technique via sensors or measure your heart rate even more precisely via chest straps. This is a major advantage over other watches and is one reason why Garmin's smartwatches are popular among athletes.
However, if these athletes are not primarily running at their race pace, the Forerunner 265 is a bit complicated. Instead of asking which sport you prefer during setup, the watch comes preconfigured for runners. It is then up to you to replace the favorites "Running", "Treadmill" and "Track" with your favorite sports.
Battery and charging
Garmin's former Forerunner models relied on a power-saving MIP display to guarantee particularly long battery runtimes. This is supposed to be possible in the Forerunner 265 despite AMOLED with the manufacturer stating runtimes of up to 13 days in smartwatch mode. It is also pleasing to note that Garmin did away with the distinction between "Music" and "Non-Music". The 265 can thus store up to 8 GB of music.
---
Pros:
Battery life is still better than the competition.
Finally, you get music functionality.
Cons:
Battery life of 13 days is unattainable with regular training with music playback.
Still too few smart features.
---
The omission of the MIP display might worry some Garmin fans. After all, the power-saving displays were one of the reasons why Garmin's running smartwatches offered such long battery runtimes. Let's take a look at how Garmin listed the run times of the Forerunner 255 Music and the Forerunner 265 in the comparison:
"Run" times in comparison
| Behavior | Forerunner 265 | Forerunner 255 Music |
| --- | --- | --- |
| Smartwatch mode | Up to 13 days | Up to 14 days |
| GNSS mode with GPS only | Up to 20 hours | Up to 30 hours |
| GNSS mode with all systems and music | Up to 6 hours | Up to 6.5 hours |
| GNSS mode with all systems | Not specified | Up to 25 hours |
| GNSS mode with all systems and multiband | Up to 14 hours | Up to 16 hours |
In comparison, the AMOLED model definitely offers shorter runtimes, but the differences are smaller than initially thought. The AMOLED Forerunner is still a particularly enduring smartwatch that needs to be recharged less than once a week when used in mixed mode. That is still fantastic and significantly better than popular models like the Apple Watch Ultra (review), the Google Pixel Watch (review), or the Samsung Galaxy Watch 5 Pro (review).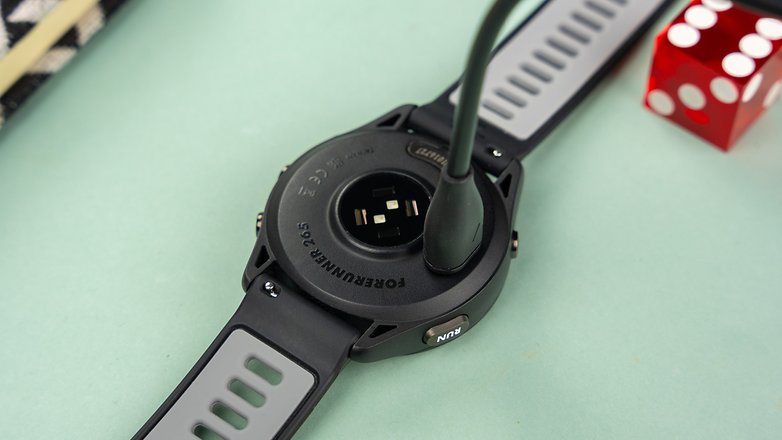 Compared to these models, however, you will always have to charge the Forerunner 265 via a cable. Garmin does not offer Qi wireless charging or a proprietary solution like Apple's. A compatible cable with a USB-C port is included with the smartwatch.
Conclusion
With the Forerunner 265, Garmin wants to bring its most advanced smartwatch for runners to men and women. However, the manufacturer only made up for some shortcomings of the predecessor. The new watch now offers an AMOLED display—a feature that most alternative selections already offer in 2023. In addition, the watch offers a feature for independent music playback as standard—also a feature that most alternative models will offer in 2023.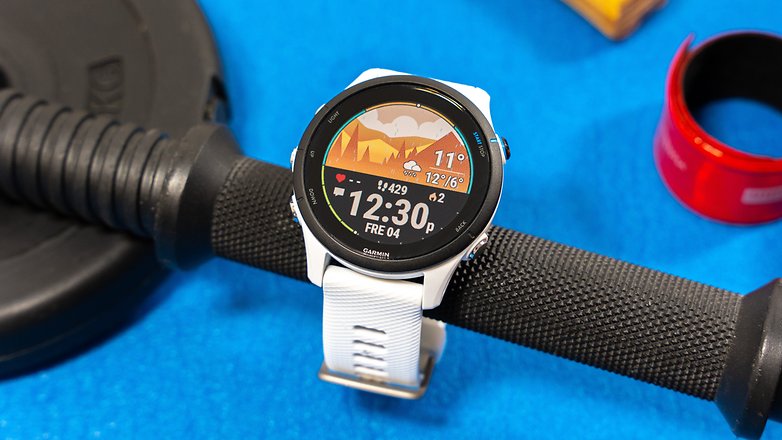 So, what's left are the new software improvements for fitness tracking like the morning report or the competition calendar, which aren't great innovations actually. However, together with advantages like integrated GPS, the still excellent battery life, and its unique method of operation which allows both touchscreen and buttons, the result is a good smartwatch.
However, with a price tag of $450, the improvements compared to its predecessor, the Forerunner 255 Music, which we also reviewed, are too few. This is especially so since even the most expensive 255 model in the series is $50 cheaper. Hence, if you can live without the AMOLED display, you will still be better off with the predecessor in the summer of 2023.