Galaxy S6 vs HTC One M9 comparison: MWC's best devices go head-to-head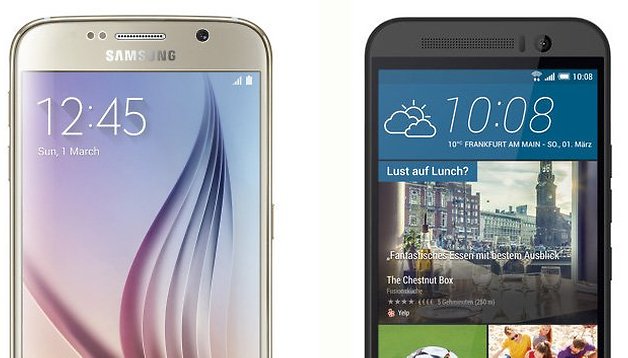 Mobile World Congress 2015 in Barcelona has seen the official launch of two Android devices we will be undoubtedly discussing for the rest of the year: the Samsung Galaxy S6 and HTC One M9. But based on what we know so far, which of these devices is going to be better? Find out in our Galaxy S6 vs HTC One M9 comparison. NEXTPITTV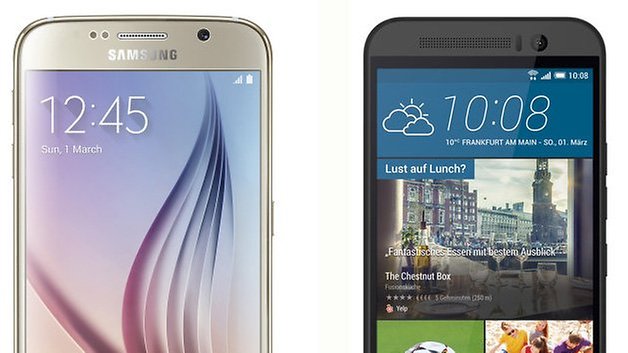 Samsung Galaxy S6 vs HTC One M9: Design
Samsung has gone premium on its Galaxy S6 with the metal sides and a glass rear. The result is an impressive and sleek device, even if the glass is something of a fingerprint magnet.
The influence that Apple's super-popular iPhone 6 has had on the Galaxy S6 is unmistakable, and it's not the "re-imagining" of the Galaxy S series that many expected, but it's a big leap in quality compared to the Galaxy S5.
In contrast, the HTC One M9 has almost no differences compared to its One M8 predecessor. The metal unibody remains and aside from the square camera lens, there aren't many immediately visible changes.
Which design is better? The Galaxy S6 will certainly show more fingerprints, but it's also thinner and lighter. And HTC's logo still takes up a frustrating amount of space on the bottom of the display, as is the tradition.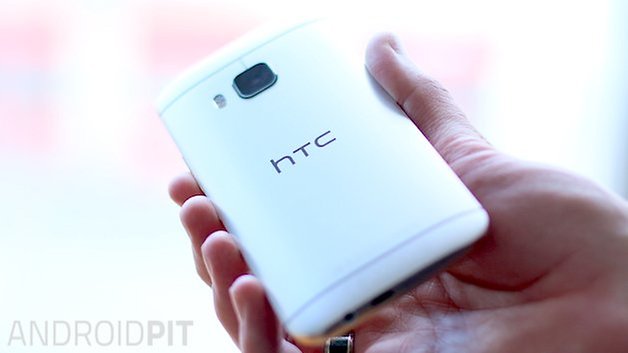 Samsung Galaxy S6 vs HTC One M9: Display
HTC has opted for a 5-inch Full-HD display on the One M9, just like on the HTC One M8. It's not as sharp as its QHD competitors, but it's still high-quality and produces strong colors and contrast.
The Galaxy S6 has a 5.1-inch QHD Super AMOLED display, and it's the clear winner between the two handsets. Samsung always impresses with its flagship displays, and Galaxy S6 even beats the previous Galaxy Note 4's pin-sharp screen. It's a real beauty and a makes doing even simple smartphone tasks a pleasure.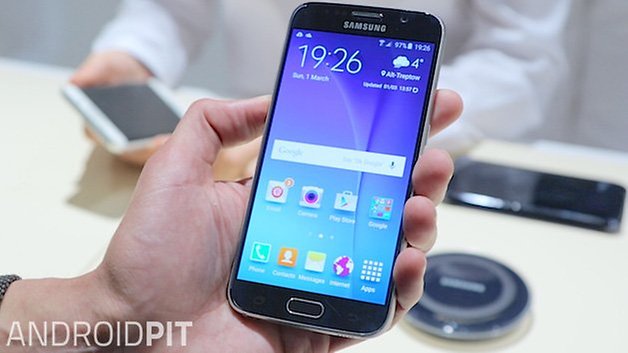 Samsung Galaxy S6 vs HTC One M9: Software and performance
The HTC One M9 is running Android 5.0.2 and Sense 7 UI, while the Galaxy S6 has Android 5.0 Lollipop with the infamous TouchWiz UI over the top. Both interfaces have seen reasonably big changes for the new devices. HTC's Sense can now be fully-customized, changing the icons, keyboard, wallpapers and launcher with a selection of HTC branded, and eventually user-made, themes.
TouchWiz has been refined, with less preinstalled apps then ever before, and Samsung has improved its app code in general, increasing the overall performance of the device as well as saving on internal storage space (it's worth noting that the One M9 will come with a MicroSD card slot, whereas the S6 won't).
The One M9 features a latest edition octa-core Snapdragon 810 processor, and the Galaxy S6 features an octa-core equivalent. It's too early to tell which device will be the faster, but we doubt there will be much between them.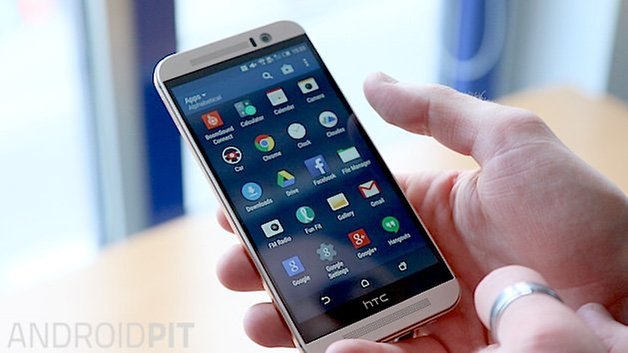 Samsung Galaxy S6 vs HTC One M9: Camera
HTC has made a change from its traditional UltraPixel rear camera setup, placing a 20 MP snapper on the rear of the HTC One M9. An UltraPixel camera is now being used as the front-facing snapper, which makes perfect sense. UltraPixel technology produces great pictures in low-light conditions, and most pictures taken with the front-camera are selfies in dimly-lit bars, right?
HTC's Eye experience software features a wealth of customization options for pictures, and the 20 MP camera has proven to be an excellent performer in our short test at MWC.
Samsung brings a 16 MP sensor to the Galaxy S6 (the same raw pixel number as on the Galaxy S5) with optical image stabilization and superior low-light capabilities. Whether or not the Galaxy S6 camera is the most detailed, we aren't sure, but it's good in all kinds of light, and it has clearly been a focus for Samsung. We'll wait until the full reviews to decide which device has the best camera setup.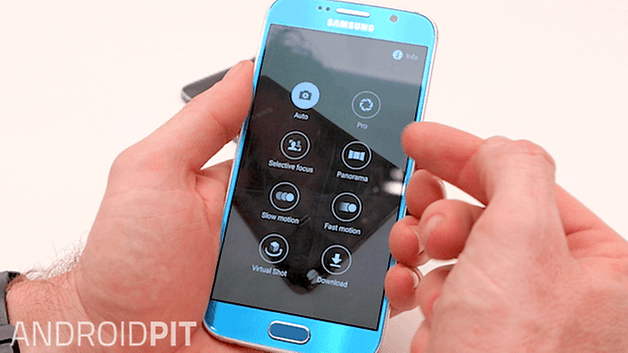 Samsung Galaxy S6 vs HTC One M9: battery
The Galaxy S6 will come with 2,550 mAh battery, and the HTC One M9 with a 2,840 mAh battery. At this point, we'd speculate that the HTC One M9 will have better battery life: not only is its capacity higher, but it's screen has a far smaller resolution (and is likely less bright). That being said, the Galaxy S6 comes with some neat charging features, like Qi wireless charging with a number of compatible chargers, and ultra-fast wired charging (supposedly adding four hours standby time in a 10-minute charge).
Samsung Galaxy S6 vs HTC One M9: Specifications
| | HTC One M9 | Samsung Galaxy S6 |
| --- | --- | --- |
| System | Android 5.0.2 HTC Sense Lollipop + 7 | Android 5.0 Lollipop |
| Screen | 5-inch, LCD, Full-HD (1920 x 1080 pixels), 441 ppi | 5.1-inch Quad-HD (2560 x 1440 pixels) Super AMOLED, 577 ppi |
| Processor | Qualcomm Snapdragon 810, Octa-Core, 2.0 GHz + 4 x 4 x 1.5 GHz | Samsung 64-bit Octa-core processor (Quad 1.5 Ghz + Quad 2.1 GHz) |
| RAM | 3 GB | 3 GB |
| Internal memory | 32 GB + microSD | 32 / 64 / 128 GB |
| Battery | 2,840 mAh | 2,550 mAh + wireless charging + wired supercharging. |
| Camera | 20 MP (rear), HTC UltraPixel (front) | 16 MP (rear), 5 MP (front) |
| Connectivity | USB 2.0, WLAN, LTE, Bluetooth 4.1, NFC, CIR, HDMI MHL 3.0 | Bluetooth 4.1, A2DP, LE, apt-X, ANT +, USB 2.0, NFC, IR Remote, WiFi: 802.11 a / b / g / n / ac |
| Dimensions | 144.6 x 69.7 x 9.61 mm | 143.4 x 70.5 x 6.8 mm |
| Weight | 157 grams | 138 grams |
Samsung Galaxy S6 vs HTC One M9: Price
The Galaxy S6 price will be set at 699, 799 and 899 euros for the 32 GB, 64 GB and 128 GB versions respectively. We predict that the US price structure will be 649, 749 and 849 USD, though this has not been confirmed by Samsung.
The HTC One M9 will launch in one version, 32 GB, and will cost 749 euros, which we think will be around 700 USD.
Samsung Galaxy S6 vs HTC One M9: Conclusion
There's no doubt that these devices are going to be the kings of premium smartphone bracket for the foreseeable future. But if I had to decide on a winner based on what we know so far, I'd have to hand it to the Galaxy S6. It's thinner, lighter, with a nicer display and better charging features. The One M9 might win out with raw megapixel count of its camera, and it does have a microSD card slot, but it's also more expensive than the Galaxy S6 base model for the same amount of internal storage. The S6 is clinching it so far.
Which device would you prefer? Let us know in the comments below.