Benchmarks: Why My Rooted Sensation Destroys An Unrooted Galaxy Nexus As most of my colleagues here at AndroidPIT are well aware of, I'm a HUGE fan of rooting Android devices. My HTC Dream, Nexus One, HTC Sensation, and Samsung Galaxy Tab 10.1 were all rooted and running less than 48 hours later after I bought them, and for good reason. A lot of Android users aren't convinced about rooting your device, as it does come with risks. But the question is will rooting actually bring you more power? One of our devleopers just purchased a brand new Galaxy Nexus last week and brought it to the office today. He has chosen not to root it, and I wondered how it would perform when stacked up against my rooted HTC Sensation. The results of those tests might just surprise a lot of people....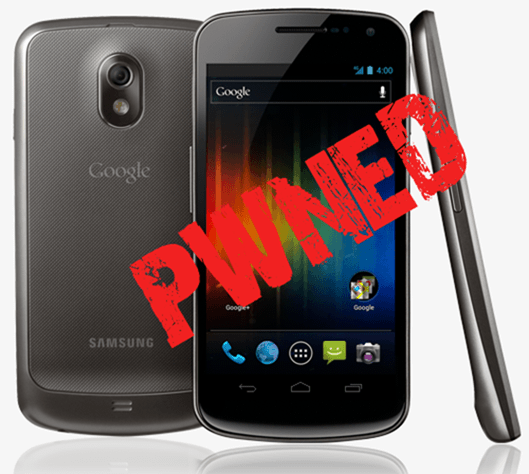 (picture from Redmondpie.com)
Now keep in mind that benchmarks don't mean everything, and certainly don't dictate which phone is "better" than the other one. They are simply used to guage the relative performance of various devices. With that being said, lets get to comparing these phones. First of all, the specs....
My rooted HTC Sensation is running a dual core 1.2ghz processor, and 768MB of RAM. I am currently running a BETA version of CyanogenMOD9 Ice Cream Sandwich (no Sense..pure Android) compiled and optimized by TripNRaVer, one of the most talented ROM cookers in the business. The Galaxy Nexus is also running a dual core 1.2ghz processor and 1 gig of RAM, and is currently running stock Android Ice Cream Sandwich. It is not rooted and came as is out of the box. In this test, we'll be using 2 popular benchmark apps: Quadrant Standard, which recently received Ice Cream Sandwich support, and AnTuTu. Quadrant tests CPU, I/O and 3D graphics, and AnTuTu tests memory performance, CPU Integer performance, CPU floating point performance, 2d graphics, 3d graphics, and sd card read/write speed.
First up is Quadrant Standard: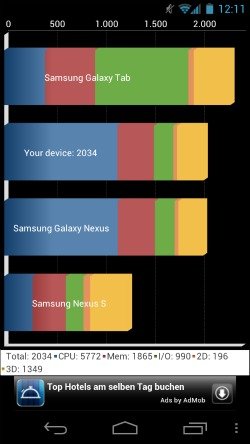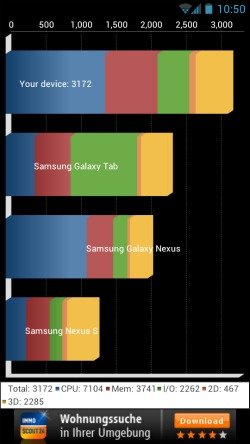 As you can see from the charts above (Galaxy Nexus on the left, HTC Sensation on the right), the unrooted Samsung Galaxy Nexus scored a 2034 in the test. On the second run, it scored an 1830 and a 1789 on the 3rd test. My rooted HTC Sensation properly whooped it, and came in at 3172 on the first run, 3046 on the second, and 3102 on the 3rd. That's a pretty major difference. Not only did the rooted device consistently outperform Google's newest Nexus device, but did it so badly that the scores weren't even close. Again, I am NOT saying one phone is better than the other, as I LOVE both of these phones.
Lets move on to the AnTuTu benchmarks: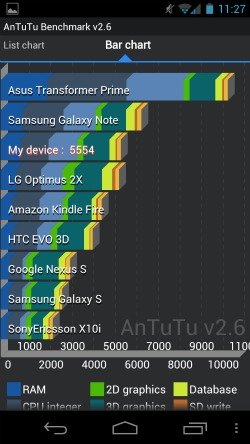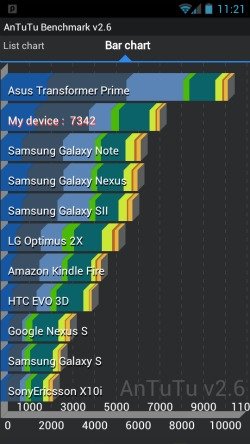 So for this test (Galaxy Nexus on the left, HTC Sensation on the right), the unrooted Galaxy Nexus came in at 5554, and was pretty consistent in having scores in that general range after 3 tests. But again, my rooted HTC Sensation came in at a whopping 7342, not only badly beating the Galaxy Nexus, but also easily outscoring the Samsung Galaxy Note! The only device on the list to top the Sensation was the quad core Tegra 3 powered Asus Transformer Prime tablet. As far as benchmarking goes, the CLEAR winner here is the rooted HTC Sensation.
How is this possible? The Galaxy Nexus has a RAM advantage and runs the same speed processors as the Sensation. I can explain that in 2 words: Custom ROM. CyanogenMOD9, even in its beta stages is HEAVILY optimized (thanks Trip :-D), and the great kernel I'm running from XDA member SebastianFM allows me to overclock my processor from 1.2ghz to 1.7ghz. Not only is the overclock stable, it makes a huge difference in performance.
Now you might be saying that it's not fair because I overclocked my processor. But keep in mind that this is only possible because I have a rooted device. If the Galaxy Nexus were in fact rooted, these tests could have easily had a different end result.
The Verdict
The bottom line is that a GOOD custom ROM will pretty much outperform a stock Android experience in MOST cases (I would be willing to say in damn near EVERY case). They allow you to see the TRUE potential of your phone. The good news is, with Google's purchase of Motorola and their new control of all product development, I think you will see a whole new performance level on stock Android ROMS, and I can't wait to see what the modding community will do with Android versions that are properly optimized for their own hardware.
If you want to learn a bit more about rooting and what it means for you, be sure to check out our video here.