Fairphone 4 review: The smartphone with a conscience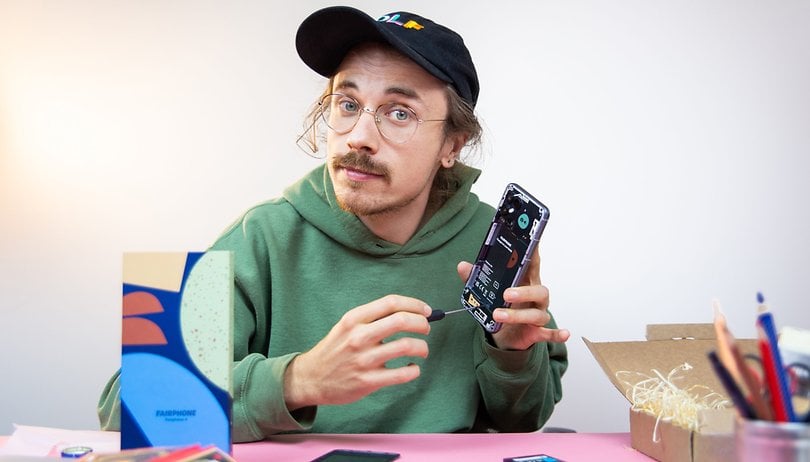 The Fairphone 4 is the smartphone that we should all buy! This is because the Danish social business startup Fairphone merges sustainability, fair working conditions, and repairability with solid hardware. However, just how many compromises must you make to deliver a handset with a €579 price tag compared to what you can get from the likes of Xiaomi, Realme, Samsung, and Apple for the same price? In order to find out, I carried the Fairphone 4 around for a week for this review!
Good
Possibly receive up to 6 years software updates

Sustainable device

Made under fair working conditions

Surprisingly good camera performance

Feels well-made

Good battery life
Bad
Comparatively expensive

Rather large and heavy

LCD display with a teardrop notch

Lags technically behind similarly priced smartphones
A brief take on the Fairphone 4
There is one particular question that we all ask ourselves in this review: Is the Fairphone 4 a device meant only for deluded vegan hipsters who live in the swankiest part of town and purchase organic vegetables? Not at all, because compared to the Fairphone 3, the Danish social business enterprise has developed a really nice and great smartphone. However, you still have to make compromises in terms of technical features at this price point.
The Fairphone, with a recommended retail price of €579, is technically more comparable to smartphones under the $400 mark, which would be where many capable mid-range handsets occupy these days. However, if you are interested in topics involving sustainability, repairability, and fair working conditions, this will not bother you at all. However, I see a possible future problem in the hardware that lags behind compared to its peers within the same price point. Because even if Android 15 eventually finds its way onto the Fairphone, the processor's speed might no longer be sufficient to provide a decent user experience.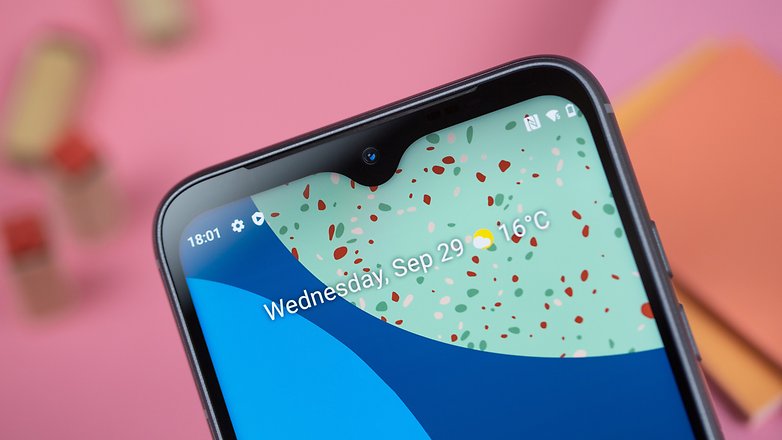 So Fairphone needs to deliver enough upgrades that will keep the smartphone useable in the long run. Thanks to its modularity, upgrades can be added yourself, but over the course of time, this would make it even more costly. If we're honest, though, and admit that omitting power adapters from a new smartphone purchase soothes our consciences at best, we need to admit: The Fairphone 4 is the phone that we should all buy in these times of climate change. But it's not much fun, as this handset does not have access to the latest technologies and it's also more expensive. Sorry, environment!
But that doesn't bother me as a deluded vegan hipster who lives in a swanky area and likes to buy organic vegetables! What about you?
Design & Display: Screw me!
The Fairphone 4 is not a compact smartphone by any means with dimensions that measure 15.6 x 7.5 x 1.1 cm. For once, this is not due to a huge display, but to the modular casing. The smartphone can be disassembled in order for it to be repaired easily and receive upgraded components. The workmanship is better than ever, and the smartphone also exudes a certain charm.
What I liked:
High-quality workmanship
Modular form factor
Nice vibration motor
What I disliked:
Thick bezels including the teardrop notch
Clunky and heavy
Speakers are rather bang average
I'll admit: I was pretty turned off when I unboxed the Fairphone 4. I wished for the sustainable smartphone to be a little more discreet and sleek. After spending a week with it, however, it exudes a certain charm perhaps due to the size, weight, processor, and material choices.
After all, the non-slip back and tightly screwed-together case give off the feel of a rugged smartphone. Add a powerful and precise vibration motor to that which will further emphasizes the smartphone's presence. With a Gorilla Glass 5 display glass protecting the display, the Fairphone 4 is also rather well protected against bumps. I never suffered from any panic attacks after dropping it.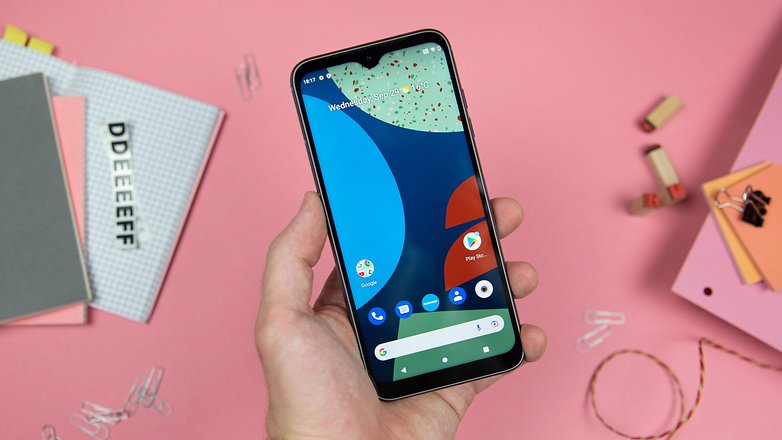 However, the display is one of the biggest criticisms of the Fairphone 4. The thick bezels at the edge and the teardrop notch seem off-putting in 2021, just like seeing a Nestlé product on the shelves at the organic market! An LCD display with a low refresh rate of 60 Hertz lumbers around, but it does score quite well in terms of viewing angles and brightness. The resolution count of 1080 x 2340 pixels is also great.
Finally, a few words about its modular form factor: You can completely disassemble the Fairphone 4 with the included iFixit screwdriver. We're still recording a video for this, but thanks to labels and markings, disassembling it is pretty foolproof. As soon as Fairphone offers an upgrade for the speaker, I would be one of the first in line to replace it. It is good enough for regular calls, but not for anything else.
TL;DR: The Fairphone 4 is not a decent smartphone with thin bezels. Instead, you need to have a soft spot for robust-looking smartphones. While that is certainly a matter of taste, the 60 Hertz display and LCD technology leaves a sour taste in the mouth.
Performance: A mid-range device at best
The Fairphone 4 is powered by a 5G-capable Qualcomm Snapdragon 750G 5G chipset. In addition, there is 128GB or 256GB of internal storage mated to either 6GB or 8GB of RAM. In addition to 5G support, you will also have Bluetooth 5.1, WiFi 5, and NFC connectivity on board. Its internal storage can be further expanded via microSD memory cards.
What I liked:
Hardware can be upgraded in the future
Use of recycled materials
Performance is sufficient in 2021
What I disliked:
Long-term prospects are questionable with hardware offered
No dual SIM slot
With an asking price of at least €579, the hardware is sobering compared to what other manufacturers offer- Fairphone is not fooling anyone. While there is already the Realme GT powered by a Snapdragon 888 chipset and the latest memory standards for the same price, you will have to make do with a Snapdragon 750G in Fairphone 4. The mid-range SoC can be found in the OnePlus Nord CE, for example, which costs just under €300 (the OnePlus Nord CE is unavailable in the US).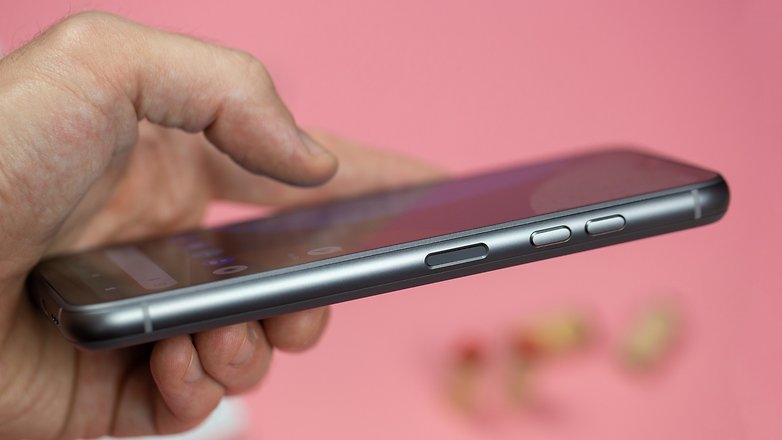 In 2021, you are still able to connect to 5G networks using the SoC, play current mobile games, and the performance of the pre-installed Android 11 is snappy and smooth. You do not have to worry about overheating problems with the Fairphone 4 for sure. Let's take a look at the benchmarks:
In addition to the review unit that came with 6GB RAM mated to and 128GB of internal storage, Fairphone also offers a variant with 8GB RAM and 256GB of storage space. That model will set you back by €649, which is €70 pricier than the entry-level model. Alternatively, you can also expand the storage via a microSD card. Theoretically, even the SoC of the Fairphone 4 is upgradeable. Just like the camera, speakers, and battery, the motherboard is modular in nature, although you will need a Torx screwdriver for any upgrades.
Modularity vs. performance surplus
If this option didn't exist, I'd find the longevity of the Fairphone 4 critical. After all, launching this handset with a fixed mid-range SoC and a five-year warranty would be contradictory in nature. Even though it's theoretically possible to be still using an Android smartphone with a Snapdragon 750G chipset five years down the road, the performance level probably won't be satisfactory by then.
Two options can then emerge from this scenario: Either Fairphone could have decided to install a more powerful chipset and by doing so, increase the price of the base model. Or, the company could rely on customers' willingness to spend money on modular upgrades in the future. Fairphone has opted for the second tactic and that is somehow understandable because charging even more money for the Fairphone 4 outright would certainly have scared off sustainability enthusiasts.
TL;DR: The Fairphone 4's performance is subpar for the price it charges. But that won't make much of a difference to most customers. What counts: The performance level is sufficient for everyday use and mobile games. Fairphone keeps the development of new modules open for the future, but customers will have to pay for them. €649 in exchange of 5 years of smartphone use is therefore out of the question!
Camera: Rather functional
The Fairphone 4 offers two cameras on the back, which are accompanied by a ToF sensor. You can effectively switch between wide-angle and ultra-wide-angle at 48-megapixels apiece. The selfie camera offers an insane 25-megapixel resolution.
+++ At the time of the review, the installed camera app was still a pre-release version +++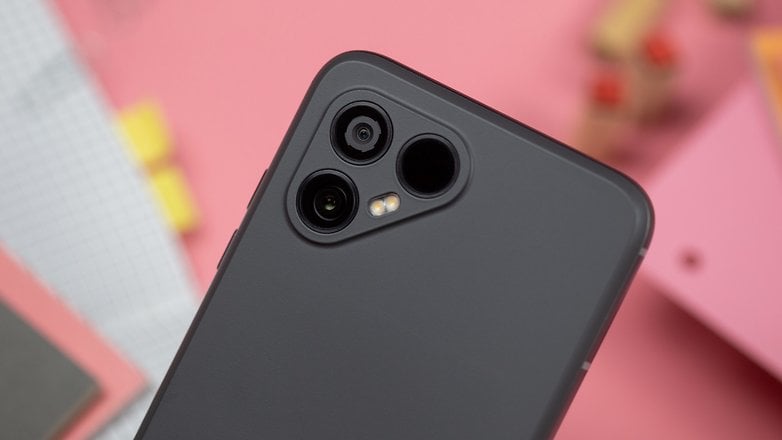 What I liked:
Good sharpness, colors, and exposure
Effective HDR mode
Crisp selfies 🤳
What I disliked:
Results were not always consistent
White balance is often off
No portrait mode
Fairphone also hits the mid-range sweet spot right on the head when it comes to the camera configuration. However, the manufacturer does without any kind of superfluous additions such as macro and depth lenses but instead provides a dual setup with a ToF sensor. This configuration supports autofocus and can, theoretically speaking, also be able to provide depth information for digital bokeh and AR applications. However, this is a potential that currently falls flat with the Fairphone 4.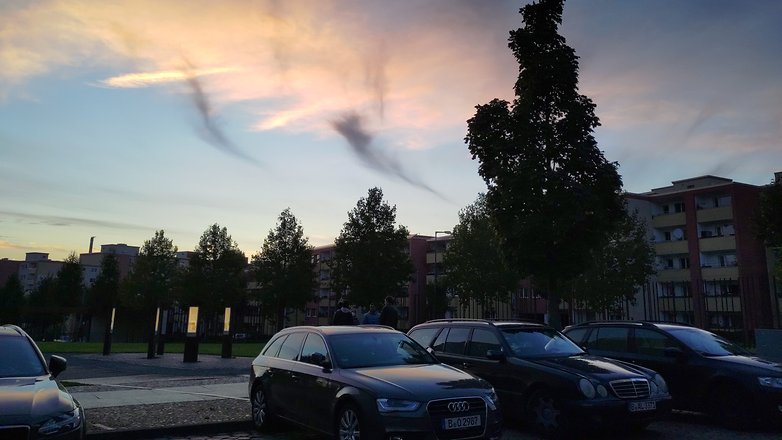 All because you would be looking for a portrait mode in the pre-loaded camera app in vain. Since such a mode was available in the predecessor, I guess that Fairphone would still deliver this option. In October, there are four points that I want to focus on in the Fairphone 4.
1. You get some really nice photos with good HDR sometimes
This could possibly be due to the incomplete software that affects the image quality from time to time. There were moments when the Fairphone 4 created beautiful shots that are not softened by excessive HDR or noise reduction. Here is a nice example that you can see for yourself: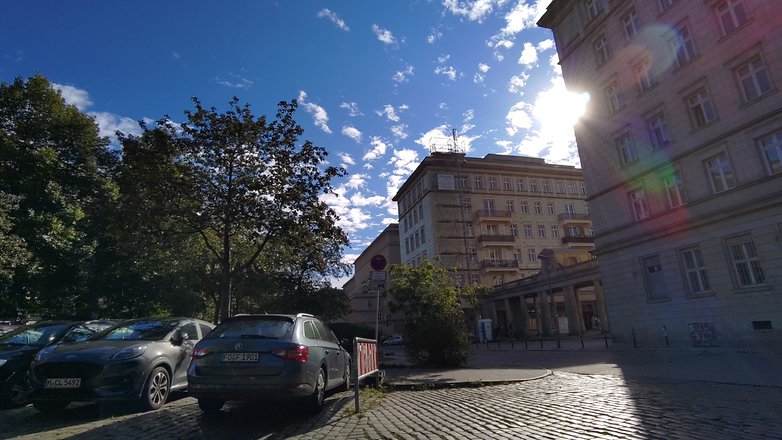 If you were to also activate the HDR mode, the dynamic range of the Fairphone camera increases. For my preference, the manufacturer managed to find a good balance between effective dynamic range expansion and artificiality.
2. Software messes up too often
However, I would have to criticize Fairphone for the fact that the software does not always correctly assess the conditions required to snap a photo. As a result, colors turn out completely wrong or the exposure is not optimal.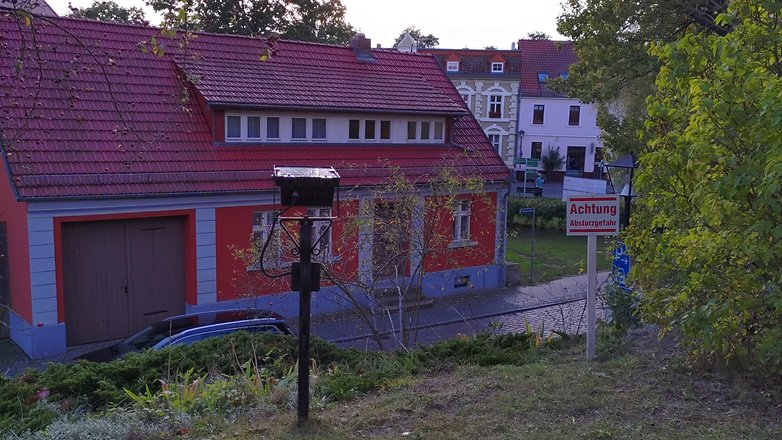 Basically, the camera app is also really flawed. It lacks a portrait mode, operation is cumbersome. and some buttons are not really labeled properly. For example, the zoom slider shows both a panorama image and a "1.0x" label. However, pressing it doesn't activate the panorama mode, but rather, it activates the ultra-wide-angle camera instead.
3. Night shots lose plenty of details
There's also a Night Mode in the Fairphone 4, which is nice and subtle compared to other manufacturers' versions. Meaning, it doesn't overly brighten up subjects, but manages to maintain a realistic lighting mood. However, images lose a lot of detail when viewed closely. This is a result of noise reduction, which tends to produce mud and digital artifacts.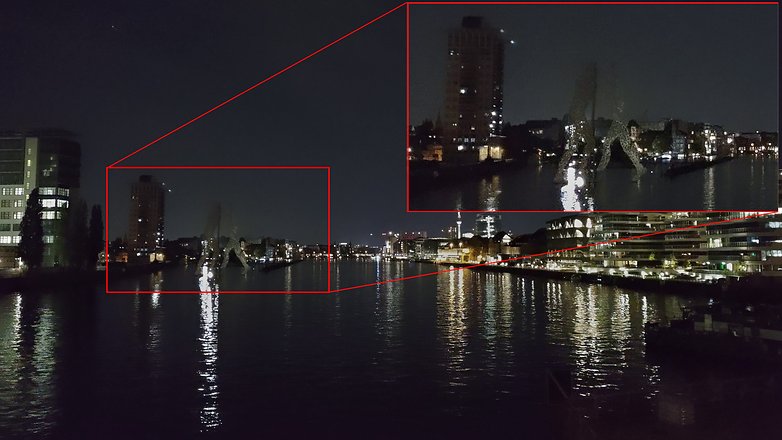 4 Surprisingly good selfies
Last but not least, the selfie camera has a super high resolution of 25-megapixels. Contrary to expectations, results are crisp and more reliable than the cameras at the back. So if you like taking selfies, the Fairphone 4 is a good choice.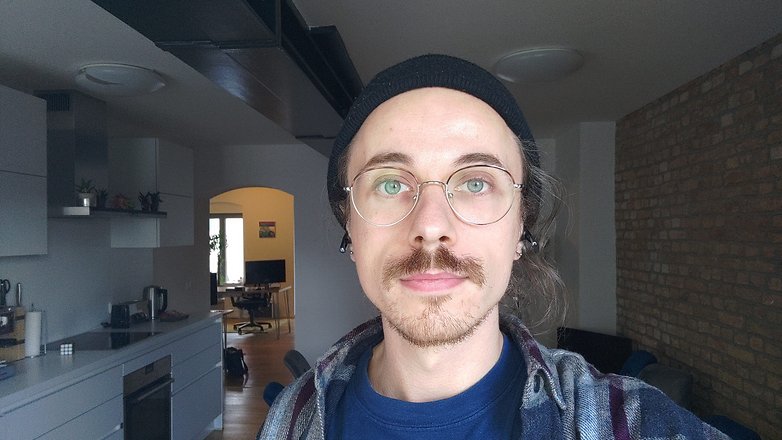 TL;DR: The camera app of the Fairphone 4 still looks a little unfinished at the beginning of October 2021. This is due to the camera app, which indeed remains in beta. However, the photos that it takes do look promising, although you might have some reservations due to this circumstance at the moment. Hopefully a software update will be able to fix whatever bugs that plague the camera app in the near future.
Battery: 100% battery in 15 seconds
The Fairphone 4 is one of the few smartphones that have a removable battery. What this does is to provide a greater degree of sustainability which can just as well be interpreted as the fastest quick-charging speed in the smartphone world. Simply put, you can recharge the 3,905 mAh in less than 15 seconds with a little practice if you purchase an extra battery.
What I liked:
Removable battery
Solid 2-day battery life
What I disliked:
No wireless charging
Fast charging at only 20 watts
In everyday use, I easily achieved battery runtimes of up to two days with the new Fairphone 4. I even trusted the battery so much that I spent time in nature for two days without a charging cable and had to rely on the smartphone as a digital rental car key. It becomes even more utilitarian if you have to go for a long time without a power outlet such as for festivals or road trips, where the Fairphone 4 is a solid recommendation.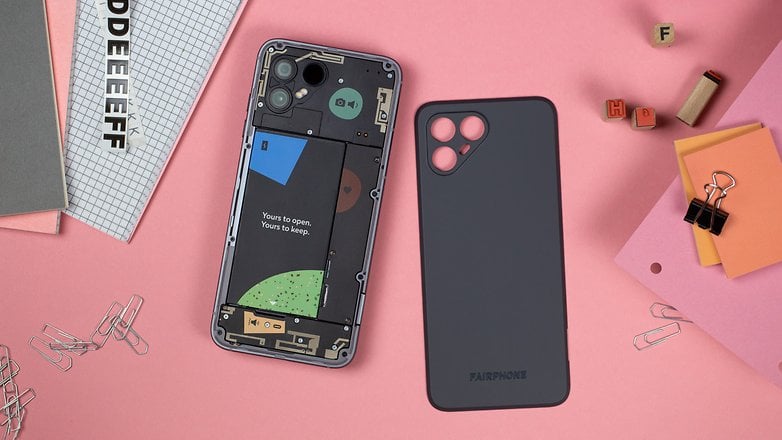 Because for €29.95, you can get another battery pack on the Fairphone online shop. This is an advantage that many other manufacturers do not offer for the sake of having water resistance and other reasons. However, you will have to make do without wireless charging for the Fairphone 4, while quick charging only works at up to 20 watts. Thus, the battery can be charged up to 50% in just below 30 minutes. That is okay, but it is far from breaking records.
TL;DR: Even if my "100% battery in 15 seconds" from the headline was not entirely serious (clickbait!), the presence of a removable battery is a real advantage over other smartphones. Even when armed with one battery, the battery life of two days is excellent. You only have to live without wireless charging.
Sustainability & data sheet
Unbeatable sustainability
You cannot review the Fairphone 4 without addressing the issue of sustainability. Because this is the real "USP" of the phone. At a glance, you can expect the following advantages compared to other smartphones if you choose the Fairphone 4:
5-year warranty if purchased before 31.12.2022
Planned Android updates until 2027 (up to Android 15)
E-waste neutral - Fairphone offsets 100% of the waste it generates
Fairtrade materials, including recycled plastic and rare earths were used, and Fairtrade-certified supply chains tapped up for gold, tungsten, and other materials
Easy repairability through its modular form factor - battery, camera module, memory, and other components can be replaced via an included screwdriver
The topic of sustainability is often met with a certain amount of defensiveness. This is understandable, because other manufacturers offer more fun for less money after all; and Samsung, Apple, and others also omit the adapter. However, it's not that easy to make truly sustainable products in the consumer electronics sector.
You can calculate just how hard it is by the relatively high price tag that Fairphone charges for the smartphone. For technology that costs just under €300 euros in 2021 with other manufacturers, it is suddenly bumped up to €579. A surcharge of €280 just to avoid generating more electronic waste, not to mention having additional costs to sustain future updates, while supporting the development of a modular design, fair working conditions, and supply chains.
Conclusion
The Fairphone 4 is currently the best alternative for users who value sustainability over everything else. The trade-offs that have to be made are mainly the performance and the design. While smartphones from other manufacturers are already equipped with high-performance chips and have very slim bezels at prices hovering around €500, you will have to be satisfied with less in the case of the Fairphone 4.
In everyday use, the Fairphone 4 nevertheless proved to be a capable smartphone that masters all applications without too much hassle. Yes, the cameras are less powerful than those found in the iPhone 13 and the display looks significantly worse than in the Xiaomi 11T Pro. But that's not what matters when you buy the Fairphone 4.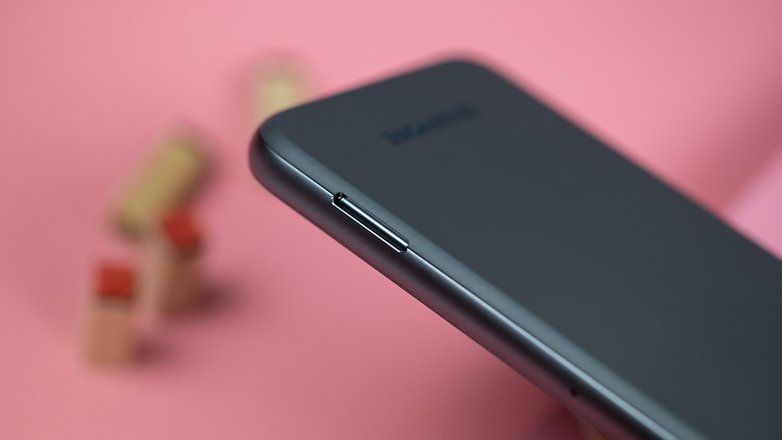 Because buying these devices sets in motion many negative consequences that we don't notice much of at first. The lifespan of so-called "fast phones" is calculated by manufacturers to be just a few years, and at the same time, the production of a smartphone produces an average of 89 kilograms of electronic waste. Greenwashing is a common practice now and somehow it calms us all down when a charger from the box doesn't end up in the drawer.
In trying to minimize these consequences, at least for its own devices, Fairphone strikes a happy balance in my opinion. While I certainly believe that more could be achieved in terms of sustainability if the Fairphone 4 costs over €1,000, but if you were to lower your expectations a bit and buy a smartphone with a guaranteed promise of 6 years' worth of updates for €579, not to mention being easily repaired when damaged, that's not a bad deal after all! In fact, you might even be able to sleep a little better at night.
The Fairphone 4 gets 4 out of 5 stars in our books. However, you have to think of one star as green. This symbolizes the unique ecological advantages that come with the Fairphone. These pull up the final score for a smartphone that technically can't keep up with other models. If sustainability is all that important to you, you should definitely buy it!