The best Pokémon games on Android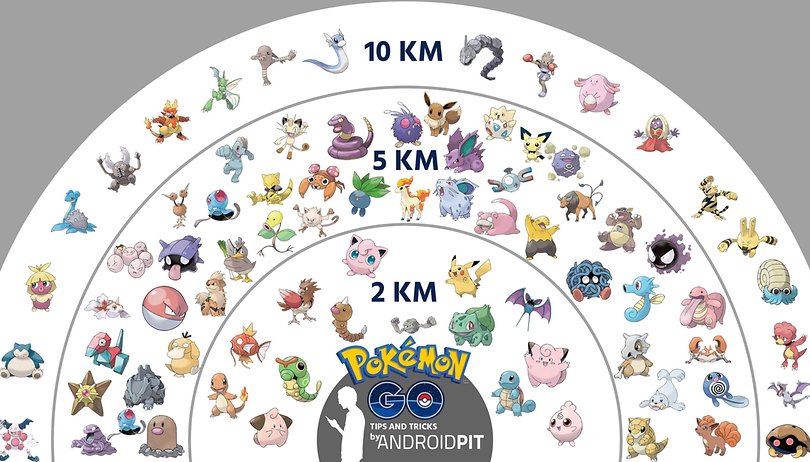 Pokémon has made its mark, both on TV as well as on the good ol' Game Boy devices. Today, fans turn to Android games to get their fix of their favorite games so here's a non-comprehensive list of the best Pokémon games.
Pokémon GO – the star of the show
Does Pokémon GO really need any introduction these days? This game had a real buzz about it last year, as it allowed Pokémon fans to rediscover their childhood every time that they played it. In short, you could walk around with the app open and use your phone's camera to detect Pokémon thanks to the augmented reality feature.

The game quickly became popular. With that said, after several days, interest dropped slightly but the game knew how to keep a solid user base. A huge update was recently launched to offer a different experience to the users, ensuring that they'll continue to play it regularly.
App version: 0.63.4
App size: 85.9 MB
App compatibility: Android 4.4 or more
Price: free with in app purchases
Pokémon: Magicarp Jump – the new one
There were Pokémon games before the release of Pokémon GO, but this showed that there is immense potential for these little critters. It didn't take long for Magicarp Jump to arrive, a Pokémon game which is also from a completely different genre. It deals with the worst Pokémon: Magicarp. You have to find them and train them (yes, like tamagotchis) and, finally, fight with them when they are powerful enough.
No need to get up, you can play this Pokémon game from your couch. The game will definitely entertain you, but if you want to plunge completely into the world of Pokémon, you'll have to opt for a different game.
App version: 1.1.0
App size: 59.1 MB
App compatibility: Android 4.1 or more
Price: free with in app purchases
Available on the Play Store.
Pokémon TCG Online – the Pokémon card game
This is a completely different type of game: it's about card collecting. It's a digital adaptation of the original card collecting game. You face an opponent, which could be human or artificial intelligence, and as per the tradition: you face an opponent and you both enter the stage where you'll find cards.
As with all games, the aim is to have the best deck, and to win the best cards. The game is available for Android and iOS tablets, or even for Windows and MacOS.
App version: 2.45.0
App size: 25.09 MB
App compatibility: Android 4.0 or more
Price: free with in app purchases
Pokémon Shuffle – the puzzle game
This too is a game from "The Pokemon Company". It's also a little different with simplistic gameplay and childish graphics. You have to fight Pokémon and capture them, but the fights are quite original as they take place on a grid where you have to place your Pokémon (at least three) side by side, either horizontally or vertically.
The game is user-friendly and is relatively easy to understand. The advantage of the game (at least for some people) is that it's not stressful: you do things at your own speed. This game isn't compatible with certain devices, so remember to look at the descriptions on the Play Store page to find more information.
App version: 1.10.0
App size: 75.1 MB
App compatibility: Android 4.1 or more
Price: free with in app purchases
Camp Pokémon – the game for discovering the Pokémon universe
Camp Pokémon is a special game in itself but also in another way. The games mentioned above all have a specific objective. Camp Pokémon is different as it doesn't have one concrete objective, it's all about discovering the Pokémon universe. The concept is simple: you find yourself on an island on which you can choose from several activities. These activities range from looking for Pokémon to fighting.
Don't expect advanced graphics: the aim of the game is to offer a simple and varied experience (on several activities) rather than focusing on a single activity and maximizing its potential. In addition to this, the game will suit both children and adults and will entertain everyone, but it could become boring after a while.
App version: 1.2.6
App size: 179 MB
App compatibility: Android 2.3 or more
Price: completely free
Do you know of any other good Pokémon games?