Philips Hue in 2023: Models, Prices, Features and More!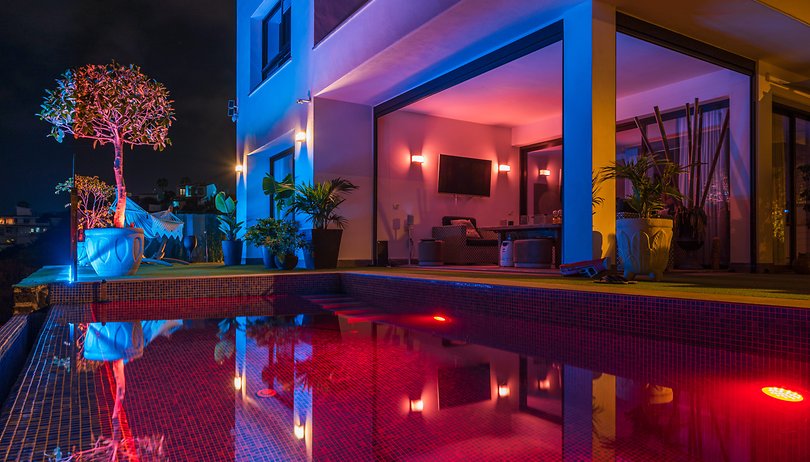 Looking for smart lighting light bulbs, kits, or fixed lights? Philips Hue is one of the best-known brands in the market, with a huge number of lamps, light strips, and even video-synced devices. In this article, we will explain the different product categories and some of the basics to start your Philips Hue installation.
Philips Hue offers a variety of use cases, from light automation at home or professional places like hotels, to creating dynamic scenes around the house, or simply boosting immersion in multimedia content.
The Hue brand got so popular that Signify, its manufacturer, ended up buying direct rivals such as WiZ, Eaton's Cooper Lighting, and Osram's Fluence, in both consumer and professional markets. Still, the Philips Hue ecosystem is incompatible with those brands and arguably offers a bigger ecosystem.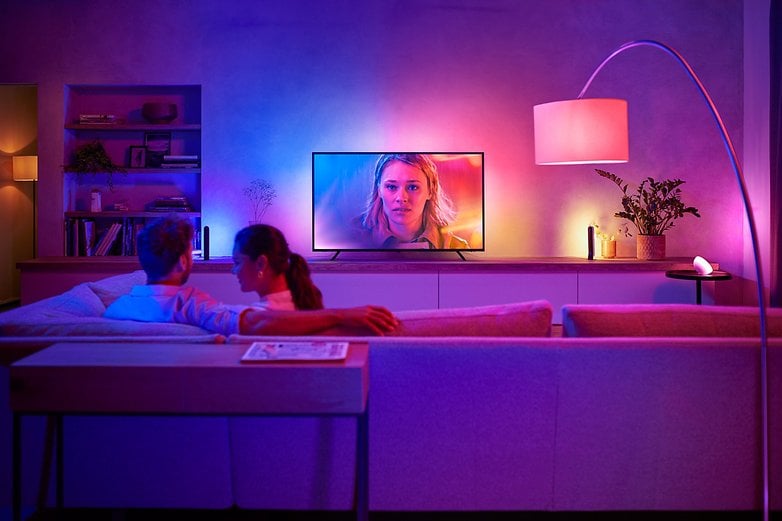 What is Philips Hue and what can I use it for?
In a nutshell, Philips Hue is the first and most popular smart bulb brand in the market. Its name comes from the fact that it originally offered RGB lighting controlled wirelessly via a "Bridge" hub, but now the product line includes Bluetooth support and white-only lamps.
With light bulbs, light strips, fixed lights, lamps, and accessories, the Philips Hue ecosystem can be controlled using an application, smart accessory, and even via smart home assistants, such as Amazon Alexa, Apple HomeKit, Google Assistant, or Samsung SmartThings. With the optional Bridge accessory, you can integrate the Philips Hue devices into a Matter installation.
That level of connectivity allows not only to control and dim compatible lights but also to adjust the ambiance according to the occasion or even automate lighting, for example, to simulate that the house is not empty while your family is traveling.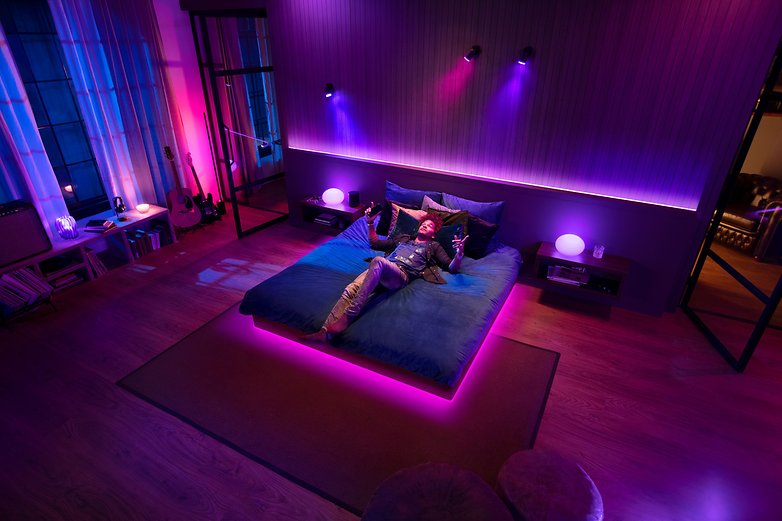 Bluetooth vs Hue Bridge: What is the difference?
Philips Hue lighting originally required the usage of a dedicated Hue Bridge, which worked as a controller hub and talks with smart assistants. Nowadays, however, users can avoid the extra cost and use the light bulbs and strips directly using Bluetooth technology.
Using a Bluetooth connection, the lights are controlled by the smartphone app without requiring the Hue Bridge. The Philips Hue application is available for iPhones in the Apple App Store and Android phones in the Google Play Store.
Despite Bluetooth's convenience, there are some features that are only available when using the Bridge:
| | | |
| --- | --- | --- |
| | Bluetooth | Hue Bridge |
| Maximum number of lights | 10 | 50 |
| Range | 1 room | Entire home |
| Can configure Hue accessories | | |
| Can be controlled from afar | | |
| Can schedule actions (automation) | | |
| Light sync with games/music/videos | | |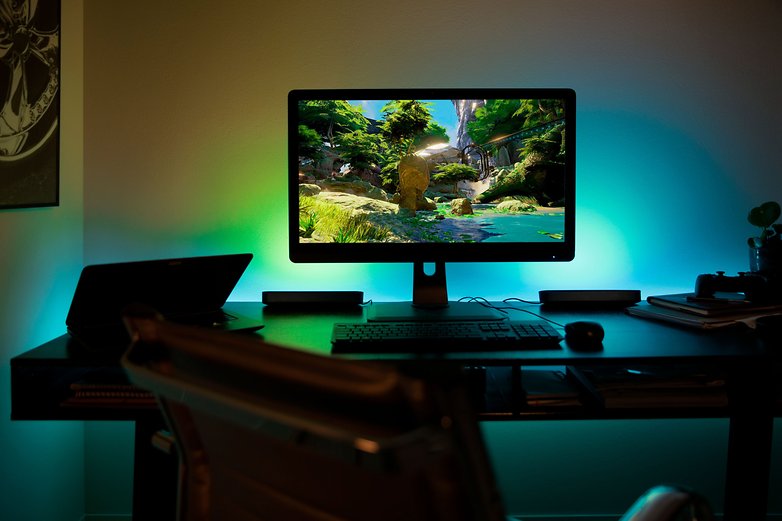 Another important feature enabled by the Philips Hue Bridge is Matter support, offering better integration and interoperability with an existing smart home installation.
What you need to know before buying Philips Hue bulbs
Difference between sockets: E27, E26, E14, E12, GU10
The main thing to know before buying a lamp is knowing which socket you need. Lightbulb sockets vary according to the region, but the most used lamps in North America and Europe use the Edison screw, represented by the letter "E", followed by the plugs' external diameter:
| | | |
| --- | --- | --- |
| | North America | Europe |
| Small | E12 | E14 |
| Medium | E26 | E27 |
E26 and E27 are usually interchangeable, but the same is not true for the E12 and E14 sockets. Remember however that the lamps are not bivolt/autovolt, so European bulbs use 220V-240V, while American ones use 110V-130V, and they are not compatible with each other.
The third popular option is the pin base fitting GU10 standard, with two protruding pins in the lamp base. Other markets—such as some Commonwealth countries—also use light bulbs with bayonet fitting, which is similar to the one used in the automotive industry.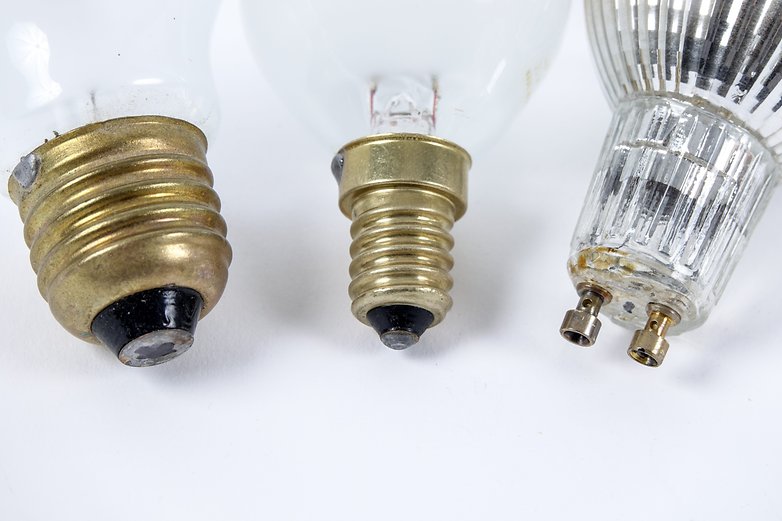 Discover which socket to buy with Signify LightFinder (US-only)
Signify offers a mobile app to quickly discover which light bulb socket is required for your installation. The application uses the mobile camera to identify the correct fitting, and of course, will offer you to buy the lightbulb straight from the app.
Product lines
The Philips Hue lineup is made of a wide range of product lines that expanded beyond in-house lighting. Shoppers can find a variety of options from single light bulbs to multi-device sets to begin or expand installations. We explain below the main Hue consumer product categories.
Philips Hue starter kits
As the name suggests, Hue starter kits include the basic devices to start your smart light setup. All current kits pair a Hue Bridge with a couple of light bulbs. With that, consumers can quickly install and configure their lighting system.
It is worth noting that the current kits available in the US market use lamps with the E26 socket, but the options can vary depending on the region.
Depending on the market, starter kits can also include a switch, dimmer, or other accessories.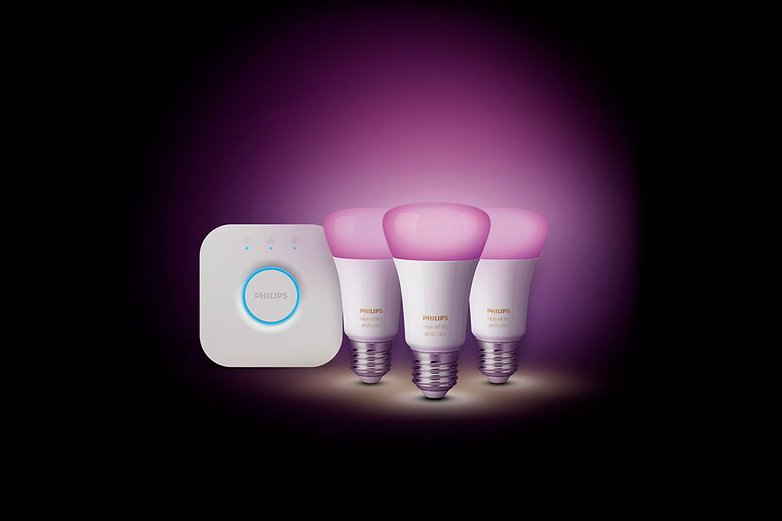 Philips Hue light bulbs
The basic form of the Hue ecosystem is the lamp, after the launch of Bluetooth connectivity, Philips Hue lights can be controlled exclusively using a smartphone, without requiring the Hue Bridge as we mentioned before.
Lamps come not only in different socket options but also in different styles and shapes. That's why you will find terms like "BR30", "A19", "G25", and much more, depending on your region. Check the illustration below to identify some of the most common shapes: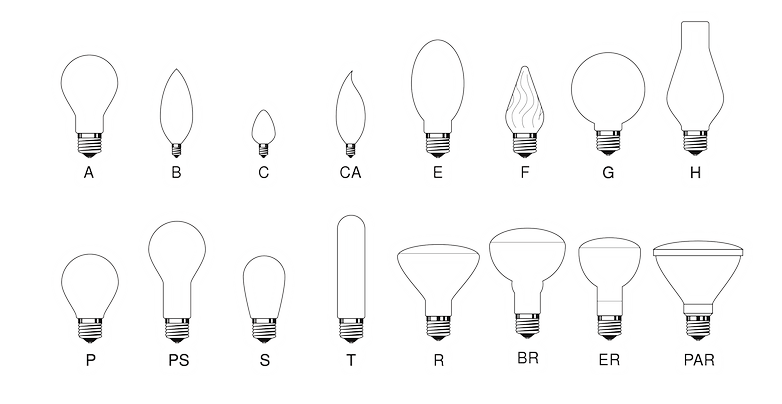 Color is another variation in the Philips Hue ecosystem. Hue bulbs are available in three color options: white, white ambiance, and color ambiance, all of them dimmable when using the Hue app or compatible switches. In short, this is how they differ:
Philips Hue White: only offers one color and temperature—2700 Kelvin—also known as "warm white".
Philips Hue White ambiance: can be set to different white temperatures, and are better suited for changing the mood of the room.
Philips Hue White and color ambiance: offers not only white but the full spectrum of colors available in the Hue ecosystem.
Philips Hue light strips
For those who are looking for adding a light touch to rooms, furniture, or even outdoors, light strips are a popular option. Strips can be installed using special mounts or using adhesive tape.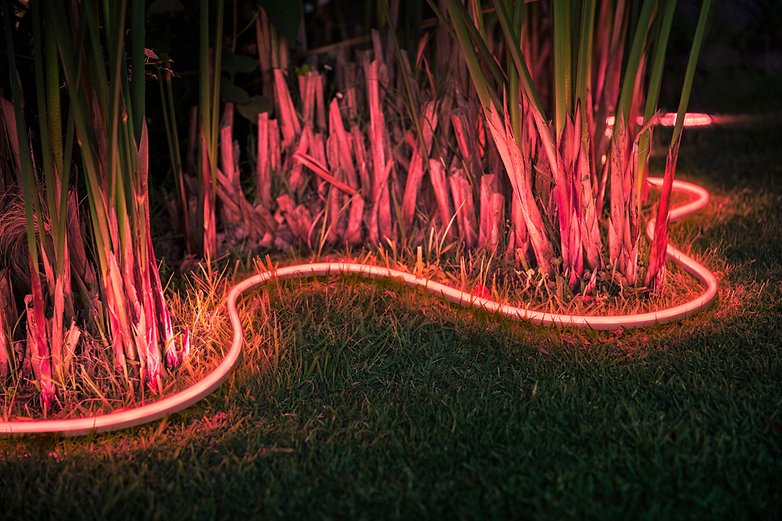 Light strips have the advantage of not depending on an existing light socket, and offer more flexibility for installation, just requiring a power socket. Outdoor models can be used with cable extensions, which can be daisy-chained for up to 35 meters (114 ft.).
Philips Hue lamps and fixed lights
The Philips Hue line also offers fixed lights, decorative table of floor lamps, light bars, and even outdoor spotlights.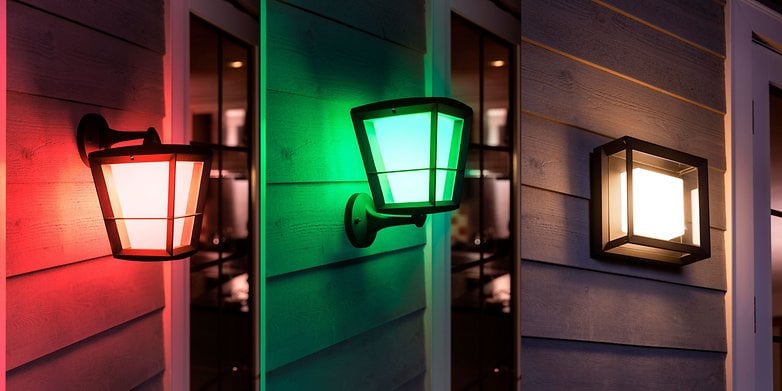 Table and floor lamps offer even more flexibility when decorating and setting the lighting in rooms, requiring only a nearby power source.
The fixed lights product range, on the other hand, includes options for indoor and outdoor installations, with ceiling, pendant, wall, flood, and spotlight models in a variety of designs.
Philips Hue Go
The Philips Hue Go is a mobile table lamp for indoors and outdoors. The lamp is quite bulky thanks to its metal build and is IP54-certified, which protects against rain showers thanks to splash water protection.
The series stands out for its practicality, as it does not depend on cables to work, which makes everything very practical. In relation to battery autonomy, depending on the setting of the light it is possible to keep it working for up to 48 hours without needing to charge it. According to the manufacturer, this changes to up to six hours in the case of using party lighting.
Finally, you can control everything through the companion app or use the physical switch mounted on top of the lamp to switch between scenes.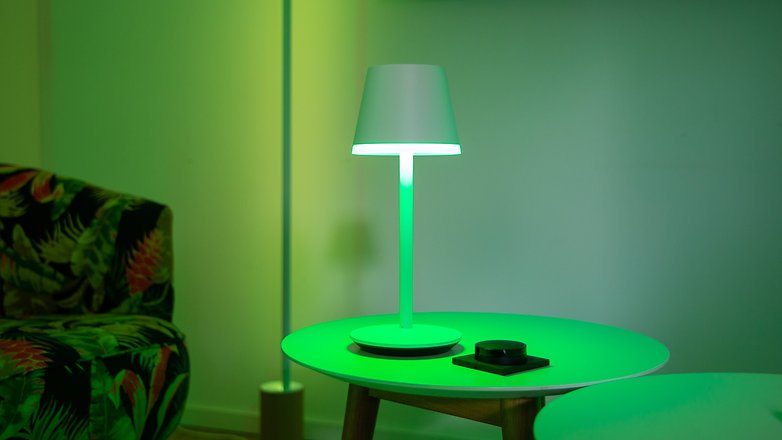 A flashing signal tells you that the battery is slowly running out. Here I would have found a precise battery indicator better. But maybe we'll see that in the future, at least in the app. As soon as you place the lamp on the base, it is automatically charged, which takes between three and four hours.
Philips Hue Tap Dial
The Philips Hue Tap Dial is a light switch that allows you to turn on or dim your lights not only when it is mounted on the wall. You can also attach it to the refrigerator, for example, thanks to a magnet, or simply place it on the table for easy operation.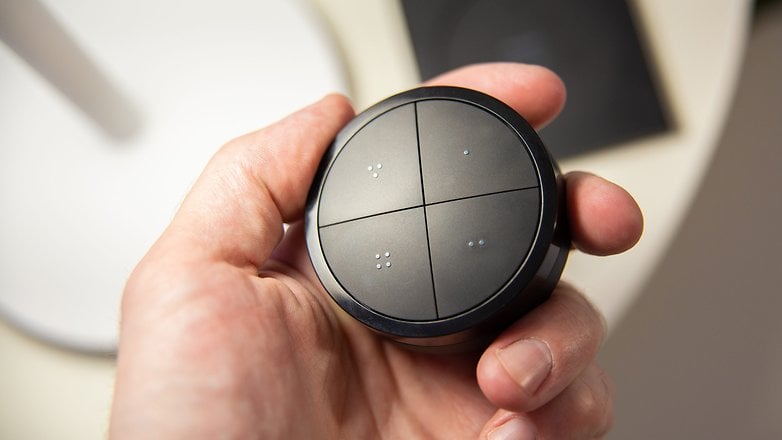 In addition to four buttons, the switch also has a rotating ring, whereby the buttons can be assigned individually. For example, you can use the switch to control different rooms or parts of a room or select any light scenes for individual buttons. You can use the ring to dim the brightness continuously.
Philips Hue Gradient Signe Oak
The Philips Hue Gradient Signe Oak base lights have a wooden design and work as an eye-catcher in the room. You can use many light scenarios via the app to always provide the perfect ambiance. This also includes an artificial sunrise, which is a light scene hidden behind "Naturally Wake Up" feature.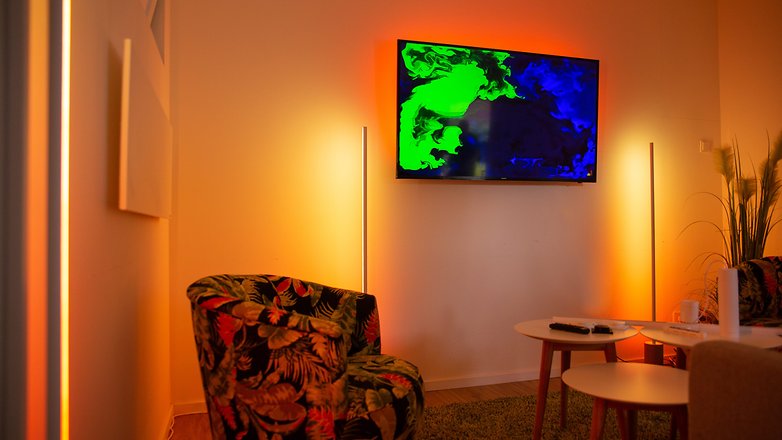 Accessories for the Philips Hue line
Last but not least, the accessories range includes items like the Hue Bridge, a selection of switches (including dimmer options), smart plugs, motion sensors, outdoor cable extensions, and even the HDMI Sync box.
The latter device connects to a Hue Bridge and includes 4 HDMI inputs into which you plug your game console, streaming device, optical media player, etc. It is worth noting that the Sync Box cannot receive signals from your TV apps—so if you use Netflix, Prime Video, or other services you will need to use the app on the external device to use the Hue lights feature.
Another limitation of the Hue HDMI Sync Box is that it is limited to HDMI 2.0, so it is not compatible with 4K120 contents—basically next-gen games. The alternative, in that case, is to go straight for a Philips TV with Ambilight, but the TV sets don't integrate with the Hue ecosystem.
Bonus: Are Philips and Signify the same thing?
No. Signify is a Philips spin-off, formerly its lighting division, when the Dutch company decided to focus on medical technology. Signify is also based in the Netherlands, and licenses the Philips brand for its Hue product line, similar to how Hong Kong's TPV manufactures and sells Philips TVs in Europe, Latin America, and some Asian countries.
Besides the Hue product line, Signify also sells a range of professional products under many brands, and also the entry-level consumer WiZ line, none of them compatible with the Hue ecosystem, accessories, or apps—at least until the arrival of the Matter standard.
What did you think about this market overview for the Philips Hue line? Are you looking for smart home devices? Do you want us to cover other brands such as Govee, WiZ, Ikea Trådfri, Anker Eufy, TP-Link Kasa, or others? Leave a note in the comments below!
---
Article updated in July 2023 with new offers.