Best Android screen dimmers: 4 ways to get 40 winks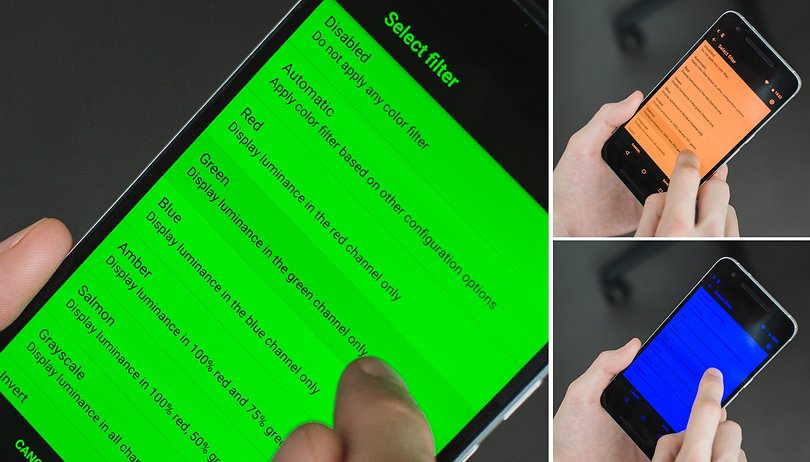 Our smartphones are making us lose sleep. Not just because they're so damn addictive, but because they emit lots of blue light, which suppresses the production of melatonin, a hormone that aids our sleep cycles. Thankfully, there is a growing number of screen dimmer apps that limit the blue light our phones produce. These are the best Android screen dimmers available. NEXTPITTV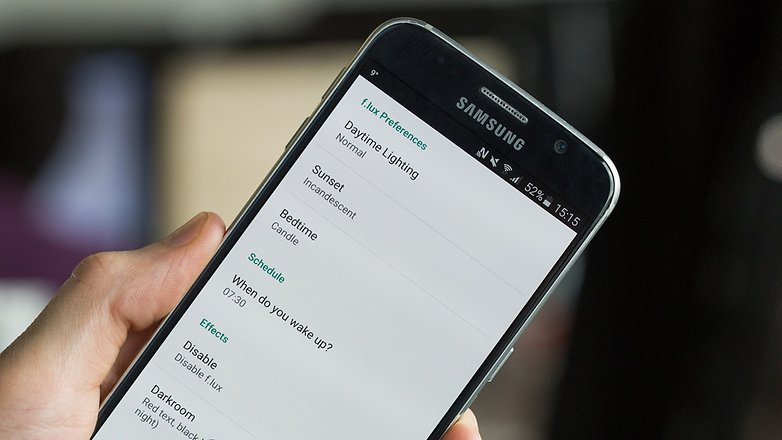 Twilight: best for ease of use
This has been my screen dimmer of choice for the past few years. It's simple to setup; just turn on automatic location, adjust the temperature, intensity and screen dim settings to your liking, and Twilight will take care of the rest.
There's an option for a permanent notification, which can be used to quickly turn Twilight on and off. The only option that the basic version lacks, which is a very useful thing to have, is the sunrise and sunset offset times. With these, your phone doesn't suddenly switch to normal brightness as soon as the sun rises. Instead, it transitions slowly over a time period of your choosing. Without these settings, you will still be blinded by your phone when you first check it in the morning.
One likely superfluous feature that Twilight has, is support for Smart bulbs. This allows you to use the app to automatically dim any such bulbs you might have at home.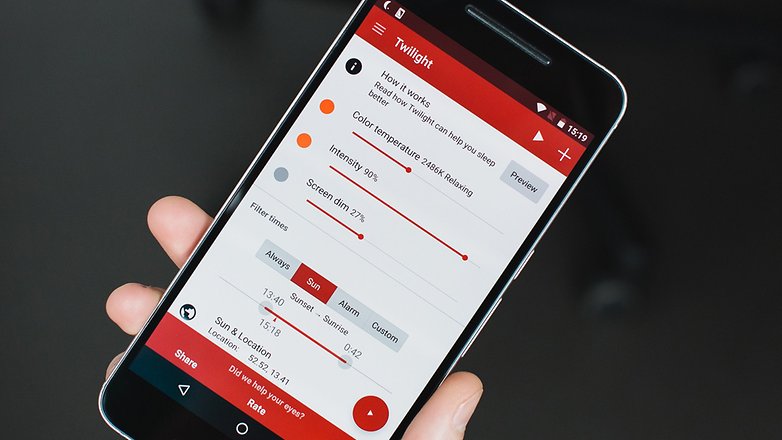 f.lux: best for old school cool
A screen dimmer that some may remember from or still use on their desktop computers is f.lux. It only very recently made the move over to Android – it's still currently in beta – and it requires root access. It offers a selection of preset lighting options for daytime, sunset and bedtime. These options range from Midday Sun all the way down to Ember.
f.lux offers two options that will be particularly useful. There's the scheduling option, which allows you to choose when you wake, allowing f.lux to keep dimming the screen until you're fully awake, rather than bringing it up to full brightness at sunrise. Then there's the Darkroom mode, which offers haunting red text over a black background. This feature, unique to f.lux, is particularly useful for when you check your phone in the middle of the night or perhaps even go stargazing.
Currently, as the app is still in beta, there are some bugs remaining, such as the screen flickering when an app is updated through the Google Play Store, but expect these to be ironed out over future updates. f.lux is definitely one to keep a sleepy eye on.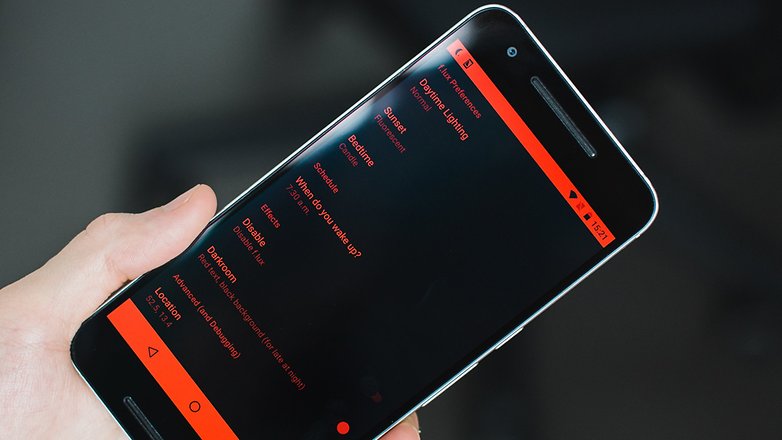 cf.lumen: best for options
cf.lumen doesn't strictly require root access to operate, but it works much better with it. Without root access, the app just creates a screen overlay, the quality of which is lower than the rooted method. Besides this disclaimer, the app is excellent. Created by Chainfire, the renowned developer responsible for the go-to rooting tool SuperSU among other apps, cf.lumen reigns supreme in the depth of options it offers.
Most notably, the color filters can be adjusted very precisely, with color charts clearly demonstrating how your adjustments will affect the screen. There are even options to aid those that suffer from colorblindness.
Scheduling works based off sunrise and sunset times, as with most of these apps, but there's also the option to set sleep start and end times, determining when the screen will be at maximum darkness. The filter fade speed also lets you determine over what period of time the screen filter fades in and out, allowing for a gentle slide in and out of nighttime and daytime viewing either side of your sleep.
Without the pro version, the most notable feature you'll miss out on is the notification bar for quick on/off switching. Otherwise, everything you need is there.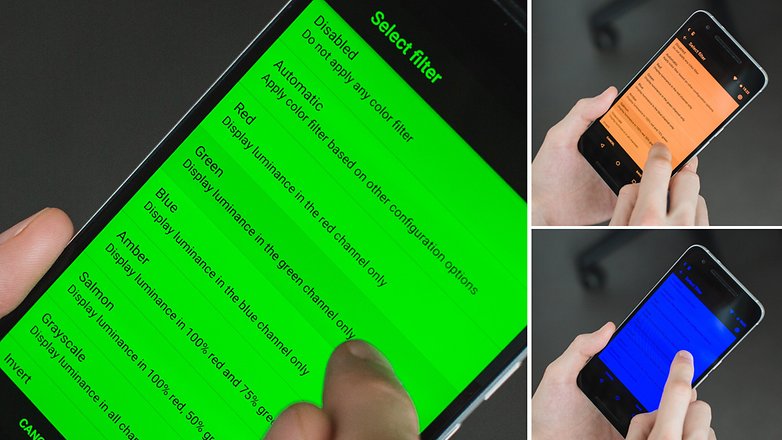 Bluelight Filter: best for UI
The most popular app in the Play Store out of all those featured on this page is Bluelight Filter. It offers probably the most user-friendly interface, with tabs for filter settings, scheduling, home screen shortcuts and settings. Like Twilight, it incorporates a notification bar, from which you can quickly enable and disable the filter. Unlike the other apps on this page, Bluelight Filter pushes in-app purchases quite heavily, with many options only being available in the paid app, and additional apps being needed for scheduling and Night Mode, turning the whole thing into a bit of an ordeal.
The app does, however, offer a simple primary setup. All you have to do is choose a color and filter percentage, and you're good to go. But without the additional scheduling app, Bluelight functions well below the other alternatives on this page. This, paired with the aggressive in-app purchases, make Bluelight one of the weaker choices.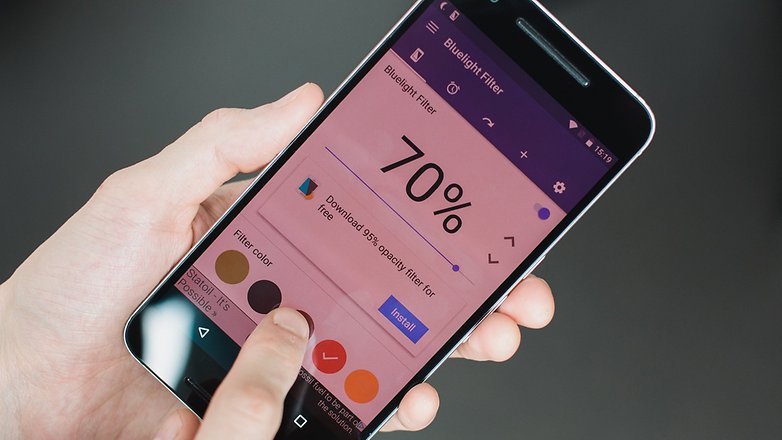 Do you use a screen dimmer? Have we missed one you consider the best? Let us know in the comments.