Apple Watch Series 7 review: Small updates, big impact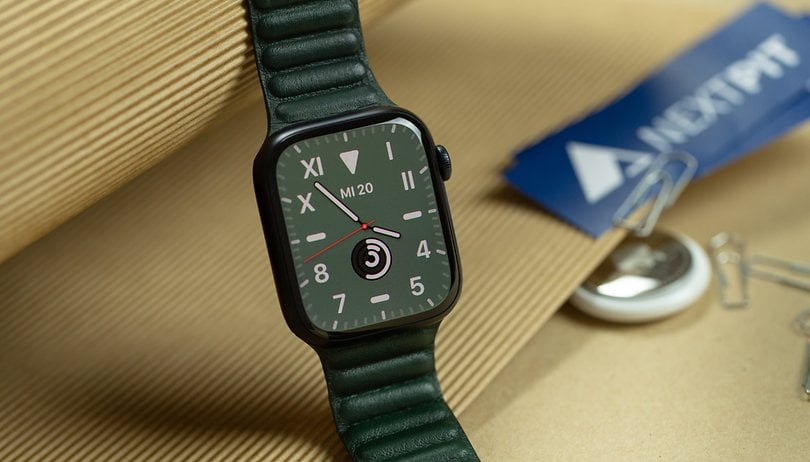 The Apple Watch Series 7 is not a major update and yet it has improved significantly in certain aspects compared to the Apple Watch Series 6. Is the new Apple smartwatch worth buying? You can read all about it in our NextPit review.
Good
Bigger, brighter screen

Charges up to 33% faster compared to the Series 6

IP6X certified: Waterproof and dust protection now included
Bad
Nothing new, but: Apple Watch only works with an iPhone
Apple Watch Series 7 in a nutshell
The Apple Watch Series 7 offers an incremental but successful update of its predecessor. Apple makes better use of the available display space and thus, freed up more room for content. This way, the user interface can be further expanded in selected areas. For instance, the calculator will now offer more buttons on the Apple Watch 7 than in its predecessors.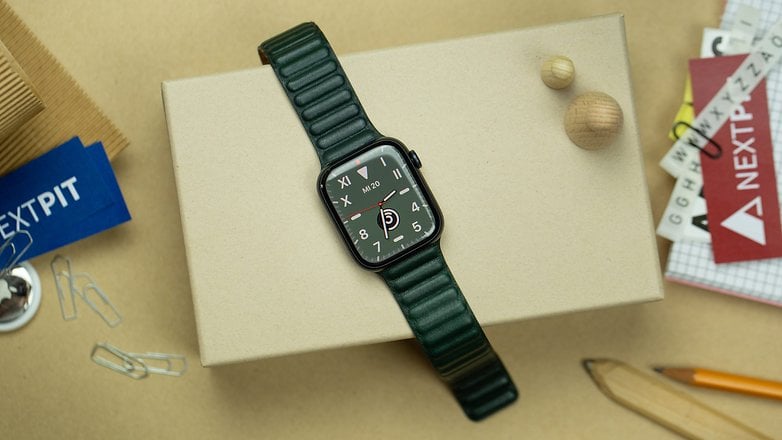 What about the input area of messages or emails? You can now find a QWERTY keyboard there, albeit only in the English version for now. The display is also slightly brighter than before when inactive with the Always-On Display. However, the larger display is hardly noticeable in daily use.
For me, fast charging is probably the most important new feature in this iteration. The Apple Watch Series 7 charges up to 33% faster with the new charging cable, which really makes a difference in daily use compared to older models. Older charging cables that you still have from previous models can still be used, but they don't offer Fast Charging support.
Buy now the Apple Watch Series 7 for $399
Buy now the Apple Watch Series 7 GPS + Cellular for $499
All in all, Apple has managed to deliver a decent update with the Watch Series 7, but you don't necessarily have to go along with it. This is especially true for owners of the Apple Watch 6 who are considering the pros and cons of making the switch. Differences between the two models are not large enough to justify an upgrade in my view.
However, those who have been toying with the idea of getting an Apple Watch for a long time or who own a significantly older model will not be disappointed by the new watch.
You can check out the current prices of the different Watch 7 models in the price comparison below.
Design: Tried and tested; great workmanship improved in one particular aspect
---
What I like:
Apple says more durable glass (I've never had any problems before though despite heavy use).
IP6X certification: Having dust protection in dusty environments or at the beach is a big plus.
What I dislike:
Hardly any visible changes to the Apple Watch Series 6.
---
Never change a winning formula. Or in other words, if it ain't broke, why fix it? We're referring to the design here. As mentioned before, very little has changed in the design of the watch. If you were to hold the Series 7 and Series 6 side by side, you can hardly tell the difference between the two models with the naked eye. But when the display is on and you're using apps or Watch Faces that fill the entire screen, the difference becomes clear.
That said, Apple has worked on the corners in particular, making them rounder and smoother. But as I said earlier, even when I place the Apple Watch Series 6 and 7 side by side and focus on them, you really need sharp eyes to see the differences.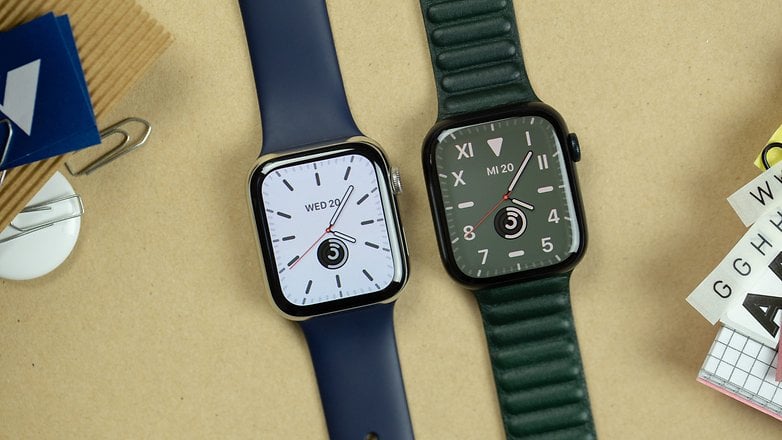 What matters more to me is what else has changed. This is because Apple has now also introduced an IPX6 certification in the Series 7. This certifies the watch to be protected even against fine dust or sand. I've read in some other reviews that while there was no certification before, the Apple Watch would still have offered adequate protection prior. Personally, I am not so sure!
While I'm not an engineer, I can say from experience that the digital crown on my previous Apple Watches regularly felt increasingly cumbersome to use. It was as if dirt or other debris had gotten into the nooks and crannies, preventing it from turning easily. This problem disappeared entirely on the Apple Watch Series 7, at least so far. The Digital Crown operates smoothly and easily at all times.
Now, I can't say if this is due to the IP6X certification or if it's an entirely different reason: But the fact remains that it makes the watch feel much more premium. Therefore, my conclusion is this: the workmanship is what you would expect from Apple products: outstandingly good!
New colors for the aluminum version
The Apple Watch is once again available in different versions: Aluminum is a given, and also in stainless steel and titanium, respectively. The aluminum variants are available this year in five different colors: Midnight, Starlight, Green, Blue, and (PRODUCT)RED.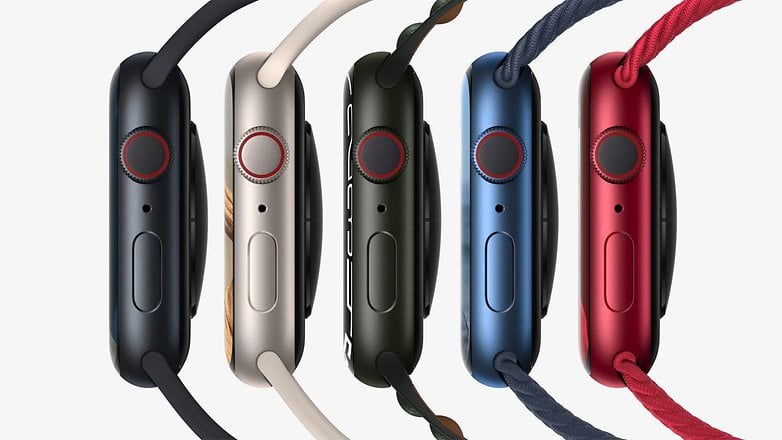 Brighter and bigger: The display of the Apple Watch Series 7
---
What I like:
Larger, sometimes comical looking (only on some Watch Faces) display.
Brighter display when in an "inactive" state.
What I dislike:
---
The improved display on the Apple Watch Series 7 seems to be the only thing that Apple is highlighting this year. Compared to the Apple Watch Series 6, it has grown by about 20%. The display now goes all the way to the corners. In Apple's promotional images, it almost looks like you can see pixels from the side as well.
Apple then took advantage of the space gained in some places by offering Series 7-exclusive content. For example, there's a new Watch Face that pushes the hour numbers all the way to the edge. Or the calculator, which now offers more virtual buttons. In daily use, however, I hardly notice the larger surface area. Only with my California Watch Face, which completely filled the display with colors, does it become far more noticeable on how much more display space you have with the Series 7. I've often caught myself wondering if the smaller model wouldn't look a little better now. But of course, that's a matter of taste. and personal preference
Display is now much brighter when the wrist is lowered
When the wrist is lowered, the screen display changes from active to not-so-quite active. While in the active state you have all the details, working second hands, and colors, the Apple Watch will hide non-essential information. This is a great way to save a lot of power, as the screen display doesn't need to be constantly re-rendered. Apple has called this state "Wrist down", by the way.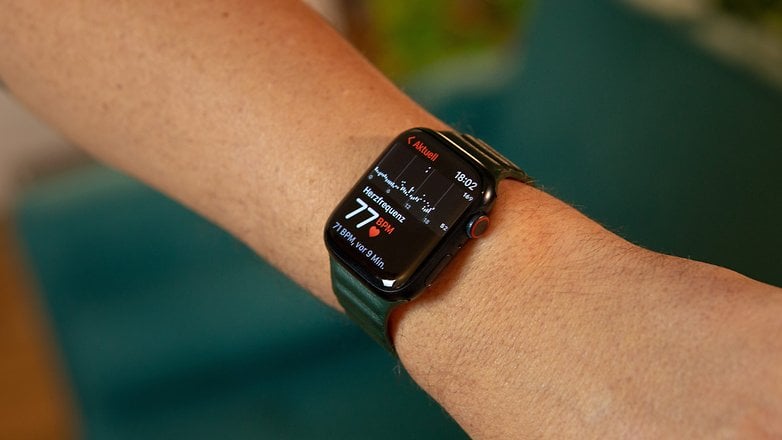 In this very state, the screen is now much brighter. In fact, it is brighter by up to 70% according to the manufacturer. This way, when you take a quick look at the time, you don't necessarily have to activate the screen to read the time. Once again though, this detail isn't necessarily noticeable enough for me personally to call it a "game changer." Regardless, the Apple Watch Series 7's display is noticeably better in many aspects . And it's a lot of fun to interact with.
Apple Watch Special Editions: Something for every one
Apple is offering two special editions again this year. For sports enthusiasts, there is the Apple Watch Nike with special straps and Watch Faces. For those who prefer something that is much more exclusive (and obviously, expensive), the Apple Watch Hermès is the right choice.
watchOS 8 is the perfect operating system for smartwatches
The Apple Watch Series 7 is powered by watchOS 8, of which you can read all about it in the preceding link.
From my point of view, this is the best smartwatch operating system and works especially well in interaction with the various Apple devices. We explicitly mention this here because an Apple Watch is especially useful for those people who use multiple Apple devices. On the other hand, those who are simply looking for a smartwatch, such as for fitness purposes should probably look at other alternatives.
In addition to the many features offered by the smartwatch operating system, the power consumption remains low. Thus, you can also get through the day well with older Apple Watch models.
Solid battery life and finally, Fast Charging!
---
What I like:
Fast charging! Finally!
Good battery life.
What I dislike:
Fast charging only works with the included cable.
---
The battery itself hasn't changed much. It still lasts around 1.5 days, depending on what you do and which sensors or wireless standards are currently being used. Perhaps most importantly, the Apple Watch Series 7's battery charges significantly faster compared to its predecessors, but this only happens if you were to use the included charging cable. Older charging cables still work, but it does not support Fast Charging.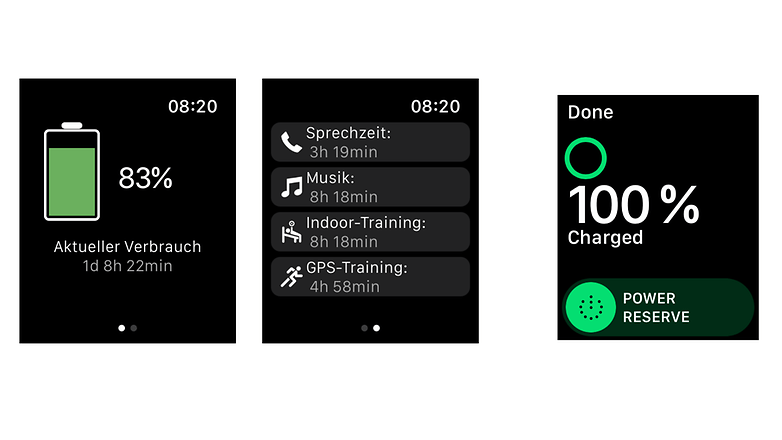 Apple claims that you get to enjoy superior charging performance with up to 33% more speed. In daily use, however, it feels much faster. Place the Watch on the correct cable for just a few minutes and you can almost watch the battery go back to 100%.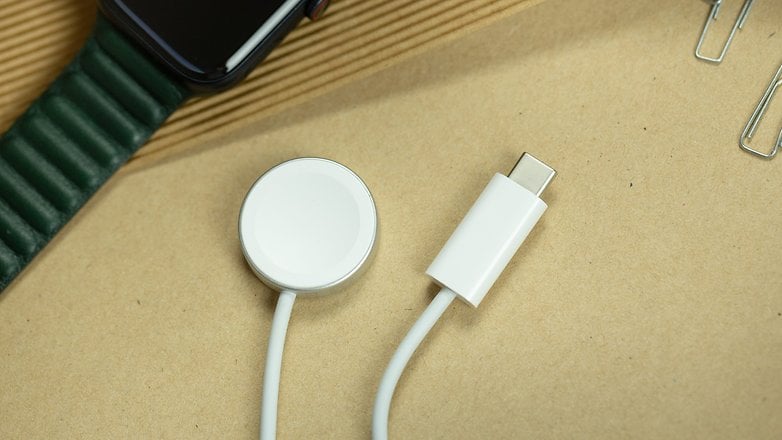 Little Fun Fact: I've had the battery level set up as a complication on my Watch Face for many years now. It always makes me nervous not knowing how full or especially empty the battery is. Selecting it used to just bring up a pretty snoozy screen that summarized the data a bit better. With the Series 7, however, something else has changed here. You now get an estimate of how long the battery will last under constant use and, with another swipe, how long the battery reserves would last under heavier use.
I find that to be very cool!
My Apple Watch Series 7 verdict: Pretty awesome shit!
Okay, the title of my conclusion isn't exactly specific, but to be able to create a review in our CMS and save it for the very first time, there has to be something in the conclusion. Of course, since you can write about such a review in one sitting and such work grows over time, I wrote this as a placeholder.
Now that I've arrived at this point, I realized something: it may sound a bit vulgar and too bold for the ears of one or two others, but it sums up my verdict very well.
The Apple Watch Series 7 is not a bold step forward. It's evolution instead of revolution. And that's a good thing, a Berlin mayor once used to say. This is because the Apple Watch Series 7 combines all innovations of recent years and eliminates the teething problems in the process. The best example for me is the fluid operation of the Digital Crown on the side.
For me, the Apple Watch Series 7 is what a smartwatch should be: fast, beautiful, reliable, robust, and full of practical functions. Personally, I don't feel it's a bad thing that there was no new design or new sensors this year. Please don't get me wrong: I probably love being surprised by new features just like you. But what's more important to me is that everything works smoothly and reliably.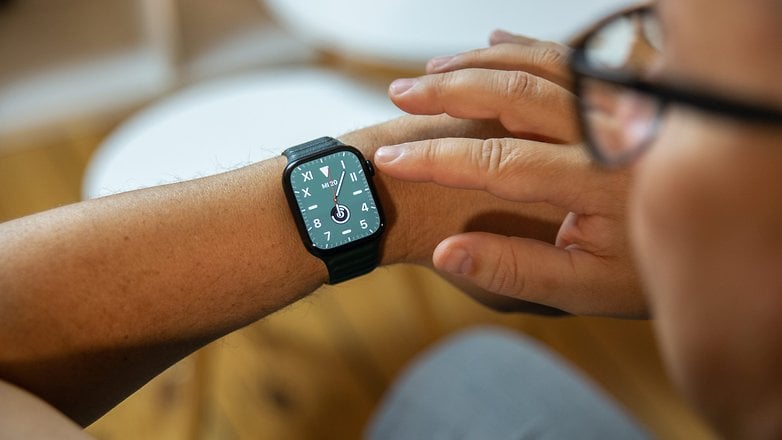 Now, it's safe to say that Apple products deliver on this aspect almost without exception. But it was always those little things, like the long battery charge that subconsciously annoyed me. Since the Watch Series 7 spent well over 20 hours on my wrist and less than an hour on the charger each day during the review duration, I've come to realize just how much I actually needed that quick charge.
The Apple Watch is the best smartwatch. It was, and it still is.
Yeah, yeah, I know: Other manufacturers have been offering fast charging for quite a long time now and Apple certainly took their time in implementing it. And while we don't mention it for others, why gush over Apple's effort? It's true that Fast Charging should perhaps have been built into an Apple Watch a long time ago, but Apple always takes its time on such features for a good reason: innovations shouldn't just be innovative, they have to work.
And I stand by what I have already written: This kind of attitude has succeeded particularly well with the Apple Watch Series 7. Anyone who has had a few smartwatches on their wrist and wanted to fully exploit the functions, such as tracking sporting activities, knows: In terms of functionality and features, these smartwatches tend to be very similar regardless of the manufacturer. But the air around quickly becomes thin when you place the results of the fitness sensors or the integration effort into an existing ecosystem to the test.
The Apple Watch is and remains the best smartwatch for me when it comes to having an all-rounder on my wrist. There are other really good smartwatches or fitness trackers especially for sports, which are also ahead of the Apple Watch in some areas. However, they lack a lot of other functions.
Is the switch from Series 6 to Series 7 worth it?
Here, you will hear a resounding "YES!" from me. The Apple Watch Series 6 was and is a great smartwatch, but it differs little from the new Series 7 in terms of features and especially, design. Therefore, my first impulse would be to say that a switch to the new model does not bring so many advantages with it, as that you have to invest a minimum of $399 right from the get go.
However, the fast charging feature of this watch is a real advantage, especially for those who want to keep their watch on at night as sleep tracking can now pack enough power for an entire night into the battery in under 10 minutes. Those who can afford it or want it will certainly not be disappointed.
Apple Watch Series 7, Apple Watch SE, or Apple Watch Series 3: Which one is right for me?
We'll take some more time on this topic and write a longer buying guide. With the Apple Watch SE, you will have to make do without a more robust protective glass of the display and have slightly fewer sensors, such as missing out on blood oxygen or ECG readings.
I personally wouldn't recommend the Apple Watch Series 3 (starting at $199). It's really only for those who haven't had a smartwatch yet and would like to get started. However, the display is much smaller compared to the other watches, it has a much poorer resolution, and there are also clear cutbacks in terms of available sensors.