iPhone 15 Pro Review: A New Titan Among Phones?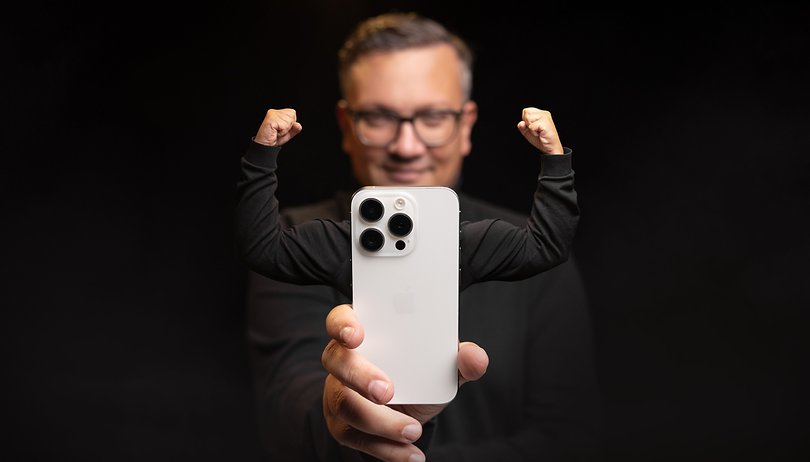 The new Apple iPhone 15 Pro is here, with a new frame made of (mostly) titanium. And not only all around, but also under the hood, there's more of an upgrade than just an update. The iPhone 15 Pro impresses with merciless performance, which is currently not found in Android smartphones (yes, bring it on!). We will find out where the big strengths are in the nextpit review of the iPhone 15 Pro.
Good
Titanium case is elegant and robust

More compact and lighter than the iPhone 14 Pro

A17 Pro is faster and has impressive graphics performance

New triple camera with 48 MP

USB-C port offers countless possibilities

Very practical action button
Bad
Relatively slow charging despite USB-C

Action button partly immature
Apple iPhone 15 Pro: All deals
In a nutshell
Despite its visual similarity to its predecessor, the iPhone 15 Pro comes with many innovations. This starts with the power-saving A17 Pro processor with 3 nm technology, which increases the performance of both the CPU and the GPU. Even demanding gaming should be possible with it—the first AAA titles in console quality are on the way!
Camera quality is impressive, with a triple camera module consisting of a 48MP main camera and two 12MP lenses, although only the Pro Max model has a 5x optical zoom. One notable and long-awaited (at least by me) new feature is the USB-C port, which replaces the previous Lightning port and enables myriad productivity features.
| | | |
| --- | --- | --- |
| | iPhone 15 Pro | iPhone 15 Pro Max |
| 128 GB | $999 | - |
| 256 GB | $1099 | $1199 |
| 512 GB | $1299 | $1399 |
| 1 TB | $1499 | $1599 |
You want to buy the iPhone 15 Pro together with a contract? Check some of the options from the biggest carriers and save a lot of money:
Apple iPhone 15 Pro design and build quality
Titanium: a word that brings to mind artificial knees or space travel. And now it's the smartphone business's turn. Apple is giving its new iPhone 15 Pro a new frame made of a titanium and aluminum alloy. Not only does it look really beautiful, the material is also particularly light and resistant at the same time.
---
Pros:
Titanium frame is a real eye-catcher.
Noticeably lighter than the iPhone 14 Pro.
Protected against water and dust according to IP68.
Cons:
Frame reportedly gets dirty easily (but can be cleaned).
---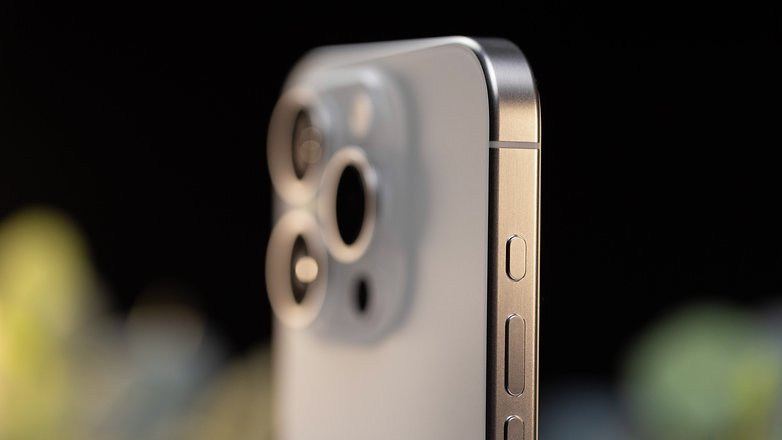 Speaking of resistance: shortly after the new iPhone 15 Pro models shipped, reports increased that the new titanium frame could quickly change color due to fingerprints and contact with other materials. Having been a fan of cases and having put the iPhone 15 Pro in the new case, I can't relate to these problems. As the article linked above describes, discoloration can probably be eliminated by simply wiping it off.
Firmer frame, smaller bezels, and noticeably lighter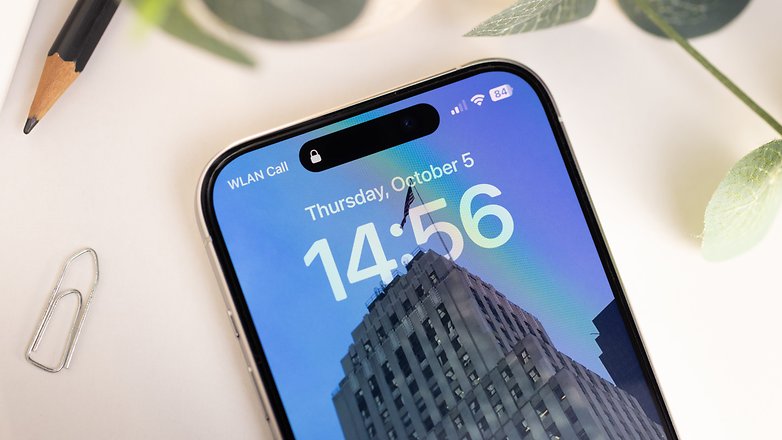 But let's get to the really important things. Apple kills several birds with one stone with its titanium frame. The new iPhone 15 Pro is not only supposed to be much more resistant and compact—it is also a lot lighter than its predecessor. From 206 to 187 g in the 14 Pro and 15 Pro, respectively, and that is clearly noticeable—especially when you hold the phone in your hand on the couch for a longer time.
Of course, the iPhone 15 Pro is again IP68 certified and thus protected against dust and water ingress. This is therefore ideal for use in rough environments or unexpected water contact.
Apple iPhone 15 Pro display
Apple installs a 6.1-inch OLED panel in the iPhone 15 Pro that provides a buttery-smooth, fluid image reproduction with a refresh rate of up to 120 Hz. In Apple's marketing language, this is a "Super Retina XDR Display with ProMotion". What can the display do?
---
Pros:
Always-On Display: fully integrated into my digital life (not at all last year).
Dynamic Island: fully integrated into my digital life (it was last year too).
New Standby feature: is fully integrating into my digital life.
Cons:
---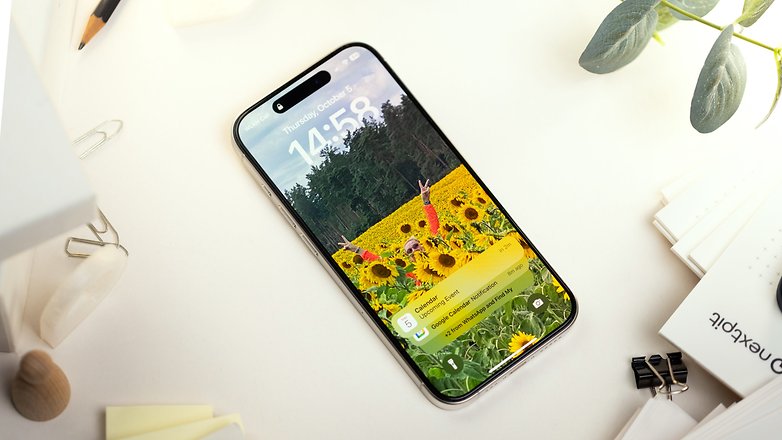 Apple installs the same display in the new iPhone as it did in the iPhone 14 Pro. It resolves at a 2,556 x 1,179 pixels resolution, offers great colors and good contrast. According to Apple, the screen achieves up to 2,000 cd/m2 in bright sunlight. However, this should only happen in the rarest cases—the brightness adjusts automatically to the ambient light. Furthermore, the display dynamically changes its refresh rate between 1 and 120 Hz depending on the application thanks to ProMotion.
Away from technical bells and whistles: What can the display do? The iPhone has had an always-on display since last year—and I wasn't the only one who was annoyed by so much "on". Apple reacted—and offered the option of displaying much less information. Over time, however, I have come to appreciate the always-on display and its possibilities. Especially the randomly selected pictures from your own media library are great. Don't worry: Of course, the selection of pictures can be limited to certain people, times, and places.
And then there's the new iOS 17 feature for the iPhone display: Standby. If you charge the iPhone via MagSafe in landscape mode, a new, large display appears that you can more or less adjust to your needs. "Nice," I thought the first time I used it, and I wouldn't want to do without the function.
In low ambient light, the display switches to a faint shimmering red and even goes out completely after a while, only to reactivate as soon as the sensors detect movement. The iPhone has thus become a perfect alarm clock for me, especially in combination with the matching charging stand.
Apple iPhone 15 Pro software
The iPhone 15 Pro Max runs iOS 17. We have already written a detailed guide with the best secret features of iOS 17; and of course, nextpit also has the ultimate iOS 17 guide. And yes, we have already written a first separate review of iOS 17 for you.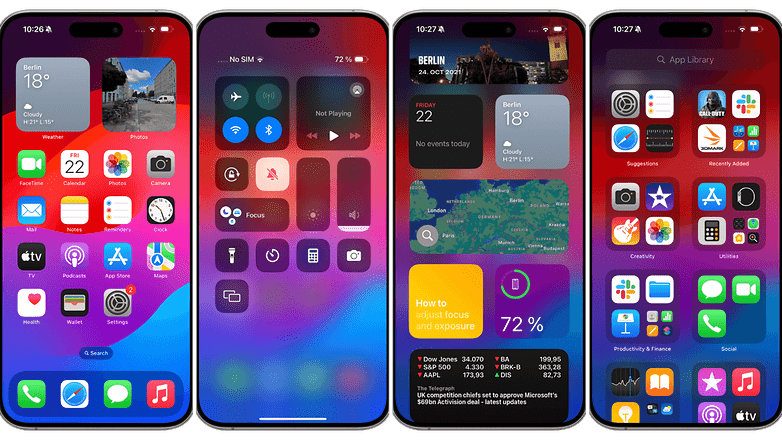 Accordingly, we want to focus primarily on the one big feature that is unique to the iPhone 15 Pro at this point: the Action Button. The new iPhone 15 Pro has retired the mute button that has been on the left side of the phone since the very first iPhone. Instead, there is now a small button called Action Button, which can be assigned its own functions.
The action button is more or less a hotkey to which you can assign various actions and/or shortcuts: Turn on the flashlight, mute, focus mode, open camera, and so on. It can also be used as a shutter release for photos (single press) or videos (long press).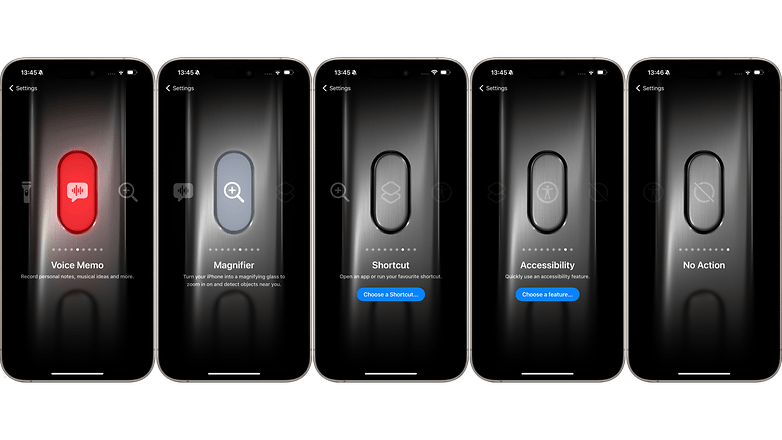 The action button is something I was personally looking forward to. In practice, however, I hardly use the function. Apple currently gives a few features, but none of them fit my daily workflow. Although there is a kind of workaround with the possibility to store shortcuts, to control virtually everything through it, it has not really clicked to me yet. How is it with you? Feel free to let me know in the comments below.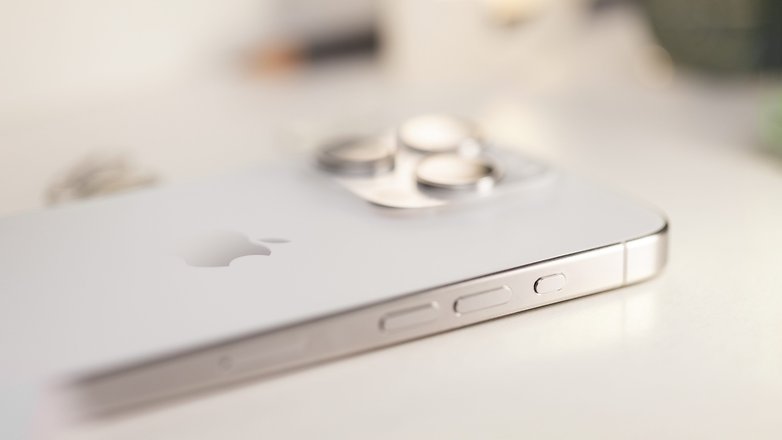 Otherwise, here's the obligatory note about the update policy for software: The current iOS version 17 still runs on five-year-old iPhones. However, Apple does not make an official statement in the form of an update guarantee.
It should also be mentioned at this point that Apple takes data protection particularly seriously and offers many options to grant apps access to data or not. For example, there is an option that restricts gallery access to photos of my choice and not to my entire gallery. And blocking tracking of individual iOS apps is also great.
"Health" is also an important topic with Apple and iOS. Our colleague Camila created a great dossier on the topic of menstrual tracking and also compared the ecosystems of Apple and Samsung in the course of it. Spoiler: Apple wins!
Apple iPhone 15 Pro performance
The new, Apple-owned A17 Pro chipset is once again a real power machine. It is manufactured in a 3-nanometer architecture, the CPU has six cores, which are about 10 percent faster compared to the predecessor A16 Bionic according to Apple. The Neural Engine of the A17 Pro has even doubled its speed compared to the previous year.
---
Pros:
Incredible amount of power under the hood.
Apple A17 Pro runs very stable.
Versatile USB-C port with 10 GBit/s.
Cons:
USB-C cable in the box can only handle USB 2.0.
---
In practice, it is not that easy to identify speed advantages, especially compared to the predecessor. The vast majority of everyday apps run absolutely smoothly and quickly, and there are virtually no pauses to think—exactly like the iPhone 14 Pro. It will probably take a few months until the CPU and GPU are really challenged. The big AAA games, which will probably test the limits of the A17 Pro with ray tracing and the like, will only be released in a few weeks.
Until then, we will have to make do with the synthetic benchmarks. Compared with the predecessor SoC, which is represented by the iPhone 15 Plus in the following table, the slightly better stability in the 3DMark benchmarks is noticeable. This means that the iPhone 15 Pro does not have to reduce the performance as much as the other models after a few minutes of full load to avoid overheating.
By the way, this also applies in a direct comparison with the Snapdragon 8 Gen 2, represented here by the Galaxy S23 Ultra. Although the Qualcomm chip delivers a slightly higher score in the best run, the iPhone 15 Pro keeps the performance on a higher level in the long run. The A17 Pro should benefit from the more efficient 3 nm process here.
iPhone 15 Pro
(Apple A17 Pro Bionic)
iPhone 15 Plus
(Apple A16 Bionic)
iPhone 14
(Apple A15 Bionic)
Galaxy S23 Ultra
(Snapdragon 8 Gen 2)
3DMark Wild Life stress test

Best loop: 10.004
Worst loop: 8.970

Best loop: 9.908
Worst loop: 8.372

Best loop: 9,761
Worst loop: 8,321

Best loop: 12,278
Worst loop: 7.486

3DMark Wild Life Extreme Stress Test

Best loop: 3,553
Worst loop: 2,763

Best loop: 3,253
Worst loop: 2.271

Best Loop: 2,431
Worst loop: -

Best loop: 3,849
Worst loop: 2.565

3DMark Solar Bay Stress Test

Best loop: 6.117
Worst Loop: 4,057

Best loop: 4,165
Worst loop: 3,194

Best loop: 5,578
Worst Loop: 4,424

Geekbench

Single: 2.945
Multi: 7,171

Single: 2,623
Multi: 6.605

Single: 2,066
Multi: 5.510
Finally, the picture is reversed in the Solar-Bay stress test, which especially checks the ray tracing. The Snapdragon is a bit more stable here but offers less maximum performance. As mentioned: Unfortunately, we can only find out how this feels with high-end games in the practical test in a few months.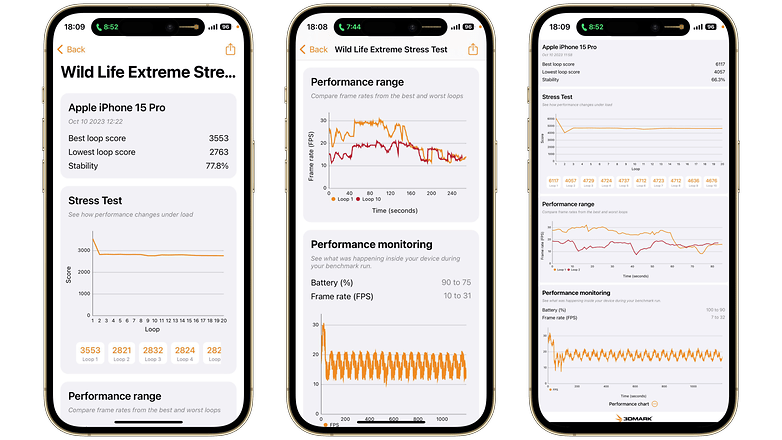 However, there is a clear difference that is noticeable in practice in applications that load the Neural Engine. Apple promises twice the performance here—and indeed: Dictation is much faster, and Siri also accepts commands much faster. The strong computing power enables local processing of the commands and thus eliminates the detour via the cloud—at least if the answer is on your iPhone. Another advantage: You can also whisper your notes to Siri offline during the next transatlantic flight.
USB-C in the iPhone 15 Pro: What can it do?
The port also got an enormous performance boost. The new iPhone series gets USB-C ports across the board and ends the Lightning era. We will go into more detail about the charging advantages in the "Battery" section. Here, it should really only be about the performance.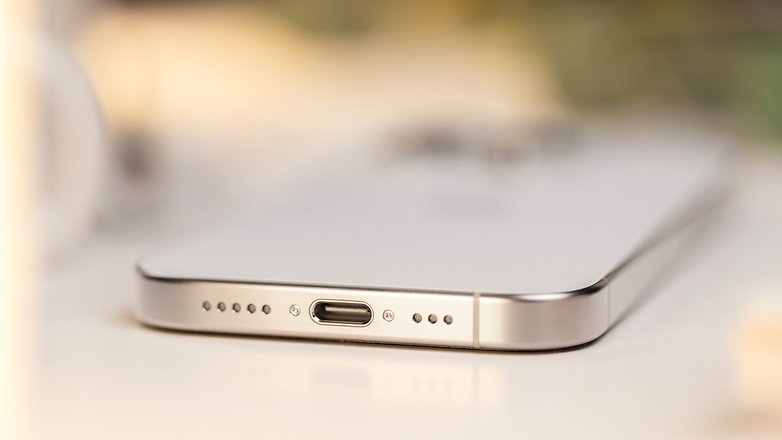 The USB-C port in the iPhone 15 Pro complies with the USB 3.2 standard. That means maximum data transfer rates of 480 MBit/s. What can you do with it? Connect a mouse or keyboard, for example. Or a podcast microphone. Or an external 4K display and my Apple Studio Display (review). It feels like everything that works on my MacBook works on the iPhone 15 Pro—and that's really powerful.
Even my Samsung SSD connects to the iPhone without complaint—and here's where it gets interesting. With an external hard drive, you can quickly pull down huge amounts of data from the iPhone. I just say: Apple ProRes 4:2:2 in 10-bit log with 1.8 GBit/s! And: You can also record videos directly to external SSDs as long as they allow data transfer rates of more than 220 MB/s and require less than 4.5 W of power.
What does all this mean for everyday use now? The iPhone 15 Pro Max is a real workhorse whose horsepower first needs to be put on the road. But even if you do not constantly record videos in 4K60 on external SSDs or shoot through raytraced worlds, it is really pleasant to trot along with so much power.
Apple iPhone 15 Pro camera
At first glance, the camera of the iPhone 15 Pro has not changed at all. There are still three lenses with ultra-wide-angle, main camera, and 3x zoom. But under the hood, we find a few exciting changes-and it's also worth taking a sideways look at the Max model, which does more different again this year.
---
Pros:
Flexible camera system as if from a single mold.
Great image quality for day and night photos.
Very good video quality.
ProRes 4K60 4:2:2 log at just under 2 GBit/s.
Cons:
Fourth camera would be nice in the price segment.
---
The iPhone 15 Pro has a really great camera setup, no question about it. During the day, the smartphone shoots wonderful photos, with the new 24-megapixel resolution capturing fine details nicely. The pictures look pleasantly sharp, but at the same time not artificially over-sharpened. The contrasts are striking, but do not offer an exaggerated HDR look either.
Portrait photos turn out well, but are not always quite perfect when cropped from the background. Unlike older iPhone generations, skin tones are a tad less green—and thus more accurate, if you go by the common color grading standards. As usual, you of course have the option to adjust the look of your pictures to your own taste via the Photographic Styles.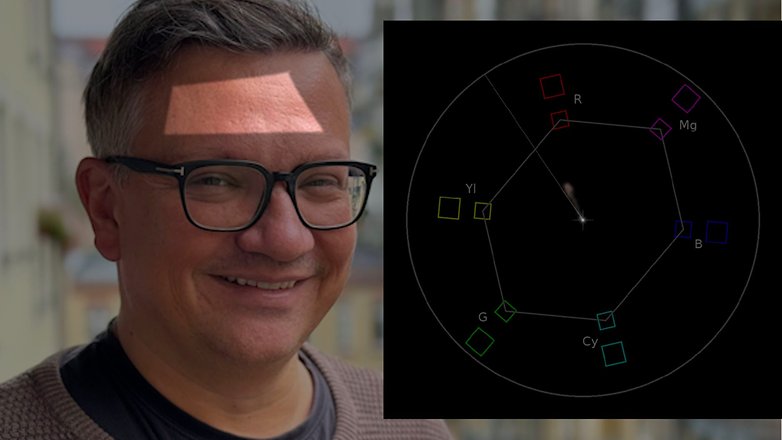 The iPhone 15 Pro does well in artificial light and night shots. The white balance reflects the actual lighting conditions quite reliably in artificial and mixed light, and the color reproduction is correspondingly good under difficult conditions. Only in very low light do the colors look increasingly desaturated and dull, which is typical for smartphones.
And yes: I was hoping for a quad camera in this iPhone Pro generation until the end. Xiaomi and Samsung finally give their two current Ultra models a quad-camera setup with two telephoto lenses that bridge a long focal range. Especially the Xiaomi 13 Ultra (review) manages this without significant drops in image quality.
For this year's Pro models, you now have to decide whether you want great image quality in the closer zoom range (3x-5x) of the Pro—or if you prefer more room in the back for longer zoom levels in the Pro Max. Our zoom comparison between the iPhone 15 Pro and iPhone 15 Pro Max provides a little help in deciding. For my part, I would have liked to have both for the price.
Apple iPhone 15 Pro battery
The iPhone 15 Pro offers a solid battery life and is thus on the same level as the predecessor. At least without synthetic benchmarks, no difference is noticeable in practice. However, charging via the USB 3.2 port feels like idling at 480 hp in the 30s zone. Too bad.
---
Pros:
Solid battery life.
Wireless charging and wireless reverse charging.
Cons:
---
Unfortunately, the App Store does not have the synthetic battery benchmark that nextpit uses to test all smartphones. You will have to live with our empirical values until we have found a solution. We really get through the day with one battery charge in everyday use.
Only in extreme situations—specifically when working on the train via the smartphone hotspot and many phone calls—the battery is empty after about eight hours. What actually helps considerably here is throttling the refresh rate from 120 Hz to 60 Hz.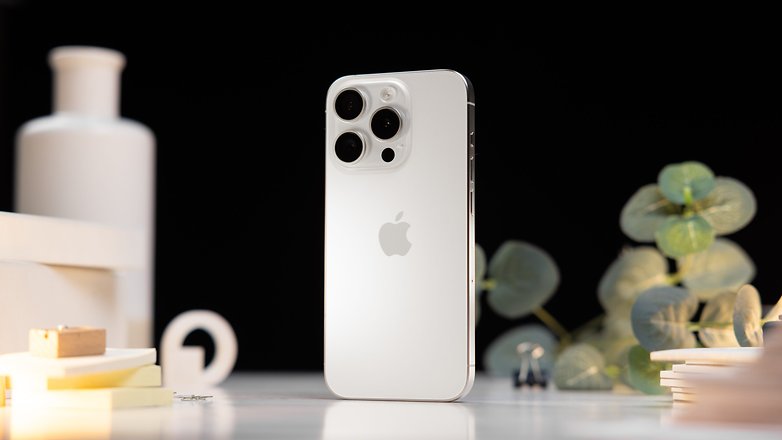 Of course, the USB-C port should be mentioned here once again. With this, Apple not only follows an EU requirements, but also standardizes all its devices. Theoretically, all new Apple devices—from headphones to MacBooks—can now be charged with the same plug. The only exception: Only the Apple Watches still use a proprietary solution with the smaller MagSafe charging plugs. But you can now also charge bidirectionally via USB-C. If the Apple Watch runs out of juice, the iPhone can be used as a power bank—as long as you have the right cable at hand, of course.
Speaking of charging: While many manufacturers in the Android world outdo each other with fast charging features several times a year and thus compete for new records, Apple has always taken a slower approach to charging. This does not change with the iPhone 15 Pro. Charging with a 20-watt charger does not feel fast here either. From 0 to 100 in one hour and forty minutes.
iPhone 15 Pro
(20 W)
5 minutes
10 minutes
20 minutes
30 minutes
1 hour
Full charge
Apple iPhone 15 Pro technical specifications
Pro model 2023
Pro Max Model 2023
Product
Apple iPhone 15 Pro Max
Image
Reviews

Not yet tested

to the first review of the iPhone 15 Pro Max
Display
Super Retina XDR display
6.1" OLED
2,556 x 1,179 pixels at 460 ppi
120 Hz refresh rate
Dynamic Island
Super Retina XDR Display
6.7" OLED
2,796 x 1,290 pixels at 460 ppi
120 Hz refresh rate
Dynamic Island
SoC
Apple A17 Pro (3 nm)
Storage
128 GB, 256 GB, 512 GB and 1 TB
256 GB, 512 GB and 1 TB
microSD
❌
Main camera
48 MP | quad pixel sensor | 2.44 µm pixels | f1.78 aperture | 24 mm focal length | sensor shift OIS
Ultra-wide angle
12 MP | f/2.2 aperture | 1.4µm | 13 mm focal length | Macro
Telephoto lens
12 MP | f/2.8 | 77 mm focal length | 3x optical zoom | sensor-shift OIS
12 MP | f/2.8 | 120 mm focal length | 5x optical zoom | sensor-shift OIS
Selfie
12 MP | f/1.9 aperture | autofocus
Audio
Stereo
Battery life
Video playback: 23 hours
Video (streaming): 20 hours
Audio playback: 75 hours
Video playback: 29 hours
Video (streaming): 25 hours
Audio playback: 95 hours
Fast charging
20 W (cable)
15 W (MagSafe)
7.5 W (Qi)
Ruggedness
IP68 Ceramic Shield, titanium frame
Connectivity
eSIM, 5G, Wi-Fi 6E, NFC, Bluetooth 5.3, UWB, Satellite
Dimensions and weight
146.6 x 70.6 x 8.25 mm | 187 g
159.9 x 76.7 x 8.25 mm | 221 g
Final verdict
The new iPhone 15 Pro has hardly changed visually compared to its predecessor, the iPhone 14 Pro (review). Technically, however, there are a few innovations—apart from the display—especially for productive tasks and gamers. The focus is on the A17 Pro SoC with 3 nm technology, which offers enormous performance reserves and should soon bring real triple-A titles to the smartphone. And of course: The USB-C port opens new doors in the field of "productivity".
The already good camera has improved in many small facets, but without bringing any real innovations—in contrast to the Pro Max model this year. It is all the more pleasing that the iPhone 15 Pro didn't follow the trend of price hiking in the competition.