Android 5.0 Lollipop vs iOS 8 comparison: which is the better platform?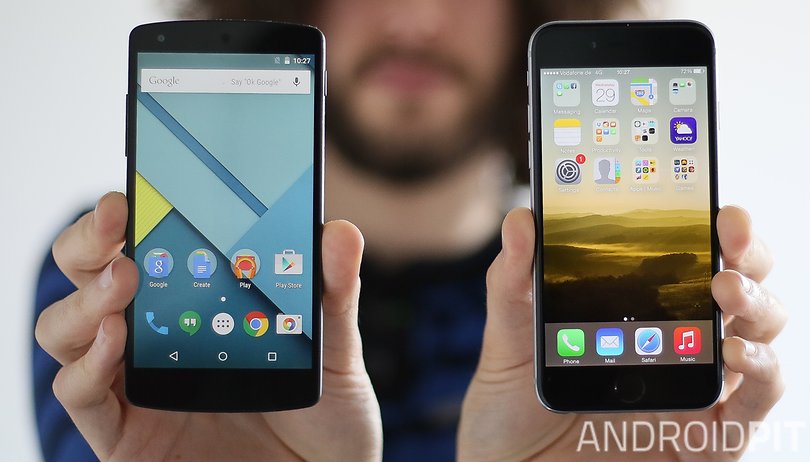 We've had a number of months to get to grips with iOS 8. Find out which is better in our iOS 8 vs Android Lollipop comparison.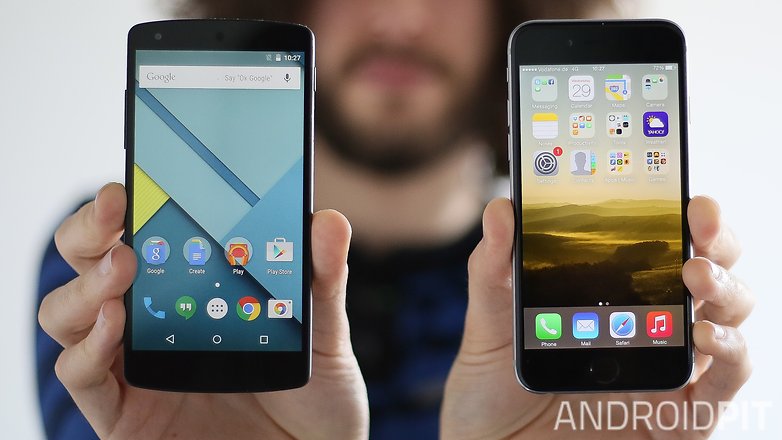 Android Lollipop vs iOS 8: design
Apple upset many users with iOS 7, which dumped cutesy copies of real-world objects - a philosophy known as skeuomorphic design - for something bolder, more colorful and considerably flatter.
iOS 8 wasn't as dramatic an upgrade; it's a refinement, rather than a revolution, and it introduces some features which Android users might already find familiar: autosuggested words when you reply to texts, the ability to use third party keyboards, Google Drive-style file sharing and the ability for apps to send data to one another.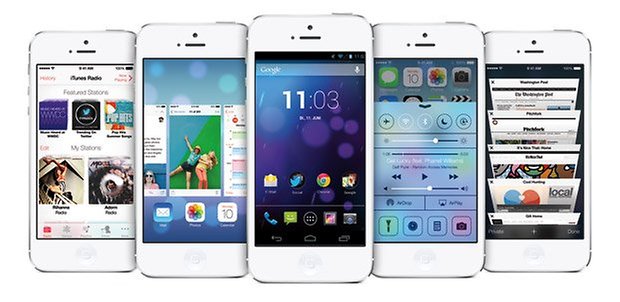 Android went flat too, with its new aesthetic philosophy known as Material Design. Like iOS 8, the interface is bolder, with simpler icons than the previous editions. Google's colorful design language also affects the interactivity to some extent, with icons and menus having a visible reaction when tapped, pulled and swiped: Material Design is filled with subtle animations which add visual context for the user.
The refinement of icons can be seen first hand when looking at the how the navigation soft keys have changed: the return key isn't a sweeping line with an arrowhead, it's a triangle. And the recent apps menu, a square. Both Apple and Google focused on subtle changes to the look of the interface, rather than a total overhaul.
Android Lollipop vs iOS 8: features
iOS 8 now supports widgets (though they are restricted to the notifications centre), and has changed the way it displays notifications to make them more discreet, but also more interactive (you can now reply to a message from the notification itself, rather than entering the app where the message lies).
iOS 8 opened the doors to replacement keyboards, Apple Pay, and HealthKit, and overall, iOS 8 is more "open" than it has been before, with more access given to third-party developers and apps. Additionally, iOS still has the lion's share of big-name exclusive apps and partnerships (highly-accurate weather app "Dark Sky" and photo editing app "Camera+" are just two of the cool apps Android is missing out on).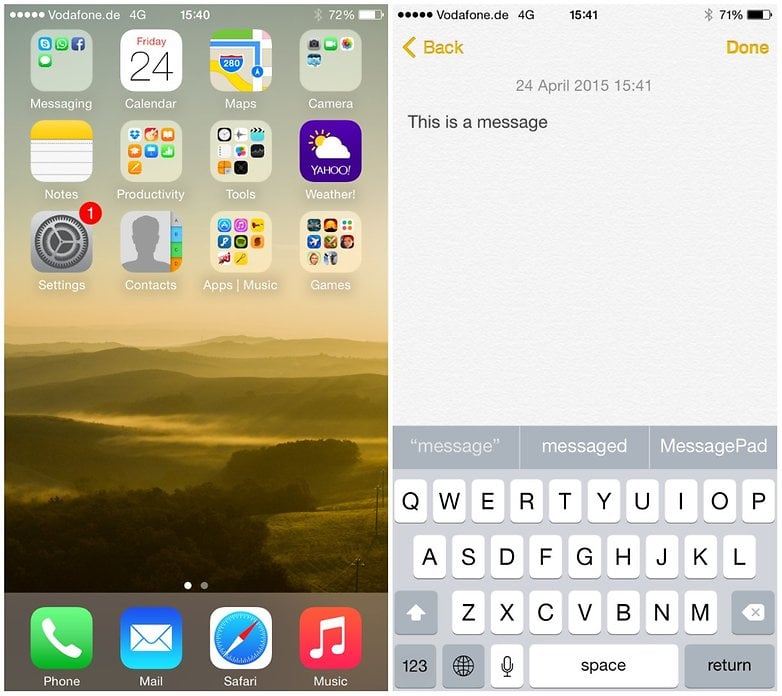 Android made changes to its notifications department also. In Lollipop, notifications are visible on the lock screen, meaning they can be viewed without unlocking the handset (an improvement which incidentally killed the demand for a number of apps dedicated to solving this problem).
To compliment the advances with notifications, the latest version of Android reinvented the recent apps menu, which is launched by tapping on the new square icon. This gives an endlessly scrolling list of not just your most recent apps, but your position within those apps. It's certainly clever, and the initial concerns of the overall effect this would have on RAM and processing power have been subsequently cast aside.
Additionally, Android Lollipop delivers multiple user-profiles and handset unlocking when paired with Android Wear devices located nearby.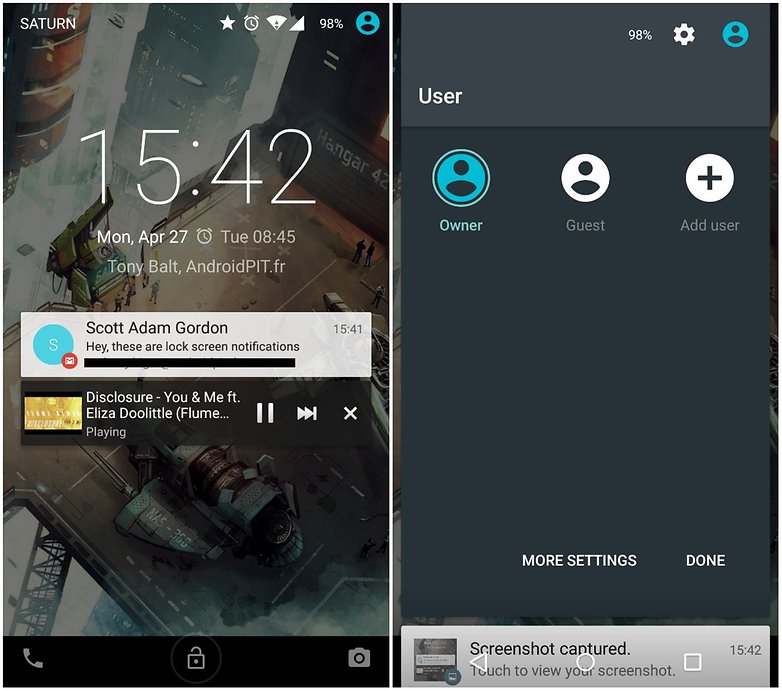 Lock screen notifications, recent apps menu, multiple user profiles and replaceable keyboards are something both UIs have in common, but where do they differ? Android is still more customizable, with iOS 8 limiting even simple facets of the interface, like where apps can be placed on a homepage (they have to start at the top left and they still can't be hidden from the homescreen).
That being said, Android's ability to be customized and make use of third-party products means iOS 8 is still considered the "safer" platform.
Android Lollipop vs iOS 8: camera
Android has a difficult time optimizing its camera software for the plethora of devices running it, but Google did take one big step in Lollipop by letting users, and other developers, directly access RAW image files.
iPhone's image processing software is first-rate, and this means that even with the relatively low megapixel numbers we see on iPhone cameras, their pictures still look great. Furthermore, iOS 8 brings a timer mode, and some enhanced photo editing features (color/brightness/exposure controls) which weren't available previously.
Android Lollipop vs iOS 8: battery life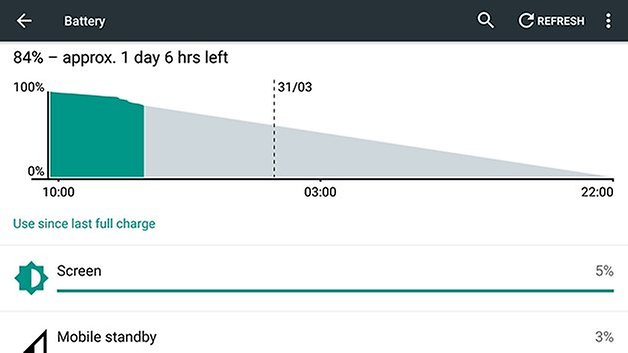 Regardless of battery capacities, iOS 8 still provides a better native platform for battery performance. Android Lollipop is said to offer a 10 percent increase in battery life compared to Android KitKat, but this hasn't being observed across all devices. This is the price paid for multiple manufacturers and multiple UIs.
Be that as it may, Android batteries come in all shapes and sizes, so there is scope for far superior, and also far inferior, battery life. Still, few Android devices can reach the three/four day standby time of the iPhone 6 Plus.
Android 5.0 Lollipop vs iOS 8: gaming
Apple has Metal, a new API for games developers; Android 5.0 Lollipop has OpenGL ES 3.1 and the Android Extension Pack for games developers. Both can provide console-quality gaming on mobile devices, but few games take full advantage of the technical capabilities yet.
Android 5.0 Lollipop vs iOS 8: updates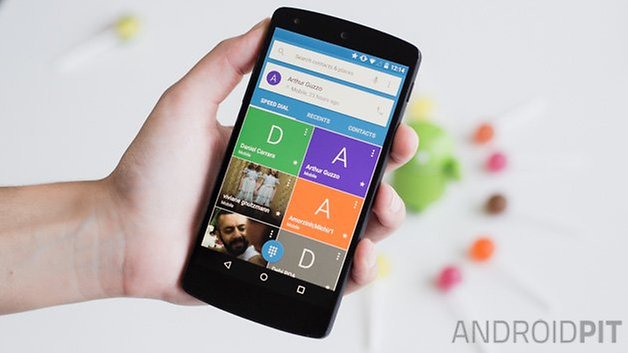 Android devices are notoriously slow to receive updates. There are a lot of hoops manufacturers have to jump through to distribute new software, which is why, six months later, only 5 percent of devices have Lollipop. This means 95 percent of users will be comparing KitKat or a previous OS to iOS 8, which most iPhones are running (Apple usually distributes a new OS to the majority of devices within the first week).
Furthermore, Android devices are usually only supported for the first 18 months of their life, compared to iPhones, which are usually guaranteed updates for three years. (This is to say nothing of the current status of both platforms, only the longevity of devices running them.)
Android 5.0 Lollipop vs iOS 8: app stores
Let's be honest, the Google Play Store is all too often a hive of villainy, and while Apple may be a bit heavy-handed on the censorship front there's no need for a big "Here Be Dragons" sign above the iTunes app store. The ongoing battle between Google and the baddies is the price you pay for a more open app store.
Android 5.0 Lollipop vs iOS 8: health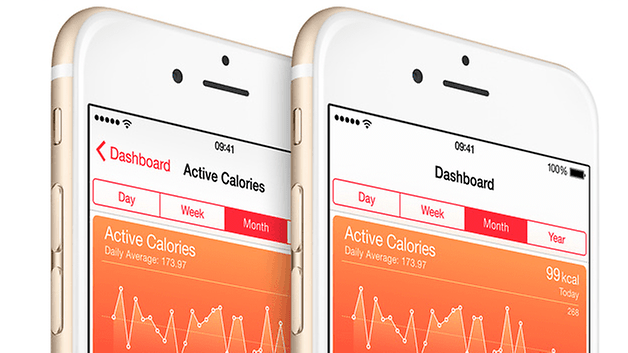 Both OSes are designed to work with health hardware, both in smartphones and in external devices such as smartwatches.
Apple's iOS 8 uses Health App, which it's been working on with big names in healthcare such as the Mayo Clinic and which it's punting to healthcare providers as a safe and secure way to store patient data as well as a useful way for customers to track their fitness. There's an API for third party developers called HealthKit.
Android 5.0 Lollipop's equivalent is Google Fit, and it sounds rather similar. Partners include Adidas, Asus, Withings, Runkeeper and Polar, and Nike Fuelbands will be part of the Google Fit club too. There isn't a direct equivalent of Apple's Health app: Google's leaving that to the manufacturers.
Android 5.0 Lollipop vs iOS 8: Apple Pay vs Google Wallet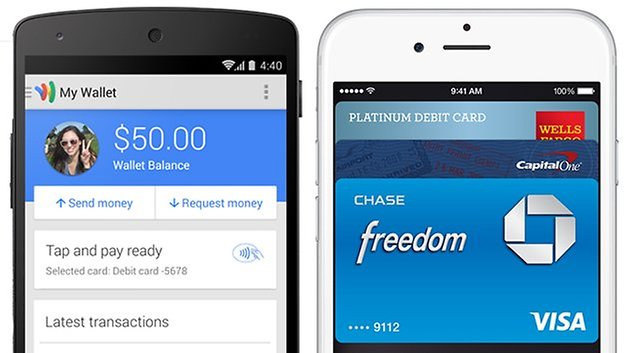 Apple now has a rival to Google Wallet (Google's free digital wallet which allows you to save your debit and credit cards on an Android device for simple in-store or online payments) called Apple Pay. While it uses the same basic idea as Wallet - wireless payments via NFC - it takes a different approach. Using the TouchID fingerprint sensor to authenticate payments means that Apple Pay payments are counted as Cardholder Present payments, just like when you use a credit or debit card in the shop. That's important because Cardholder Present transactions cost retailers less in fees than Card Not Present ones, and it's something Apple Pay offers and Google Wallet doesn't.
For now Apple Pay is US-only but if it proves popular, and early indications suggest it will, then we'd expect to see it in Europe next year.
Android 5.0 Lollipop vs iOS 8: ecosystems
Mobile OSes have evolved. Both iOS (formerly iPhone OS) and Android started off as mobile phone operating systems, expanded to take in tablets - belatedly, in Android's case - and now have their sights set on the wider world.
Both platforms are interested in three major kinds of accessories: home automation, wearables, and in-car systems. As ever the approach is different, with Apple providing a one-stop shop and Google concentrating more on providing the platform for others to work with. How Google responds to the recent release of the Apple Watch is going to be particularly interesting, and will most certainly have an effect on the direction it takes Android Wear.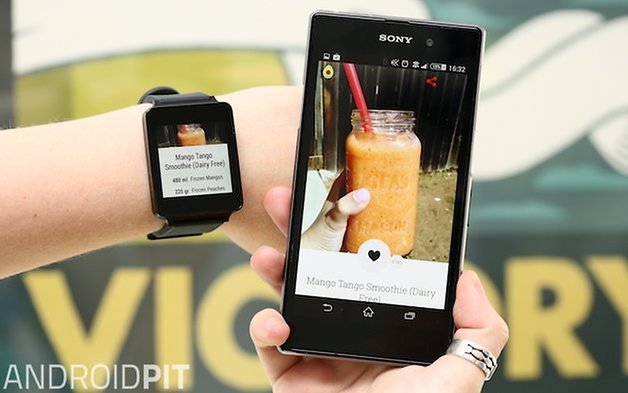 Android 5.0 Lollipop vs iOS 8: verdict
Comparing Android Lollipop to Apple iOS 8 definitely highlights more similarities than differences; these platforms are closer than ever before. Lollipop is the most customizable OS, but the "locked-down" nature of iOS 8 means it benefits from better security, and wider integration with services in the real world. If you walk into a store which supports a smartphone feature, be it for payments, an app download, or something else, you can bet that this will be available for iOS 8 first, and Android second. Meanwhile, Android gives you a wide choice of hardware options, while Apple offers a handful of admittedly beautiful devices.
It would be unfair to look too much at availability here, after all, this is a comparison of Lollipop and iOS 8. That being said, we are comparing an OS which is on more than 70 percent of peoples' iPhones, to something which is apparent on around five percent of Android devices, and that's something that should be noted.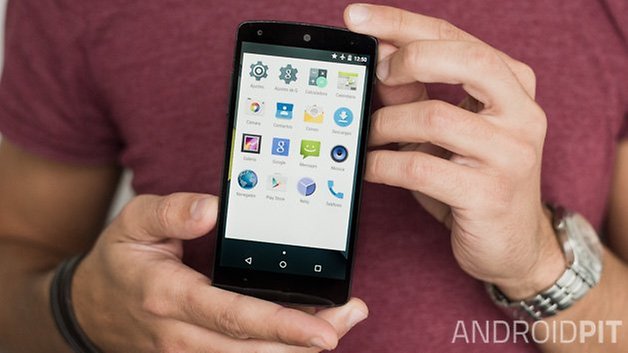 When all is said and done, we are of course biased towards Android, because it's what we live and breath. Calling Lollipop the victor won't mean much coming from us. iOS 8 is a worthy competitor to Android Lollipop, and Android 5.0 wouldn't have been as impressive without it. But because Material Design presents something genuinely fresh, and takes Android and smartphone interfaces at large in a smart new direction, there might not have ever been a more exciting time to go Android.
What do you think? Is there anything in iOS 8 you'd like to see in Android 5.0 Lollipop?